TikTok is a popular social media site, and we're all familiar with it thanks to its rise in popularity. This application was created for people who like to watch videos and have fun.
On the app, users post short video clips to delight their followers. The reason for TikTok's rapid growth is that it is relatively easy for users to become famous using this app.
You can also monetize your content by partnering with brands to promote their products.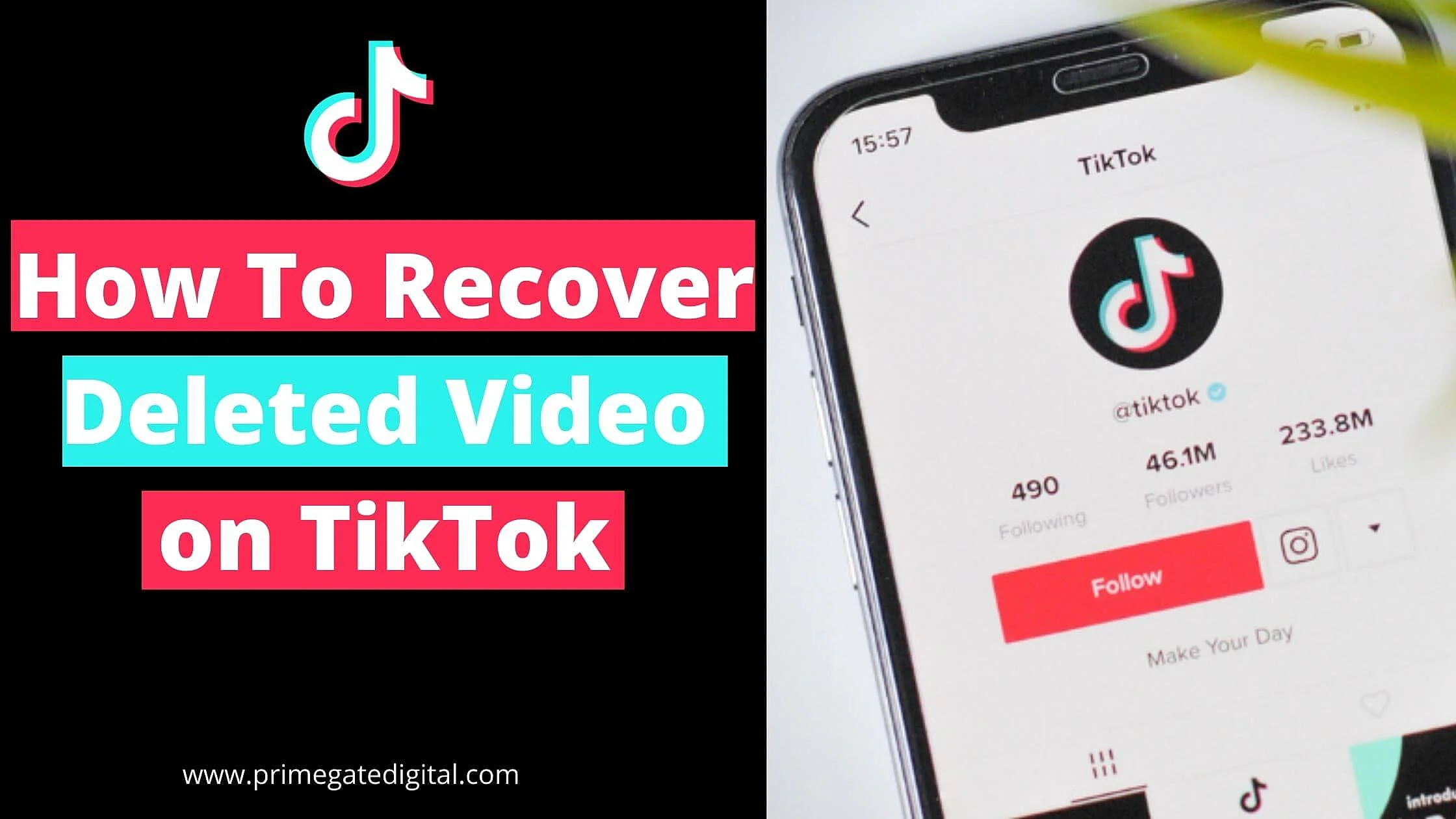 But have you ever considered what would happen if your TikTok videos were deleted? 
It'd be a massive setback for you because it would have a negative impact on your popularity, and you would not be able to reach as many people as you could.
Hence, the need to know how to bring back deleted videos on TikTok to maintain your influence on the platform.
See Also: How to Become a Tiktok Influencer and Make Over $10K Monthly
What are the Reasons for TikTok Video Deletion? 
The most common reasons are accidental video deletion, removal of video due to privacy policy violations, and uninstallation of the application.
Whatever the issue is, your plan will be to recover the already-deleted TikTok clips. 
Fortunately, if you've been puzzling over how to restore deleted videos on TikTok, you no longer have to.
In this article, we'll explore all the effective methods to get deleted TikTok videos back.
So, without much ado, let's go over techniques you can use to restore your deleted TikTok videos.
How to Recover Deleted Video on TikTok Using Backup
In the event of deletion of your TikTok video, the first place you have to check is the backup. Although it may seem self-evident, we usually fail to review backup files.
There's a good chance that you've set your phone's default gallery app to upload your video clips to that app regularly. Gallery apps like iOS photo apps and Google Photo have backup capabilities.
See Also: How to Get Verified on TikTok for FREE
Retrieve your Deleted Tiktok Videos Using Google Photos
To start, make sure your backup is accessible via these tips. You can retrieve lost videos through the Google Photos app if you have enabled backup.
Here's a step-by-step guide to accessing your Android device's backup:
 Launch the "Google Photos" application > access your account profile in the upper right corner of the app interface > select "Photos settings"> kindly ensure Backup and sync is enabled.
How to Recover Deleted TikTok Videos via Google Photos
Open the Google Photos application on your phone.

Select "Menu" on the upper left side of the screen.

Tap "Trash."

Select whichever TikTok videos you'd like to save.

Select the "Restore" option.
Restore Your Deleted Tiktok Videos via the iOS Photos App
iCloud is a popular backup platform for iPhones and other Apple devices. We suggest that you ensure that the iCloud backup feature is enabled, much like the Android version.
Access Settings > Tap on (username) > Select iCloud > Tap iCloud Backup > Double-check that iCloud Backup is activated.
How to Recover Your TikTok Videos on your iOS Device
Log into your iCloud profile at icloud.com.

Tap "Settings."

Tap "Recover Files" from the "Advanced" column.

Choose the files you'd like to recover.

Select "Restore."
If your TikTok videos haven't been backed up, you can go through the following method to retrieve your video clips.
See Also: How To Get TikTok Account Unbanned
Recover Deleted TikTok Videos Using the Liked Video Option
Using TikTok's liked video tool is a good way to retrieve your deleted TikTok videos. This method is highly effective if your videos have received a lot of likes.
This method will likely flop if your TikTok profile is set to 'private' or your videos have not received any likes.
Let's go through the process below step by step:
Open the TikTok application on your smartphone.

To access your user profile, click on Me in the bottom-right centre of the platform.

To view the liked videos, select the "Heart" button on your TikTok profile dashboard.

Select the deleted video on the following page.

Now, on the upper right side of the profile section, click on the arrow tab.

Ensure you select the Save video icon.

You can now access the TikTok videos previously deleted from your smartphone.
Retrieving Deleted TikTok Videos via Data Recovery Tools
There are third-party tools that can be highly effective in recovering deleted videos. With these tools, you can find deleted videos on TikTok.
These solutions can run a thorough scan of lost or deleted videos using an accurate algorithm. The aim of these technologies is to restore lost videos without significantly degrading the quality or values associated with them.
This technique is also incredibly quick and helpful.
Today, there is a plethora of data recovery software and tools on the internet. Still, you must ensure whichever you use on your phone is completely reliable and secured.
In this section, we will be exploring the three best data recovery tools that can retrieve your deleted TikTok videos. 
See Also: How to Recover a Hacked TikTok Account
Android Data Recovery
When it comes to recovering data, there are two options: manual and automatic.
Although the manual methods do not guarantee data recovery, with the right tool, you will almost certainly recover all of your lost or corrupted data.
This is where the Android Data Recovery tool comes in handy. This tool can effectively retrieve all sorts of data, including contacts, texts, audio clips, videos, images, folders, and many more.
The app is compatible with practically all Android phones.
Not only that, but it can even retrieve data from bricked phones or phones with blank displays. If you're searching for a quick fix that doesn't require a lot of effort, this is the best solution.
EaseUS Data Recovery Wizard
If you have unintentionally wiped your TikTok videos from a Memory card or your PC, you can quickly retrieve them using the EaseUS Data Recovery Wizard.
With the help of this tool, you can retrieve countless files, including images, movies, music clips, files, messages, and much more.
The earlier you run the tool, the quicker you retrieve your video.
To retrieve your deleted TikTok video, follow these simple steps below:
Launch the EaseUS Data Recovery Wizard and navigate to the folder or file where the videos were erased.

To search for deleted videos, select "Scan." Choose an area and then press scan.

If the scan is successful, go to the "Sort" drop-down option and click "Videos." To locate the desired videos, navigate to "Deleted Files" / "Other Lost Files."

Double-click the videos you've discovered to see a preview on the pop-up screen.

Choose the media files you would like to retrieve. To store these videos in a safer area on your Computer or external backup system, select "Recover."
See Also: How to Contact TikTok Support to Fix Account Issues
Stellar Photo Recovery Software
It is the best tool for recovering media files that have been deleted, corrupted, or formatted mistakenly. 
Stellar Photo Recovery software can recover all types of videos that have been deleted, corrupted, formatted, or are no longer accessible on SD cards.
Here's how to Restore Deleted TikTok Videos from a Memory Card via Stellar Photo Recovery:
Try out Stellar Photo Recovery for free on your Windows Computer or MacBook Comp by downloading and installing the program.

Sync the phone's storage device to your PC.

Launch the Stellar Photo Recovery tool.

Under 'Connected Drives,' choose the Memory card volume you want to retrieve your deleted videos, then select scan.

The left sidebar displays the table of retrieved media files after the scanning process is finished.

NOTE: If you can't access the TikTok videos you want from the list, use the toggle button on the side of the panel to enable Deep Scan mode.

Tap Recover after selecting the video files you want to retrieve.

Then, to download the specified TikTok video files, navigate and pick a location beside the source location (Memory card).

Save the file.
How To Recover Deleted Video on TikTok FAQs
Where can I access my TikTok videos that were accidentally deleted?
A quick way to locate your already deleted TikTok video is through the 'liked video feature'.
As stated in the article already, ensure your account is set to public, and your video has at least a single like.
Is it easy to restore TikTok videos that have been deleted on Android?
Yes, you can easily restore deleted TikTok videos on your smartphone. To restore TikTok clips, users can make use of storage backup, or TikTok liked videos functionality.
There are also great recovery tools that are equally effective.
What are the common causes of TikTok video loss?
Here are the common causes of missing TikTok videos: 
Users record a TikTok video but decide against sharing or saving it.

Network problems encountered during video upload.

Phone reset or app glitch during video upload.

Accidental deletion or file corruption.
Other causes of video loss include a third-party tool, an interrupted video upload, storage formatting, and so on.
See Also: How To View Your TikTok Followers List
Conclusion
As you've seen, recovering deleted TikTok files is a simple process. The above-mentioned options will undoubtedly be helpful to get back TikTok videos after deleting
Although it is easy to recover deleted TikTok videos on any smartphone, there is one useful tip that you should follow is to "always create a backup of your TikTok videos".
Also Read: