TikTok is a short-video social networking app that allows you to share your videos with your friends, family, and colleagues.
It's a platform that has become a global phenomenon, and it's even more popular than some other social media sites that have been in existence.
With over 1 billion active monthly users, TikTok is ranked as the third most popular social networking site. It is available for iOS and Android devices.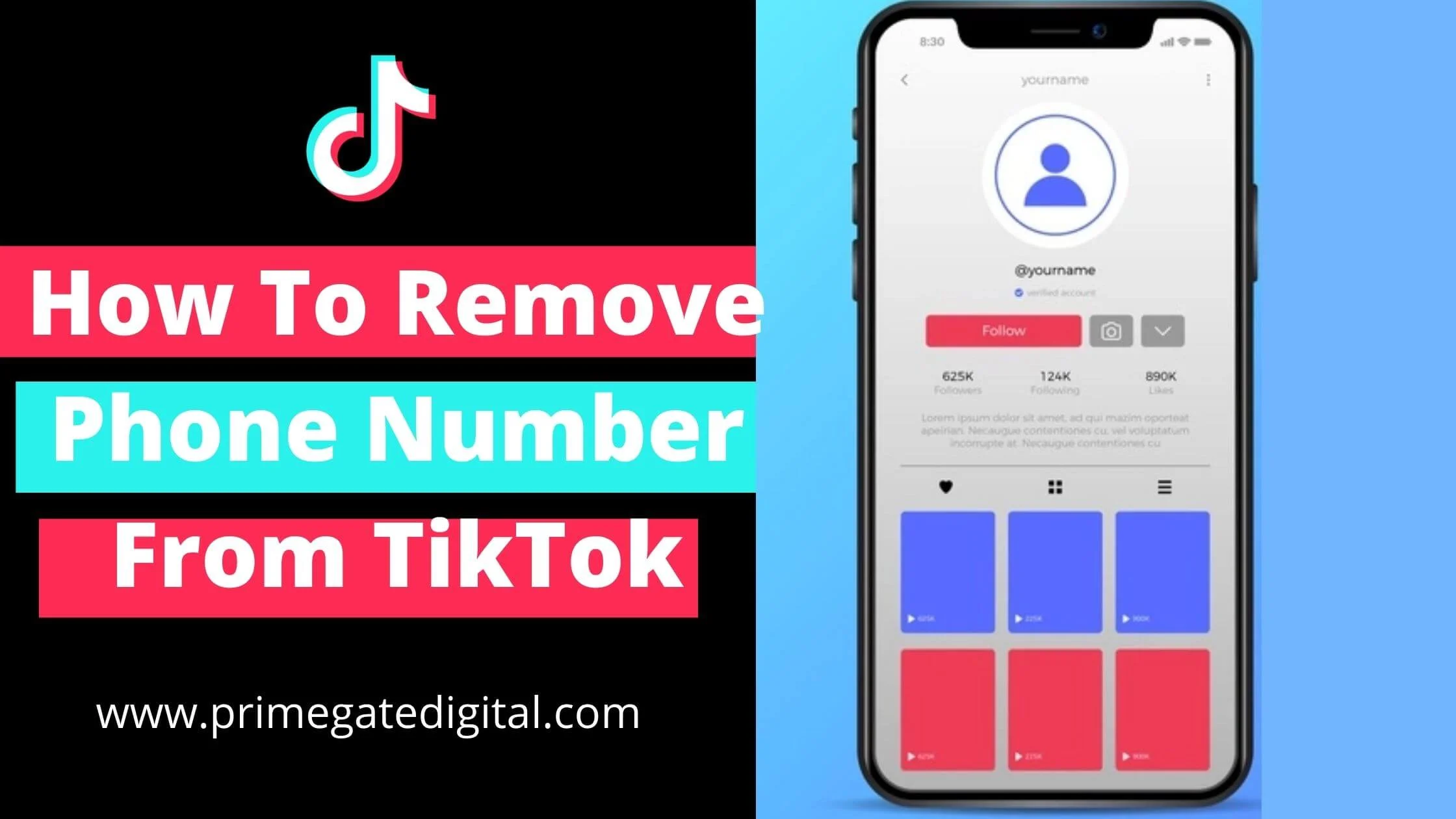 To sign up for TikTok, you will need to provide your full name and email address. In addition, you need to provide your phone number for verification.
When you sign up for TikTok, you will be asked to link your phone number. While TikTok takes privacy seriously and keeps your information safe, people are also sharing their personal information, and this could put their privacy at risk.
If you want to remove your phone number from TikTok, this article will guide you on the steps to follow to do so.
How to Remove Phone Number from TikTok
TikTok has been the hottest app for a while now, but unfortunately, it has some downsides.
One of them is the fact that it doesn't allow users to delete their phone numbers permanently. However, there are ways to change the number with a new one from the app's settings.
Here's how you can delete a phone number from TikTok:
Launch your TikTok app and log in to your account.
Navigate to your profile and tap on the ''Me Icon" at the bottom of the screen.
Proceed to tap on the three vertical dots in the top right corner of your profile page.
Click on "Manage My Account" located in the account section.
Then, click on the "Phone Number" option.
You will be required to verify your current phone number before you can make any changes. Go ahead and click on the "Send Code" button.
Next, put in the "4-digit code" that was sent to your current phone number and verify it.
Enter the "new number" and click on the submit button.
Tap on "Send OTP" to verify the new number.
Voila! your phone number has been successfully removed from your TikTok account.
If you have linked your phone number to your account, make sure that your fans and other users are not given access to the information.
All your private information is kept confidential by the platform.
No one can get your details from the server, so if a lack of privacy is the reason why you are removing your number from this platform, rest assured it's safe.
How to Remove Phone Numbers from TikTok Permanently
Do you want to delete your phone number from TikTok permanently? Then follow the steps below to do so:
Launch your TikTok app.
Click on the "Me" icon to get to the settings page.
Tap on the three dots icon on your screen.
Next, click on Report a problem, then select Account and Profile.
Tap on Phone Number.
Select "I want to remove phone number" from the options displayed.
Click on Still have a problem and write in the section provided, "I no longer have access to the registered number linked to my account and want to remove it permanently".
That's all. The TikTok Support team will reach out to you for confirmation and it will be removed within 48 hours.
See also: How to Speed up a Video on TikTok (The Ultimate Guide)
Why Do You Need to Link Phone Numbers?
During the sign-up process on TikTok, you will be required to submit your contact information.
There are many reasons why TikTok makes it mandatory to link your phone number to your TikTok account.
This is to ensure that only one account is created per user. The platform does not welcome the same user creating multiple TikTok accounts.
With the phone number linking, TikTok is able to verify the genuineness of your account. Just think about the number of TikTok accounts that would have been created if this process had not been set up.
Some people create multiple social media accounts to gain followers. This eats up the server space and makes the platform less credible.
Therefore, it is not out of place for such a phenomenal social media platform to collect users' information. This will make sure that users only have one account created.
How Can I Update My TikTok Phone Number Without the need for a Verification Code?
It's possible to update your TikTok number without the need to verify the new number. This process is quite cumbersome and might be time-consuming, however, it works without hassle for many users. Here's how to update your phone number without verifying it on TikTok.
Launch the TikTok app on your smartphone. Sign into your account with your credentials.
After accessing TikTok, you will be directed to the app's home screen. Locate the profile option in the lower section of the screen. Select the option and your profile page will pop up.
Once you have reached the profile page, you will find the hamburger option (which resembles the three horizontal lines in the upper right section). Select the hamburger option and you will be directed to the privacy and settings section.
After you get to the settings and privacy section, navigate and access the support page. This page has all the options to engage the TikTok support team.
Next, you will interact with TikTok support through a chatbot or report option.
On the support page, locate the "Report a Problem" option. Select the option to access another page.
Scroll to the Account section and select the profile option.
Next, you will see a variety of options to access support for your account and profile. Enter your email or mobile number and select it. A drop-down menu will pop up.
In the options in the dropdown menu, choose 'Changing Phone/Email Associated with this account". A set of directions will appear, showing you how to rectify the problem in the app. You will have to follow these directions much later.
Select "No" in the lower section of the screen. A new option,"'Need More Help?'" will pop up. Select the option, and a new screen will appear, allowing you to compose a message in the support center of the app.
Create a new message specifically that you wish to update your account's phone number. A set of instructions that are needed to authenticate your account ownership will be sent to your email. Input the details requested and sent them to the support team.
However, the process may take a while to finalize and reflect on your account. So exercise patience.
 Remove Phone Number from TikTok Account FAQs
Here are some frequently asked questions related to the topic "How to Remove Phone Number from TikTok Account".
Is a Phone Number compulsory for TikTok?
No, the use of phone numbers on TikTok is not compulsory or mandatory.
Users can alternatively set up an account with an email and access the platform without hassle.
However, if you are interested in sending DMs, you will need to possess a validated phone number on your account.
Is it possible to search for someone on TikTok via their phone number?
Yes, the contact sync feature lets you search for people on your phone's contacts on TikTok. Equally, you can add them as friends.
Can TikTok support be contacted via a phone number?
No. TikTok doesn't have a mobile number where you can contact them.
However, there are email and in-app support channels that you can use to get in touch with them.
How Can I Remove My Phone Number From TikTok's Record?
To remove your mobile number from TikTok, you have to submit an official complaint to TikTok via the app's "report a problem" option or send an email indicating that you can't access the mobile number and want to remove it.
The TikTok support team will respond to your message and request your account's status authentication.
After authenticating your account, your phone number will be removed permanently.
What is TikTok's Contact Email?
To reach out to TikTok, send an email to "[email protected]."
Alternatively, you can also get in touch with the TikTok support team at [email protected] or [email protected].
You can also find it simple to utilize the report feature option in the app.
Navigate to TikTok's Settings and privacy page and select the Report a Problem option.
You can also interact with the support team through this channel.
Conclusions
I hope you enjoyed reading our guide on how to remove a phone number from a TikTok account.
I want to keep you updated on any new articles we release, so make sure to subscribe to our newsletter! If you find this guide useful, please share it with your friends!
Also Read: