TikTok is a great new frontier in video content marketing. It has grown to over 500 million users and is the third most downloaded app in the first year.
It's an excellent platform for businesses to grow, especially if you're looking to reach young adults.
The best time to post TikTok videos is when you're having fun and being spontaneous. You don't want to be too serious when posting because that won't work as well.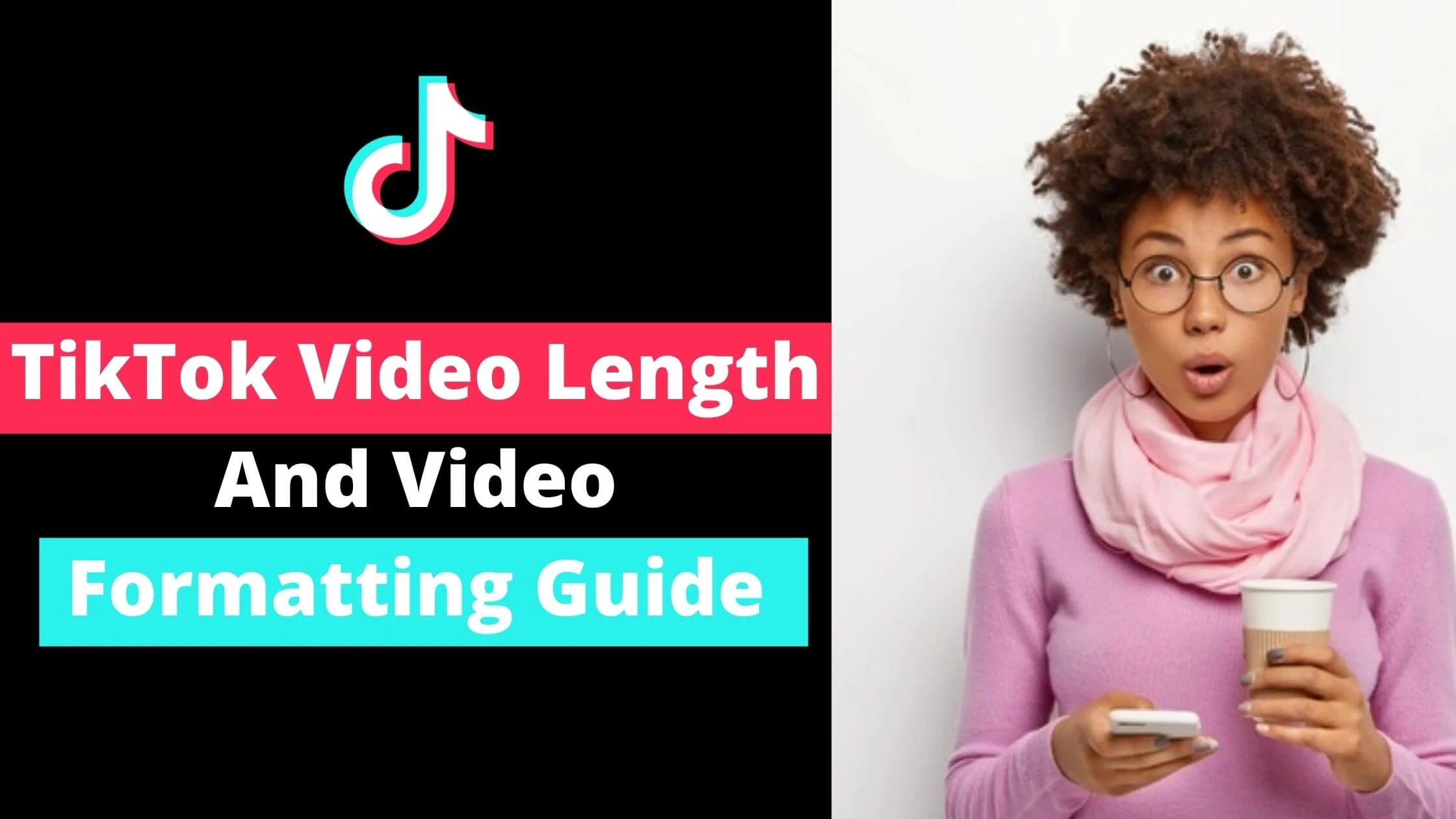 You don't have to be a professional to create great content for your business. Even if you are starting out, you can still benefit from learning about best practices in video creation and editing.
However, if you truly want to have engaging TikTok content, your videos must be optimally formatted for the platform.
This makes it important to have the right video length and size to become successful with TikTok.
In this article, you will learn TikTok video length and video formatting best practices.
Without any further ado, let's get started.
See also: How to Get Verified on TikTok for FREE (REVEALED)
TikTok Video Length 
Length is the first thing to think about when it comes to TikTok success.
Until now, TikTok videos could only be 15 seconds in length, but they recently extended the limit to 60 seconds when you string four 15-second segments together.
This applies to videos that are recorded on the app. It can take more than 60 seconds if it is created elsewhere.
Video Formatting for TikTok
As you have known already, your TikTok specifications are a very important factor when it comes to the engagement that you are able to drive on the platform.
Below are some of the TikTok specifications to consider for your videos:
TikTok File Size: The TikTok video size for iOS can be up to 287.6 MB or 72 MB on Android. For TikTok ads, the video size can be up to 500 MB.
TikTok Orientation: There are two ways to view TikTok. You can view it vertically, which makes the videos appear like a movie or landscape, or horizontally which makes the videos look like a comic strip or square. A vertically-formatted TikTok video is best, but you may also view it in a horizontal format.
TikTok Dimensions: TikTok video dimensions and resolution should be 1080×1920 pixels
TikTok Aspect Ratio: The aspect ratio should be the same as the standard smartphone screen, 9:16. A square aspect ratio (1:1) would also work, but it wouldn't take up the entire screen.
TikTok File Type: TikTok supports a lot of file types, including .mp4 and .mov files, as well as .avi and.gif files for ads.
Can I Use Third-Party Apps to Create TikTok Videos?
Absolutely yes! There are many apps that can help you create a TikTok video.
Some are better than others, but if you want to be on the safe side, it's best to use an app that is trusted and has a good review to create your video and then upload it to TikTok.
See Also: How To View a Private TikTok Account
Third-Party Apps to Create TikTok Videos
Below are some great apps to help you create a TikTok video and upload it with the right dimensions.
Adobe Rush
Cost: $9.99 per month
Owned by Adobe, the brain behind the popular Photoshop software, Rush simplifies the process of formatting TikTok videos.
It is easier to use than Premiere pro and is very beginner-friendly.
This editing tool has a simple clipper for making TikTok-friendly content.
It lets you quickly make changes to the video's aspect ratio, add color correction filters, and utilize graphic design templates to improve the appeal of your video clip.
The app lets you add up to four sound clips to your video at once, making it easy to add a music track.
Furthermore, you can add exciting captions as it enables you to make changes to your video layout, orientation, length and motion.
The platform has a free plan; however, we recommend that you pay for the subscription to make use of premium editing functionalities and extra cloud storage.
Lastly, the free app version lets you export a minimum of 3 files each day.
Pros
Very beginner-friendly and easy to use
Cross-platform functionality
Nice tool for creating short-form videos.
Con
Limited to a maximum export of 3 files daily in free mode.
Requires a creative cloud sign-up.
CapCut
Cost: Free
CapCut was created by Bytedance, the developer of TikTok. So naturally, it made our list of apps for creating TikTok videos.
But what sets this important app apart is that it is 100% free. No hidden charges whatsoever.
However, CapCut differs from Adobe Rush in that it can only be accessed on iOS and Android devices.
It comes with various features such as speed changes, sound clips, filters, stickers, automatic captioning and many others that will add value to your TikTok video.
The app is also effective at getting rid of background colors for a green screen appearance, making it easy if you wish to add a new photo or video afterwards.
Sadly, CapCut does not have advanced video editing tools and for those with extensive video editing knowledge, this may be a deal breaker.
The other apps we have listed here are more sophisticated. But for newbies who need a basic video editing tool, CapCut is a perfect fit.
Pros
100% free. No hidden charges.
Wide range of filters.
Nice sound library.
Great selection of filters
great music collection
Cons
Videos are limited to a 15-minute duration only.
Very basic features.
InShot
Cost: $3.99 per month, $14.99 per year, or $34.99 for lifetime
InShot is a widely used video editor. It simplifies the process of resizing a video to look good on social media platforms (for instance: TikTok). After resizing, the edited video can be uploaded directly to the social media platform from the app.
It comes with visual effects, font sizes, colors, and animation. Inshot makes it easy for you to split, merge, delete and cut clips.
Other exciting functionalities include adding music to your video by extracting sound clips from other videos.
But if you are seeking sophisticated editing features, go for the paid version. The free version is watermarked and does not have advanced editing tools.
Pros
Makes it easy to upload videos to social media platforms
User-friendly
A wide array of filters and effects collection.
Cons
Watermarks are added to the free version
Not suitable for professional video editing.
Magisto
Cost: $4.99 per month for the Paid version, $9.99 for the Pro version, & $34.99 for the enterprise version
Magisto is owned by Vimeo, the video-sharing website. It has a free and premium option for users, similar to InShot.
However, you will enjoy advanced editing features with the premium option. There's also a pro and enterprise version.
However, if you wish to edit your TikTok video, the premium version is adequate.
The pro version will allow you access to numerous video footage and pictures from iStock.
It is a very simple editing tool — You can adjust the screen resolution and layout of the project.
Furthermore, you can choose a background sound, which the platform has a wide variety of.
An amazing feature is that Magisto leverages artificial intelligence to execute all the hard tasks of video editing.
While AI still can't match the imaginative and creative prowess of man yet, you can always intervene if you think the job is not adequately done. You can always add extra clips, rearrange footage and add multiple filters.
For anyone who is a fan of AI in video editing or DIY, Magisto's easy-to-use interface will simplify your video creation task in seconds.
Pros
Over 3 million iStock video footage and pictures
Powered by artificial intelligence to simplify video creation and editing processes.
Cons
The free version has limited functionalities and filtering tools.
Pricey premium version.
Funimate
Cost: $2.99 per week. Offers a seven-day free trial.
Funimate is a popular tool for editing TikTok videos, especially 60-secs clips. The tool is widely regarded for its wide selection of emojis, graphics and special effects.
It lets users access video editing options like cutting, slicing, chopping and merging. There's also an AI-powered feature that improves your video aesthetics and a text-to-video feature.
While the free version is great, it does not have the animation and effects of the paid version.
Pros
Over a hundred sophisticated video filters, emojis and stickers.
Nice intros and outros.
Cons
Too many advertisements in the free version.
Vizmato
Cost: $11.99 a year. offers a seven-day free demo.
Vizmato allows you to include special effects and sound clips during your video recording session.
The app has amazing video themes such as science-fiction, classic and punk, as well as special filters like mirror and fluidic that improve your video engagement.
If you select the free trial, every edited video will include a watermark. To get rid of this, upgrade to a paid version.
Pros
Amazing range of special effects and video themes.
Vocal changer and lip-syncing tools.
Cons
Too many ads and watermarks in the free version.
Conclusion
With the correct TikTok video dimensions and resolution, you're a step closer to having a viral TikTok video.
I hope that this article on TikTok video length and video formatting guide helps you get started with your TikTok content.
Also Read:
Recommended Tools to start out as a TikTok Influencer with a Bang!