Facebook is one of the most popular social networks on the web, but it's also a platform that has its share of problems.
It has been plagued by a variety of privacy issues for quite some time now.
While many users have had their accounts deleted and data compromised, others are still wondering why they have been logged out and what they need to do to get back in.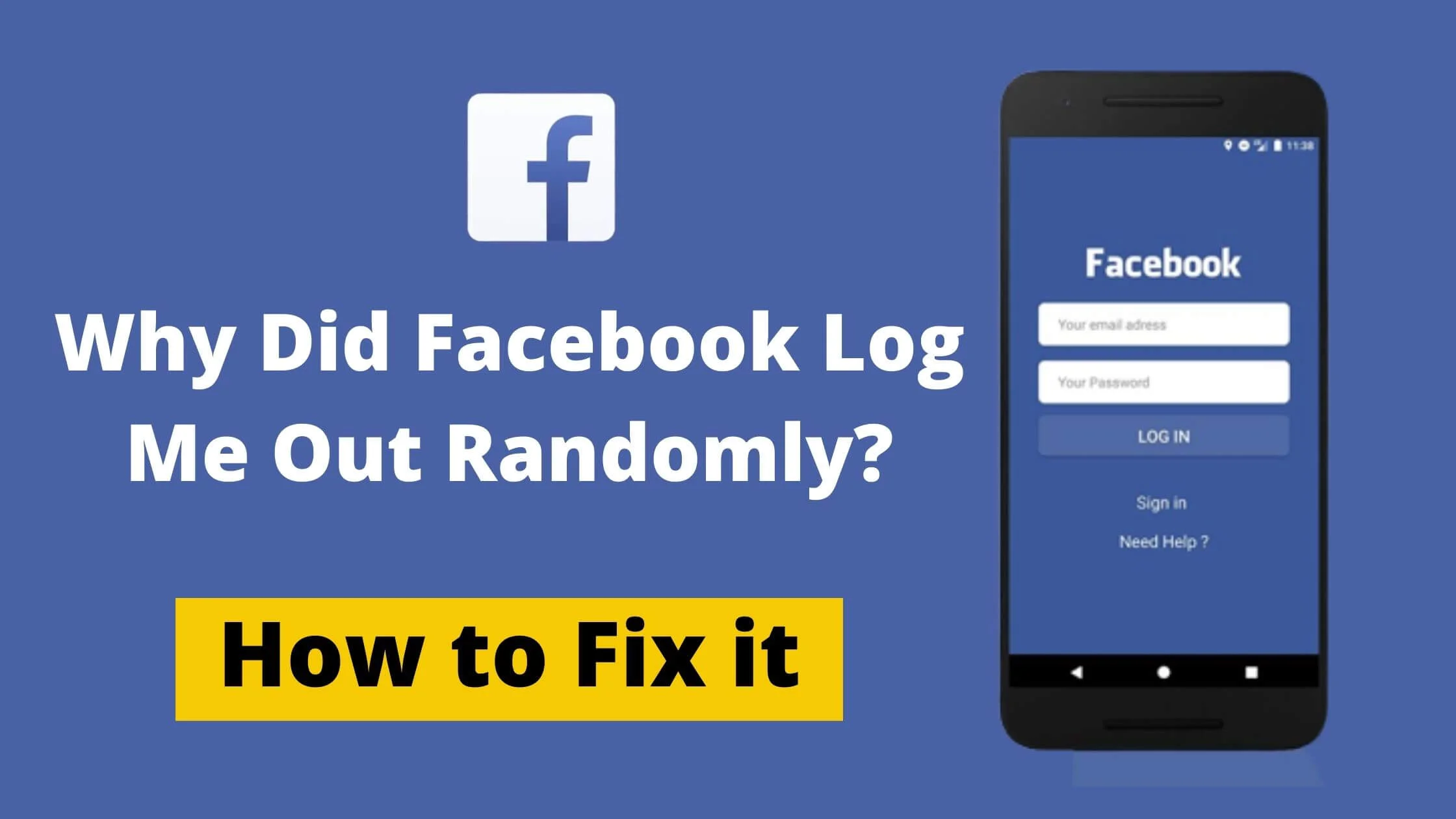 So, to the question, why did Facebook log me out? Getting logged out of Facebook all the time can be really annoying.
If Facebook keeps logging you out and doesn't know why then you're about to discover the quick fix to it.
In this article, I walk you through the reasons behind Facebook logging you out of your account and how to resolve it.
See Also: How to Report Facebook Login Issues
Why Did Facebook Log Me Out Randomly
There are various reasons behind Facebook logging you out of your account. The most common reasons are:
There's an unauthorized login attempt on your account.
Improper cookie settings.
Expired Facebook session.
Corrupted browser cache
Outdated Facebook app etc.
With these possible causes of random Facebook logout, below are the ways to get it fixed.
How to Fix Facebook Logged Me Out Randomly Problem
If you're one of those asking why did Facebook log me out of my account, below are the different ways to fix FB logout without authorization.
Clear Cache and Cookies
Over time, I have seen browser cache and cookies cause issues when accessing certain sites. Clearing browser cache and cookies can be a quick fix to Facebook logging you out.
To clear your browser cache in Chrome, follow the steps below:
Tap on the three-dot icon at the upper-right section in Chrome browser.
Next, choose More tools.
Then Clear browser data.
Check Cookies and other site data and the cached images and files option.
Tap Clear data button to clear caches and cookies in your Chrome browser.
Clear Your Facebook Cache
Perhaps you're using the Facebook app and it keeps logging you out of the account, consider clearing the Facebook app cache.
Below is how to clear the Facebook app cache on Android and iPhone.
How to Clear Facebook App's Cache on Android
Firstly, visit the Settings page of your Android phone.
Find and click on Apps & notifications.
Go ahead to tap on Facebook, below the Recently opened apps tab in the upper corner. But if you can't find it in that section, click See all X apps and click on Facebook.
Next, tap on Storage. If you're an Android 10 user, click on Storage & cache.
Lastly, click Clear cache.
How to Clear Facebook App's Cache on iPhone
Start by opening the Facebook app on your iPhone
Click on the "Menu" tab (three horizontal bars) in the lower-right section.
Scroll down and Select "Settings & Privacy."
Next, Click on "Settings."
In the "Permissions" section, tap on "Browser."
Go to "Browsing Data" section, tap the "Clear" button to clear all website data from a Facebook mobile browser.
Select Remember Me Option During Login
If you want to stop Facebook from logging you out every time, tick the Remember Me box when you're signing in to your Facebook account.
This option will keep you logged in to Facebook on your device.
Next time you try to log in to your account, it will auto-login you into your Facebook profile.
Check if Your Facebook Session has Expired
Facebook session is a way of identifying accounts that are currently active or not. If your Facebook session has expired, you will be logged out of your account.
Make sure that your session has not expired, if it has, log in again and continue to enjoy Facebook.
See Also: What To Do If Someone Posted Your Picture On Facebook Without Permission
Reset Your Facebook Password
Perhaps your Facebook password has been compromised due to unauthorized login attempts from a different device.
To protect your account, Facebook will keep logging you out randomly. To fix this issue, make sure to change your Facebook password and use a stronger one.
How to Change Facebook Password
To change your Facebook password, follow the steps below:
Login to your Facebook account.
Tap on the arrow-down icon at the upper right section of your screen.
Next, tap on Settings & Privacy and tap Settings.
Proceed to tap on Security and Login.
Then click on the Edit button beside Change password and put in a new password for your Facebook account.
Uninstall and Reinstall Facebook App
Most times, FB log out issues can be caused by a technical glitch in the Facebook system.
A quick fix to that is to uninstall and reinstall the Facebook app.
To do so,
Navigate to your phone and search for Facebook app.
Uninstall it.
Next, go to your app store to download and install the Facebook app again on your phone.
Report the FB Log Out Issue to Facebook Support
If after trying all the troubleshooting steps above and the issues still remain, consider reaching out to Facebook Support live chat agent.
Here's a detailed guide on how to contact Facebook support team.
Why Did Facebook Log Me Out Randomly FAQs
Why Did Facebook Log Me Out and Say Session Expired?
Facebook uses sessions to determine who is using the platform at the moment. If Facebook says the session expired, it means that you're not logged online on Facebook.
To continue using Facebook, you will have to log in again.
Why Did Facebook Log Me Out Today
There are many reasons why FB logged you out today. It could be a Facebook technical glitch, a compromised Facebook password or even cookies and cache-related issues.
Why Did Facebook Log Me Out and Send Me a Code
If Facebook logs you out and sends a text code from 32665, it could be a sign that there's a login attempt on your Facebook account from another device.
To avoid getting your account compromised, simply reset your Facebook password.
Conclusion
Through this article on Why Did Facebook Log Me Out Randomly, I have been able to answer possible reasons why Facebook logged you out and how to fix it.
Following the steps above, you should be able to easily resolve FB logout really quickly.
Also Read: