If you're an active Facebook user, chances are that you have been receiving a lot of text messages about Facebook and your account since 32665.
You're not alone in this.
32666 is the text number that Facebook uses to send communication to users on the platform.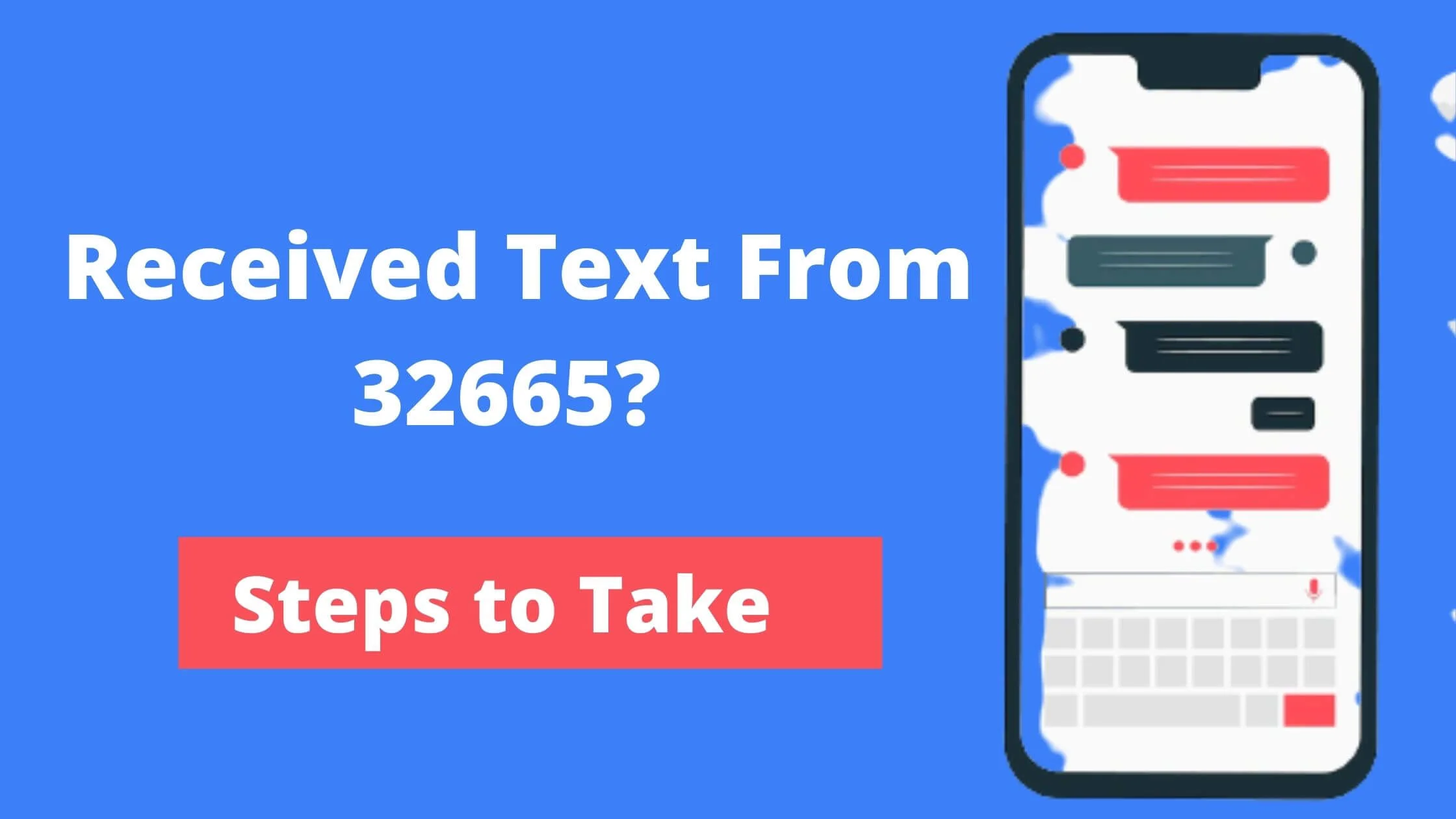 Most times, it is used to notify you about the status of your Facebook profile, especially when you request a Facebook confirmation code to log into your Facebook account or reset your Facebook password.
There have been reports by users about how Facebook has been sending them unsolicited text messages from the 32665 number.
However, Facebook clarified that this was a glitch.
The annoying part is that for any attempt to respond to the text message, the response will be posted to Facebook or under the post that triggered the text message from Facebook.
See Also: How to Report Facebook Login Issues | Quick Response
What Does a Text From 32665 Mean?
Text from 32665 is from Facebook, notifying users of certain activities related to their accounts.
Users can respond to the text message as a way to update their Facebook accounts. So, a reply to 32665 texts will be posted as a status update or a reply to a comment.
For example, if it was a text message notifying you about a friend's birthday, your reply to the 32665 texts will be posted as a birthday wish on their Facebook timeline.
And if it were a comment, it would be posted in response to that specific post.
Therefore, any text to 32665 will be reflected on your Facebook account.
Is Text From 32665 Scam or Legit
Text code from 32665 is not a scam. This is a notification from Facebook on certain activities going on with your Facebook account.
You should not panic when you receive a text message from 32665.
In addition, you can text 32665 to post an update to your Facebook account.
Why am I Getting Text Messages From 32665
You're getting text messages from 32665 because you're a Facebook user. It is a channel of communication from Facebook.
The following activities can trigger a 32665 text from Facebook:
Comment on your Facebook post.
Friend's birthday.
Facebook confirmation code request.
Password reset for Facebook etc.
How to Stop Text Messages from 32665
Most people have asked, "Can I stop text messages from 32665?" The answer is yes.
You can stop the text from 32665 number by simply sending the word "STOP" to 32665.
Once you send it, you will receive an immediate message that your SMS notifications have been successfully stopped.
How to Turn Off Text Notifications on Facebook Desktop
Perhaps you're still getting text notifications from 32665. You can stop it by turning off notifications from a Facebook site or the Facebook app.
On Facebook, there's also an option to turn off text notifications. This will stop every form of text notification from the 32665 number.
To turn off text notifications on Facebook, follow the steps below:
Login to Facebook from the app or website.
Navigate to Settings & Privacy.
Next, click on Settings.
Then tap on Notifications on the left menu.
Under Notifications Settings, click on SMS and change it to Only about your account.
Proceed to turn off SMS notifications under comments, tags, reminders, etc.
How to Turn Off Text Notifications on Facebook App
The steps to turn off text notifications on the Facebook mobile app are pretty similar to the desktop.
Here's how to turn off text notifications on the Facebook app:
Launch the Facebook app.
Tap on the Settings icon (hamburger menu option).
Next, find the  Notification settings from the list of options.
Open Text Messaging and then go ahead and edit the default notification option.
Tap the Not Now on the next page and unselect all the options listed under Get notifications about option.
There's also a slightly different way to stop text messaging notifications from Facebook.
Go to your account Settings and tap on Notifications settings.
Next, scroll down to the bottom of the page and choose the SMS option and change the default selection to Only about your account.
Unselect all options below to ensure that you do not approve any text messaging notifications from Facebook.
Other Ways to Switch off Text Notifications From Facebook
Contact Facebook Customer Support
Perhaps you have tried all the recommendations above and are still receiving text messages from 32665. You can contact Facebook support or use the Facebook live chat agent option.
This should be the last resort if every other thing fails.
Update Facebook's settings
When you receive lots of Facebook notifications via text, updating your settings will let you limit the number of texts you get.
To achieve this, access the Facebook app and then navigate to the Settings menu and tap Notifications.
At this stage, you can update what kind of notification you wish to receive through SMS.
For instance, you may wish to toggle off birthday notifications or event invites.
Always remember that updating the notification will not limit the texts from being delivered to your device — just the ones you wish to get.
You can change the device settings
If you are receiving excessive Facebook texts. even when you have adjusted your settings, you can use your device settings to limit this.
Each device has a different setup. However, you can locate your settings menu by launching the settings app and searching for the "Apps" or "Notifications" tab.
Next, you might be able to see Facebook and update its notification settings.
For instance, you can deactivate all app notifications or limit their delivery time through the app.
As a final course of action, you can remove the Facebook app from your device by uninstalling it.
This will restrict all notifications, particularly text messages, from entering your phone.
Now, this will mean you can only visit Facebook through a web browser on your mobile device or another device.
Uninstall Facebook App
Another method of tackling SMS messages from Facebook, even when you have updated your settings, is to uninstall the app on your device.
This will limit all types of notifications, especially text messages, from being sent to your phone.
After uninstalling the app, you will only be able to visit Facebook if you are utilizing a browser on your PC or mobile device.
To achieve this, navigate to your settings app and locate the "Apps" or "Application Manager" tab.
Next, locate Facebook and select it. You will find an option to either "Delete" or "Uninstall" the app.
After this, Facebook won't send you text messages or notify you via any means.
If you have a change of heart, navigate to the Google Play Store or App Store to reinstall the mobile application.
Text From 32665 FAQs
I got an SMS from 32665. What's the meaning?
Once you have activated Facebook texts, you will receive SMSs from 32665. These are notifications and won't require mobile data.
Always remember that standard messaging fees apply. You can select whatever notification you want to receive.
What's a way to block spammy Facebook Messages?
If someone is sending you spam messages, your best bet is to unfriend, block or report that user's account.
Ensure you review your login history for anything odd. Review your Activity Log and remove any strange actions.
Remove any pictures, posts, groups, events or events that you didn't create.
Why am I receiving Facebook code text messages?
If you opt for two-factor authentication, you will receive an SMS with a unique 6-digit code every time you try to log into your Facebook account using a smartphone or browser that is unknown.
How do I know if my phone has been hacked?
Bad performance: If your device is performing badly, like app errors and glitches, freezing of your phone's screen and weird restarts.
These are signs that your device has been hacked. Another major sign of a compromised device is that you find lots of unrecognized applications installed on your phone.
A hacker can do this.
Can you be scammed if you open a text message?
Scammers are smart and often approach smartphone users using "phishing" scams through SMS (short message services) or text messages.
This is known as "smishing."
This happens when scammers use fraudulent messages to deceive phone users into revealing their private or bank details.
Why am I constantly getting phishing texts?
Spam SMS can compromise your phone's security and is very frustrating.
If you keep receiving spam messages, it is possible that a hacker is sending phishing messages to collect your sensitive data — bank card details, passwords, social security information, digital identity numbers and much more.
Conclusion
Getting a text from 32665 can be very annoying, especially when you don't need them.
We explored different strategies that can assist you in disabling annoying text messages from Facebook.
Getting a text from 32665 is authentic and poses no security threat, but you know how to turn it off.
Following this guide, you should know why you are getting a text from 32665 and how to stop it.
Also Read: