Have you ever tried to log in to Facebook and had trouble logging in? If so, then you're not alone.
Facebook Login issues can be frustrating, especially when trying to access your account from a different browser or computer.
If you ever encounter a login issue, be sure to report it to Facebook.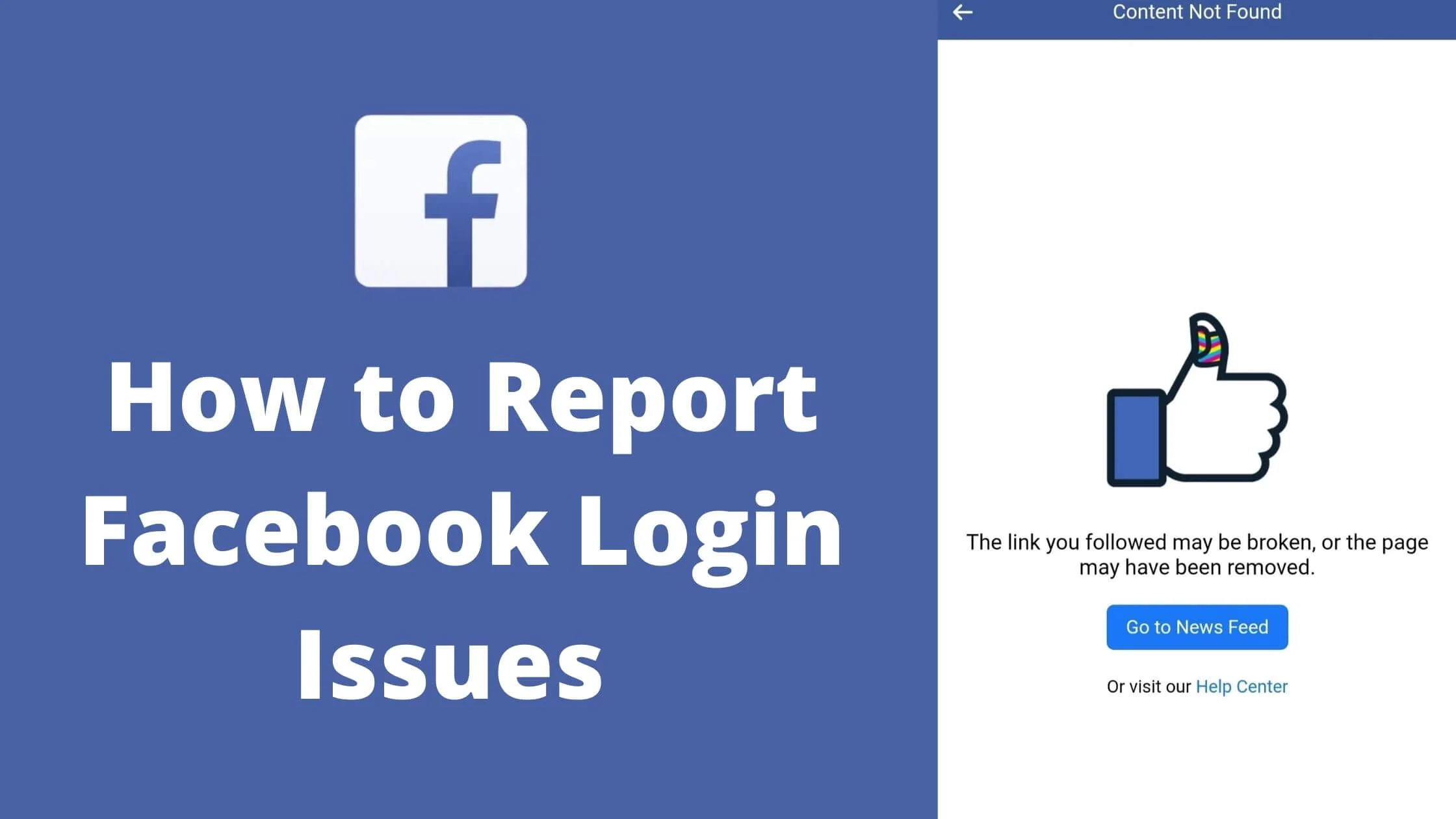 In this article, we'll talk about how to report a login issue on Facebook.
How to Report Login Issues on Facebook?
To report a Facebook login problem, navigate to Facebook login link and follow the procedures stated on the page.
Beyond reporting your Facebook login issues, you will also receive instructions on the page on how you can regain your Facebook login.
As a best practice, it is recommended to use the same smartphone or computer that you usually use to log in to Facebook.
This will enable the Facebook system to identify your device and IP address for easy verification of account ownership.
If you can get hold of the device you usually log in to Facebook with, you can still use a new device.
See Also: How to Recover a Hacked Facebook Account
How to Fix Facebook Login Issues
If you're having issues logging in to Facebook, follow the following recommended solutions to get your account access back.
Reset Your Facebook Password
The first step to take in getting your Facebook access back is to reset your password and log in with the new password.
To reset your Facebook Password, follow the steps here:
During the process of resetting your Facebook password, you will be required to enter the email address, phone number and full name linked to the account.
Ensure you enter all these details accurately to avoid losing your Facebook account forever.
Due to security reasons, Facebook won't allow you to reset your password using the mobile number used to set up 2FA (Two-Factor Authentication).
Also, there's a limit to the number of times you're allowed to reset your password. If you exceed it, you will have to come back after 24 hours.
See Also: Why Did Facebook Log Me Out Randomly? [How to Fix it]
Utilize a known device
Are you logging into Facebook with another person's smartphone or a public computer?
As a safety measure, Facebook will notify you via email with information such as the IP address, location, device model and brand, and it may prevent you from signing in.
This happens to safeguard your account from possible compromises, account theft or hacks.
In any case, a good solution is to use your regular mobile device or PC to log in. Ensure you review your email inbox for a Facebook message requesting that you authenticate a login.
Mobile number tips
Many users have set up their Facebook accounts with their phone numbers instead of email addresses.
Here are a few recommendations from Facebook for logging in with a mobile number:
Input the country code before the phone number.
Never begin with a zero or plus.
Lastly, ensure that you utilize the same regular mobile device or computer that you might have used to log in.
Account Disabled
Not a very pleasant event but it happens.
Facebook may disable your account. However, when this occurs, a notification will be sent to your account.
Review your email inbox for a message from Facebook. This will help you understand why Facebook disabled your account.
Also, look for a message telling you about activities on your Facebook login.
Facebook may disable an account for reasons such as violating content policies, terms of use, excessive log-in attempts, dubious activity, reported by another user, impersonation or adding fake account information and much more.
All hope is not lost. You can submit an appeal by asking Facebook to review your account if it was disabled unfairly or mistakenly.
Account Banned
Another cause of struggling to login is an account ban. However, this one is quite unequivocal.
When this happens, Facebook will send you a notification informing you about this.
Other than the reasons we have listed above, things that can cause an account ban include setting up or running more than one account or impersonating, posting pornographic, offensive, confidential pictures or videos or content, spreading violence or terror and multiple offenses.
Temporary bans are reversed after a short while, and you can't accelerate the process in anyway. While permanent bans are irreversible.
Account Hacked
In the event that your account was hacked, your login information was compromised and is now run by a different person but under your name. You won't be able to log in successfully.
However, you can rectify this: request that your Facebook friends find out if an account activity has taken place since the last time you logged in.
Review your account for updated profile information, friend requests to strangers, messages you didn't send or posts you did not upload.
If you notice that things are not right, immediately report the account to Facebook. After that, the process of safeguarding your account and returning your account ownership to you will begin.
You will be requested to prove that you are the authentic owner of the account by sharing the identity document, paperwork, passport, authenticating the phone number and email and providing answers to security questions.
Did Facebook send you an email telling you about a change in profile information, such as email ID or phone number?
If this is the case, you can easily cancel the change by selecting the link that states, "I didn't request this change".
This will help you restore account ownership and effect a password change to safeguard your account and protect it from unauthorized access.
Recover Facebook Login Using a Friend's Account
You can fix your Facebook account login issues using a friend's account. To do so, follow the steps below:
Navigate to the Facebook profile you want to recover access to and tap on the three horizontal dots under the cover photo.
Next, tap on Find support or report profile.
Select Something else from the list of options.
Tap on Recover this account and follow promptly.
Retrieve Facebook Login through Facebook Support
Perhaps you've tried to reset your Facebook password and used a friend's account, but still, it doesn't work. Then contact Facebook support live chat.
Through a live chat with the Facebook customer representative, you will get your account issues resolved immediately.
To use the Facebook support live chat, you must have an active ad account. Otherwise, you won't be able to use the chat option.
If you don't have access to the chat option, here are other ways to contact Facebook support.
Best Practices
A great way to safeguard your account against cybercriminals is by activating a 2FA or two-factor authentication.
Desist from uploading dubious content and ensure you adhere to Facebook's community standards and content policies.
It is also a good idea to add a backup email address or mobile number. Ensure your password is strong, hard to guess, random and unconnected to you in every manner possible. You can also utilize a password manager for this purpose.
Alternatively, you can jot down vital information related to your account and store it in a safe, private place. Stay away from free, untrusted or vulnerable WiFi connections or use a virtual private network if needed.
How to Report Facebook Login Issues FAQs
If you get notified of an unauthorized login attempt to your Facebook account, you can report it.
To do so, click on the login attempt notification and follow the prompts to report it. Alliteratively, you can change your login details immediately and set up 2FA if you haven't.
See also: How to Check Facebook Login History
How Can I Get My Facebook Login Report
To retrieve your Facebook login report, simply go to your Settings & Privacy > Activity log > Active Session.
From this section, you can log out of any unauthorized login to your Facebook account.
How Can I Contact Facebook for Login Issues?
As a user, you can easily contact Facebook support to fix your login problems. Once you get connected to a Facebook rep, they will help you resolve all of your issues.
While we cannot stop hackers from trying to gain access to your Facebook account, you can take measures to strengthen the security of your Facebook account.
To do so, make sure that you have set up 2FA for your Facebook account.
Conclusion
Facebook Login issues happen for a reason. Sometimes it's something as simple as a browser update that causes problems.
But sometimes, it's something more serious, and it can be frustrating to see errors and warnings pop up on your Facebook page.
If you ever have trouble logging into your account, use the steps above to report a Facebook login issue.
Also Read: