The digital marketing industry is constantly evolving, and it can be challenging to stay abreast of these changes and trends.
However, accessing information of this nature is important to aspiring marketers or anyone who seeks career advancement in the field.
And knowledge is a valuable commodity that can give you a competitive edge and push your career forward.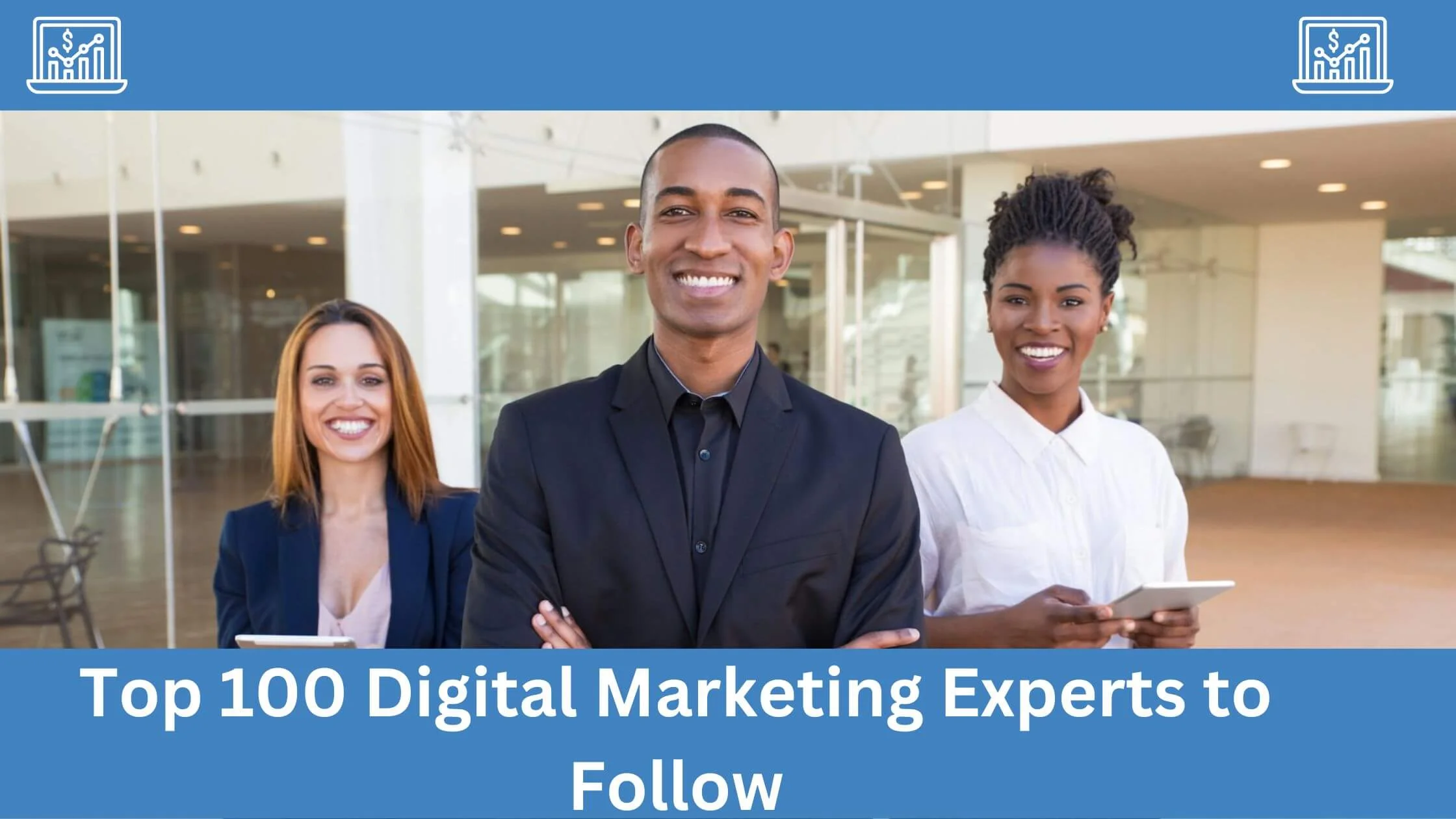 In the world of digital marketing, there are numerous people who are willing to share their expertise and the experience they have garnered over the years.
And connecting with experts is highly essential, whether you are a beginner or a veteran. 
While you will find plenty of digital marketers willing to give away insight into their work, it is hard to differentiate the pros from the imposters. 
This is why in this article, we will analyze the top 100 digital marketing experts to follow. 
So how do we know these people are authorities in the digital marketing industry? 
They have invested plenty of hours mastering and refining digital marketing strategies. 

They are fully conversant with the intricacies and nuances that have defined digital marketing of this era. 

They have crafted both video and written content that has demonstrated their expertise in the field.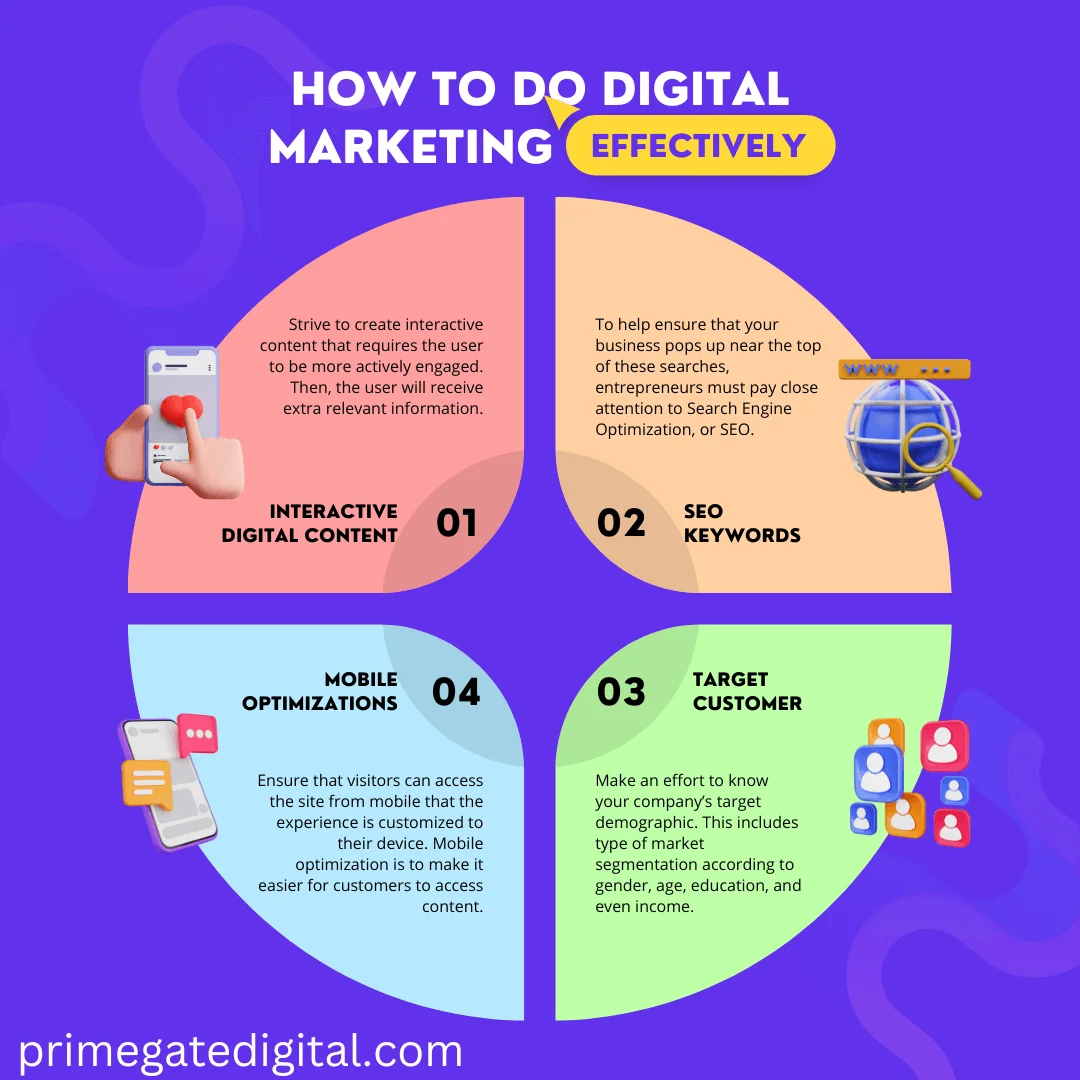 I'll go into further detail by sharing these marketing gurus with you. 
We have analyzed and categorized these experts according to locations: United Kingdom, United States, Canada, Australia, India, Germany, France, Spain, United Arab Emirates and Italy. 
Top 10 Digital Marketing Experts to Follow in the United Kingdom
Below are the best digital marketing experts in the UK.
Dr. Dave Chaffey (@davechaffey)
Dave Chaffey is the director and co-owner of Smart Insights, a web-based company that specializes in digital marketing consultancy and training programs.
By offering quality virtual learning courses, they strive to assist businesses in achieving their marketing goals. 
Dave mostly shares links to his Smart Insights articles, but he occasionally adds content from his blog and even thinks pieces from contributors at Smart Insights.
You can check out his website for informative articles and visual content about the latest digital marketing ideas, insights and toolkits. 
Laura-May Coope 
Laura heads Social Life, an agency that focuses on connecting media companies and brands with youngsters across the internet.
Social Life is renowned for its partnership with Britain's Got Talent, The X Factor and Netflix, among other popular brands in the media industry. 
Laura regularly shares her perspective on contemporary culture and Social Life updates on Twitter.
She has successfully tailored her social media profile with personal pictures and quotes. 
Bruce Daisley
A veteran digital marketing professional, Bruce plays a big role in overseeing the affairs of Twitter in Europe.
He has achieved plenty of accolades in the digital marketing industry. In 2014, he was awarded "The Drum Social Buzz Awards' Individual of the Year". 
As a prominent Twitter executive, Bruce stands out as a social media influencer by balancing company posts with an interplay of charisma and timely retweets that revolve around youth culture and news.
If you wish to establish a likeable yet genteel social profile, you should learn from Bruce's Twitter activities.
Timothy Hughes
Timothy is the owner of 3 popular Twitter accounts, and they all have high follower counts.
If you run 3 different prominent Twitter accounts, then you are an online marketing maestro. He runs Digital Leadership Associates and is a firm supporter of social selling.
He also shares a principle that revolves around "social organization" as the secret to positive digital evolution for businesses today. 
Timothy shares his ideas on his trio of accounts on Twitter. His thought leadership piece centers on social selling and space travel.
The amazing thing about Timothy's social media activity is that his posts always grab the interest of his audience. 
Zbynek Kysela 
Zbynek Kysela is a respected digital marketing guru. He is an analyst, coach and facilitator for businesses that seek growth and improved online visibility.
Born in the Czech Republic, he presently works as a social media manager at Tweet Jukebox, a social content creation and reporting tool. 
Zbynek's Twitter account has over 50,000 followers and is still growing due to his frequent tweets about digital and social media.
James Whatley
James manages digital strategy at Ogilvy and Mather Advertising London, an internationally-renowned marketing agency.
He partners with media specialists and design professionals to create innovative and engaging ways to improve brand-audience relationships. 
James shares business updates, pictures, personal ideas and quotes on his social media pages.
Jeremy Waite
Jeremy is in charge of digital strategy for Salesforce's Marketing Cloud EMEA.
EMEA is a digital marketing agency located in the UK that centers its operations on brand marketing, content creation and strategy.
Jeremy invests quality time in giving speeches at events, workshops and symposiums where he lectures on disruptive technologies, innovative strategies, corporate management and venture philanthropy.
He regularly shares ideas on digital marketing as well as opinions on content creation, sporting events, humanities and liquor.
He cares deeply about community engagement and business growth. 
Stephen Waddington 
Stephen is a media relations expert and is also head of engagement at Ketchum, a US-based PR agency that provides marketing, advertising and media management services to businesses. 
Stephen has years of experience coaching businesses and individuals for public engagement. Be sure to check out his blog for insightful posts on public relations. 
Lukasz Zelezny  
Lukasz is a renowned SEO specialist based in the UK.
He is presently the director of organic acquisition at uSwitch, a popular compare & switch platform. uSwitch's goal is to enable customers to find budget-friendly prices and services from companies across the UK. 
Follow him on Twitter if you'd like to see his perspective and analysis on SEO and marketing techniques. 
Top 10 Digital Marketing Experts to Follow in the United States
Here are the best digital marketing experts in United States.
Rand Fishkin
Rand Fishkin is the Chief Executive Officer & Founder of SEOmoz, an innovative SEO solution, blogs & community.
He made BusinessWeek's list of "Best Young Tech Entrepreneurs Under 30" and has been profiled in numerous online publications. 
He has delivered talks on search engine optimization from Australia to Ireland, Canada to Munich and given speeches at a number of events across the globe.
He regularly publishes his ideas SEOmoz blog, which is visited by thousands of SEO experts and enthusiasts alike. 
Ann Handley
Ann Hadley is revered as the "first chief content officer" in the industry. She helps companies and individuals to revolutionize their marketing strategies. 
She was hailed by Forbes as the most powerful woman in the digital marketing industry, as well as being among the most successful women bloggers.
Ann also serves as the Chief Content Officer at MarketingProfs, a consultancy agency that empowers marketers across the world to achieve success in their businesses.
She has published many books, including the best-selling business communication guide, "Everybody writes."  
Jay Baer
Jay Baer has a wealth of experience in digital marketing and customer engagement spanning over 15 years. He has served as a consultant for over 700 brands.
He is the founding manager of Convince & Convert.
This agency delivers brand management, content creation, customer engagement and social media services and consultancy to many of the most successful companies across the world. 
His latest series, Talk Triggers, is a detailed playbook for customer acquisition through smart strategies that encourages word of mouth and conversational marketing.
Larry Kim
Larry Kim is the Chief Executive Officer of MobileMonkey, one of the most popular marketing automation tools widely used by thousands of businesses to optimize their promotional and sales activities. 
He is a four-time winner of the annual PPC Hero's Search Marketer award. He has also been honored by online publications, Search Engine Land and WeAreSearch. 
Larry's medium page is among the most popular on the platform. He has also written for CNBC and Inc. Magazine. 
Avinash Kaushik
Avinash Kaushik is one of the founders of Market Motive Inc. and an evangelism marketer for Google.
He has served in prominent positions at DirecTV, Silicon Graphics and DHL. 
Avinash has positioned himself as an authority on the ways in which marketing professionals, business leaders, entrepreneurs and decision-makers can channel data by rebranding their online presence. 
He has won accolades for sharing his dynamic, engaging and valuable insights with companies such as Dell, IBM and Porsche. 
Guy Kawaski
Guy Kawaski is the marketing head at Canva, a popular tool for visual content creation. He held positions at Apple, Google and Motorola.
He has also published books, including The Art of Social Media. Kawasaki is a graduate of Stanford University and the University of California, Los Angeles.
Matt Heinz
Matt Heinz has over a decade of experience in digital marketing, organizational growth and sales.
He is an expert in generating quality results for brands and clients through improved revenue, better profitability, high engagement and brand loyalty.
He has worked with multinational brands like Market Leader, Microsoft and Boeing.
He launched Heinz Marketing with the aim of empowering businesses to take advantage of opportunities in the marketing and customer experience space, then execute a strategy to maximize sales and customer acquisition. 
Joe Pulizzi
Joe Pulizzi is a serial entrepreneur. He created a content creator training platform, The Tilt, and a forum for content startups, Creator Economy Expo (CEX).
He has also written seven well-received books, such as Epic Content Marketing and Content Inc. 
Joe was also recognized as the inventor of the term "Content Marketing" in 2001. He also founded the Content Marketing institute during that time.
He won the "Lifetime Achievement Award" during the Content Council Award event in 2014.
Niel Patel
Niel Patel is a popular digital marketing strategist and blogger. The Wall Street Journal recognized him as the "Top influencer on the internet." 
He has added value to the marketing campaigns of international brands, including Microsoft, Google, Viacom and General Motors. 
His digital marketing website has more than 3 million monthly visits every month. He also has a YouTube Channel with over 670,000 subscribers. 
Travis Wright
Travis Wright is a leading marketing strategist, writer, media personality, cryptocurrency guru, tech columnist and business growth, consultant.
His previous role was as a chief digital strategist at Symantec. 
Together with Joel Comm, he co-hosts a tech podcast, The Nifty Show. The show analyzes everything about NFTs and virtual relics. They connect the bridge between blockchain and digital marketing.
Wright has partnered with numerous business leaders and senior executives on digitalization, marketing innovation, social selling and content creation. 
Brian Dean
Brian Dean is a world-renowned SEO expert who is widely known for his popular blog, "Backlinko".
Backlinko is the best source of SEO and link-building advice.
He has been featured in many publications including Entrepreneur Magazine.
Top 10 Digital Marketing Experts to Follow in Canada
Below are the best digital marketing experts in Canada.
Douglas Idugboe
Douglas is the founding editor and managing director of Smedio, a platform that assists everyone in having a better knowledge of digital marketing.
He is also a keynote speaker, writer, advertising consultant and coach who is passionate about technology and its positive benefits in the business world. He is based in Calgary, Alberta. 
Matthew Vernhout
Matthew is a Toronto-based writer, online personality, writer, performance expert, digital marketing expert and privacy campaigner.
He specializes in email marketing, which is what encouraged him to start up Emailkarma.net, a platform that shares tips and news about email.
Through the use of Email Karma, he offers his perspective on digital trends across the world. Emailkarma.net is listed among the best tech blogs in Canada. 
Erin Blaskie
Erin Blaskie is the owner of ErinBlaskie.com, a platform that has immensely benefited hundreds of businesses in creating digital presence and brand exposure.
She has positioned herself as a brand marketer, product strategist and customer engagement guru. She has also written for Huffington Post Canada and Medium.
Adele McAlear
Adele McAlear is a digital marketing veteran and social media expert. She has spent years assisting businesses in improving their social media and digital campaigns.
Furthermore, she is a superb speaker and has delivered talks in elite educational institutions about technological trends in the marketing sector.
She played a role in Justin Trudeau's campaign, which ended in resounding success. 
Michelle Pellettier
Michelle is the owner and managing partner of ProTableau Inc., an algorithmic branding and digital content-focused agency.
ProTableau helps businesses meet their marketing needs through effective and personalized ad placement to improve sales and engagement across social media platforms.
Scott Stratten
A resident of Toronto, Scott Stratten is an industry expert with over a decade of experience.
He is the owner of unmarketing.com, a highly popular brand in the digital marketing industry.
Together with his brilliant wife, Alison, he has written four popular business publications. He specializes in all forms of online marketing, including social, digital and viral.
He is listed among Forbes's "best 5 social Media Influencers". 
Pauline Cabrera
Pauline is a rising star in the marketing industry.
She oversees her website "TwelveSkip", where she shares tips on how content creators and brands can grow their digital presence.
She utilizes a number of marketing approaches like SEO, email marketing, influencer marketing and content marketing. 
Jason Gordon
Jason Gordon is the owner of StrongSocial, a platform that offers business improvement ideas to small businesses.
He focuses on social media marketing and shares the belief that social media is the best marketing channel for businesses today.
Through his website, he gives away insightful tips on content planning, website design, customer acquisition and social media engagement strategy.
Kathryn Howell
Kathryn Howell is a senior partner at H20 Digital, a marketing firm located in Toronto.
She is widely rated as being among Canada's most successful and knowledgeable digital marketing professionals.
She is a proponent of word-of-mouth marketing, as it is the key to compelling stories, which is at the heart of marketing. 
Steve Williams
Steve Williams is an expert in the field of digital marketing and the owner of BuzznTips website.
He has worked in the sector for years and has created content for his blog since 2005. He is a business owner and online strategist who helps everyone to grow their income.
You can check out his website to learn social media, lead conversion and campaign management skills.
Sam Fiorella
Sam Fiorella is an academician, writer and businessman. He is from Toronto and holds a senior management position at Sensei Marketing Inc.
His book "How to Create, Manage, and Measure Brand Influencers in Social Media" was published in 2013. His area of expertise lies in brand awareness and influencer marketing.
Samuel Francois Parent
Samuel F. Parent is a digital advertising guru, coach, and speaker based in Montreal.
He leads Titan Interactive, an advisory agency that provides workshops bordering on media management, content marketing and many more. 
Top 10 Digital Marketing Experts to Follow in Australia
Below are the best digital marketing Eexperts in Australia.
Jeff Bullas
Jeff Bullas is among the most respected online consultants. He is a prolific writer, lecturer, tech columnist, digital marketing guru and coach.
He was recognized as the world's top digital marketing influencer in 2016. He is also regarded as a top content marketing expert. He also helps businesses meet their online marketing needs. 
Darren Rowse
Darren Rowse is a popular content developer and storyteller.
He is a businessman and part-owner of ProBlogger. He has a solid Twitter follower base of 243,000 people. He is recognized as an authority in the digital marketing industry.
He is the owner of ProBlogger and Digital Photography School.
Chris Hodgeman
Chris Hodgeman is the part-owner and senior manager of MavSocial, a digital media & content planning tool.
He was previously a financial advisor and a fellow of the Hong Kong Institute of Directors. Hodgeman is a tech evangelist with two decades of experience in the banking sector.
Jenni Beattie
Jenni Beattie is a businesswoman and founding partner of the marketing agency "Digital Democracy."
She has a decade of experience in digital management and has held various positions in the private sector.
She also served as a Social Media Manager at The Cancer Council. Beattie's area of expertise is communications, customer analytics and SEO.
Carolyn Hyams
Carolyn serves as Aquent's marketing director. She is very active on Twitter, with a follower base of over 10,000 people.
She boasts more than 8 years of experience as an online marketing guru.
Her areas of expertise include brand awareness, content creation, business communications, PR management and digital marketing strategy.
Hyams is a bibliophile who loves consuming marketing-related books and stories. 
Stuart Sterling
Stuart is a respected digital marketing evangelist with over a decade of experience in the food and beverage sector.
He has a Twitter follower count of more than 25,000 people. At present, he serves as marketing head at Pizza and Meals. 
Sterling is a specialist in brand awareness, growth strategy and content marketing. He is also passionate about customer relations, brand strategy, strategic planning and web analytics. 
Mark Cameron
Mark Cameron is the Chief Executive Officer of W3 Digital, an information technology and user experience brand.
He is a popular digital strategist with more than 29,000 Twitter followers.
He often writes for reputable online publications across the world. He writes think pieces for Marketing Mag and BRW.
He is the author of more than five hundred writings on digital marketing ideas. He is a licensed Experience Economy specialist. 
Heather Porter
Heather Porter is a versatile tech guru with a nearly 17,000-strong follower base on Twitter. She is a writer, coach, podcaster and marketing strategist.
She is the head of Digital Voice, a management company that deals in increasing the online engagement of businesses.
She also co-owns AutoPilot Your Business, a digital media initiative. 
Lama Jabr
Lama Jabr is a renowned writer and marketing expert. She also serves as a strategist for Amazon Kindle Publishing.
She owns Xana Marketing, a digital marketing management business. She boasts over 12 years of content writing and marketing experience.
She is a big fan of ebooks and has more than 75,000 followers on Twitter. 
Rohan Davidson
Rohan is widely recognized as a content writing and digital marketing guru. He is the founder of a content writing agency called Content Consultant.
He focuses on digital management and policy, customer relations, site analytics and revenue optimization. He has thousands of Twitter followers. 
Top 10 Digital Marketing Experts to Follow in India
Below are the best digital marketing experts in India.
Sourabh Bhatnagar
Sourabh is a content marketing specialist. He has been profiled by Forbes as India's most popular digital marketing professional. 
Through the power of content marketing, he has added tremendous value to businesses and individuals. 
Together with his younger brother Rahul Bhatnagar, he has launched numerous online marketing tools and is fittingly known as  the "marketing mastermind."
He has formulated his unique selling point, TFP, which he uses to optimize ad campaigns, enjoy investment returns, and streamline marketing funnels.
Harsh Aggarwal
Harsh Aggarwal is an Indian marketing expert who has humble beginnings as a customer service agent. Today, he is a millionaire. 
He perfectly embodies blogging authority. He owns a popular blog called Shoutmeoutloud. 
His story is an exciting one, and he has over a decade of industry experience. 
His area of expertise revolves around WordPress, search engine optimization and revenue optimization.
Jitendra Goswami
Jitendra is an online marketing specialist, strategist, coach and keynote speaker. He wrote the book "Inside A Hustler's Brain: In Pursuit of Financial Freedom" in 2017. 
He has earned a reputation at home and abroad due to his piece of writing and seminars.
He has years of experience in the digital marketing industry and is a mentor to over three thousand enthusiasts around the world.
His mission is to help businesses reach their goals through digital innovation. 
Pradeep Chopra
He is recognized as the pioneer of the digital marketing space in India.
He is the founding partner and head of Digital Vidya, a globally renowned speaker, business and internet marketing blogger.
Pradeep has chaired several social media seminars in India and Singapore, including the Global Youth Marketing Forum and TiEcon. 
He has coached and offered consultancy services to numerous businesses regarding digital marketing. 
Sorav Jain
Sorav Jain is the head of EchoVME and Digital Scholar. He launched his career as an SEO specialist at the age of seventeen. 
He has presently positioned himself as a major player in the digital marketing industry with more than a decade of experience. 
He runs a YouTube channel and website. He has developed tutorials on Udemy and is considered a leading marketing strategist.
His brand EchoVME was voted "The Best Social Media Agency" in 2013. He is passionate about his growth and shares his stories and experiences via his talks and workshops. 
Jyotindra Zaveri
Jyotindra is a seasoned media marketer and enterprise resource planning expert.
He launched his professional career as a Consumer Analyst at IBM and spent a long time as a guest lecturer for notable Indian colleges.
He has carried out numerous research in the realm of digital marketing, publishing nine texts and contributing to online magazines. 
Priya Florence Shah
Priya is the owner and Chief Executive Officer of Blog Brandz, an online marketing consultancy in India. She has partnered with SHEROES and Naree.com.
She is a great example of a marketing specialist who didn't major in marketing but succeeded through dedication and hard work. 
She has continued to relentlessly undergo training in online marketing, branding and publicity.
She is a prolific writer and one of the biggest online marketing influencers in India. 
Netra Parikh
Netra is an active communicator and digital media expert. 
She owns headstart.in, the biggest local level network that assists startup companies and small businesses across India.
She has also been at the forefront of social movements such as Startup Saturday, Mentor, We@Headstart, which have fostered a booming entrepreneurial atmosphere in India.
She is a businesswoman and marketing specialist. 
Deepak Kanakaraju (popularly known as  Digital Deepak)
Deepak is the head of Pixel Track Digital. He has more than a decade of experience as an online marketing strategist, business coach and writer. 
He has served in positions in reputable brands like MoEngage, Instamojo, Razorpay and Practo. He is the author of the marketing book "Edge of Sanity".
He has also given talks at TEDx events.
He manages Learn Digital Marketing, one of the biggest digital marketing training agencies in India, where learners can gain all the expertise and skills in marketing and customer engagement. 
R. Allahbadia
Ranveer is an expert in social media marketing, vlogger, media personality, management consultant and writer. 
He launched BeerBiceps Pvt. and Monk Entertainment, brands that specialize in marketing services for businesses of all sizes. 
His career started in 2015 when he set up a YouTube channel that was aimed at fitness and athleticism.
While he got hooked on the digital space, he became conscious of the importance of digital marketing and social media. 
He soon became a respected businessperson in the industry. His podcast, "The Ranveer Show," has become one of the most-listened podcasts in India. 
Top 10 Digital Marketing Experts to follow in Germany
Below are the best digital marketing experts in Germany.
Fredik Harkort 
Fredrik Harkort is the managing director of Bodychange.
He is known for his digital marketing strategy of creating hype for his merchandise through collaborations with influencers and reviews.
His ability to build hype on social media is something to be studied. 
His brand, BodyChange, has since been acquired by the German online advertising company, Ströer and has now enjoyed a boost in awareness due to ads placement. 
Yi Shi
Yi's story is that of rag to riches.
As a youngster, he visited Germany to study digital marketing, made a bit of cash and relocated to China to start up a tremendously successful marketing agency.
He is a popular SEO specialist and affiliate marketer.
His brand management agency, Avazu, is now a consortium of four businesses, hiring close to a hundred people and worth millions. 
Tim Schumacher
Tim is the managing partner of Eyeo, a tech company known for its online tool, Adblock. His product, Adblock Plus, has over 55 million users across the world.
His first company, Sedo, a popular domain provider, was acquired by United Internet.
Today, he is a respected face in the digital marketing space in Germany.
While his company has been the subject of criticism over the years, Tim always stresses that his product, Adblock Plus, is not an illegal tool, and it solves a problem in today's privacy-conscious society. 
Christian Hentschel
Christian is the brains behind Adjust, a million-dollar marketing and analytics software company.
Combating ad fraud has been a serious challenge for online publishers and marketing professionals, and Adjust exists to fill that need.
The platform has heavyweights like Zalando and Spotify on board. It has won the hearts of everyone due to its ability to display real-time performance metrics. 
Johannes Theobald
Johannes Theobald is one of the founders of Kapten & Son. He is an influencer marketing specialist.
He started the business when he was in college and has made millions in income. Kapen & Son is now an online store for fashion items and is known across Europe. 
Christoph Kastenholz
Christoph is the head of Pulse Advertising, a leading influencer marketing brand in Germany.
It has popular influencers like Pamela Reif and Chiara Ferragni as endorsers.
Pulse Advertising partners with multinational corporations like Uber, Unilever and Ferrero. 
Ulrich Hegge
Ulrich Hegge is a regional manager at Appnexus, a globally renowned tech company.
He is a digital marketing expert who has worked for companies like Comdirect Bank and Burda.
His first company was the online betting platform Edict and content analytics company, Wunderloop. 
Kai Klement and Jorg Kundrath
Kai and Jorg are Amazon marketing specialists and founders of Kavaj, a phone accessory brand.
They are both credited as pioneers of Amazon SEO. They earn millions from their phone accessory brand.
Malte Feller
Malte Fellers has worked for some big brands. He was hired as a country manager for Paypal and has lent his expertise to HP, eBay and Zipcar.
He is presently at the heart of Facebook's innovation and future products, such as Facebook at Work and Messenger. 
Top 10 Digital Marketing Experts to Follow in France
Below are the best digital marketing experts in France.
Philippe Trebaul
Philippe Trebaul is at the helm of management at BEEMOV, an environmental protection agency.
He has been in senior management positions for over two decades. He was in charge of the ADN group, comprising four subsidiaries.
He is a specialist in corporate management, digital planning, marketing strategy and business operations. 
Jean-Luc Raymond 
Jean-Luc is presently chief content manager and digital communications head at France Num, a French government initiative for the digitalization of small and medium businesses.
He also lectures at CELSA – Sorbonne Université, a communication college. He anchors a program on FrenchWeb's radio breakfast show.
Johnathan Aufray
Jonathan leads the French creative brand Growth Hacker.
He is also a digital marketing consultant that assists small businesses in improving their promotional campaigns and online visibility. He holds a master's degree in Marketing and Management. 
Fadhila Brahimi
Fadhila is a committed data marketing analyst. She played a key role in channeling digitalization into the French airline sector.
She is also an organizational change specialist. She launched her agency, FB Associes, to spearhead the digital transformation of businesses and individuals. 
Fred de Vilamil
Fred is a digital technology expert. He has a wealth of experience spanning 15 years in scaling systems and businesses. His area of expertise is communications and big data.
Before launching his own engineering brand, he was vice president (engineering) at Ledger.
He also led the development of ELive, an e-sport streaming platform, and Niten, an innovative lab for startups.
He previously headed the IT architecture department of blueKiwi software, a social platform. 
He has also delivered talks on workshops on tech and analytics, where he shared his ideas about improving engineering systems and operations. 
Pierre Pinna
Pinna is the Chief Executive Officer of IPFConline Digital Innovations.
She is a tech specialist majoring in computer engineering and holds a doctorate degree in management and innovation of technologies.
She has been named among the top digital transformation experts of 2018. 
Her level of expertise is in artificial intelligence, SEO, digital marketing and business analytics. 
Stephane Torregrosa
Stephane is the communications coordinator at Extencia, an accounting agency.
He is a creative who shares innovative tips that can add value to the marketing campaigns of small businesses. He is a voracious reader and intellectual.
Severine Lienard
Severine is an expert in team building, artificial intelligence, media management, communication solutions and social media marketing. 
He shares ideas that assist businesses in delivering quality customer experiences and innovative solutions.
He believes in the power of digitalization and its role in expanding our network and professional expertise. 
Nicolas Kern
Nicolas is a popular coach on Instagram. His learning modules "IG marketing PRO" and "Success on Instagram" have received rave reviews.
He is a mentor to over ten thousand professionals. His expertise is in social media marketing and management. 
La minute Lucy
Lucie is committed to helping small businesses grow and thrive. She enjoys sharing marketing tips, which to her, is key to fulfilment and creativity. 
She has over a decade of experience in web design, content writing and graphic design.
Top 10 Digital Marketing Experts to Follow in Spain
Here are the best digital marketing expert in Spain.
Enrique Dans
Enrique Dans is a tech expert. He teaches Innovation and Technology at the Spanish IE Business school. He also publishes articles in tech publications.
He is a scholar, analyst and writer who has partnered with online magazines like PC Actual and Libertad Digital.
His work mostly concentrates on internet use, digital technology and its influence on businesses, marketing and relationships. 
Yudis Lonzoy
Yudis is a Peruvian marketing and sales consultant. He is known for his book "The Millionaire Salesman."
He is in his mid-30S and has emerged as the most influential personality in marketing strategy. Yudis is a popular coach, communicator and businessman.
He delivers over 70 talks yearly in many countries of the world. 
Victor Martin
Victor Martin is frequently rated as the most influential social media user. His brand is among the biggest and most popular in Spanish-speaking countries.
He is a public speaker and has delivered speeches in symposiums and forums. He is an expert in digital management, the blogosphere and business marketing. 
Romuald Fons
Romuald Fons is an SEO guru and one of the most brilliant minds in the digital marketing space.
He is a college dropout. Romuald was named among the top 100 influencers by Forbes. 
Vilma Núñez
Vilma holds a graduate degree in advertising and has worked for MUWOM, a creative management agency.
She launched a blog where she began sharing ideas, and this endeared her to thousands of digital marketing professionals across the globe.
Her blog received wide attention, and it got hundreds of thousands of visits daily. 
Jürgen Klaric
He is an expert in sales research and neuro-language programming marketing.
Jurgen is a popular speaker, coach, author and neuro marketer and was listed among the most successful marketers in the Spanish-speaking world.
Because of his disruptive sustainability ideas, he has been called the "Steve Jobs of education." His educational platform, BiiA LAB, gives away scholarships to the less privileged in society. 
Carlos Munoz
Carlos is a real estate investor. He is also a marketing influencer as he uses his social profile to promote content.
He has been rated as the most important figure in estate marketing.
He is the founder of two real estate brands, Insituto 11, a business committed to entrepreneurial advancement, and 45 Real Estate Foresight, an advisory group for real estate companies. 
Euge Oller
Euge has generated headlines lately and has been profiled by Forbes because of his expertise – in social media management and business mentorship.
He owns an eLearning platform called Emprende Aprendiendo (https://emprendeaprendiendo.com/), which has trained over two hundred thousand students. 
Gemma Munoz
Gemma made the list of 100 women leaders in Spain in the realm of innovation and business, according to Mujeres & Cia.
She is the brains behind The art of Measure and is a nominee for the International award of Web Excellence Rising Star. 
Sofia Contreras
Sofia is a trailblazer in the tech, industry, commerce and academic space. She has partnered with new businesses, governmental agencies and tech firms.
She also assists startups in leveraging technological breakthroughs and discovering opportunities that optimize business growth. 
Top 10 Digital Marketing Experts to follow in UAE
Below are the best digital marketing experts in Dubai.
Taim Al Falasi
Taim is a diet, travel, and wellness influencer.
She runs numerous catering establishments, including X Burger, Crave, Peach of Cake, and Chic Bae, all of which are situated in the United Arab Emirates.
She gained national recognition as the anchor of the TaimShow, an interactive radio show that enabled her to position herself as a vlogger and marketing creative.
She also has a solid follower base across her social media accounts.
She is also the brains behind TAN, an online marketing platform for beverages and foods.
Naomi D'Souza
A graduate of engineering, Naomi presently works as a digital marketing consultant.
She also ranks among the most popular and successful bloggers in the UAE, primarily in the food service industry.
Her blog, which has received over a million visits, offers top dishes, recommendations, and glimpses into her journey through life, in addition to travel and lifestyle issues.
She was voted among the #Hot100 most outstanding Asians in the UAE and has delivered talks at three TEDx events. 
Milli Midwood
Milli is the online journalist at Harper's Bazaar Arabia. She is also a recipient of a lifestyle blogger certificate from the National Media Council.
Mthayel Al Ali
Mthayel is the owner of Takhayyal, a startup that strives to deliver and highlights excellent content creation work.
It is also a social media management brand that assists businesses in attaining better online visibility.
Mthayel is very active on Twitter and has a loyal follower base!
Adam Jordan
Adam Jordan is a digital marketing consultant based in the United Arab Emirates.
Adam began setting up media brands in the heyday of Instagram before establishing his own dynasty of accounts and brands across the different social media channels.
Adams has partnered with businesses of all sizes, from start-up companies to multi-billion dollar conglomerates.
His forte lies in advisory services and implementing strategies for brand optimization and social media awareness.
Oksana Scvortova
Oksana Scvortova is a vlogger and the owner of the YouTube Channel, Oksy Vlogs. She is also a digital marketing consultant who assists startups optimize their lead generation and sales campaigns. 
She is great at setting up bespoke marketing campaigns and pushing customer leads down your marketing funnels.
Elias El-Indari 
Elias is one of the most popular content creators today. He is also an influencer marketer with a focus on the fashion industry.
He has added value to the lives of many Arab men in the area of clothing and style. He has a solid following on Twitter and Instagram. 
David Warren
David Warren is another popular name in the Dubai influencer marketing industry. He is a style influencer, particularly in the Jewelry and accessory space. He has thousands of admirers on Instagram.
Hanadi Diab
Hanadi is a fashion blogger with over 300,000 followers on Instagram.
She was able to leverage her fame to establish a cosmetics company selling a variety of lip glosses and mascara. 
Huda Kattan
Huda Kattan is a celebrity influencer. She became popular in 2012 for sharing beauty tips and tricks on her YouTube channel.
She started her company Huda Beauty and struck gold. She currently has over 20 million followers on Instagram.
Top 10 Digital Marketing Experts to Follow in Italy
Here are the best digital marketing experts in Italy.
Antonio Grasso
Antonio is recognized as being among the brightest minds in the area of automation, encryption, the Internet of Things, cryptocurrencies and sustainable development.
He is in charge of the Italian company, Digital Business Innovation SRL. 
He has held advisory positions in many businesses and government agencies. He has partnered with large corporations and government entities. 
Antonio is a fellow of The Society of Professional Journalists. 
Giuseppe Giorlando
Giuseppe is a digital consultant with a flair for innovative marketing, tech and corporate strategy.
He has a solid experience in the SaaS & Tech startup space, adding value to businesses through customer acquisition strategy, brand management and sales optimization. 
He is presently the head accounting lead at Bigcommerce and is saddled with the responsibility of optimizing sales revenue.
Nicoletta Reggio
Nicoletta was popular in Italy for her website, Scent of Obsession. Her platform, which was taken down this year, gave her the opportunity to grow a lovely Instagram following.
Alessia Canella
Alessia is the owner of the marketing brand "Digital Snack," where she assists companies in customer acquisition and brand exposure.
She is an expert in all kinds of marketing strategies, content creation, web designing and online sales. 
She also has years of experience in digital public relations and corporate branding. 
Pellegrino Bozzella
Pellegrino is a law graduate with experience in content management and strategy. He is a startup coach and design geek. 
Rita Valentina Ciotola
Rita is an expert in all-around business communication with a focus on social media, PR and branding, as well as team training.
Mariano Divaio
Mariano is a veteran blogger. He began blogging in 2009, focusing on men's style and urban culture. He has a loyal follower base on Instagram.
He shares many ideas about these themes as well as updates on his partnership with brands across the world. 
Fabio Atanasio
After graduating from law school, Fabio opted for a different career route.
He began to develop content about Italian fashion and creativity. He is also an online journalist and fashion critic. He is well respected in the men's fashion scene.
Veronica Ferraro
Veronica is widely known for her brand, The Fashion Fruit, which has garnered national attention and put her on the pages of popular fashion magazines.
She also runs a motivational blog that seeks to inspire others to become better than ever.
Eleonora Carisi
Eleonora launched an Italian store some years ago. This helped her delve into the world of influencer marketing. She is currently a blogger.
She runs a digital marketing agency that promotes young influencers and highlights their work.
Conclusion
In this article, we explored the top 100 digital marketing experts across the world. We also provided links to their social media profiles to connect, engage and learn from them.
We understand that the digital marketing space evolves at a quick pace, but with these marketers, every day will be an opportunity to draw inspiration, get advice and stay abreast of trends. 
Also Read: