If you're trying to earn money online, you have to be aware that there are many different ways to do this. Blogging is one of the easiest ways to make money online.
Blogging is a proven way to make money. Over the years, I've been able to make a decent income from blogging. If you work hard, you too can make money blogging.
This is an in-depth guide for those who want to start their own blog. It provides step-by-step instructions to help you create your own blog.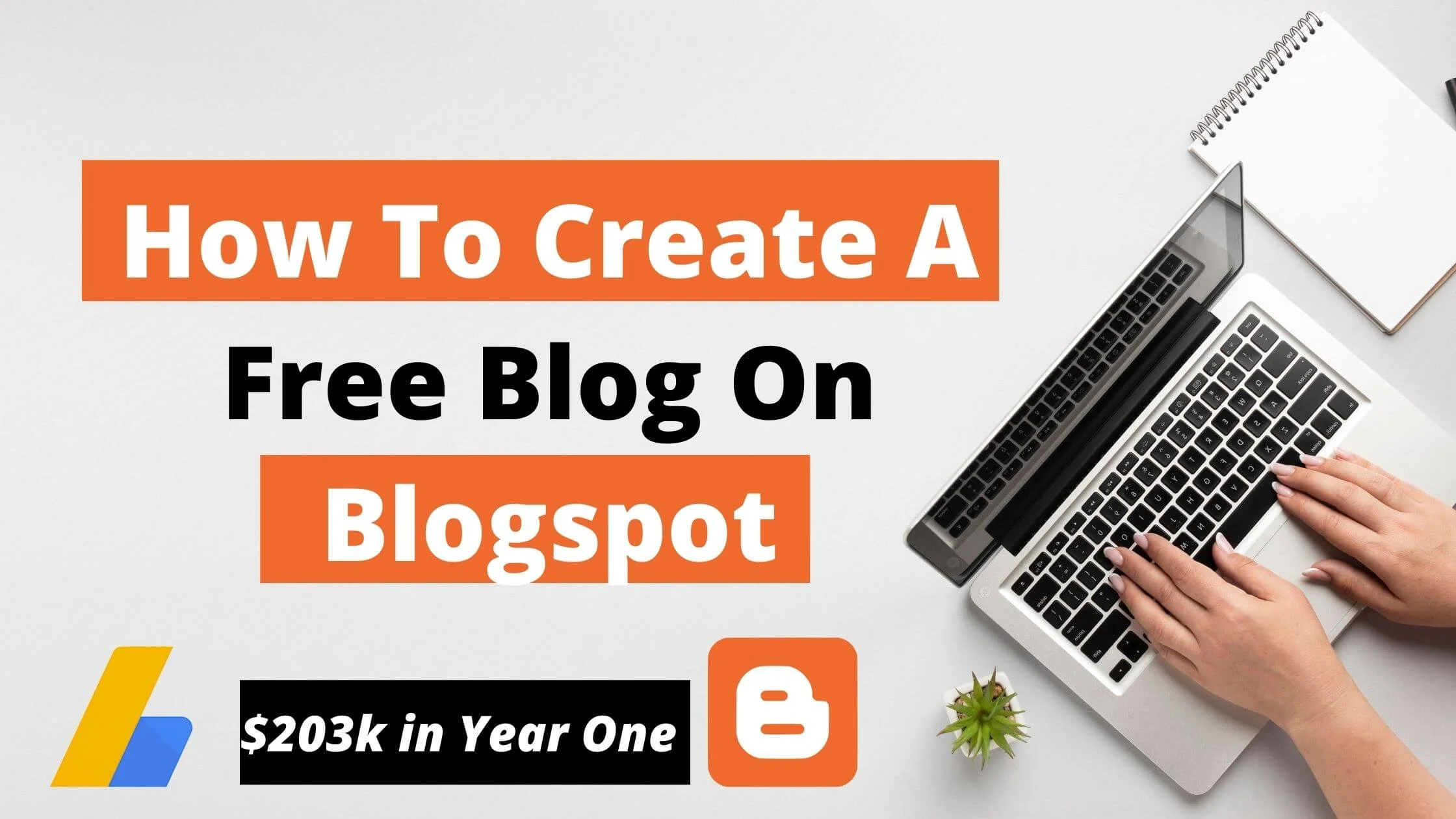 If you're looking for a way to make money online, then you should consider starting a free blog on Blogspot and monetizing it with Adsense.
I created a free blog on Blogger, and started making money from Google AdSense.
In this article, I will share the steps of how to create a free blog on Blogspot as a beginner.
Without further ado, let's get started!
How to Create A Free Blog On Blogspot – Basic Questions Asked
Can I add AdSense on Blogspot blogs?
It's possible to make money from Blogspot's. Even though the platform allows you to create a website, it will also allow you to monetize it through the platform's AdSense program.
Is Making a Blogspot Free?
It cost nothing to start a Blogspot blog. You don't need to pay a dime to start a blog on Blogspot. All you have to do is enter your email address to sign up on blogger.com and start writing. That is how it is.
How Can I Make my Blog Look Engaging to my Audience?
There are a lot of templates available for Blogspot blogs.
You can use most of them for free if you want, but you need to pay a few bucks to get the premium templates to make your design stunning and unique.
Blogspot themes are great for beginners because they are free, but you can find stunning-looking themes on premium blog templates.
You can save money by using free blog templates, but you won't be able to find stunning-looking themes as well.
How to get More Traffic to my Blogspot Blog?
It is important that you increase your traffic as it can make or break your success in the blogosphere.
If you want to get more traffic on your blog posts, it's a great idea to follow the authority Bloggers in your niche.
Have a great SEO strategy to organic attract visitors to your blog. However, this is a long-term goal and requires patience and consistency.
Make sure to share your blog post on social media frequently with your followers and focus on increasing your social media followers as well to increase the exposure of your blog.
How Many Blog Posts do I Need to Start Earning from AdSense
There is no minimum number of posts to start earning. However, the more quality content you have on your Blogspot, the higher your traffic and the more money you earn.
The focus should be more on putting out more unique and quality content. That's where the money lies.
See Also: 15+ Best High CPC AdSense Alternative for Bloggers
How to Start a Free Blog on Blogspot Platform?
Blogger is a free blogging service from Google. You can use it to create a blog on blogger.com and share your thoughts and ideas with the world.
It's easy to use and a lot of fun.
Below are the steps to follow on how to create a free blog on Blogspot:
Step 1: Sign up for Blogger.com
The first step is to navigate to blogger.com homepage to signup as a user. You must create your blogger account using a Gmail email address.
If you don't have a Gmail account, you will have to create one.
Upon logging in to your Google account, you will find "New Blog" located at the bottom left of your screen.
Next, proceed to create a new blog on Blogger.
Step 2: Give Your Blog a Name
In the title box, enter the name that you wish to call your blog. Then input your domain address (make sure is unique and easy to remember).
You will see a yellow box if it's taken already. Once you successfully get a blog domain address, go ahead to choose a template from the list of options.
You also have the leverage to customize your Blogspot template and can also change it anytime by clicking on the "Template" tab on the left menu dashboard.
Congratulations! That's how easy it is to create a blogpost bog. The next step is very important in your blogging success.
Step 3: Create Your First Blog Posts
Navigate to the left menu of your Blogspot and tap on the "Create New Post" to create a new blog post.
Then put in your blog title and begin to create your blog content.
See Also: 7 Best AI Writing Software Free & Paid (Write 10x Faster)
Step 4: Apply for Google AdSense
After a few months, you should be getting some decent traffic to your blog from Google and other search engines.
At this point, it is time to apply for Google AdSense and start earning from your blog. As a best practice, make sure to get at least 1000 unique monthly visitors and your blog should be more than six months old.
You can also read the Google AdSense policies before you apply so as to not get disapproved for what can easily be fixed.
Steps to Take After Creating Your Blog on Blogspot
Below are what next you should do after creating your blog on Blogspot:
1. Begin to Create SEO Friendly Content
Blogs are one of the best ways to drive more search engine traffic and generate more income from AdSense.
You have to bring more traffic from search engines if you want to maximize your earnings from AdSense.
Start focusing on creating content that's SEO-friendly.
Some easy SEO tips to write SEO-friendly blog posts.
It's important to link to the previous posts in your new posts. Doing this increases the search crawlability of your site, which in turn improves the visibility of your content.
Your blog post title should be no longer than 70 characters. This is the length Google will display in search results. Make sure to use short, but descriptive blog titles.
The number one thing that you need to remember when writing a blog post is that you need to write for your reader, not for search engines. Your audience will decide what is important to them and what they want to read about, so make sure you are always thinking about your readers first.
It's important that your website loads really fast. Google ranks sites by the time it takes them to load. The reason why they rolled out the core web vitals ranking parameters.
2. Proceed to Apply for Google AdSense Approval
You must have noticed that many of the successful blogs are powered by Google Adsense. Perhaps you're in this category, don't linger for a long time.
I'd recommend people to start focusing their efforts on getting Google AdSense approval after completing 4 to 6 months. By then, you will have got enough traffic from search engines.
Even if you post just one article every day, it would take you around 100 days to have that many articles published and if each of them is optimized well for search engines, you will definitely get around 500 unique visitors. That's a greater way to get your AdSense account approved.
3. Find out Ways to Increase Your AdSense Earnings
You can increase your AdSense earnings once your AdSense account gets approved. This might be a little bit difficult for you as a beginner, but over time you'll understand how it works well.
Also, you can follow AdSense-related blogs to gain more knowledge from those who have been blogging for many years. You can implement their strategy and get the same result.
5 Important SEO Tips for Blogspot Blogs
With a better understanding of how to create a blog on Blogger, it is time to focus on optimizing your SEO tactics to increase your blog traffic from search engines.
1. Optimize Your On-Page SEO
If you want to increase the number of visitors to your blog, you need to make sure you are doing the proper things.
There are elements included in on-page SEO, they are Title tags, image alt tags, internal links, h2, meta description, keyword and overall body content that can be used.
This will help you increase your search engine visibility and ensure that your content is ranking at the top of SERP.
2. Do Proper Keywords Before You Create Content
If you're looking to improve your SEO, use tools like Semrush, Ahref to find out the best performing keywords in your niche.
Make sure to always come up with long-tail keywords which are less competitive to drive more traffic.
For example, "website designer" is a short tail keyword and it's almost impossible to rank for that keyword because of high competition.
But you can rank for long-tail keywords such as "website designer for small businesses in Arizona", "best e-commerce website designers " etc.
If you're looking for less competitive keywords, then go for long-tail keywords. It can increase your chances of ranking without having to build backlinks.
3. Build Quality Backlink from Websites in Same Niche
If you want to increase your organic traffic, then you must focus on strategic link-building. As a beginner in the blogging space, it might be challenging to acquire backlinks.
You can publish a guest post on other blogs and get a backlink to your Blogspot blog.
When you create quality content, you will naturally attract quality backlinks to your blog.
Perhaps you can deploy creative link-building strategies such as outreach to get quality links from other high DA blogs.
The more quality backlink you get on your blog, the more trust Google will have in your blog. and reward you with a higher ranking.
4. Avoid Publishing Duplicate Content
The majority of beginners publish copied content on their Blogspot blogs. I see this almost every time a new person starts a blog on the Blogspot platform.
They do this to increase their traffic, but what they don't know is that Google has a way of finding blogs that are posting copied content.
If they discover that you are posting duplicate content on your website to increase your traffic, they will penalize your search rankings or even remove your website from the internet because of it.
Don't post duplicate content, take your time researching and crafting great content for your readers.
Also, before you hit the publish button, make sure to run the article through plagiarism tools.
5. Optimize Images for Search Engines
A picture is worth much more than just a few words. Images add depth to your content and help you increase your traffic from search engines.
The more captivating the images you use, the more traffic you get from search engines. Make sure to use images that are not copyrighted when using images on your Blogspot blog posts.
If you use random images from the search results on your Blogspot website, you will not be accepted into the AdSense program.
There are free sites where you can make your own images or download free images for your blog.
How to Create A Free Blog On Blogspot FAQs
You might have some questions about starting a free blog on blogger. I have compiled some of the most frequently asked questions about starting a Blogspot blog.
What's the Difference Between a Blogspot Blog and WordPress Blog?
There is a major difference between Blogspot and WordPress blog. Below are the differences:
Blogger Platform
It does not give you full control over the blog as you're renting your website
The blog is 100% maintained and controlled by Blogger, hence no worries when it comes to space and domain hosting
Best for beginners to use
There are limits to the customization on Blogger
Blogger software is automatically updated
WordPress.com Platform
You own your site as WordPress is an open-source platform
Full responsibility is on you to manage, secure and update your blog site
Very easy to customize
WordPress updates are automated
What is the Best Blog Site?
Blogger is a free platform for anyone who wants an easy interface to create and manage a blog.
However, I recommend a WordPress blog if you're keen on making money online and have a long-term goal. This is the platform widely used by most bloggers.
How do I Name My Blog?
Your blog name is your identity. Having a great blog name is the right step in the right direction.
Here are a few tips to create the best blog name for your Blogspot blog:
Use blog name generators
Name your blog by what it is all about
Make it simple and catchy
Utilize synonyms
How Can I Make Money from a Blogspot Blog?
You can make money on your Blogspot blog through display ads such as. AdSense, Ezoic, AdThrive, Mediavine etc.
The amount of money that your Blogspot generates depends on various factors such as where your traffic is coming from, keywords, niche and monetization medium.
Tier 1 countries (USA, UK, Germany etc.) pay the most per 1000 views and CPC.
Other means to monetize your blog include sponsored posts, sales of digital products, affiliate marketing etc.
How Can I Get More Visitors to my Blogspot Blog
The first step to getting more traffic to your Blogspot is doing proper keyword research then creating unique blog content around it.
Also, make sure to create content that your target audiences want to read and interlink to other relevant blog posts on your site.
Note that it takes time to start seeing meaningful traffic from searches. Usually, it can take 6-8 months.
You have to be patient and be consistent with blog content creation.
How do I Get Adsense approval with a Blogspot Blog?
To get your Blogspot blog approved for AdSense, follow the steps below:
Make sure that your Blogspot blog is at least 6 months old
Have all the navigation bars working
Make sure to have a privacy policy page for your blogpost
Write at least 25 – 55 long-form blog post that links to each other before applying for AdSense
Ensure that your blog is getting at least 1000 unique daily visits to have worthy earnings when approved by AdSense
You can also connect with other bloggers that have an approved AdSense account and are willing to give it out for a token. You can search for AdSense Facebook groups to connect with them.
How Can I Make my Blogspot Appear in Search Engines?
To make sure Blogspot blog is visible in the search engine, ensure that you have the "visible to search engine" button under the privacy tab toggled on.
Recommended Blogging Tools to Start Blogging Today
Some of the best tools for bloggers to scale their blog income and traffic.
SEO Tools for Bloggers
Ahref
SEMrush
Ubbergsuggest
SEO Tracking Tools for Bloggers
Blog Theme for Bloggers
Content Writing Tools
Best Blog Hosting for Blogging
Blog SSL Certificate
Graphics/Images/Video Sourcing for Bloggers
Premium Ad Network for Bloggers
Conclusion
I highly recommend starting a blog on a blogging platform. Over time, you'll learn everything about blogging, including how to set up a blog, how to customize your blog, how to get traffic, and how to use WordPress.
Over time, you will gain more experience as a blogger and you can migrate your Blogspot blog to a self-host blog such as WordPress.
I hope that this comprehensive guide on how to create a free blog on blogger helps you not only start a blog today but also inspires you to start making money from AdSense and other forms of monetization.
If you find this guide useful, please share it with your community so they can start their own blogs and make money online.
If you enjoyed this article, please share it with your friends and family by clicking one of the social media buttons. You can also share this post via email.
Also Read: