Cash App and other money-transfer apps have become more popular since the outbreak of the pandemic, but scams on these apps have also increased.
While fraudsters are manipulative and compelling, scams often seem to have common characteristics that make it a lot easier to identify fraudulent activity.
In this article, we'll go over how to get money back on Cash App if scammed, the risks involved in using Cash App, as well as some tips for avoiding the most common Cash App scams.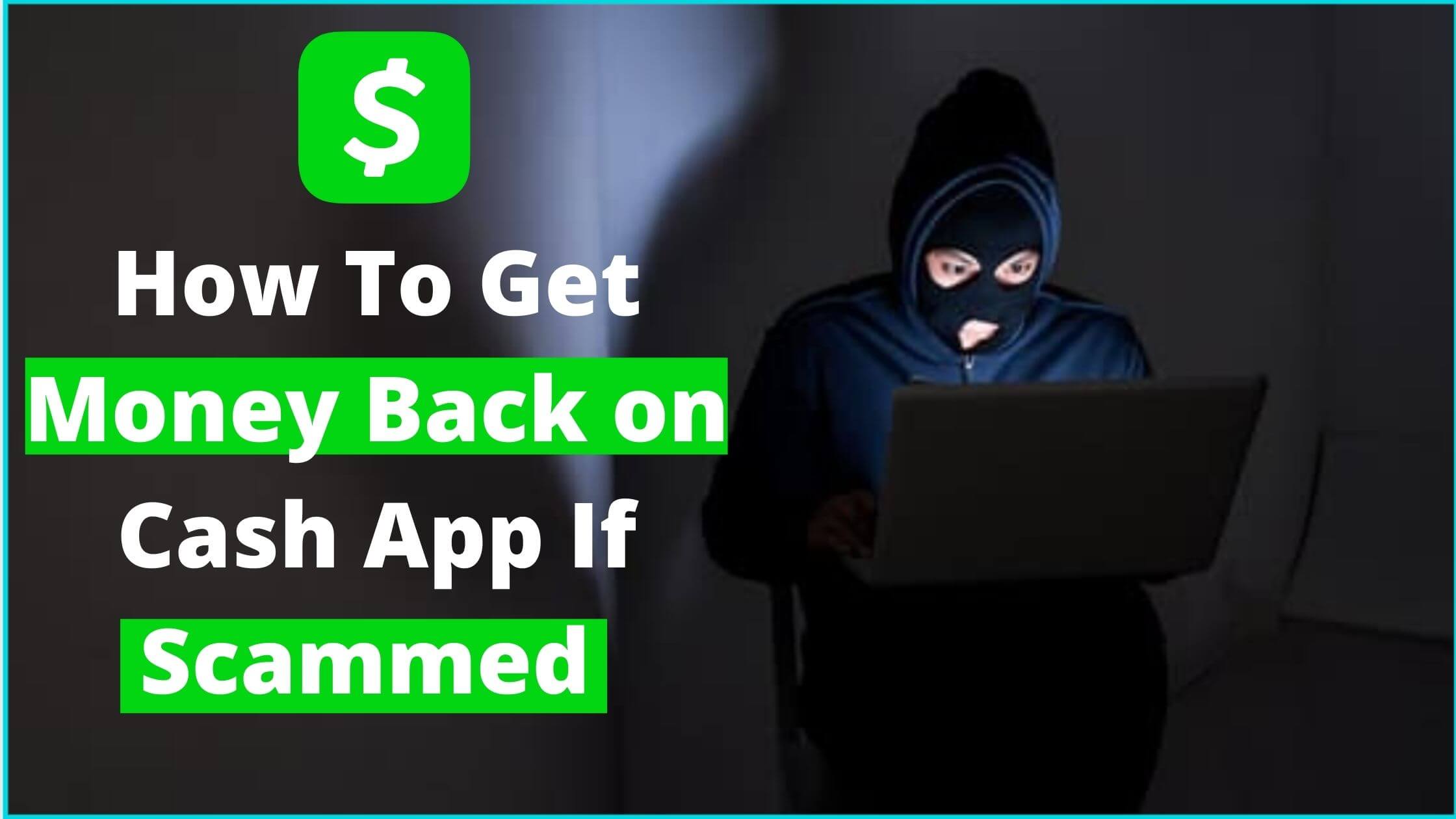 One of the best ways to keep your money and personal information safe from scammers is by knowing how to identify phishing emails, eBay fraud, phone scams based on zip code or area code, telemarketing scams, and other types of online fraud.
See Also: How To Make Money Daily With Cryptocurrency
How to Recognize and Avoid Cash App Scam
When sending money with Cash App, we strongly advise you to:
Only transfer money to people you completely trust.

Before transferring any payment, make sure you double-check all recipient details to ensure you're sending money to the right person.

Look up the other person's profile to see if they are the right person.

Avoid sending money to someone who claims to be able to help you in the future (e.g., Join and get instant free money).
Can I get my money back on Cash App if scammed?
Yes! Nevertheless, your chances of getting your money back are slim, and the process is arduous. You can learn how to do this correctly by navigating through the Cash app's official help section.
How Do I Get My Money Back on Cash App If Scammed?
You should immediately cancel your payment if it goes the wrong way because of your carelessness.
You will receive a refund within a few working days after revoking the payment transaction from your Cash App account.
Please take note that once you've sent a payment from your account, you won't be able to terminate it. You can only cancel a Cash App payment if the transaction is still pending.
Because Cash App payments are so quick, the chances of cancelling a transaction are slim and can be difficult.
See Also: How to Recover a Hacked Facebook Account Really Fast
How to Cancel Cash App Pending Transaction
Take a look at the following steps to see if there is a "Cancel" option or not:
To begin, navigate to your Cash App account's activity feed.

After that, you must choose the payment you want to check to see if it is in the pending stage or not.

To cancel a transfer, it must be in a pending state, and you will be given the option to 'Cancel.'

You'll be able to terminate the payment and have the money returned to your account once you tap on the 'cancel' button.
How to Report Cash App Scam Payment
If you experienced a Cash App scam, follow these instructions to report it:
In the upper right corner, tap the profile icon.

Select the Support button.

Choose Report a Payment Issue from the drop-down menu.

Choose a payment method and follow the on-screen instructions.
How to Report and Block Scammed Cash App Account
If the scam is linked to a potential scam account rather than a specific payment, here's what to do to report and block the account:
Open the Cash App and tap on Customer Avatar to view a customer's profile. You can also look for a profile by typing in a name, a $Cashtag, a mobile number, or an email address.

Tap "Report" or "Block" at the bottom of the profile.

Choose one of the options and proceed to the next step.

You can also get in touch with the Cash Support team through

https://cash.app/contact

.
See Also: How To Contact Cash App Customer Support (Phone+Email)
What are the Safety Features of the Cash App?
The Cash App is a secure and easy way to send money to loved ones, friends, and corporate entities in most cases.
It is just about as secure as other credible peer-to-peer digital payments platforms like Venmo and Zelle.
Cash App has security features not found in other money-transfer apps.
Such features as an AI-driven mechanism that detects potential fraudulent practices, SMS notifying customers of an unusual login session, and a pop-up requiring users to verify a cash transfer to anyone who isn't on their list of contacts.
If you need to transfer money quickly, there's nothing wrong with using Cash App.
See Also: How To Make Money Online Without Investment – The Fast Way
What Are the Risks Associated With Using Cash App?
Even though Cash App takes safety measures to protect its users, how they interact with the application can make a world of difference.
Scammers frequently prey on people who use Cash App posing as banks or businesses willing to send money to random people.
Moreover, unlike payments made with a traditional credit or debit card, transfers made through Cash App are not protected against fraudulent activity.
It's nearly impossible to get the money refunded once it's been transferred through Cash App. Learning how to recognize these common Cash App scams will help you avoid losing your money.
Please know that other cashless payment apps like Apple Pay, Google Pay, and Venmo are also susceptible to fraud.
Types of Popular Cash App Scam
Cash App strives to provide a secure environment for users to transfer funds to people they know and trust.
To ensure the safety of your cash at all times, you are advised to follow these guidelines before sending payments on Cash App.
Scammers will almost always promise something that sounds too good to be true, like "hacking" or free cash in return for your first payment.
Always be cautious of random people who make promises to you. It's common practice for scammers to make a promise, collect your money, and then fail to deliver on that promise.
To help you stay safe, here is a list of common scams.
1. Cash Flipping and Clearance Fee Scams
Sometimes, Scammers will pretend that they can "flip" your money, offering to increase it if you transfer the money to them (this is sometimes referred to as a "clearance fee" or "account validation").
These fraudsters will take your money and never send you anything in exchange. If someone says that you will get free money if you pay them, it is likely a scam.
2. Payment Claiming Scam
Scammers may ask you to transfer funds to them in order to "claim" a payment that you "deserve." These payment-claiming attempts are most certainly fraudulent.
Don't ever transfer cash to someone with the expectation of receiving bigger payments in exchange.
If someone promises you free cash in exchange for sending them money, it's a scam, very much like Cash Flipping.
What's more, Cash App will never, under any circumstances, request monies from a customer, and it is impossible to "claim" a payment by transferring cash to Cash App.
3. Puppy/Pet Deposit Scam
Scammers will say that they are going to have a litter soon and ask for a deposit for you to get one of the puppies or kittens.
These fraudsters typically use fake photos, refuse to share information over the phone, and offer to supply purebred, highly prized animals for a bargain.
Because Cash App can't guarantee you will get your money back if you do not receive what you paid for, it's better to send money through Cash App only after meeting the buyer in person and receiving what was promised.
Don't send money to a stranger who promises to supply something to you at a later time. Always double-check to confirm who you're sending money to, and only pay them once you've received what you ordered.
4. Apartment / Home Rental Deposit Scam
Scammers always make promises about a product or service without ever showing proof that it exists.
This can include promises to find you a low-cost apartment or provide you with accommodation at a far cheaper cost than usual in exchange for payment before even taking a tour of the prospective apartment.
Don't ever transfer cash to an unknown person who promises to deliver something to you at a later point in time, such as a rental apartment.
It's almost certainly a scam if you can't verify who the seller is or the validity of what they're offering.
See Also: How to Make Money on WhatsApp – 8 Legit Ways
FAQs on How To Get Money Back on Cash App If Scammed
Is there a Phone Number for Cash App's Customer Service?
Using your app is the best way to contact Cash App customer service. Select the profile icon, tap Support, and scroll to the issue on the Cash App main screen.
Is it Advisable to Transfer Cash to People I Don't Know? 
Only send money to people you know and trust. Payments between Cash Apps are usually instantaneous and cannot be cancelled.
If you're unsure, access your activity feed to check whether the payment receipt has a cancel button.
Is it Possible that Cash App Support will ask for Personal or Account Information?
Never share personal information such as your Cash App PIN or sign-in password with anyone.
Cash Support will never request your sign-in password, PIN, or other private information, such as your credit card number.
Cash Support will never request payments, or purchases or ask you to download "remote access" software.
Is it Possible to Dispute a Purchase if I pay Someone in Advance?
Don't ever transfer cash to anyone you don't trust for something you've been promised in the future. Most payments are made instantly and cannot be reversed.
Conclusion
Generally, the Cash app is most likely not to refund your scammed money without you taking action to report it.
That is why cancelling, reporting and blocking your cash app account once you discover that it has been scammed is very effective.
We hope that following these steps on how to get money back on Cash App if scammed helps you retrieve your money and report fraudulent activities on your account.