Today, there are verified methods to make money online without any investment. Making money online has actually never been so easy.
The internet coupled with the silver linen of the Covid pandemic has really helped in making a lot of online millionaires.
You can now make money online without necessarily having a huge investment and right from the comfort of your home. That goes to say that remote work is here to stay.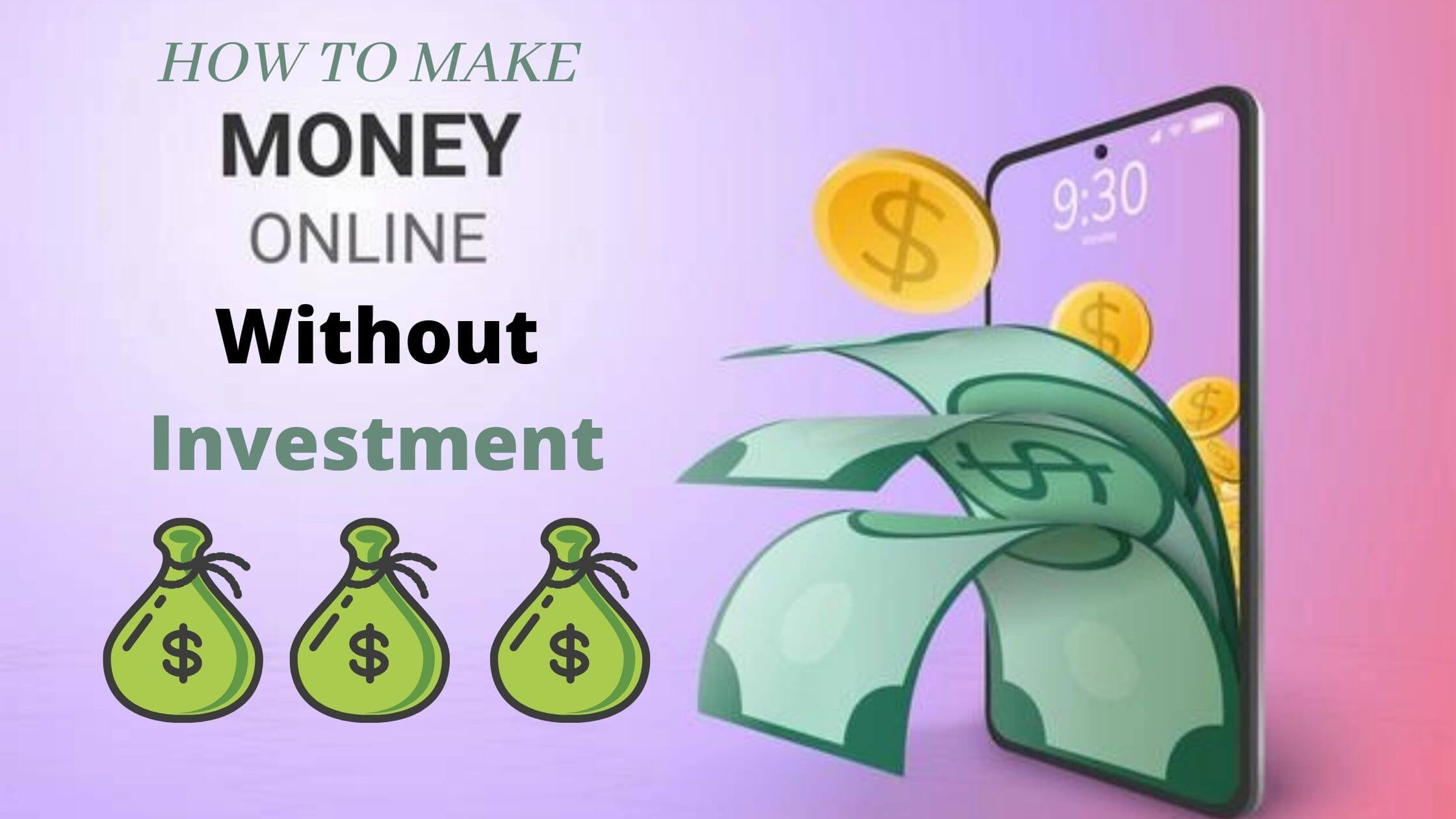 Making money from home is an ideal situation, most especially for stay-at-home moms that really want to stay at home and raise their kids and still earn an income.
It doesn't really matter if you only want to use a part of your monthly income, or you want to start an actual full-blown business, you do not have to spend so much to start earning online.
That's why we bring you legit ways to make money online without investment.
See Also: 10 Best Online Survey Sites to Make Money
How To Make Money Online Without Investment – The Fast Way
1. Freelancing
I guess you've probably heard about freelancing. Freelancing is unarguably one of the best options to start working online without spending so much money.
As a student, a mom, a part-time worker or even a professional, you can make good use of your extra time by making money online with Freelancing.
Websites like Fiverr, Freelancer.com, and Upwork have really made freelancing easier.
You can get jobs done for clients at a fixed price.
Fiverr is the very first site I'll strongly recommend because I know a number of people that have earned more than hundreds of dollars on Fiverr.
The prices on Fiverr are greatly dependent on your skills. You can also sell your skills there from five dollars to even hundreds of dollars in just a week.
However, most newbies still struggle to get their first jobs on sites like Fiverr.
Below is a list of Freelancing jobs you can easily choose from.
Become a Freelance writer
Web Designing
Video Editing
Online Marketing
Graphic Designing
Working as a business assistant
Online Mentorship.
See Also: 20 Best Freelance Websites to Find Work in Nigeria
2. Start a YouTube Channel
In the world of today, most people prefer the idea of video content over text. YouTube is currently ranked the second most visited site in the world.
YouTube is the second most successful business online.
The good thing here is that YouTube does not have that much competition like Google. That means there is room for you to get it started.
Perhaps, you don't need to think so much about your content creation. Just keep making videos of what you love doing and post them on your channel.
It could be good making, or outdoor games or whatever thing you so much love doing. Do well to make your channel interactive and if you can, help people solve their problems.
Becoming successful on YouTube is way easier than blogging because there are not as many YouTubers as bloggers, and the market is currently even becoming more competitive.
People are now creating more videos every single day.
This is why we should stop wasting time and start making money on YouTube without any form of investment. Make your channel valuable and you'll start earning in no time.
See Also: Top 21 Best Content Writing Tools To Create Better Content
3. Create E-books
Selling ebooks is one of the ways to monetize your knowledge without investment. As most people are showing zero interest in e-books, some people are also making so much money from them.
Writing an ebook is just as simple as writing a post you make on some social media platforms. It's not a difficult task.
It requires brain work to create master content that can solve the problem of people out there.
Try making your pages more captivating and jazzy with animated photos. Don't forget to use an amazing color combination to make it more engaging and to keep our readers always waiting for more.
You can go ahead to sell your ebook on Amazon, Google books and some other very good platforms. Your ebooks can also be promoted on some blogs that relate to the content of your book.
This way, you can make so much money from your ebook(s) without having any form of investment.
See Also: How to Make Money on LinkedIn – 10 Realistic Ways
4. Create and Sell Online Courses.
I really cannot write about how to make money online without mentioning online courses. That'll be such an incomplete resource.
People are currently learning online more than ever before.
As a business educator, sports coach, chef, etc you can create online courses to teach others online. To your greatest surprise, so many people might be interested in your online course(s).
Every day people are getting to learn new skills to remain relevant and earn more money.
For instance, people are always learning how to speak the English Language because it's an international official language.
And people will forever learn it as far as communication is concerned. So, if you're a very good English speaker you should consider this.
Whichever online course you finally want to teach, you should create both text and videos. Videos are really easier to understand compared to text.
See Also: How to Sell Digital Products in Nigeria That Makes $10,000 Monthly
5. Offer Translation Services
If you're bilingual, then you can definitely make money by simply offering translation services.
It really doesn't matter if it's magazines, blogs, TV shows etc so many companies pay translators heavily because they're scarce but yet needful.
One of the sites you can make money as a translator is Proz.com. You can translate in different languages. You only need to sign up and list your services.
6. Become a Coach
Are you so good at motivating others? Then you should think about this.
Whatever field you're an expert in, you can coach others in it.
It doesn't matter if you're an expert in science, cooking, dating, coding, or even career skills you can market yourself as an online coach and make so much money from it even without investment.
This is such an amazing way to make money from home just by sharing your skills and knowledge with others. You can also meet some very good people along this path.
7.  Social Media Management
 If you're a social media kind of person, this might interest you. Did you know that you can monetize your online presence?
Gone are the days that people just go online for the sake of chatting and watching funny videos. None of these is bad but you can make good use of your social media accounts and your social media presence as well.
This is why it is good to be knowledgeable about the different social media platforms and make good use of them. You can make so much money in a month, depending on the number of clients you have.
Don't choose to be that person that sees social media as a plaything because the game has changed.
You can be paid to handle business pages online and respond to messages and comments.
See Also: How to Make Money on Social Media Really Fast
8. Proofreading
Do you mostly find yourself noticing so many errors while reading? Do you notice every kind of error when reading? Then you might make a very good proofreader.
Proofreaders are always needed.
So if you so much love reading and reading to dictate mistakes easily, you should try this out.
9. Blogging
Blogging is not such a bad idea. It just depends on how well you handle the blog.
If you're so passionate about writing and you'd love to share your ideas and thoughts through writing, then blogging won't be a bad option.
To get started with blogging, you'll just need a domain and hosting to get started with it. You can start earning between 2 to 5 months. It all boils down to how much time, work and dedication you are willing to put in.
See Also:  10 Common Blogging Mistakes You Must Avoid
10. Affiliate Marketing
I guess you must have heard about affiliate marketing.
Actually, with affiliate marketing you're able to sell your products on websites, your affiliate links can also be shared on Social Media platforms like Facebook, Instagram, Twitter etc.
The best part of affiliate marketing is the fact that you can make money online selling other products as well without investment.
And whenever a product is being purchased from your link, you get a commission. For instance, you can sign up and become an amazon affiliate (it's completely free) and start selling Amazon Products.
 See Also: 10+ Common Affiliate Marketing Mistakes to Avoid
Conclusion
These are just a few of the numerous ways to make money online without investment. If you actually think of making money online, then you have to think of online jobs.
There's really NO magic to making money, you need to go all out for it and put in your very best.
Your skills and interests don't really matter when it comes to making money online. You can do this from any location of the world, it's high time you stop limiting yourself and your abilities.
I wish you all the best as you take that bold step today. Avoid procrastination and join the moving train now. You can make money without investment, it's a hundred per cent possible.
Also Read: