Instagram unveiled its Direct Messaging feature in late 2013. The feature was hotly anticipated because everyone was excited about exchanging texts, pictures and video clips. 
Instagram was not originally built to accommodate texting or direct messages. This is why Instagram has not designed a feature that enables anyone to back up their messages via the platform. 
This has become a source of frustration for many of us because we have mistakenly wiped out messages that we subsequently found important.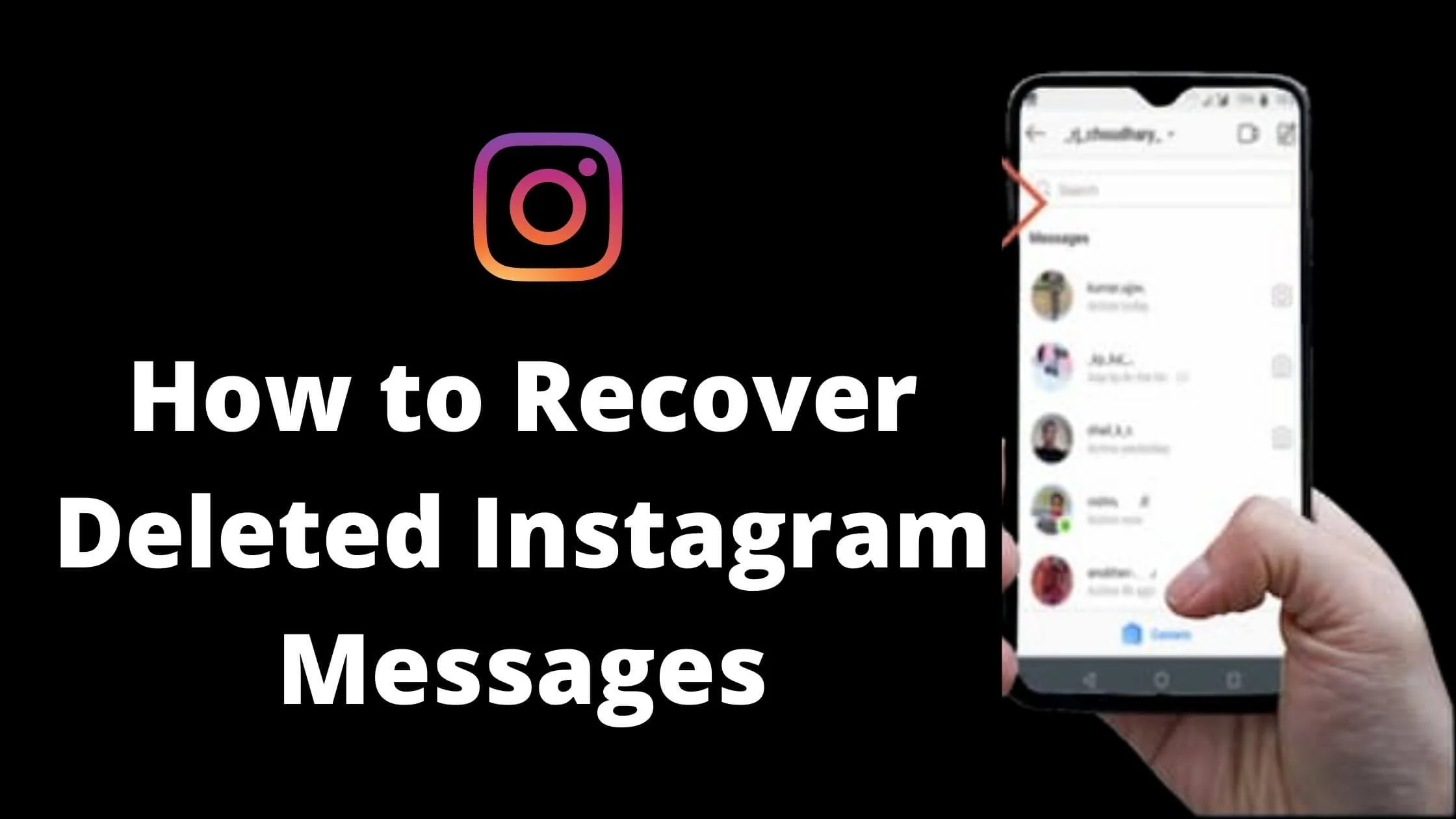 When you accidentally delete valuable messages, it can be a heart-wrenching feeling, particularly when you don't know how to retrieve those texts. 
Keep calm! This article will guide you through the process of recovering deleted messages on Instagram.
You'll find this content particularly useful if you plan to retrieve your Instagram DMs or lost messages. 
See Also: How To Recover Deleted Comments On Instagram
Request Account Data to Recover Instagram Messages (Android or iOS)
The fact remains that a deleted Instagram DM will be erased from your Instagram app on your Apple or Android mobile devices. However, it will be stored on the server. 
The plan here, in simple terms, is to submit a request for Instagram to hand over your account data to you via email and then you will be able to retrieve your deleted DMs. 
Here are the steps below:
Launch the Instagram app and access your account.

Once you click on your profile picture in the upper left corner, your profile page will be displayed to you.
Now, select the hamburger icon to trigger a popup menu.
Access Settings from the menu listing.
Then another page will be displayed to you; now click on the security settings.
Scroll to the lower end. In the history and Data tab, select Download Data.
Input the email address linked to your Instagram account. This will enable you to get the backup data. Fill in your email address and select Request Download.
Then you will be expected to input a password to validate the process; fill in your password and hit Next.
At this point, you have made a request to receive your account data properly. You will be notified via a message similar to this "We've started creating a file of things you've shared on Instagram and will email a link to [email protected]."
You may need to wait for two to three days to obtain and receive the data once it is delivered to your mail. Ensure you go through your spam folder if you can't find it.
If you have gotten the Instagram email within two days, you can access it.
Click on the Download Data button.
Once you have downloaded the data folder from Instagram, you can retrieve the already deleted Instagram DMs via this strategy:
Request Account Data to Recover Instagram Messages (PC)
On your PC, launch your Google Chrome web browser and enter https://www.instagram.com in your URL bar.

Input your username, registered phone number or email to access your account.
Navigate to the upper right corner of your profile and click profile.
Next, select the settings option beside the edit profile.
You will be shown a popup menu with menu listings; tap Privacy and Security.
In the Data Download settings, Scroll to the lower area and select the Request Download option.
Input the email address linked to your email address. In the information format option, tap JSON. Then, select Next.
At this stage, you will need to input your account password to validate the process and then select Request Download.
Now you have completed the process. Instagram will prepare your account data in a file format and deliver it to your registered email account. 
Please note that the entire process of account request data will be completed within 2 to 3 days.
See Also: How to Pin a Comment on Instagram Feed, Story and Live
Recover Deleted Instagram Messages via Third-Party Tools
Here are some great third-party software you can use to retrieve deleted Instagram messages:
iStaunch's Instagram Messages Recovery
Using iStaunch recovery tool is a great way of retrieving lost or deleted Instagram messages on your iOS or Android device. 
Input your username in the character field and select the Recover button. 
Exercise a bit of patience while it instantly retrieves your Instagram deleted messages. 
JSON Genie Editor
Download the

JSON Genie Editor

tool on your smartphone.

Find the folder that has the Instagram data.
Access the file named 'messages.json'.
That's the process involved. You will be able to access your deleted Instagram DMs spanning years. 
For iOS device users, you can install JSON pro for free to access files in JSON format. If you want to use a PC, navigate to the JSON viewer portal. 
Android Data Recovery
If none of the tools above is effective, use the reliable Android Data Recovery. It is software that works exclusively on Android smartphones. 
It is a sophisticated data recovery app that can assist you in retrieving lost data in different formats and types.
You can easily recover images, SMS, audio clips, videos and contacts using the app. Anyone can use Android Data Recovery to retrieve their Instagram DM too. 
Here's how to do this:
Launch Android Data Recovery on your PC. Click on "Data Recovery".

Sync your Android smartphone using a USB connection.
Specify the file format. There are two options available: "Search all files" and "Find deleted files".
If you have made your choice, select "continue" to initiate the process of recovery. This may require a few minutes to reach completion.
A snippet of the retrieved data will be shown to you as soon as the process is done. At this stage, you only have to pick the ones you plan to retrieve (Instagram messages) and click the "Recover" button. You can locate the message in your system memory.
See Also: How to Mute or Unmute Someone on Instagram
U.FONE
U.Fone is a widely used recovery tool for iOS devices. It is suitable for Installation in both Mac and Windows OS. It is highly effective for essential data recovery from your apple smartphone. 
Don't hesitate to use the tool to recover your deleted or lost Instagram DM. 
U.Fone is great for retrieving images, SMS, video clips, texts, phone contacts, WhatsApp messages and other vital information.
IMYFONE D-BACK
IMYFONE D-BACK is an exclusive tool for iOS devices. It is a great data recovery app, especially for Apple devices.
It is highly beneficial in retrieving deleted Instagram DMs in a hassle-free and uncomplicated manner. 
The app is suitable for Windows and Mac operating systems. It is great for retrieving pictures, SMS, phone contacts, WhatsApp, Kik, Lines, Safari History, WeChat, and Telegram, amongst others. 
Recover Deleted Instagram Messages FAQs
Can I recover Instagram Direct messages from people I interact with?
The answer is a definite "yes". These are easy and effective methods of retrieving your deleted Instagram DMs. 
We have outlined them in the article. There's the data request method, which involves receiving sensitive data via email.
It is a true-and-tested technique that works on both iPhone and Android. There are also third-party tools that are equally functional for message retrieval on Instagram. 
Can you retrieve deleted Instagram DMs from Facebook?
Many blog articles online agree that you can retrieve deleted Instagram DMs from your linked Facebook account.
In the distant past, this used to be an effective strategy to access your deleted Instagram DMs, but today, it is not functional.
Due to the most recent Facebook update, this feature has been removed.
Most times, users would rather request the sender to resend the deleted messages than try to work around the Facebook interface these days.
See Also: How to Fix Instagram Not Loading Pictures
Can I get Instagram deleted messages from the data download?
Instagram data download is a cool method that allows you to restore deleted messages.
You can request sensitive data on your iOS, Macintosh, Windows and Android devices. While it can be very procedural, the benefits outweigh the disadvantages. 
The data request can only be completed via your account. 
If successful, Instagram will deliver a compilation of your sensitive data to your inbox in a Zip file.
Can I use third-party tools to recover lost Instagram Direct messages?
We analysed five tools that can assist you in retrieving deleted messages on Instagram. These five tools are reliable and can get back your valuable messages.
They are also effective for other social media platforms such as Snapchat and WhatsApp.
Do Instagram message Recovery tools work?
A third-party tool named Instagram message recovery (recently rebranded as DM Recovery) purports to help users retrieve their deleted Instagram DM.
You'd only need to set up an account; then, you are good to go. This is false. 
Shortly after registration, the site will redirect you to an interactive survey before giving you the "rights" to access your messages. Some users from specific locations have problems taking part in the survey.
In summary, you have to be careful because the site is similar to other fraud portals that are riddled with malware and data theft. 
If you must use it, exercise caution!
Conclusion
If you have mistakenly deleted your Instagram messages, you don't have to feel frustrated or annoyed. This article has put forward effective solutions that will enable you to recover your messages without hassle. 
Ensure you share this article with friends and family to pass on this educational content to them.
Also Read: