Instagram is a popular platform for content sharing and engagement. It is known all over the world for social contact, discovering people and viral content, finding romance and growing business. 
All hope is not lost if you don't have an Instagram account yet; there's a technique you can use to access Instagram photos and profiles. 
The global population hovers around 8 billion people. Yet, Instagram boasts a billion active users. This indicates that there are plenty of people without an Instagram account.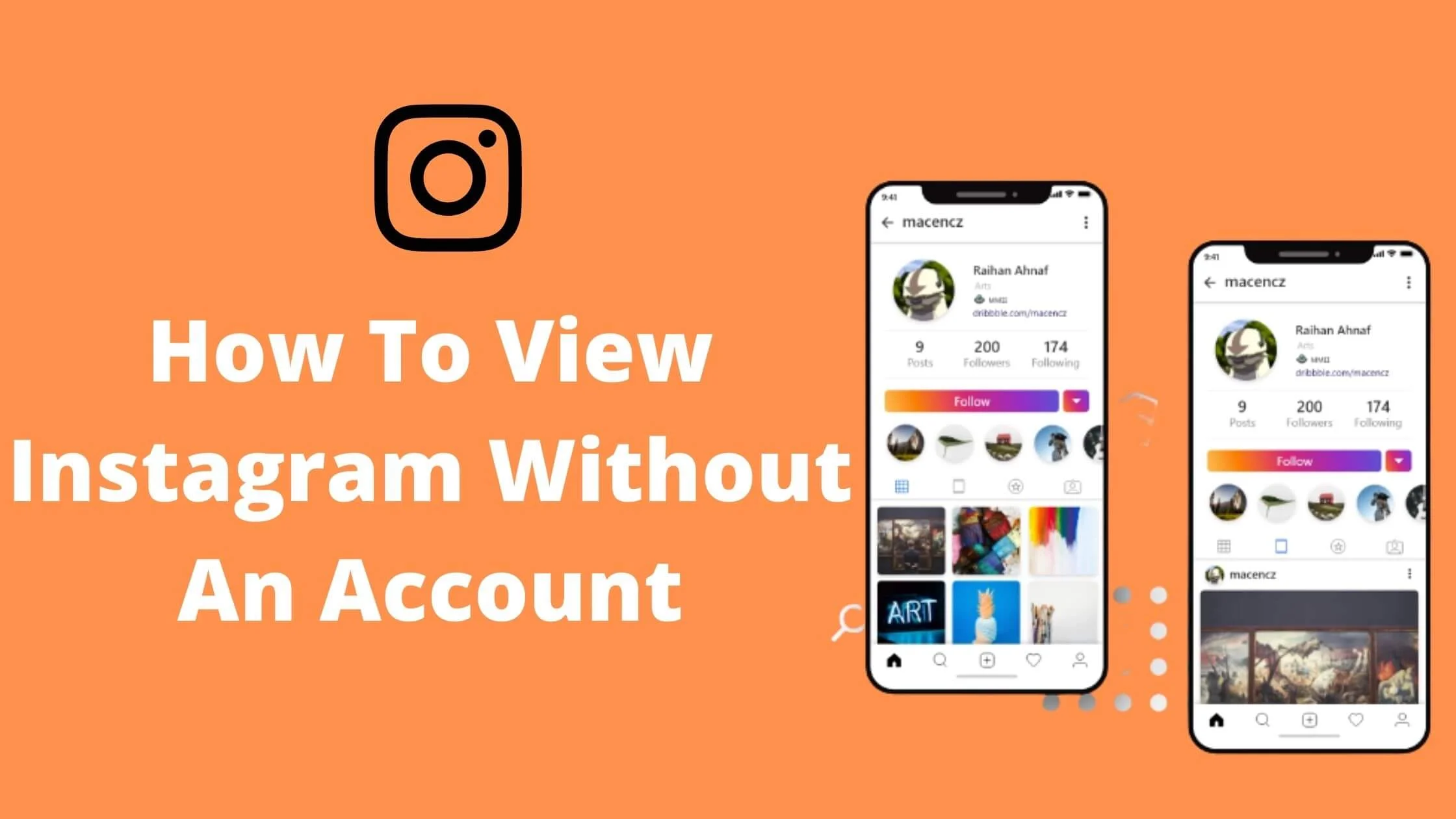 Why are people uninterested in signing up on Instagram? Some people feel Instagram appeals more to millennials and has immature content.
Others regard it as an unproductive site. While the reasons may vary, a large chunk of the world's population does not find Instagram appealing. 
However, the truth is that even if you are yet to own an Instagram account, you'll want to access some pictures on the platform. 
For instance, some cool event pictures that you are looking for can be found exclusively on Instagram. 
See Also: How To View Private Account Followers On Instagram
Is it Possible to Browse Instagram Without Having an Account?
Yes. While you might experience difficulties checking out content on Instagram without an account sign in, some third-party tools can enable you to access profiles and pictures on the platform without hassle. 
So, without logging into Instagram, you can access profiles and explore tagged pictures. Even private pictures are not excluded. 
This article will reveal effective third-party tools that you can use to explore and view Instagram pictures and stories without the need to log in or sign up. 
Please note that you won't be able to comment or like Instagram content without owning an account. 
Can I Search Instagram Without Having an Account?
Yes. You can still access other users' Instagram profiles and tags even without signing up for an account.
This can be done by using third-party tools that let you view Instagram without the need to sign in. You can utilise the profile link as well. 
How to View Instagram Without an Account Using Instagram Search Bar
Always remember that without web browsers, it will be impossible to check out images on Instagram with no account.
This means that attempting to do this on Instagram's iOS or Android app will be a complete waste of time.
Here's a guide on how to access Instagram via web browsers. 
Launch your web browser on your PC or smartphone.

Input the person's name on the search bar. 

You will be directed to an Instagram profile where you can explore their images. 

Note that the Instagram account you want to explore via a web browser must be a public profile. It won't work if the account or profile is private.

You can navigate to another Instagram profile by inputting your name into the search field on Instagram.
See Also: Why Can't I Post on Instagram
How to Access Instagram Without Account Using Third-party tools
Today, many third-party tools that can help you explore Instagram profiles or pictures without an account exist.
However, you have to be careful not to use platforms that request sensitive data, private information or account registration. 
Here are some of the most popular third-party tools that can help you access Instagram media content without the need to log in or sign up:
Picuki
Picuki lets you access and manage Instagram profiles, pages, images, followers, location and tags for an indefinite length of time. This is one of the best Instagram third-party tools online. 
Picuki enables you to explore your media content as well as those of your followers. The tool also allows you to view your friend's follower list. 
There are zero charges incurred when using Picuki. Even the photo editing and download feature are free.
This means you can beautify Instagram pictures before saving them on your phone.
You can also browse the hottest Instagram photos and videos on one page.
Inflact
Inflact is a unique, free Instagram viewer tool that anyone can use for as long as they like.
Just type in the Instagram username of whoever you are interested in, and you'll see all the pictures, videos and stories associated with the account.
You can access a wide catalogue of Instagram media content without the need for account registration. You can even view pictures, videos and content for blocked Instagram users.
In addition to that, the tool has a feature that enables you to view and download Instagram stories.
Inflact can also help if you want to download Instagram pictures and videos, even from your own account. There is no compromise on the quality of media content saved with the tool. 
SmiHub
SimiHub is another third-party tool to view Instagram. With this platform, you can analyse and access Instagram content.
It has a powerful algorithm that enables you to evaluate Instagram statistics for your business. No need to sign up or log in.
This tool will help you check out or track any Instagram pictures or videos privately. 
Through the use of the tool's capabilities, you can view Instagram tags, stories, profiles, videos and locations. You can also download Instagram media content free of charge. 
SmiHub is a well-known online analytical tool that can be used in social media marketing. 
StoriesDown
StoriesDown is another free Instagram viewer tool that allows you to input whichever Instagram username you like.
The tool will instantly gather data on the latest pictures, followers, videos and stories from that account. 
It has exactly the same methodology as other third-party tools because it is only effective for public Instagram profiles. It doesn't work with private Instagram accounts. 
The tool is highly beneficial because you'll get all the data on new Instagram stories, and you can easily download them whenever you like.
Gramhir
Gramhir has a great algorithm that facilitates easy accessibility of Instagram public profile. 
You can find statistics like account rates, which help gauge the popularity of an account. You will see these statistics automatically once you access the platform. 
Using the power of statistics, you can access any Instagram account and check its followers, pictures, videos, hashtags and locations.
With Gramhir, you can add value to your influencer marketing and Instagram account growth strategy.
The whole process of account analytics in Gramhir is completely private and precise. Many social media experts and digital marketers use Gramhir to track, explore and share Instagram content. 
Instaxyz
Instaxyz is another fantastic tool known for its efficiency, reliability and convenience. It enables users to access multiple Instagram profiles, content, followers, analytics and hashtags. 
Upon using the tool, you will discover a roster of major Instagram users and tags.
This will significantly lower the total time spent checking out which profile is worth tracking or checking out. There's also a hashtag that will benefit any social media strategy or plan.
This will help your brand stay in vogue. 
Fullinsta
Fullinsta is a great third-party tool that you can use to access any Instagram media content (pictures, videos or stories).
There is no need to sign up or log in to Instagram before using the tool. You don't even have to own an Instagram account before using the service. 
It has an Instagram API that allows anyone who seamlessly wants to check out Instagram profiles.
Remember that Fullinsta isn't officially approved or verified by Instagram, but the tool is still very safe, and you should be able to use it without any issue. 
To start, navigate to the website and input the Instagram username or tag you want to access. Afterwards, the account you seek will be displayed.
Fullinsta is the surest way to view pictures, videos or followers of celebrities, politicians or businesses.  
See Also: How to Know if Someone Restricted You on Instagram
How to View Instagram Without an Account FAQs
What Can't I Do If I Don't Have an Instagram Account? 
Since Instagram only wants people with registered profiles to access their platform, you won't be able to do much. 
With no account, you will be allowed to view an Instagram page and post summary, but apart from that, you won't do anything else.
You can only check out an Instagram profile and a restricted picture library. This is as good as you can get without an Instagram account. 
The following activities are restricted to those without Instagram profiles:
Messaging Instagram profiles.

Commenting and Liking pictures and videos. 

Access Highlights and Stories.

Follow an Instagram profile.

Use camera filters and stickers.

Upload your pictures or videos. 
Is it Safe to Use Third-Party Tools to Access Instagram Content?
Yes. Most third-party tools and web apps are perfectly safe. Nevertheless, some of these platforms can still monitor your activities and user data.
If you are wary of privacy and data theft online, it won't be a good idea to use these tools. Ensure you adequately research before using any tool. 
Some sites may be very deceptive. They may reroute you to spammy or malicious sites that can negatively impact your computer and compromise its security. 
Also, there are third-party tools that showcase irritating popup ads; they are like money-generating farms with little or no value.
These sites can also contain viruses and malware. Hence, you have to exercise caution. 
However, some tools may seek personal or private data. For instance, they may require you to input your contact number, email address or other sensitive data.
Even though the choice is yours, we totally do not encourage you to do that. Stay away from such sites!
Conclusion
This article has revealed how to access Instagram without the need to log in or sign up. With third-party tools, you won't need to register for an account before you view or check out Instagram content. 
Also Read: