Instagram is among the most popular social networking sites in the world, with over 2 billion monthly active users. Nevertheless, it is one of the most often complained-about companies.
It's not uncommon for customers to complain about everything from a hacked Instagram account, banned Instagram account, difficulties signing in to fraud committed by other users.
Users also want to know if Instagram has a customer support phone number or email address they can use to easily contact the platform.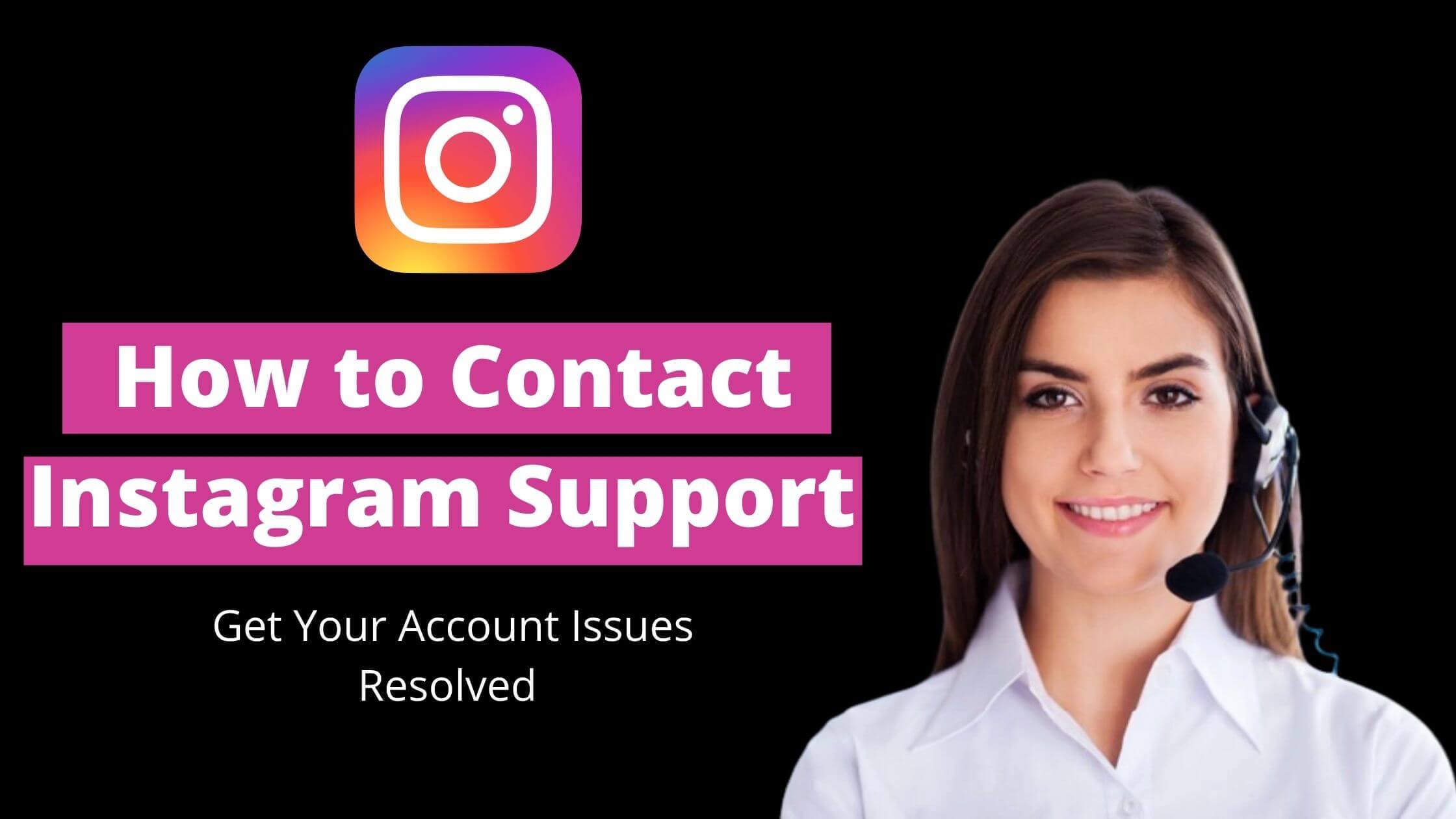 Without further ado, let's review how to contact or talk to Instagram business support directly for help.
See Also: How to Contact Facebook Support Live Chat
Is Instagram Customer Support Good?
Instagram has a bad reputation for customer support, according to numerous reviews.
A consumer, for example, expressed dissatisfaction with the social media platform. Their attempts to contact Instagram were unsuccessful, and they were unable to remedy their problem:
"The robotic voice kept telling me to go online and solve the problem myself. THAT ISN'T CUSTOMER SERVICE AT ALL. I received no help, and my problem continues…"
The following are some of the most frequent complaints on Instagram:
Horrible customer support characterised by challenges in contacting Instagram

Account termination or blocking for no apparent reason.

A lot of nudity and perversion on the platform

Scammers and dishonest practices by users.

Instagram account hack

Issues with logging onto Instagram.

Instagram account ban
How to Contact Instagram Support Quickly
So, how can you get in touch with the Instagram help center? There are many ways to contact the Instagram Support team:
Below are the ways to get contact Instagram support directly.
1. How to Contact Instagram Support Center by Phone Number
You may have trouble finding the Instagram customer support mobile number on the application or website.
The phone number can be found on a number of consumer review sites though.
Thus if you look for how to call Instagram customer service by phone number online, you'll only see this one: (650) 543-4800.
The phone number does not connect to a customer support agent. When you phone Instagram support, you will be redirected to an answering machine system where you will be prompted to address the issue by following some online guidelines.
Similar instructions are available on the Instagram help center.
See Also: How To Get Verified on Instagram For FREE
2. How to Contact Instagram Support via Email
The Instagram email [email protected] was once open for customers to contact Instagram customer support for help, but it is now disabled.
Whenever you contact this Instagram email, you'll get an automatic answer that focuses your attention on Instagram's help centre.
Numerous Instagram reports show that consumers do not receive a response to emails sent to Instagram.
Instagram support communicates with users through a no-reply email. Thus, if you reach out to Instagram through the app, to report an issue, they may react by sending you an email.
This may be a better choice than phoning Instagram's customer support.
How to Email Instagram Customer Center Support
You can email Instagram customer support via [email protected]. The Instagram team will revert to you and help you fix the problem with your account.
3. How to Contact Instagram Support via Reddit
There are 2 techniques to use Reddit in this situation. You may either browse the Questions or use their search box to find the answer to your issue.
Alternatively, you can Google it and save yourself a lot of time and effort. If you Google "your query + Reddit," you'll be routed to questions about your issue.
You can also use your Reddit account to pose questions to the Reddit community if you have one. As I noted previously, make sure you provide sufficient facts regarding your issue in order to receive the best possible response.
See Also: Instagram Shadowban: How to Fix it Really Fast
4. How to Contact Instagram Support via Help Centre
The best way to engage Instagram customer support is through the app or through their help centre. The Instagram help centre offers step-by-step instructions for resolving the most recurring problems.
One of the most common issues is logging into an account. If calling Instagram's phone number doesn't work, you can use the app to report a problem.
Here's how to get in touch with Instagram using the app on both Android and iOS.
How to Contact Instagram Customer Support on Android
Go to the Instagram application on your smartphone.

Locate the "get help logging in" touch underneath the login option on the login screen.

You can log in using your username, phone number, or email address, or you can use Facebook to sign in.

The next step is to tap the Next button. To fix the problem, you'll be guided through a set of on-screen steps.
How to Contact Instagram Customer Support on Android iPhone
Navigate to the Instagram application installed on your iPhone.

Locate the "forgot password" tap underneath the login button on the login screen.

Choose between "Username" and "Phone number."

Choose between entering your username, phone number, or email address, or logging in with Facebook.

The next step is to tap on the Next button. To fix the problem, follow the on-screen instructions.
See Also: How to Contact Facebook Support to Fix Account Issues
5. How to Contact Instagram Support via Other Social Media Platforms
You can contact them on their official Facebook page. Ensure you send them direct messages instead of putting your questions on their timeline.
You might also leave a review on their Facebook page. As you will see, many customers are dissatisfied with their lack of customer service.
It is, however, a fantastic way to gather feedback from others. And perhaps, just perhaps, Instagram will take all of these negative comments into account and improve their notoriously ineffective customer service system.
Then there's Twitter. On their official Twitter page, you can send them a tweet. Make a tweet using the hashtag #Instagram and the tag @Instagram. This is the official Twitter account for Instagram.
Don't use the tweet to @InstagramSupport or other similar handles because they're all fraudulent.
Lastly, reach out to them by messaging them on Instagram using their official account on their platform directly.
Tag them all over social media to create a social media frenzy. It's possible that they'll pay attention and help you fix your situation.
Involve your friends by asking them to do the same thing. Don't be harsh or disrespectful in your messages, though. Be assertive but courteous.
See Also: How to Make Money on Instagram Without Followers
How to Report Your Issue to Instagram Support?
To report issues, head to the Instagram help centre, which can be accessed using your application or an internet browser. To get to the Instagram help centre in the app, follow the instruction below:
Make sure you're logged in to your account.

Go to the profile page

Select the settings icon from the drop-down menu.

Navigate to the end of the menu to find the link to the help page.
To report a problem,
Navigate to "Policies and Reporting" on the menu page.

You will be shown a list of problems to report, which will include:

Using Instagram to disseminate misleading information or fake news

Different types of content e.g. someone's Instagram story, IGTV, reel, post, products, and messages.

Infringement on someone else's copyright.
FAQs on How to Contact Instagram Support
How Long Will It Take To Get a Reply From Instagram
Instagram usually responds between two to three days. However, it may be necessary to go above and beyond.
If you are a verified user, you have a better chance of receiving a response from Instagram than if your account is unverified.
Because of the huge volume of traffic, Instagram finds it challenging to respond to everyone. Even if you don't receive a response from Instagram, you should report your issues many times.
Wait at least three days before reporting another issue. Check your inbox to see if a member of the Instagram customer support team has responded.
I am yet to receive a response from Instagram Support
Are you concerned that you've not received a response from Instagram support? Sadly, this is a common occurrence.
I understand how upsetting it might be to contact Instagram frequently and yet receive no response to your issue. You'd think that a large company would be a little more supportive and helpful.
The worst aspect is that you don't know if you'll ever get a response from Instagram regarding your problem, even if you've been waiting for days.
This is quite upsetting. If your account is compromised, you won't be able to get in touch with Instagram to report the problem. There have been numerous occasions where people with hacked accounts have not received a response from Instagram.
So, what could be the reason Instagram didn't feel it was important to respond to your complaint?
Perhaps Instagram didn't consider your problem to be very serious or of high priority. This is especially common among Instagram users that have not been verified.
If you're not an influencer, superstar, or famous person, your complaints are unlikely to be taken seriously.
With nearly 1 billion active users, Instagram finds it difficult to respond to each and every complaint. Instagram is likely overwhelmed with reports and complaints, making it difficult for them to separate the genuine ones from the spam.
See Also: How to Secure Your TikTok Account
Conclusion
When you contact Instagram's customer service phone line, you'll get an automated message. There's no way to contact Instagram support via email or live chat.
Because of this, Instagram users have a tough time getting in touch with customer support. The help centre is the only spot where users can get assistance.
Alternatively, you can sign in to your Instagram account and file a report.
Also Read: