As you navigate through your Instagram story and feed, what grabs your attention: a boring block of text or a bold, creative image?
Obviously, it's the photo (photos are clichéedly referred to as "eye-catching" for a purpose).
And this isn't another baseless anecdote.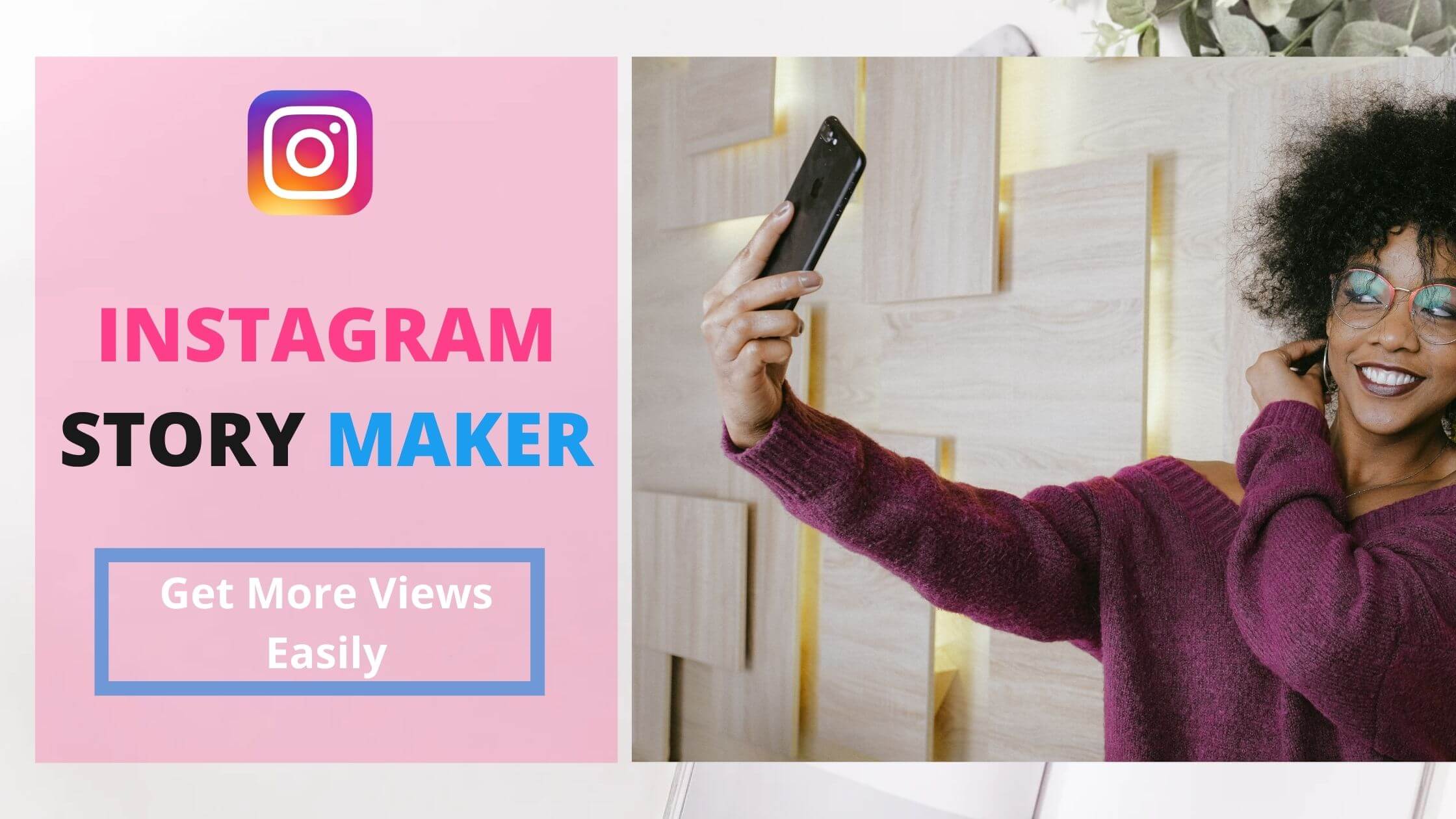 Facebook posts with images receive 2.3x more engagement than those without images, while Tweets with images gets 150% more retweets.
And for Instagram? You can't even post without an image.
Hence if you manage the Instagram page for your brand or small business, coming up with creatives is a big part of your role.
But, with your competitors also trying to attract similar audiences with content marketing, you need the best Instagram Story Maker to stand out.
The best part of it is you don't have to invest thousands of dollars in a creative firm, or even hundreds of dollars in design software—there are some fantastic free design tools to help you get started.
Therefore, in this article, we will be sharing with you the best Instagram story maker to create eye-catching images that generate traffic and more views.
Best Instagram Story Maker to Get More Views
Here are the best Instagram story makers to help you spice up your content and get more views.
1.

Unfold
Instagram story templates are one of the easiest ways to generate content in less than 60 secs.
It allows you to create cohesive content that completely aligns with your brand as a whole.
You can easily create templates with your phone if you are not comfortable with creating templates with Adobe Photoshop.
The unfold app is one of the Instagram story makers that help you with a popular template for Instagram stories.
Unfold has literally everything thing your story post needs to stand out.
Also, you can preview your story with story mode. This mode gives the opportunity of seeing how your stories will come up on Instagram before posting them.
If you want an absolutely amazing way to give your Instagram stories a distinct and exceptionally outstanding look, then you should think of Unfold.
It is user-friendly.  You don't need a designer skill to make your stories feed look really good.
See Also: Top 21 Best Content Writing Tools To Create Better Content
2.

Seen
Seen is an Instagram story maker for dynamic and animated stories.
If you really want to add a level of professionalism to your animations on your Instagram stories, this tool is best for you.
You can easily come up with slides of smooth, animated and engaging transitions of about 15 seconds.
It is a smart way to grab the attention of your target audience.
Please try not to make the slide so long and boring, so your audience doesn't end up tapping away.
As a plus, seen has animated options for text that enable you to bring your posts to life, making a simple product photodynamic and extremely engaging.
See Also: Instagram Shadowban: How to Fix it Really Fast
3. Canva
Canva is one of the best Instagram story makers that give you the opportunity to become a graphics designer.
Whether you have an idea of graphics or not, the template repository is a great start.
By default, they also have engaging designs for Instagram stories.
It covers all aspects from stories template to customize fonts, images, colours, and layouts and you have the ability to make it yours.
Once you've been able to nail your Canva template, it's quite easy to maintain consistent brand aesthetics on your Instagram stories.
See Also: Our Top 25 Most Powerful Content Marketing Tips Ever!
4. Adobe Spark Post
Without a doubt, Adobe is popularly known for its professional editing software.
Adobe Spark Post makes it really easy for anyone to create graphics on the go. No design experience is required.
You have the freedom to choose from thousands of professionally designed templates and modify the content to your purpose.
Also, you can apply your logo, fonts and brand colours very easily.
This Instagram story maker is absolutely free to use.
You'll have no other choice than to create high-quality images for your brand.
5.

Cutstory
CutStory is such an amazing tool for content repurposing. With a great layout and navigation, you could easily edit your video without stress.
As the name implies, you can trim any video file to suit Instagram's 15 seconds frame.
Then you can even go further to add text, stickers, create a collage or even add music before you save it to your camera roll and post it to your followers.
See Also: Free Social Media Icons to Spice Up Your Posts (Copy and Paste).
6. Over App
This Instagram story maker is very much compatible with iOS and Android.
Over is an app that gives you the open cheque to become your own personal Instagram marketing agency for your brand.
It was created to inspire others by simply providing a multifaceted tool for sharing inspirational quotes and goals on social media.
It is actually a fun way to apply text over the top of our photos with a quite unique and professional style.
7. Life Lapse App
The good thing about this application is that it is compatible with iOS and Android.
Life Lapse App is an amazing app that out can use to create time-lapse videos of our activities.
It joins short video clips or videos together into a very creative slide show.
The distinct time-lapse content is a good way to enhance Instagram growth to your brand through captivating Instagram stories.
See Also: How to Make Money on Instagram Without Followers
8. Design Kit App
This app is exceptional for creating Instagram stories.
It's also 100% compatible with iOS.
The Design Kit is a fun app that allows you to add your own creative ideas to your photos through already-made designs, numerous text font options, stickers and brushes as well.

The exceptional brush feature gives users a realistic-looking digital art brush to make outstanding posts for their Instagram stories.
Isn't this loveable?
Now you can take your Instagram marketing into your own hands without necessarily being in need of an expensive Instagram marketing agency.
9. Photogrid App
Photogrid is basically an application that is used to create professional-looking collages of your pictures and even videos.
You can decide to use multiple images and videos or just one for a diverse range of related options.
The fun fact about this collage maker is that it is quite easy to use.

You can go ahead to combine videos and photos into a single collage or even a slideshow.
This Instagram story maker helps you edit both photo and video files so well.
See Also: How to Get Free Instagram Likes Really Fast
10.

Jumprope
The Jumprope app is totally free. It is an application that's primarily designed for content creators that focus on how-tos and other tutorial-type content.
It is also really helpful to those looking to share some how-tos with their friends and family as well as social media fan.
This app creates social network slideshows for fast and steady learning. Also, it is quite easy to upload your stories on Instagram.
Features
You will be able to personalize multiple stories into step-by-step procedures.

Incorporate both photo and video files easily

Easily feature products in a shoppable format.
11. Clipomatic
Did you know that 40% of Instagram short videos are being watched without sound?
This application is used for adding captions to your Instagram stories.
Adding a caption to your post is a great way to get your audience's attention.  This will help them just in case your audience decides to watch it on mute.
It will also make your video content more engaging, so no one will miss out on your posts.
Though this might seem to be really time-consuming, it is worth it.
Clipomatic's smart video editor literally turns everything you say into live captions.
It simply means that you don't have to spend your time typing every single thing out. This Instagram story maker does all the work for you.
All you have to do is simply hit the magic record button, speak audibly, and your words will appear as stylish captions immediately as you record.
There are also artistic filters you can use to enhance your videos to really engage and sweep your audience off their feet.
See Also: 25 Smart Instagram Marketing Strategy that Actually Works
12. Life Lapse
If you're looking to step up your Instagram stories that go viral, then you need to check out Life Lapse.
The app makes it easy to create very high-quality slow-motion videos right from your mobile device. Also, their handy tutorial step-by-step process helps you get started easily.
All you need to create these videos is a good camera, good lighting and a tripod.
Besides, Life Lapse is more than just a stop-motion creator. But it also contains creative editing tools that definitely include a variety of different speeds, filters, stock music and an internal timer that will help you get the exact timing of the video.
Life Lapse is such an amazing Instagram story maker that can be used for creating unique content that excites your audiences.
13. Magisto Application
The Magisto app can be used to create captivating content that stands out. You can easily grab the attention of your audience by simply transforming your photos and footage into very nice videos with the help of the smart video editor.
This Instagram story maker has over 100 million users.
It is designed with powerful editing styles and templates that will enable you to come up with high-quality Instagram story content.

Magisto's smart video maker can go a long way to help you create a slideshow or video collage that looks just like a true video using only photos.
See Also: Push Notification: Everything You Need to Know as a Marketer
14. Filmorago
FilmoraGo is another application that really helps in video editing and it is 100% worth checking out.
It really helps in providing themes, effects, filters, overlays and every other element that can be used to create wonderful content.
15. Picplaypost
This is an extremely unique ultimate video collage maker.
PicPlayPost can help you display lots of clips at the same time. Hence, it makes some content creation tasks easier.
For instance, creating acapella videos or narrating in one video while making demonstrations in the other.
This makes the whole process way easier.

Conclusion
There are lots of apps that can enhance Instagram story-making.
All the same, it does not really matter how many tools you have if you really don't know how to use them.
So it's advisable to choose two or three of the tools you like and master them.
So if you've been having challenges with how to go about your Instagram story-making, we hope the list of best Instagram story maker helps you get started.