Instagram platform is one of the most popular social media platforms.
Millions of people use it to share photos and videos, which is why it's one of the most powerful tools in marketing today.
However, there are times when you can't post on Instagram. Not being able to post on Instagram can be so frustrating, especially when you invest a lot of time to edit that video or photo, hoping to get thousands of likes and comments.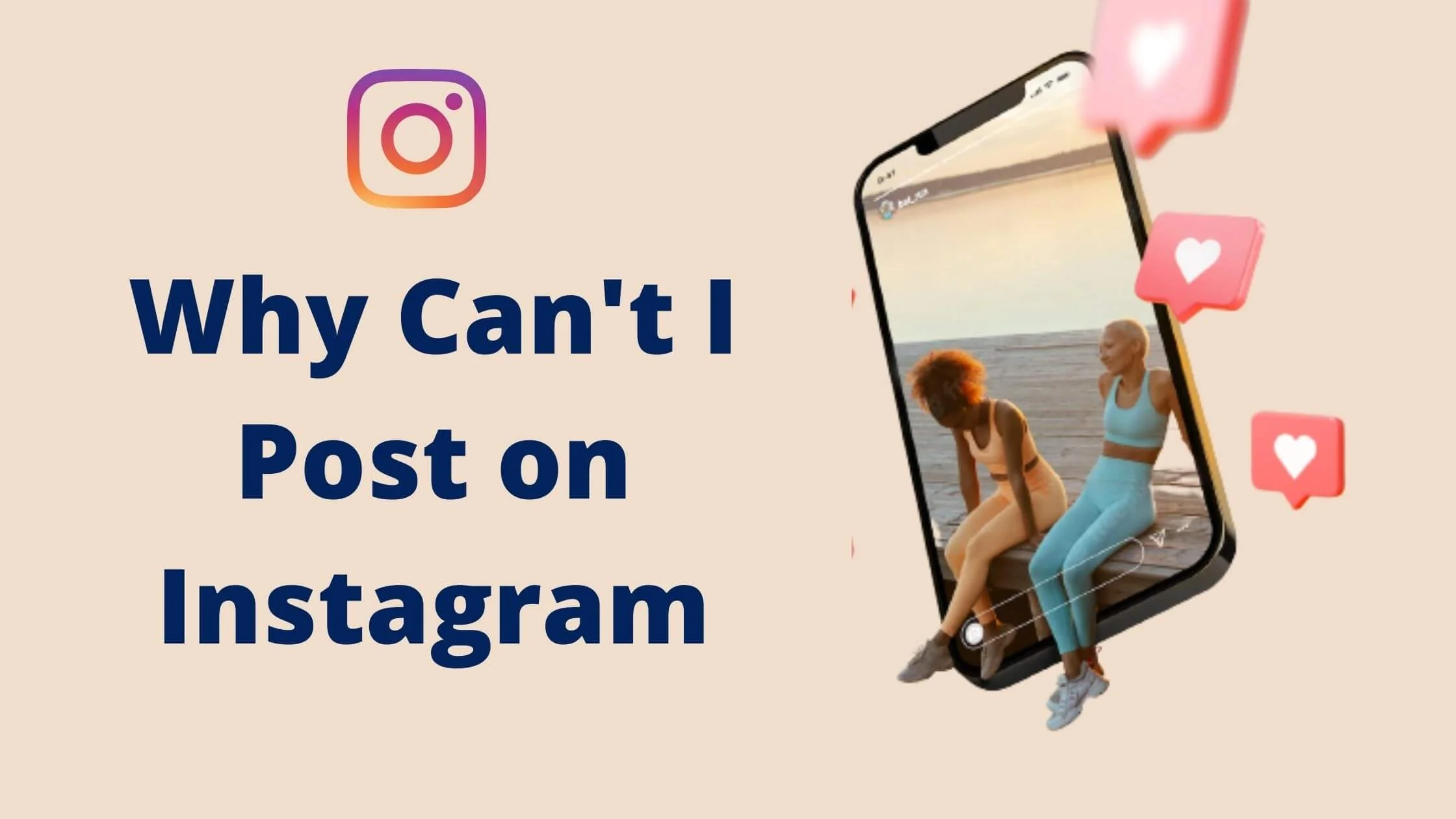 If you want to grow your Instagram following, but can't post on Instagram, then you'll need to find a way to fix it.
In this guide, I will answer one of the most asked questions which are "why can't I post on Instagram" and how to resolve it.
See Also: Vanish Mode on Instagram – What it is and How to Use it
Why Won't Instagram Let Me Post?
There are lots of reasons why Instagram won't let you post, and there are different ways to solve the problem.
The problem most people face on Instagram is not being able to post as a "post". A post appears on your newsfeed and not on your story or anywhere else.
So if you're experiencing difficulty in posting on Instagram, you might have to check your Internet connection again. Just in case your data connection isn't turned on.
If your Instagram account has been temporarily banned, you will have to skip all of these to the very last section of those posts and carefully read about how to fix that.
You should also know that long videos aren't allowed on Instagram posts, i.e to your newsfeed.
Nevertheless, you can upload a 15 minutes video to IGTV with your mobile app, 60 minutes video can only be uploaded to IGTV with the aid of a computer, and an Instagram story can only accommodate a 15 seconds video clip.
How to Fix Why Can't I Post on Instagram
Many people have asked me what is the best way to fix the error "why can't I post on Instagram".
The answer to this question is simple. If you are having trouble posting on Instagram, you are probably not following the right steps.
Here are the steps that will help you to be able to post on Instagram.
Check Your Internet Connection
If you're making use of cellular networks, you have to be sure that your network connection is working. Then tap on mobile data to disconnect from the internet. Click on it again to be back online.
You could also connect to a wireless network or mobile hotspot. At this point, if the problem wasn't solved then you will have to proceed to the next step.
This is the very first underlying cause.
See Also: Why Can't I Post on Facebook
Log Out of Instagram and Restart Your Phone
Log out of your Instagram account and restart your phone. This act will help you clear off the temporary files that must have been the issue with not being able to post on Instagram.
Steps on how to sign out of Instagram:
Click on your profile photo at the bottom right corner.

Click on the three dots at the top right and go to settings

Scroll down and you'll see the log-out Option
To restart your phone,
Hold down the power button on your phone. Hold it for a while until the Restart option comes up on the screen.

Click on Restart

After restarting, wait for your device to establish a connection to the internet.

Log in again and try publishing the post again.
Close Background Apps
Maybe you didn't know this. You need to make sure that Instagram is the only app running at the moment on your device, especially when you are trying to upload a new post.
Tap the Home button and close other apps. After doing that, you can go ahead to try uploading your new post.
Update Your Instagram App
Remember the solution to every problem is being able to know what caused the problem. Your Instagram app might just be out of date and most definitely needs an update as soon as possible.
If you've cleared your Cache, closed background apps, checked your Internet connection, and restarted your device, and if you're still not able to post then I think you should update your Instagram app.
Launch the play store app and search for Instagram

An update button will appear next to the

top, click on it.

The latest version of Instagram will be downloaded on your mobile phone.
See Also: How to See Who Saved Your Instagram Post
Reinstall The App
If none of the methods above worked, then you have to uninstall Instagram.
You can do that by Long pressing the app icon until the Uninstall option pops up.
Uninstall the app and download it again from the play store.
Change Your Instagram Data Settings
There is a data-saver setting that prevents you from sharing too many posts at a time on Instagram. Some of our bulk uploading features are usually always disabled by this feature, to save your internet data.
So if you're experiencing difficulty in posting on Instagram, then there might be a possibility that your data saver is enabled. 
To disable Instagram Data saver, follow the steps below.
Go to your Instagram profile and select "settings".

Click ok "Accounts"

Click on "Mobile Data usage".

Turn off the "Data Saver" option.
Free Up Storage Space on Your Phone
You might have an issue with trying to upload an Instagram post if your phone's storage is full.
Most times, Instagram saves uploaded videos and images into your local memory.
What you should know is that if the app keeps on saving posted videos and photos to your device, then you need to free up the storage space on your phone.
The easy way out here is just to disable the "Saved posted media" option or you free up the storage space on your phone.
Or you could as well free your phone's memory of some content and also delete apps that are no longer useful to you. Once you've been able to do this, you shouldn't have the issue of failed uploads.
Check the Instagram Photo and Video Policy
It is well known that Instagram has strict terms when it has to do with the kind of pictures you upload.  There are exceptional bots that can quickly identify any picture or video that violates the policy.
If your picture or video violates their policy, then there's no way Instagram will let you upload it.
Also, if you're posting a video or song that does not belong to you, you will have to give credit to the owner. Not following guidelines might hinder you from posting copyrighted pictures and videos.
Your Account Might Have an Issue
It is also known that Instagram does not hesitate to either block an account temporarily or permanently if the user in question violates their policies.
If none of the steps mentioned above can help you resolve the issue of not failed uploads, then it might be probability that your account has been banned from uploading new posts.
Your account might be banned due to any of the following reasons.  One such reason could be the use of third-party applications to increase your number of followers and likes.
Every social media needs authentic followers. Most new Instagram users make the mistake of using third-party tools just to get fake likes and followers. 
Such a user might end up being blocked by Instagram.
Mass Following and Unfollowing
This is also very common. Because so many people do it. They carefully sit to follow Instagram users and then unfollow them after a few days. 
But the Instagram policy doesn't accept that, and such a user might end up being suspended or have the issue of failed uploads.
See Also: How to Fix Instagram Says I Have a Message But I Don't Notification
Why Can't I Post on Instagram FAQs
Why Can't I Post Multiple Photos on Instagram?
It's a common problem when trying to post multiple images on Instagram. Many people are finding that when they try to post multiple images at once, their uploads get stuck in the 'pending' state.
Problems with the app on your device, a bad internet connection, or a bug in the latest app update are some of the things that could be the reason for multiple pictures not being posted.
The aforementioned are some of the reasons why you can't post more than one picture on Instagram.
Why Can't I Post on My Instagram Story?
If you've ever tried to post something to your Instagram story, you might have come across this error message.
It can be frustrating to see this message pop up when you're trying to post a short video on Instagram.
Some of the reasons why you can't post on your Instagram story include, using an old version of Instagram, poor internet connection, bugs etc.
Why Can't I Repost a Post on Instagram?
If you're trying to repost something on Instagram, it's probably not working. There are a few reasons why this can happen.
The first reason is that you might be posting the wrong URL. The second reason is that your post might be too long or not optimized for Instagram.
The third and final reason is that you might be using the wrong media. It might be that you're using the wrong media or the wrong type of media.
This can be caused by using the wrong hashtags, using the wrong description, using the wrong photo, or even using the wrong type of photo.
Why Can't I See all the Comments on an Instagram Post?
There are a number of reasons why you don't see any comments under a friend's photo. The comments on that particular post may have been blocked by the account owner.
It could also be that your internet connection is poor and not allowing you to view the comment on the Instagram post.
Conclusion
This article contains some of the solutions to why you can't post on Instagram and sure was to fix the issue.
You'll have to try out each of the methods yourself and know which method works best for you.
I hope this guide on why I can't post multiple pictures on Instagram helps you fix why you can't post on Instagram.
Also Read: