Do you want to keep your messages and conversations a secret from your loved one or friend?
You can do this by installing any secret messaging apps that look like games on your iOS or Android device. This will hide your chat and messaging activities from your partner. 
Even if people come in contact with the app on their smartphone, they might mistake it for a game app because of its icon. You can create an extra layer of privacy by installing a game look-alike secret messaging app.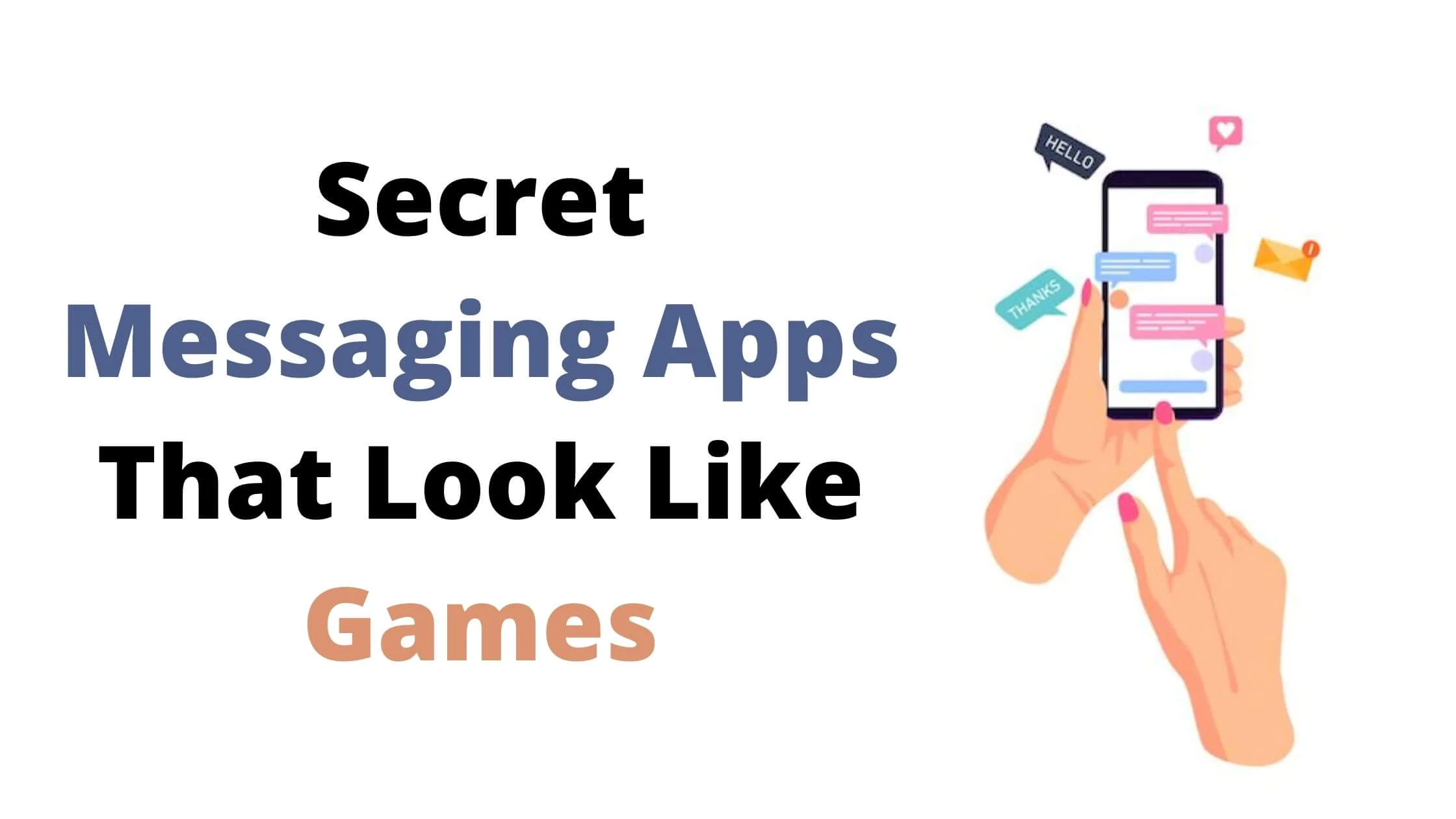 It's far better than using Whatsapp, Telegram or iMessage apps. 
Anyone that has access to your smartphone can check your messages on Whatsapp, but they find it difficult to go through your secret messaging app. 
This article will analyse the fifteen best Secret Messaging Apps That Look Like Games.
How Do Secret Messaging Apps That Look Like Games Work?
These apps are designed to appear and function like games, but in reality, they have a built-in messaging system that allows users to communicate with each other.
They often have features that hide the messaging system from the home screen, making it difficult for others to discover.
Top 15 Secret Messaging Apps That Look Like Games
Below are top cheating secret messaging apps that look like games.
Gem4me 
Gem4me is a messaging app with a look-alike gaming icon. It is a powerful platform where anyone can share pictures, audio clips, host chat groups and create public channels. 
Here are some other features of the app:
Contacts Integration: Gem4me app allows you to swiftly upload your contacts for messaging purposes. You can also use a QR code to invite a friend to your secret hidden chat room. 
Group chats: You can create group chats for family and work colleagues in an environment characterised by ease of communication and customisation. 
Never miss any details, thanks to push notifications. 
Easy to delete and edit messages: Typographical errors in chats won't be a source of challenge anymore. You can easily rectify any typos in the messages you have sent without issue. 
Send Multimedia messages: You can easily share pictures, video clips and files of any format. 
Public/Private Channels: With thousands of free public or private channels, you can exchange gossip, memes and funny videos with other members. You can equally bond with them. It is easy to set up a private or public channel. 
Gem4Me is a convenient app that lets you interact with your friends without hassles. It is your opportunity to grow in popularity and become an influencer as you will find hotspots that are interesting to you.
The app is available on Android devices.
Kubool 
Kubool is another secret messaging app that has a gaming resemblance. It draws its concept from the Arabic word for hospitality –Qubool.
Kubool app is known for its secure and private interface that allows users to freely receive and send hidden messages and feedback regardless of location.
Its selling point is its hidden messaging feature which is known for its simplistic UI and convenience. 
Anyone can send you a hidden, anonymous message as long as they have your username. Therefore, it is important that you give your profile link to only those you intend to chat with on the platform.
There's also the "dare" feature that lets you send a dare to someone on Whatsapp or Facebook. 
With the daring feature, you can understand people's opinions about you. Tell your friends to set up an account on the platform and share their special links with you.
This will be interesting because you can freely send them secret hidden messages. 
DUST
Another spectacular app is DUST. DUST empowers you to build a robust online profile.
The app stems from the belief that there's no difference between online profiles and identity in the real world.
There's also the notion that you should have power over information about your profile online. 
Dust users are safe and secure—no need to worry about snooping eyes, data harvesting, cybercriminals and hacking. With this platform, you have unlimited freedom to craft your online identity the way you want without repercussions. 
DUST is a highly secure hidden messaging platform for conversation and photo exchange. Anyone can also share their private data via the platform.
For instance, private details like bank card data, security digits, bank transfer specifications and medical files can easily be shared on the DUST app. 
On DUST, you can:
Instantly wipe away messages whenever you want. 

Get auto-notified when someone takes a screenshot. 

Auto-delete chat records and history after one day. 
You have nothing to fear because chats on DUST are securely encrypted and will never be readable to third parties, not even the app developers.
There's also a feature that enables you to wipe messages from a recipient's phone automatically. Deleted messages can't be retrieved through any means. 
FortKnoxster 
FortKnoxster is a secret messaging app that has a game look-alike. It also has decentralised finance and a hidden messenger platform. It allows you to organise, send and receive digital assets while chatting in a safe and encrypted setting.  
You only need an internet connection to access FortKnoxster. You don't have to worry about call expenses. You can use the app to interact and stay in touch with your loved ones and work partners across the world. 
Individual and team chats

Exclusive Mail: Exchange messages on an exclusive and secure platform with zero risk of data loss, theft or glitches. 

Free Video and Voice call. Communicate with your partners, workmates, friends and loved ones across the world. 

Send and receive multimedia files in a safe and discreet manner. 

Encrypted messaging.
NetSfere
NetSfere is a secret messaging app that provides users with encrypted, hidden, robust and decentralised interactive services. Every year, thousands of messages are sent across the world via the app. 
NetSfere is reputed as a mobile-first chat platform with lots of features that enhance work efficiency and support professionals in adhering to obligations and requirements. 
Here are some benefits of the app:
Highly secure and encrypted messaging capabilities. 

A centralised management interface that complies with regulatory guidelines. 

Collaborative support that includes high-definition video and audio calls, transmission media and web conferencing. 
Confide
Confide app allows you to interact freely and securely, leaving no online footprint. It has an encrypted messaging feature that enables transmitting, hiding, withdrawing and exchanging of messages.
One of the selling points of the app is its secret texting capabilities. 
This app also helps protect your privacy in case you want to send a text or email in an anonymous manner. 
Here are some features of Confide app:
Highly secured, encrypted, secret messaging capabilities.
As soon as your message is read by the recipient, it instantly vanishes. You won't always have to remember to delete your messages.  And much more.
Wickr Me
Wickr Me is a chatting app that resembles a game. If you seek a platform with a high level of encryption and security, you need to try this app. 
With Wickr, you can stay in touch with your loved ones or friends. It's a 100% encrypted app that enables voice memos and calls as well as sharing of multimedia files. 
Here are some features of Wickr:
Easy registration that does not need an email address or contact number.

Wickr never stores your message content or its metadata. 

Wickr has its security regulations and privacy policies vetted by highly regarded security agencies. 

Private groups that can accommodate more than ten members. 
Hide my Text
If you are looking for a secret messaging app with a gaming icon, then you should check out Hide my Text.
The app has a striking game-like icon, enough to convince an onlooker that it is a game. 
Do you need to keep your chat records secret? Are you bothered by spammers and hackers? Then you need Hide my Text app. This prevents people from accessing your personal texts and chats.
The app Hide My Text simply encrypts your conversation via ciphers. It also allows you and your loved ones to communicate via the cipher you have created.
No one will be able to share it even on social media. 
Other features of the app include:
Effective encryption / decryption process. 

Set up distinct unique codes for letters in text messages. 

Lightweight app. Around 1MB

Easy-to-use, aesthetic pleasing and stunning UI for any smartphone. 
Secret Messenger
Looking for a way to block people from viewing your messaging status? Secret Messenger is another great tool as it prevents other users from accessing your chats. It uses an anonymous or incognito feature to safeguard the sanctity of your chat.
Calculator Pro+
An effective way of safeguarding your secret chat is by using the Calculator Pro+ app. It has the added advantage of looking like a game icon.
You can hide your text messages, call records and multimedia files on the app.
You can also hide the chat history and call log of a specific contact. After setting this up, any messages from this contact will be concealed in the app.
It is convenient to use and encrypt messages. Your text messages and call records are fully hidden and protected. 
You can also communicate with other app users via text messages freely. To set up your account, you only need your mobile number. 
Here are some features of the app:
Restrict spam calls

Conceal MMS and SMS

Easy-to-personalise private message capabilities

Free file sharing functionality

Instant backup
Wire 
Wire is another highly engaging app. It provides a platform for teamwork and collaborative activities while concealing chat records and keeping them safe.
The aim of Wire is to facilitate swift but effective exchange of messages and files.
Here are some important features of Wire:
Instant messaging functionality for individuals and groups. 

File sharing to foster collaboration and teamwork. 

Teleconferencing and webcast capabilities. 

Time-limited messages to enhance privacy

The app can be easily embedded into your business tools and platform.

Optimised for both PC and smartphone use.
Message Locker
This Message Locker is the best for safeguarding your conversation and keeping your texts safe.
You can also securely hide your profiles on social media platforms like Vine, Whatsapp, Twitter, Messenger, Instagram, Facebook and Instagram on the app. To unlock the app, you only need to toggle the settings.
The app also allows you to conceal other system apps. This includes your email, gallery, SMS and video. You won't worry about people invading your privacy again.
The app safeguards your private information from hackers and gossipers. It also has a functionality that lets you capture the selfie of anybody who tries the lock unsuccessfully. 
Pryvate
Do you need an app that takes care of your safety and identity online? Pyrvate is an app with a similar icon to a game but can still function as a secure messaging platform.
It is equipped with military-grade encryption to protect your messages, video clips, browser and emails. 
With Pryvate, you can connect with your loved ones and colleagues using a safe, protected channel without middlemen or shared infrastructure.
There's also an auto-delete message feature that allows you to wipe out private data at a specific time instantly. You can also remotely delete messages from your recipient's device.
Smiley Private app
Smiley Private app is another interesting chat platform for keeping your contact number a secret. It conceals your data while safeguarding your digital identity. 
Here are some of the features:
File sharing and MMS support.

Search for user id and contact number

Auto delete messages feature

Blacklist any contact number you are uninterested in getting messages from. 

Safeguard your privacy
Threema
Threema is a popular encrypted messaging app that safeguards your data from cybercriminals and fraudulent activities. Anyone can also use the app without signing up. 
Threema is one of the few open-source chat platforms available. With its end-to-end encryption, you can be assured of safety by texting or making voice calls from the app. 
Threema is also available for PC use. 
Cheating Secret Messaging Apps that Look Like Games FAQs
Below are some of the frequently asked questions on cheating messaging apps that look like games.
Why do people use cheating secret messaging apps?
People use these apps to discreetly communicate with others while they are in a relationship or marriage.
They may use these apps to communicate with someone they are having an affair with or to hide communication from their partners.
Are cheating secret messaging apps popular?
The simple answer is Yes.
These apps have become increasingly popular in recent years due to the rise of smartphone usage and the availability of such apps in app stores.
How can someone detect if their partner is using a cheating secret messaging app?
It can be difficult to detect if your partner is using a cheating secret messaging app, but there are some signs to look out for.
For example, if your partner frequently plays games on their phone and you notice that they are always highly engaged and never seem to be losing, it may be a red flag.
Also, if you see unusual or suspicious activity on their phone, such as frequent password changes or constant usage, it may be a sign that they are using a secret messaging app.
Can these secret messaging apps be harmful?
Yes, the use of these apps can be harmful to relationships and marriages, as they often involve cheating or hiding communication from a partner.
Additionally, the secrecy and privacy these apps provide can also make them attractive to individuals with malicious intentions, such as cyberbullying or harassment.
Conclusion
It can be quite disturbing knowing that anyone who has access to your phone can invade your privacy.
This is why you need secret messaging apps that look like games. Some have encrypted messaging features that add an extra layer of protection to your conversation.
We are happy that this article has been beneficial to you. Kindly share with your social media community.
Also Read: