Snapchat is among the most downloaded social media applications in the world.
It is on the same pedestal as TikTok, WhatsApp, Instagram and Twitter. But it differentiates itself from other similar apps through its time-limited media-sharing functionality.
This means that you can share pictures and short video clips with other users for a short period of time before they disappear.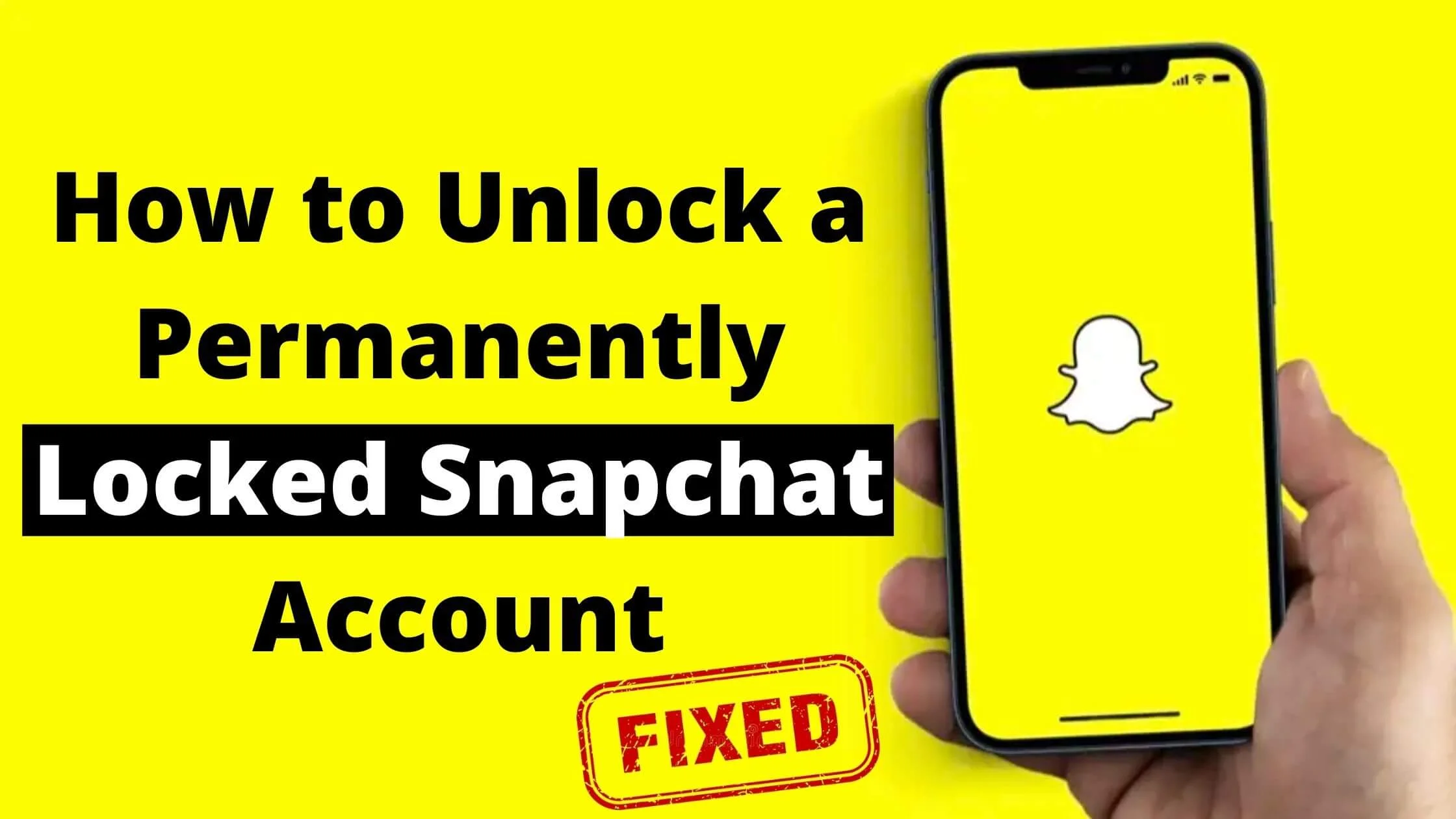 Another great feature of Snapchat is its user-friendly interface and pleasant experience. Many people prefer the app over its competitors because there are no dull moments when using it.
Users can connect and engage with one another in diverse ways.
For instance, they can exchange video clips and photos, generate creative templates via filters or special effects, keep count of streaks and even download Snapchat stories and content to their phone storage. 
This is why the most recent incident, where most users of Snapchat were temporarily locked out of their accounts, provoked anger across social media.
It was worse for a few others as they were denied access to their account with a "you have been permanently locked" message.
Whatever the case, these experiences can be very frustrating. 
If this has happened to you, we clearly understand how angry you feel, and that is why we put up this article to help rectify this issue. 
For Snapchat users who have been very regular on the platform, the experience of being locked out of their account can be destabilising and painful.
This is due to the fact that the situation will cause them to lose out on the fun things that are happening on Snapchat. Worst still, it might ruin their well-earned snap streaks. 
All hope is not lost.
There are easy techniques that will enable you to fix this challenge. For temporarily locked Snapchat accounts, it is usually a relief to find out that your account will be accessible after some hours.
However, there are some instances when these accounts are shut for weeks, months or even indefinitely. 
So, ensure you follow the steps we will outline in this article meritoriously. 
Without further ado, let's tackle the elephant in the room — why was your Snapchat account permanently locked?
 See Also: What Does Pending Mean on Snapchat? How to Fix it
Reasons Why Snapchat Permanently Locked Your Account
According to Snapchat, here's why you were permanently locked out of your account: 
Third-Party Plugins and Apps
The major cause of being permanently locked out of your Snapchat account is your use of unlicensed third-party tools, extensions, plugins or hacks to sign in to the platform or any of its services. 
While there are apps and plugins approved by Snapchat, most aren't.
Some examples of popular unlicensed apps or plugins used by Snapchat users include Phantom, SCOthman, Emulator, Snapchat++ and SnapTool.
These tools can compromise your sensitive data and lead Snapchat to permanently shut down your account.
So whenever you see the "We are sorry, we were unable to process your request" message while accessing your account, please check if it is connected to an authorised third-party tool.
Going Against Snapchat Community Guidelines
Snapchat does not tolerate spamming, sharing sexually explicit or adult content, or acting in an abusive way to other users.
This inappropriate behaviour contravenes Snapchat's Terms of Service and Community Guidelines.
In most cases, your account may be temporarily restricted or permanently disabled if you frequently breach these guidelines.
See Also: How to Clear Recent in Snapchat on Android, iOS and PC
Suspicious Activities, Such as The use of "Bots."
Many accounts have been blocked for what is termed "suspicious activity." A good example is sending too many friend requests or sending DMs to hundreds of users in a short amount of time.
The likelihood of account activity being marked as "suspicious" increases when you have not verified your contact information.
Snapchat has also shut down accounts that use automated technology and tools. This includes unauthorised bots that handle and manage accounts.
Sign in to Snapchat from an Unknown Device or Location
Lastly, your Snapchat account may be temporarily locked if you access it from an unknown or new device or location. This shouldn't be a cause for worry.
Snapchat strives to protect and maintain the security of its users' data. To actualise this, it usually monitors and stores records of your location and device whenever you access your account.
This may result in you being "barred" whenever you try to sign in to your account from an unusual device or location.
How does this happen?
Snapchat is made aware whenever you try signing in from a new device, and it enforces a "temporary lock" on your account to safeguard it from hacking or compromise.
So these are the major reasons why your account was permanently locked.
See Also: How To Get Verified On Snapchat For FREE
Types of Snapchat Account Restrictions 
As we have seen from the reasons in the preceding section, the most common reason why people get locked out of their Snapchat account is that they must have breached Snapchat's community guidelines or terms of service through their actions or conducts. 
However, if you don't act in contravention of these guidelines, then you could be denied access to your account temporarily or indefinitely due to the fact that your account has been hacked or due to the other reasons we have stated above. 
So there are three categories of restrictions where Snapchat will "shut out" users from accessing their accounts. They include:
Temporarily Locked 
When you try to access your account, and an error message pops up stating, "Oh No! Your account has been temporarily locked out.
For details on why this might have happened, you can visit https://www.snapchat.com/locked" or a notification informs you to patiently wait for at least a day before signing in, it suggests that you have been locked out of your account.
However, this is only temporary. 
Permanently Locked
If you are trying to sign in to your Snapchat account but receive a message telling you that your account can't be unlocked by the support team, it is a strong sign that you have been locked out indefinitely or permanently.
If you are trying to access your account but find a notification directing you to get in touch with the support team and complete the form.
Then you have to immediately do as you are told. It means your Snapchat account has been tampered with, and for that reason, you have been shut out.
After completing the help request form, you will receive a follow up via email. 
See Also: How To Get a Snapchat Streak Back
How to Unlock a Permanently Locked Snapchat Account
We have analysed the reasons why your Snapchat account has been permanently locked. It's time to explore ideas on how to rectify or fix your locked Snapchat account. 
Re-install Snapchat 
Another fix to the permanently locked account is to reinstall the app on your smartphone. This may get rid of the data responsible for the "locked out" notification on the sign-in page. 
It is important to note that if Snapchat restricts your account for violations of its terms of service or guidelines, reinstalling the app won't be an effective solution.
We have analysed the reasons why your Snapchat account has been permanently locked. It's time to explore ideas on how to rectify or fix your locked Snapchat account.
Disconnect Your Snapchat Account from Third-Party Tools and Plugins
Among the possible reasons why you have been locked out of your account is because you have linked your account with an unapproved third-party tool and plugin.
Thus, an effective solution is to unlink these tools from your account.  
See Also: How to Fix Snapchat Tap to Load Problem
Force Reset Your Smartphone
This solution is ideal for temporarily locked accounts. All you need to do is hard reboot your mobile device to remove the minor glitch in the app.
This usually clears up any bugs or system flaws that hinder your ability to sign in to your Snapchat account. 
Contact Snapchat's Customer Support Team
The easiest way to find explanations as to why your Snapchat account was locked is via customer support.
Once you contact them, they will inform you of the reasons why you can't access your account, if you will ever get it back, and the time frame of the account ban.
This will go a long way in helping you resolve the issues with your account. 
Set up a New Snapchat Account 
If your Snapchat account is permanently locked, your best bet is to set up a new account. The customer support team won't give you much assistance in this regard. 
Note that you need to use an entirely different email address from the one that is associated with your permanently locked account. So, you also need a new email address. 
Also, it is impossible to recover any data if your account has been locked permanently by Snapchat.
Contact Snapchat Support
This should be the last option if all the other solutions does not work for you. You can reach out to Snapchat support to help you unlock your Snapchat account.
They the tools and are trained to resolve issues like this real-time.
See Also: How To Enable Snapchat Dark Mode
How to Prevent Your Snapchat Account From Being Locked
Here are some tips that can help improve the security of your Snapchat account. This will also safeguard against sudden and incessant login restrictions.  
Always verify your contact information to authenticate your identity as true and legit. This will increase your credibility and reputation in the eyes of the app. 

If you must use tools and plugins, ensure they are authorised. Desist from linking unapproved tools to your account as they violate Snapchat's terms of service. 

Never partake in any suspicious or unusual behaviour that violates Snapchat's rules and guidelines.

Finally, use unique and difficult-to-guess character combinations for your account password. 
Snapchat Unlock Frequently Asked Questions
My Snapchat account is locked indefinitely. What does this mean?
This implies that you must have violated Snapchat's rules and guidelines, leading them to permanently lock you out of your account. 
How long will Snapchat be permanently locked?
For temporarily locked accounts, we advise that you patiently wait for a day before trying to access your account again.
Are Snapchat bans permanent?
While a temporary lock on your account may last for a day, a permanent lock means your account will be restricted indefinitely.
How to unlock Snapchat account without phone number?
To unlock your Snapchat account without a phone number, reinstall Snapchat, unlink all third-party tools, force reset your device or you can contact Snapchat support.
Is it illegal to use Snapchat if you're under the age of 13?
Yes. Most social media apps make it compulsory for users older than 13 years to register and utilise their services. 
What is Snapchat unlock?
Snapchat unlock is the process or technique deployed to unlock your permanently locked Snapchat account. One of the most common causes of Snapchat lock is going against Snapchat community guidelines.
How do I unlock my Snapchat account?
To unlock your Snapchat account, reinstall Snapchat, unlink all third-party tools, force reset your device or you can contact Snapchat support.
Conclusion
This article explores all the steps you need to take in unlocking your locked Snapchat account and keeping it secure. Don't forget to follow our preventive tips to avoid being locked out in the future.
Also Read: