If your Snapchat isn't working, ensure you find out the reasons and try the fixes we have outlined in this article to rectify the problem.
Also, try not to worry too much or fret; just patiently go through the content. 
Snapchat is still among the most widely used social media platforms, even though many other apps have copied some of their features.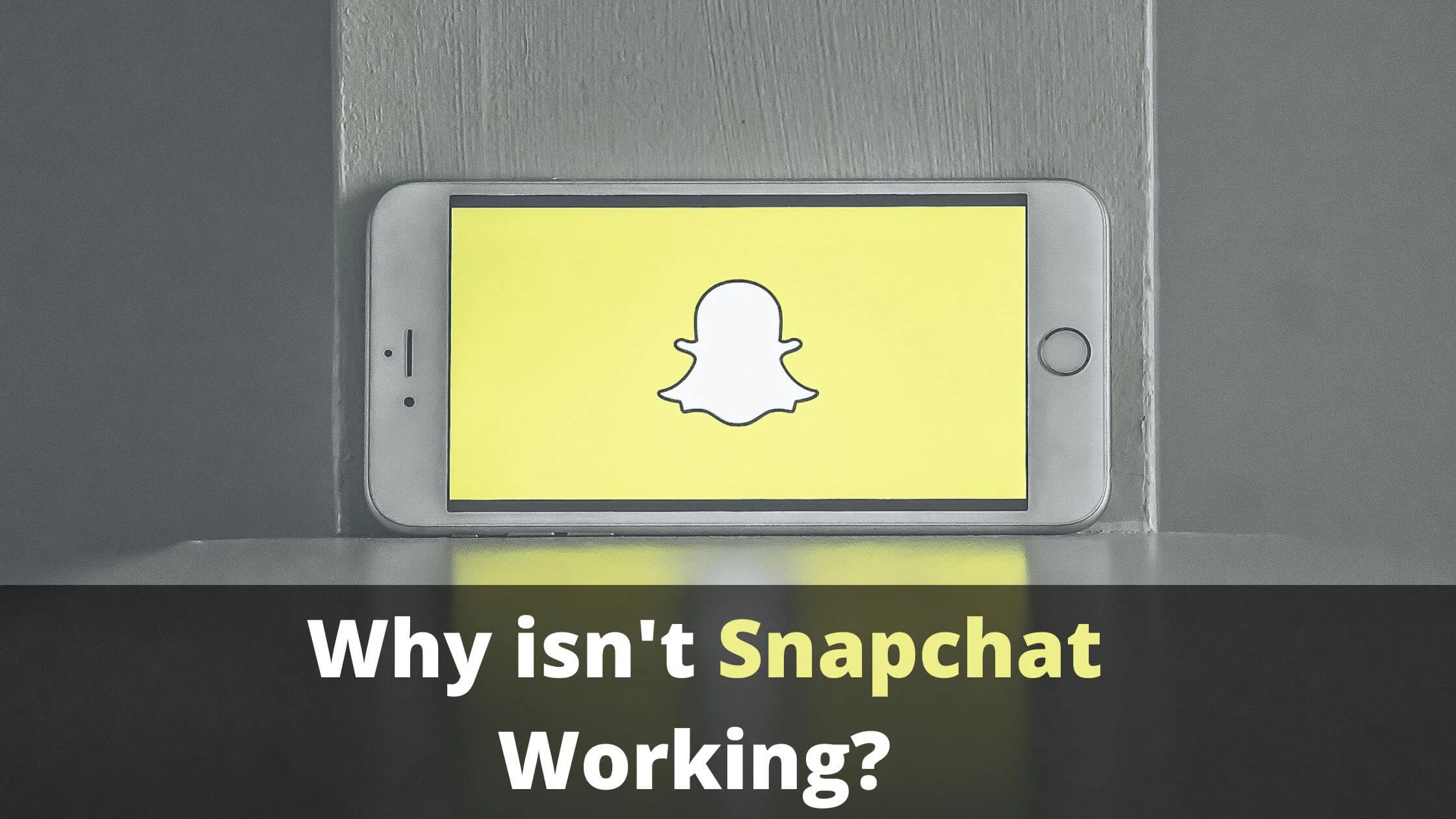 The photo-sharing platform has accumulated over a billion downloads from the app store and the Google Play Store, with users spanning from countries across the world.
The app is popular for disappearing messages, virtual reality games, avatars and snap streaks.
With year-over-year growth of 17%, it is apparent that there is a large user base to cater for. 
However, there has been a spate of worries and complaints about the glitches and malfunctions associated with the Snapchat app in recent times. 
Is Snapchat Not Working?
Don't worry; this article will explore ways you can fix the issues that occur when Snapchat appears to be not working. 
Whenever it appears that the app is down, it's always good to look for solutions. 
That is why this article will mainly cover:
Why Snapchat isn't working;

How to rectify issues with your Snapchat;

How to get in touch with the Snapchat support team in case the issue still persists
Why isn't Snapchat Working? 5 Major Reasons
A lot of users ask, "why isn't Snapchat working" because it is very annoying.
Snapchat makes over a billion dollars in revenue, so why can't it provide near flawless service for users? 
There is no such thing as a perfect website, especially for social media sites where downtimes and glitches occur frequently.
One explanation for the latest Snapchat outage is that the app's developers are adding new features to the platform. 
Snapchat is an exciting space to share and receive snaps, texts, pictures and even video clips with family, friends, crushes and loved ones.
There's even an innovative feature called "maps".
Here are five major Snapchat issues.
Camera Malfunction or Glitch on Snapchat
This issue occurs when your Snapchat camera is completely blank or unavailable for you to use. 
If your Snapchat camera seems to be developing issues, it's best to restart your mobile device and confirm that you have enabled your camera permission. 
Furthermore, you can empty your Snapchat cache. This is effective for rectifying many Snapchat issues. 
Snapchat Notifications Issues
Another major issue is the inability of Snapchat to display notifications. This is very common. 
A cause for this could be because of your phone's settings.
Some examples of this include Do Not Disturb mode and deactivated notifications. But oftentimes, it may stem from the Snapchat app itself. 
Snapchat is Unable to Fully Load 
Some users usually experience this issue. We will address how to fix this shortly.  
Snapchat Fails to Log in
This issue is a recent one. This happens when the app persistently logs you out. It is almost as if you are shut out of your own account. 
Each time you try to access your account, you will get an error that states "your friend is unknown" and redirects you directly to the login page.
Or you may see a "Something went wrong, try again later" error message. 
An effective solution is to clear the app's cache. 
Inability to Launch Snapchat
This happens when Snapchat can't fail to launch. You can either restart your mobile device or clear Snapchat's cache. 
How to Fix Snapchat Not Working on Your Phone
At this stage, you have to figure out practical fixes for your Snapchat not working issues.
There may be lots of factors responsible for the issue.
Some are directly caused by your smartphone, while others are beyond your control.
Thus, we have no doubt that some of these fixes will assist in rectifying the issues related to your smartphone.
Note: Snapchat does not have a PC web version. A lot of users have tried to get around this by using android emulator platforms on their computers.
However, this may be where the problems emanate from. 
Do a Device Restart (iOS or Android)
Sometimes the glitches you are experiencing on the Snapchat app can be due to your mobile device.
Many phones usually develop technical issues after an update, or most times, the malfunction may stem from incorrect system settings. 
For this reason, we suggest that the first thing you should do when fixing your Snapchat issue is to restart the app. 
Then sign in. If the error still persists, you will have to do a device restart. 
Yet, if you are still experiencing issues with the app service, you'll have to move to the second step. 
Update the App Manually
Remember in October 2021, when many Snapchat users were experiencing issues with their accounts; they went on Twitter to vent their frustration.
Snapchat's support team had to plead for patience as they said they were working on a fix. 
The team advised users to update their app manually via the Google Play Store (or App store if they are using an iOS device). 
After updating their app, the issue was fixed, allowing users to continue enjoying fun activities and entertainment. 
Check Your Internet Connection
It could be that Snapchat is not the source of the issue.
The problem might be connected to your data connection, mobile data or Wi-Fi. 
Try deactivating your Wi-Fi connection and toggling on your data. This should give you a clue if the issue is from your data connection. 
If you are still experiencing problems, you will need to confirm the app network permissions.
Navigate to System Settings, scroll down to Permissions and confirm that you have enabled all permissions. 
Empty the App Cache
The following steps will guide you in clearing your app cache: 
Access the settings inside the Snapchat app (symbolized by the gear button on your profile)

Tap "Clear cache" from the list of options. 
If the issue is not yet rectified, follow the next steps below. 
Check If You Can Send Snaps
Assuming you have updated your Snapchat app to the latest version and are still not able to send snaps. How annoying!
This may be because your Snapchat account may be restricted from sending snaps.
You might experience this if you send plenty of spammy snaps to other users. 
If there is a restriction on your account, then the problem is not from the servers or application. 
Get in touch with the Snapchat support team and provide details on your usage of the app. This will help remove the restriction on your account. 
Remember that sending snaps can assist in boosting your snap score. It's best that you fix this issue so you can continue to send them.
If All Else Fails, Get in Touch with Snapchat Support
There's a likelihood that these issues may still persist on Snapchat despite the fixes you have used. 
At this stage, you should seek help from the Snapchat support team. 
To contact them, access Snapchat's official website or navigate to settings and tap the support option from the app.
How to Fix Snapchat Working FAQs
Why is Snapchat not working?
There are many factors responsible for Snapchat not having working errors, but the most recent downtime is due to new features being added to the platform.
But don't fret- their developers are working diligently to fix any issue. 
Why can't I send my snaps to anyone on Snapchat?
There are three popular causes of this;
Mobile phone issues;

Server issues or glitches from the Snapchat app;

Your profile has been restricted (or blocked by the user you have sent the snap to)
No matter the cause, we have explained everything in this article. Ensure you read the content to find quick fixes to these problems. 
What do I do when Snapchat has an issue?
Snapchat may encounter issues due to server downtime, network issues, app malfunctions and other problems.
In this blog post, we explored several ways of rectifying Snapchat not working issues.
Why has Snapchat crashed?
Snapchat may freeze, malfunction or crash if you download a broken app update or software update.
Always ensure that you update your Snapchat app only via the Google Play Store or App store to minimize the likelihood of an app crashing.
Why should I clear my Snapchat app cache?
Snapchat's cache simplifies the process of speeding up activities and operations on the app.
However, a cache may cause you to lose messages or stop messages from being sent.
So it's important to clear the cache because it eliminates all unsaved snaps and lets you have a fresh conversation view.
Please note that your messages and memories backup won't be removed when you clear the app cache.
Conclusion
This article explores easy strategies to fix Snapchat not working error if it occurs on your Android or iOS device.
One of the best ways to fix this error is by updating the app.
Let us know if any of the fixes are effective enough to rectify the issue. Ensure you share this content using the button below.
Also Read: