Snapchat is a highly popular platform that allows you to exchange pictures, stories and video clips with users across the world.
It is also known for its unique design that supports instant photo and video upload. The term "snap" is used to refer to media files (videos and photographs) saved on the platform. These snaps can be saved to your memories page. 
Only you can access your memories, and files in your memories can be saved in your phone storage (local/cloud). There are lots of things you can do with your memories.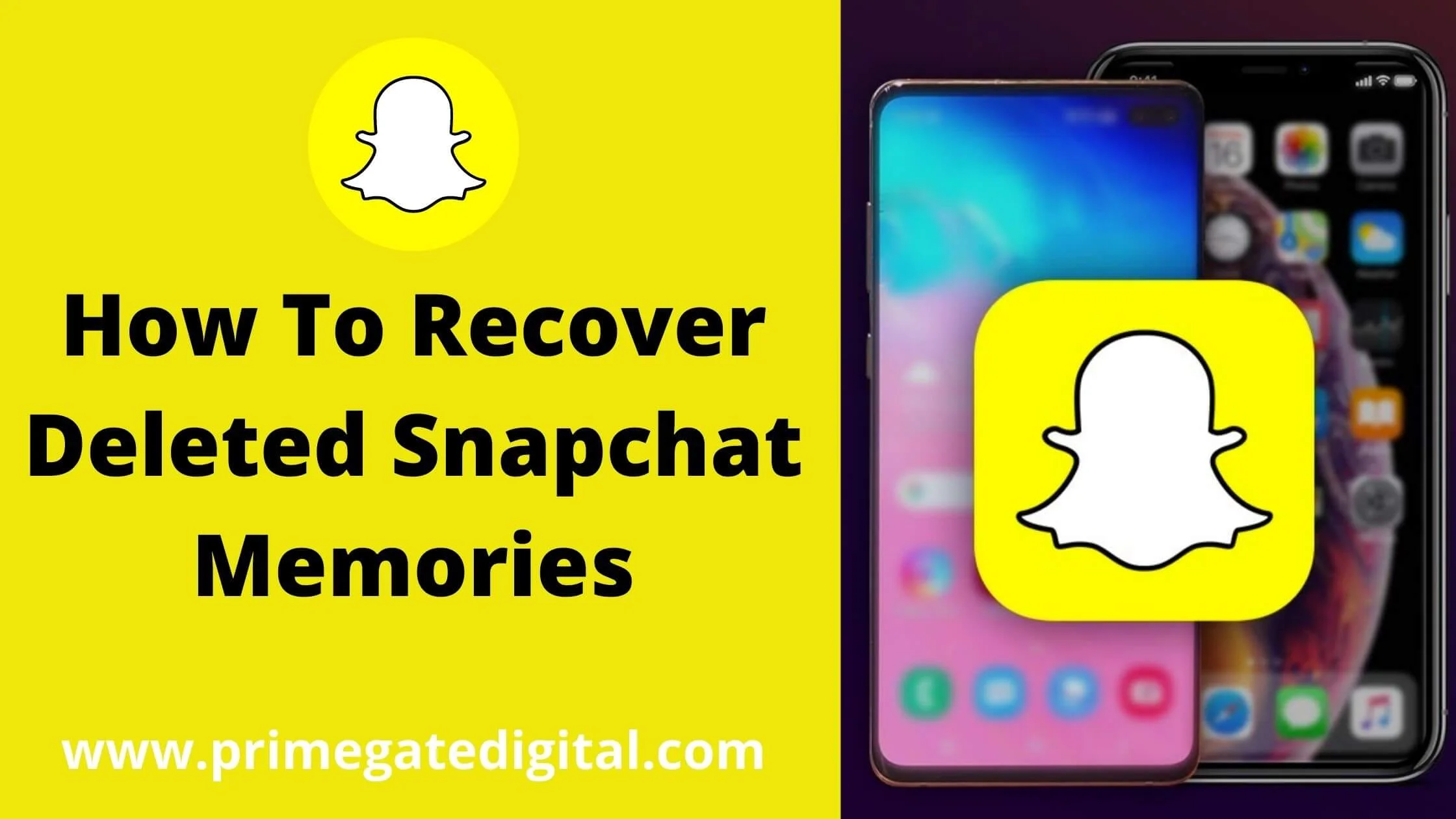 You can view it from time to time, modify it, share it with your contacts, save it on your phone or repost it. 
After a short while, the media files and messages you have shared (or sent) won't be accessible to your recipients. 
Furthermore, your contacts won't access the deleted memories or even go through them even after once because they will vanish after you have viewed them. But you don't have to worry because there's a strategy you can use to recover deleted Snapchat memories. 
But this feature is what makes Snapchat a fantastic privacy tool, and it is among the most used platforms for young people worldwide. 
So even if you wipe your Snapchat memory accidentally or your phone memory is irreparably damaged, you might erroneously believe that you can't retrieve your snap memories. 
But the situation is not a hopeless one. This article shows you all the great ways to execute a deleted Snapchat'  memories' recovery on your smartphone.
See Also: How To Recover Deleted Snapchat Messages
How to Recover Snapchat Deleted Memories Via Account Data
One of the simplest ways to recover your deleted memories on Snapchat is by requesting your account data. To successfully do this, navigate to the Snapchat My Data Page.
You should have already signed in to your account properly. Select the submit option at the lower part of the page. 
A technical support agent will work to archive your Snapchat account. After a day, the zip document comprising your deleted memories will be mailed to the email address you used to register your account. 
Here's a detailed guide to do this:
Navigate to the My Data Page on Snapchat via your browser.

You will be directed to sign in to your account.
Correctly input your username or email and password.
Afterwards, select the login option.
Next, you'll be routed to the platform's data page. At this juncture, you can make a request that your account data be sent to you.
Navigate to the lower part of the page and select the Submit option.
Congratulations! You have correctly made an account data request to Snapchat, and they'll immediately generate your data copy. After this, you'll be contacted via email when your data is available for download. 
Your email should be ready within a day. As soon as you get the mail, you can access it and select the download option to retrieve the data you need. 
You can freely access your .zip file on the My Data page. Navigate to the lower part of the page and select mydata1646353533.zip to download it to your smartphone as a zip file.
How to Recover & View Deleted Snapchat Memories
Navigate to the MyData.zip file on your smartphone and unzip it. 

A new folder will be created once the file is unpacked. 

Select index.html after opening the newly created folder. 

Select the Memories button on the left panel.

Afterwards, you'll be able to access all your deleted Snapchat memories.
See Also: How to Clear Recent in Snapchat on Android, iOS and PC
How to Retrieve Deleted Snapchat Memories From Your Device's Cache
Another way to retrieve your lost snaps with an Android smartphone is via your device cache. Your device stores cache files to save app data, enabling a quicker work process and a more pleasant user experience. 
The fact is that although your snap may be wiped off from Memories, it can still be accessible via the device's cache.
But you must be aware that your chances of making a full recovery of an already-deleted photo from your device's cache are small. 
Nevertheless, you can make an attempt to recover your deleted Snapchat memories on your smartphone via the tips below:
To start, you must have total control of the file system on your device. There are great file explorer or admin management tools that can help you with this process.
An alternative method is directly linking your phone to your Windows PC. 
Now that you have accessed the internal memory of your Android device, the next step is to open the Snapchat folder. Generally, it can be found under Android > Data > com. Snapchat. Android.
That's all you have to do! Then, browse through the cache folder and go through the saved snaps. Transfer them to different files and tweak their extension if you want to access them. 
See Also: What Does "Other Snapchatters" Mean on Snapchat?
Recover Your deleted Snapchat memories via Third-party Tools
iStaunch for Snapchat Memories Recovery
iStaunch is a fantastic tool for recovering lost files. iStaunch is a platform that can assist you in retrieving deleted Snapchat memories effectively.
To use the tool, input your username and select the recover memories button. You will find every memory that you may have deleted fully restored to your account.
How to retrieve Snapchat photos via Recoverit
Another important platform you can use to retrieve lost or erased Snapchat memories via PC is Recoverit.
It is a tool for executing data recovery on different sorts of SD cards. Thus, this method will only work if your snaps are stored on your device's SD card.
Since Recoverit has an easy-to-use interface, you won't have any problem using it.
Here's how to do the retrieval below:
Link your device
To start, link your Android device and its storage component to your computer's. This can be done via a USB cord.  
Note that your smartphone will play the role of an external drive. Ensure your PC easily detects your smartphone before the recovery process begins. 
Click the "External Device" button.
Since your Android phone is functioning as an external drive, you can click the "external device" button. Next, select "start" to initiate the scanning process. 
Browse the SD card for deleted snaps
Wait for some minutes for the tool to thoroughly scan your phone's data. You will see the recovered results together with the status through an on-screen metre. 
Examine and Retrieve your snaps
Lastly, you will see that every retrieved picture, video clip and file are sorted according to their categories. You are free to preview whichever image file or video clips you like. Ensure you save whichever you are interested in. 
Select the "Recover" option to store your pictures on your PC or secured destination.
See Also: How to Go Live on TikTok Without 1000 Followers
Recovering Your Deleted Snapchat Memories via Your Phone Gallery
Another way of retrieving your Snapchat memories is by exploring the junk or bin folder of your device's gallery.
For most smartphones, deleted media files are usually stored in the junk or bin folder for a particular amount of time. 
Ensure that you check for video clips or pictures in your gallery > trash. You can retrieve lost or deleted files by selecting the "recover" button twice.
This depends on your gallery app but once you do this, the file will be restored to where it was originally. 
Restoring Your Snapchat Memories Via Google Drive
Prevention is better than cure! It's always a great idea to frequently back up your files as it saves you from frustration.
If you usually synchronise your Snapchat with Google Drive, you should be able to complete this task with no hassle whatsoever. 
Just launch the Google Drive app and browse for the pictures you need. 
It's the best technique to store your Snapchat pictures and video files. With constant backup to your google drive, you can easily retrieve files whenever you like at no cost, even though you mistakenly wiped them off. 
How to Retrieve Your Snap Memories with iTunes
For iOS users, iTunes can be used to retrieve your Snap Memories. A lot of iPhone users utilise iTunes for file backup. Thus, if you have an active backup on iTunes, you can easily retrieve your pictures or videos. 
Ensure your deleted snaps are stored in the backup before you initiate the retrieval process.
Don't forget that this method will wipe your device's memory and format every data existing in it. If you feel the risk is worth it, adhere to the step-by-step instructions below to retrieve your deleted Snapchat files using iTunes. 
First, sync your iPhone to your PC and click open iTunes software. Navigate to the summary page for your iPhone, located in the device section. 
On the 'Backup' panel, you will find ways to backup and restore your iPhone. Continue by clicking the "Restore iPhone" option. 
After some seconds, a new window will be displayed. From there, you can make your choice of the backup files you want. 
Select the "Restore" option. Also, wait patiently for your iPhone data to be retrieved.
See Also: How to Contact Snapchat Customer Support
How to Recover Deleted Snapchat Memories FAQs
What does Snapchat Do?
Snapchat is among the most popular social media platforms. Users are free to exchange texts, photographs, and video clips (referred to as snaps). These snaps have a very limited timespan and will disappear after a short while. 
To initiate a chat on the platform, just click the big camera icon on your device's screen, take a picture and share the snap with your contacts. 
You are also free to tweak the snap however you like. Snapchat has engaging filters and effects that can help you create amazing stories.
How do You Retrieve Snap Memories?
We have explained this extensively in the article. You can use several methods listed above. They are equally effective and easy to execute. 
Is it possible to install Snapchat on a pc?
It's impossible to install Snapchat directly on your PC. It's a social media platform meant to be used exclusively on mobile devices.
A good way to access Snapchat on your PC is through Android emulators. They may not be as 100% effective these days because the Snapchat algorithm is not emulator-friendly.
Conclusion
After going through this article, you will have no problem recovering your snap memories. We have covered seven effective methods for retrieving deleted or lost snaps on your device.
Don't delay any further; start moving forward with any of the techniques listed above. 
Also Read: