Site speed is highly important for improving your conversion rate and keeping with SEO best practices.
If your website is slow, it will result in high bounce rates, poor user experience and a sharp decrease in traffic.
Studies have shown that a website must load in less than three seconds to boost SEO.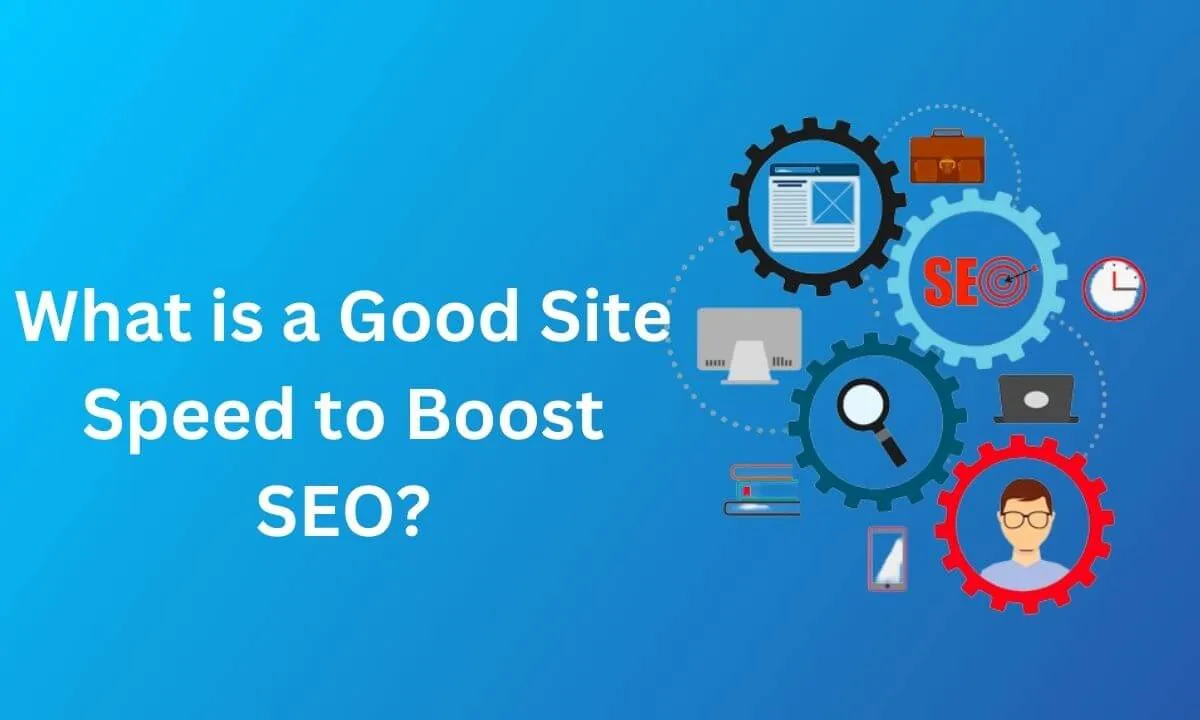 But, it may not be that simple to boost your website speed.
The source of your slow site issue may stem from a badly configured code, heavy images, or a sluggish server.
You have to rectify those problems on time because Google will penalize your site if they still persist.
If your site loads fast, there will be a reduction in bounce rate and a higher chance of "outranking" slow websites on search engine results pages.
In this article, I will explain:
The importance of site speed and why it matters in SEO,
The reason for the slow site speed and
How you can fix your site to speed it up.
The Importance of Site Speed and Why it Matters in SEO
Page speed is an important factor in improving your website ranking on Google's search engine results pages.
It is an aspect of Technical SEO. And if your website isn't on the same speed level as websites on the first pages, it won't be able to compete.
So channeling your efforts into page speed is important for your online business to succeed and convert.
Studies carried out by Backlinko, where they examined more than 11,000,000 Google search engine pages, show that a website on the first page loads in less than 2 seconds.
Google has affirmed that page speed is important. It is disclosed in this update published.
This is particularly true now that Google has released a new PageSpeed industry benchmark.
They discovered that as your website load time increases, the likelihood of a user bouncing away from it goes up greatly: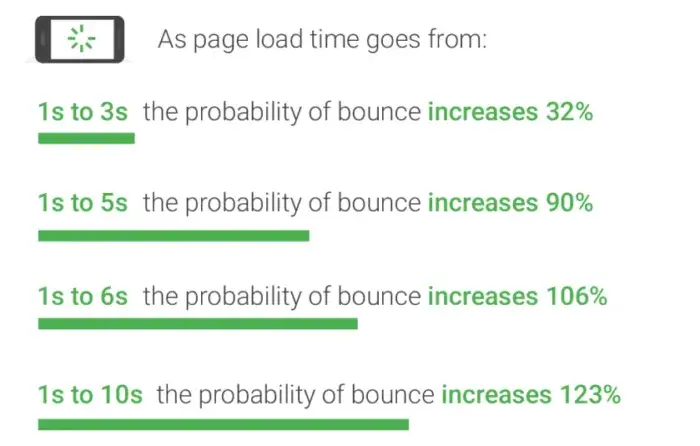 This implies that websites that have a loading time of up to 10 seconds have a 120% chance of someone quitting their website before it loads.
Another new study of over 5 million websites has shown that the average website load time is 27.3 secs on mobile devices and 10.3 secs on PC.
This implies that a large majority of us have fallen short of what is needed for a speedy website.
Portent discovered page speed could boost conversion rates significantly.
Working to improve website speed to below two seconds can result in better revenue and traffic.
Factors That Affect Site Speed
There are a lot of site owners asking about what are the factors that affect site speed. Below are the factors;
Your Hosting Service
Your hosting service can significantly impact your website's performance since they are responsible for the server that powers your website.
So if your server performs well enough, it can have an immediate effect on your site performance.
There are numerous factors that can affect the performance of your servers. This includes facilities, uptime, server configurations and features of the server machines.
By paying for a reputable hosting service, your web server will be robust and quick enough to handle all your website activities.
Website Theme
Your website theme encompasses font, layouts, color scheme and design of your website.
However, all themes are not the same. Some themes have simpler and better optimized compared to others.
They have lightweight files, improving their loading time.
This implies that they have a lower animation or unique design layout than others.
However, it is a nice option if you are looking for a faster loading time.
Heavy File Size
I am referring to numerous file types here, from CSS to HTML files, particularly JavaScript.
A reduction in any kilobytes or bytes will improve your site's performance.
Furthermore, dynamic websites utilize a lot of JavaScript for colorful elements, attractive animation and elegant transitions.
However, JavaScript is resource-demanding and excessive use of it makes your site sluggish and slow to load.
It can result in a low FID score since loading JavaScript files requires a longer time, particularly on smartphones.
Poorly Configured Code
Poorly configured code can cause a lot of problems, from invalid HTML syntax to JavaScript issues.
It can also tremendously reduce your site performance.
Get rid of errors, declutter your code and remove any extra lines that aren't in any way relevant.
Pictures and Videos
Large-sized pictures are the major cause of slow-loading websites.
They occupy a large section of your site's weight (in megabytes or kilobytes).
If your website is filled with heavy and unoptimized pictures, it can result in poor performance.
These kinds of files take plenty of time to load. If you optimize your images, it will positively impact your site speed.
Excessive Plugins and Widgets
Plugins play a huge role in extending the functionality of your WordPress website. It is the power behind the WordPress Platform.
However, having an excessive amount of plugins negatively impacts your website, making it sluggish.
Whenever you install a plugin on your website, it inserts some lines of code into your website, causing it to be slower than it ought to be.
Poorly optimized plugins can also contribute to a website being slow.
How to Improve Your Site Speed in 5 Steps
With a few changes, you can greatly improve your website's speed.
It will require a bit of effort on your part. However, if you wish to boost your website's traffic, conversion rates and revenue, it has to be done.
It might be difficult and time-consuming, but those conversions are important for your business. If you do nothing, you will miss out on traffic and profit.
Here are some effective ways to improve your site speed and boost SEO.
Compress Your Images
The most common reason for slow-loading websites is large images.
When I rectified this on my website, I enjoyed a tremendous improvement in speed.
An effective optimization strategy for rectifying image size issues is compression.
You can reduce your image size by over 50% or more via simple compression tools.
Some examples of online tools you can use for free include TinyPNG and CompressNow.
Both are reliable, user-friendly tools that let you compress around 10 to 20 images per upload.
Utilize Browser Caching
Browser caching is a time-saving process that "recalls" the resources that have previously been loaded, so there's no need to reload them after each page visit.
When a site visitor accesses a new page on your website, every data, such as footers and logos, won't have to reload.
This can massively improve your site speed whenever anyone visits your website.
How do you add this to your site?
The good news is that there is a plugin for that.
You can install W3 Total Cache for WordPress sites. It has more than a million downloads and is widely used on many websites.
W3 Total Cache boasts of a minimum of 10 times boost in total website performance.
Furthermore, they assert (and have shown proof) that this plugin will assist you in getting better results on Google's PageSpeed tools.
It also has a feature that minifies HTML, CSS and JavaScript, which can save you around 80% in bandwidth.
Minify Your HTML
Another important factor in getting a fast loading speed on your website is by minifying HTML.
Minification is simply the process of eliminating or rectifying redundant or unneeded data without affecting the way a browser will load the HTML.
It entails rectifying code, eliminating duplicated code, formatting and minimizing code.
Fortunately, due to the excellent WordPress plugins, there is no need to have the technical expertise to rectify this.
HTML Minify is an excellent tool to do this.
You can install this plugin freely via their website and set it up on your WordPress account in no time.
Access the plugin page to download it.
Get Rid of Unnecessary Plugins
All plugins are not the same.
Installing an excessive number of plugins can lead to serious bloat that negatively impacts your site speed.
Furthermore, an outdated or broken plugin can be potentially dangerous and even result in compatibility problems that trigger poor performance.
Thus, it is a great idea to limit the number of plugins you install on your WordPress website.
Look out for plugins that you aren't using at the moment and uninstall them.
Opt for the Right Hosting Service
Your hosting service serves an important function in your site performance and performance.
It can impact your page speeds.
A cost error you can make is choosing low-quality hosting for the purpose of cheap monthly fees.
Cheap hosting mostly leads to mediocre performance. It can result in grappling for resources on numerous websites on a cluttered server, which can poorly affect your website speed.
Ensure you choose a hosting service optimized for performance and speed.
Good examples are BlueHost and Hostinger, as they offer a robust platform built for speed.
What is a Good Site Speed to Boost SEO FAQs
Which industry requires SEO the most?
Health care services.
Gardening and home improvement.
Real estate and property investment.
E-commerce.
Online business.
Eatery.
Hospitality business.
Which online tool can I use to check if my site has a slow load time?
Which SEO element is the most crucial?
Page speed is regarded among the most important SEO ranking factors.
It is the key to improving your web experience and lowering the bounce rates of your website.
Conclusion
Your website speed forms a core part of technical SEO.
It influences how well your website ranks on search engine results pages.
In this article, I have explained why website speed can boost your SEO and the steps to take to improve your page speed.
Check out our full guide on how to implement SEO on your website. and how to implement a good site structure for SEO.