Today, we will address an issue that lots of TikTok users encounter.
It occurs when browsing TikTok videos and you realize that you can't like any of them, especially those on the For You page. 
Liking is a central element of the TikTok network. It is a great way to express admiration for creative work on the platform.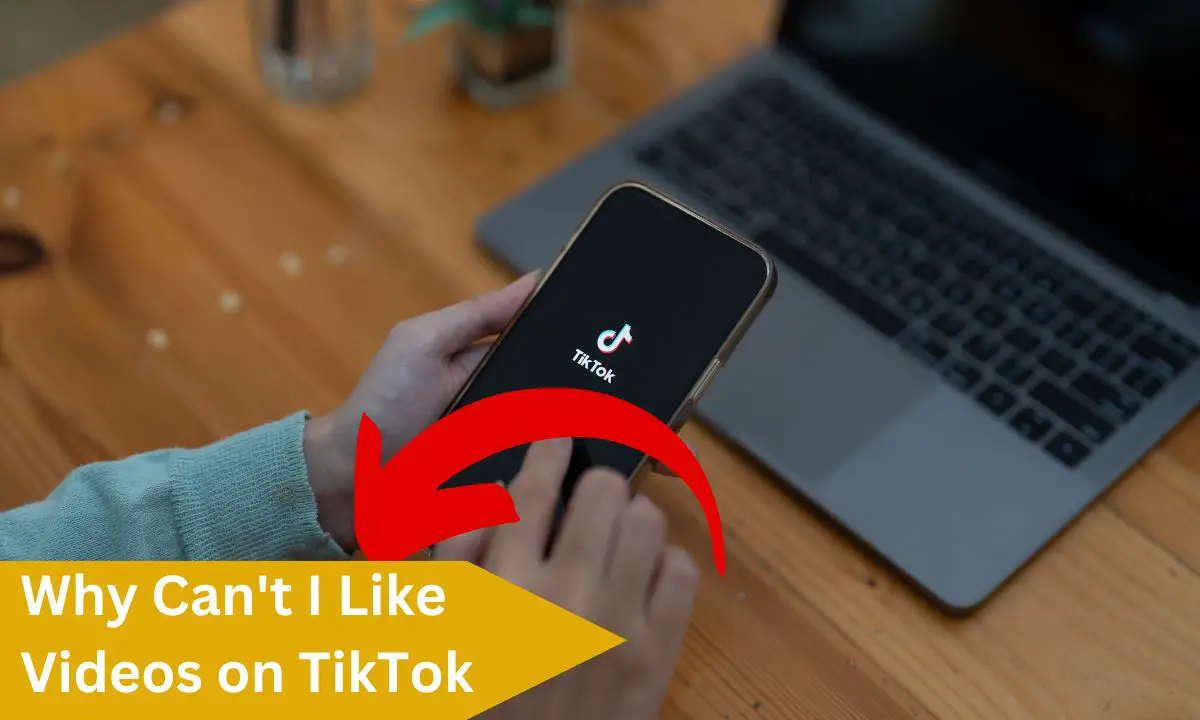 Furthermore, it can encourage a specific creator as it is a universal symbol of commendation.
However, if you can't like videos on TikTok, it can be frustrating because it implies that the video won't be saved in your archive. 
The most common reason you can't like videos on TikTok is that you tap too fast.
This means you are "liking" content in quick succession without watching; hence, the error "you're tapping too fast take a break" will pop up.
This will temporarily limit you from using the like feature on the platform. 
Lots of users have encountered this problem, not just you alone. In this article, we will show you ways to rectify this issue using a variety of methods available below. 
Let's begin by revealing some causes of the "Can't Like Videos on TikTok" error and their solutions.  
Don't forget that the most effective solution is to wait it out patiently, especially if the "you're tapping too fast take a break" error message pops up, but we will explain more about this subsequently.
"Like" is an integral element of the platform, so it has to be managed properly by TikTok. Let's begin by exploring the causes of "Can't Like Videos" on TikTok.
Causes of "Can't Like Videos" on TikTok
In this instance, it is difficult to know exactly why TikTok is limiting you from liking videos. There are plenty of possible causes of this problem. 
The first is that the platform wants to limit your ability to like. This happens when TikTok suspects that your conduct on the app is improper. Thus, it momentarily halts your like feature.
Part of this improper conduct is liking lots of videos in quick succession. The app can mistake you for a bot because of this. This implies that the app will conclude that you are trying to game the system using automation. 
This behavior is typical of bots. Thus, if your "liking activities" are unusually fast and haphazard, the app will infer that you are a machine, not a human. 
When this happens, your account may be temporarily restricted from liking videos for a time frame lasting for an hour or a few days. 
Another common cause of this issue is a weak internet connection or account errors. Hence, endeavor to confirm that there is no problem with your internet before you continue. 
Due to a weak internet connection, the app will face challenges when processing your like because engagement activities on TikTok only occur with stable internet access. 
Let's go into full detail on how to fix the can't like videos on TikTok.
How to Fix the Can't Like Videos on TikTok
Clear Cache File
One of the best ways to rectify the " Can't Like Video" error on TikTok is to clear your cache file.
This is because it eliminates old and obsolete data, improving the functionality of the app.
This can work in your favor as it will clear any piece of code or bug that limits you from liking TikTok videos. 
Each device has a different method of clearing cache files. If you are using an iPhone, you can simply navigate to Settings and tap on General. 
Next, tap on iPhone storage, find TikTok and select Offload App.
For Android device users, select Settings and look for the app options. Select TikTok and tap Storage. Next, select Clear Cache. 
Only Like a Video if You Like it
Numerous TikTok users have a habit of liking videos for the sake of it. They use the like feature indiscriminately.
If you are guilty of this, it may be the cause of the Can't Like Videos error on TikTok.
This is not nice behavior. Even though it is hard to stop, it will increase the possibility of your account being banned or penalized. 
If you like a video because you wish to watch it in the future, then using the save feature is a better option. Don't forget to like videos you truly appreciate or enjoy. 
Also, endeavor to "humanize" your activities on the TikTok platform. Don't like videos in an obsessive or spammy manner. At least leave some time between video likes. 
Ensure You Watch the Videos to the End Before Tapping "Like."
Remember, we mentioned that a major cause of the "can't like video" error on TikTok is that you have been restricted temporarily from using the like feature because the TikTok algorithm has mistaken you for a bot.
A good way to prevent this from happening is to ensure that you watch the video to the end before you tap the "like" option. This way, they won't suspect anything odd or fishy in your activities. 
The typical behavior of bots is to like videos in quick succession without even viewing them. When you act like this, the algorithm will flag your account for suspicious activity. 
So make up your mind before you hit the "like" option on a TikTok video. If you haven't viewed the video until completion, it's not advisable to like it. If your goal is to save it for later viewing, use the save option instead.
To stop the error from recurring, you should always watch the entire length of a video, even if it's above two minutes. Toughen up and sit through the whole thing. 
If it's difficult to see the full length of the content, then swipe past it without tapping the "like" button. 
Check Your Internet Connection
This should be the first course of action when faced with any error. Poor internet connection is a major cause of the "can't like video on TikTok" error.
If you have a weak network connection, TikTok will find it impossible to process your likes. This implies that if you are not connected to the internet, you won't be able to use the like feature. 
Be sure to check the status of your data or WiFi on the icon at the top of your mobile device's screen.
If you can't find it, this might be a clue that your WiFi is disconnected. Thus, you have to check your settings to rectify this issue. 
If your WiFi is set to "on" when accessing TikTok, then switch to your mobile data.
Ensure your WiFi is completely disabled first. To enable your mobile/cellular data, navigate to the settings menu on your device > select Mobile data and turn it on.
If you have enabled your mobile data while trying to like TikTok videos unsuccessfully, try disabling it and using a WiFi connection instead. 
Update the App
You may be right if you suspect a bug or glitch is the reason for the "can't like video" error on TikTok. One solution to this specific issue is to uninstall the app. 
If a new update is available on the Google Play Store or App Store, we recommend that you install that version.
An update may be put in place by the developers to rectify the bug that prevents you from liking videos on the platform. 
After updating your app to the latest version, it should eliminate this error. However, if the issue persists, then you can try out any of the solutions listed in this article. 
Uninstalling the app will also clear the app cache file, so if this is the source of the error, it will fix this too. 
To uninstall an app, press and hold the app and tap "Uninstall" from the dropdown menu. This will delete the app from your mobile device. 
Why Can't I Like Videos on TikTok FAQs
What is the "You're Tapping Too Fast Take a Break" error
This error occurs when you have surpassed TikTok's like a quota. TikTok tries to restrict users like activities as a way of discouraging the use of bots and automation on their platform. 
New accounts are more susceptible to encountering this error because their profiles are yet to build credibility and trust on the platform. 
If you set up a new account and you are using the like feature on videos without viewing them, this will cause TikTok to ban you from continuing with that action.
Other common reasons why new accounts may encounter errors are posting and commenting in an unusually fast manner. So always be mindful of this if your account is new, so you don't get hit with a ban. 
The Tapping Too Fast error was put in place by TikTok to tackle the spate of new fake accounts on the platform and the use of spammy bots. 
How Long Does The "Can't Like Videos" Error Last
There is no defined time frame for when the error will last. Instead, it is based on when your account was set up.
If this is not the first time you are experiencing the You're Tapping Too Fast error, then expect it to last longer.
Generally, the error lasts for a single day. However, new accounts may experience a much longer ban period. If your account is old, then expect a shorter length of time for the error to clear off. 
Conclusion
In this article, we proffered solutions to the "Can't Like Videos" on TikTok error. We explained the reasons why numerous users encounter this issue and how to prevent it from happening.
Share this article with your loved ones and friends using the social media button below. 
Also Read: