The TikTok comments section is highly important because it provides a space for brands to interact with their followers.
However, some users complain that TikTok comments do not show.
A while ago, a TikTok bug prevented the comment section from appearing.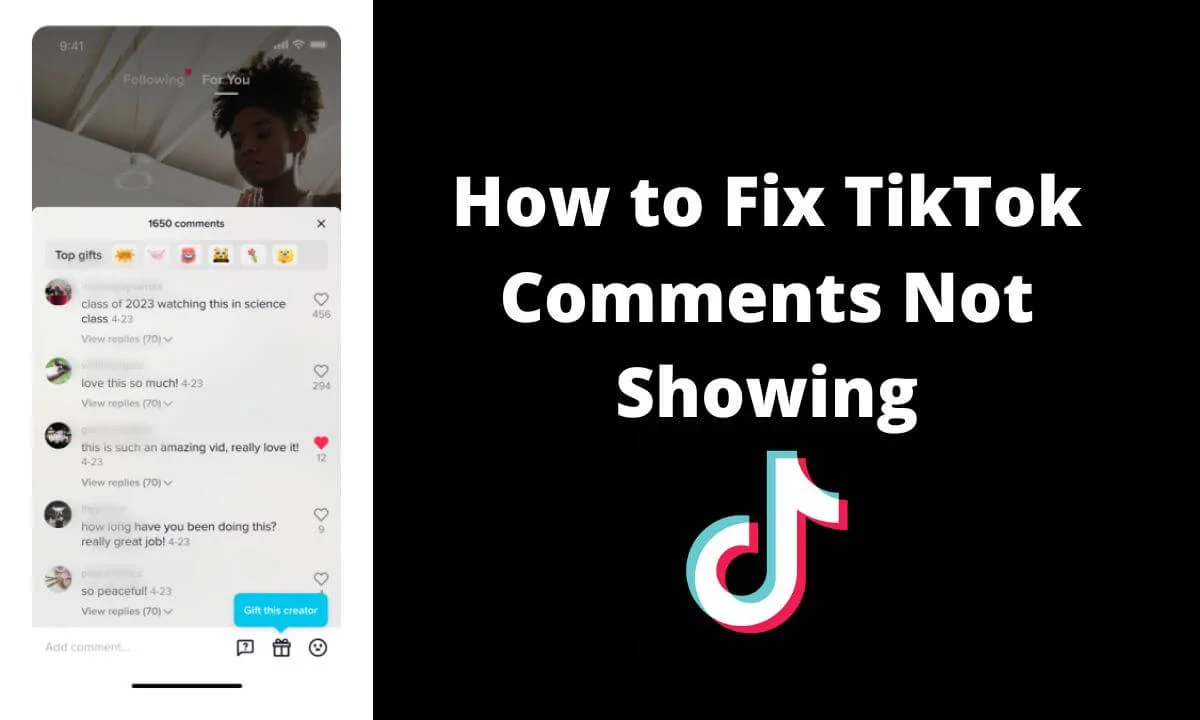 Although TikTok seems to have largely rectified that glitch for users, people continue encountering issues with the comment sections. 
In this article, I will share solutions to fix this on TikTok.
Ways to Fix TikTok Comments Not Showing
If you are worried about your TikTok comments not appearing, here are ways to rectify the issue, even on iOS and Android devices.
Restart the App
In the majority of cases, totally exiting the TikTok app —swiping up to ensure it is not active— and rebooting it should rectify this issue.
If this doesn't happen, do the following:
Uninstall the TikTok app from your mobile device.
Install the app once more from Apple's App Store and Google Play Store.
Try to sign in once more.
Clear the App's Cache
If the first method does not work, try clearing the TikTok app cache.
This is a standard way to fix glitches or bugs whenever you encounter them. Here's an easy way to clear your TikTok cache:
Navigate to the lower right corner of your screen and tap "Profile."
Next, select the 3-line icon (hamburger option) in the upper corner.
Finally, tap "Clear Cache."
Ensure You are Properly Signed into Your TikTok Account
It could be that you mistakenly signed out of your account. This may be the reason for the TikTok comments not showing up.
Only TikTok users who have signed in properly to their account can access the comment section.
You won't find the comment section if you access the platform via desktop.
Review Your Privacy Settings
If you limit your privacy settings, your comments section on TikTok can be affected.
TikTok has a filter that restricts offensive comments.
However, this can be the reason your followers cannot add comments to your content.
To review your privacy settings:
Navigate to the lower right corner of your screen and tap "Profile."
Next, select the 3-line icon (hamburger icon) in the upper right corner.
Tap "Privacy"
Here. You can update the "Who can comment on your videos" option.
Reset Your Internet Connection
Another way to fix the comments section not showing up issue is to reset your internet connection.
A slow or unstable internet connection can limit the performance of the app, causing the comment section to load slower.
Thus, resetting your Wi-Fi modem or mobile data options can rectify this issue for good.
Submit a Complaint to TikTok Support
If the problem persists, you can also submit a complaint to TikTok using this page.
Do TikTok Comments Matter?
Yes, it does.
There are a whole lot of benefits associated with active comments on TikTok.
TikTok is among the few social apps to add a comment section directly to their video interface.
There's a feature that allows users to craft video content in response to a certain comment from their followers.
This sort of interaction has contributed to their popularity as lots of people enjoy adding witty comments — and brands have used this as an opportunity for promotion.
In the meantime, TikTok has emerged as a powerful influence on the purchase decision of millennials.
More than 40% of TikTok users revealed in a study that they seek out new products on the platform, and close to 24% have mentioned a brand in their posts.
The Benefits of TikTok Comments
The easiest way for users to find new products on TikTok is via the For You page, where TikTok's algorithms showcase a variety of videos it feels you will enjoy.
But those who are not conversant with TikTok, they may be losing out on an opportunity to connect with followers and market their brand: the comments.
TikTok Comments Can Help Grow Your Vsibility for Free
If you access the comments section of a popular TikTok video, you will likely find brands sharing their opinions and adding friendly jabs.
The reason for this is that brands use this to grow their visibility for free.
However, you should ensure your comments are genuine and relevant.
For instance, a sports drink company can add comments on a video about weightlifting or football instead of randomly leaving comments on every celebrity or popular celebrity page.
A good example is Taylor Swift's content on TikTok, which is filled with comments from brands like Guess, Duolingo, Rare Beauty and many more.
They Can be Used for Customer Service
A smart way to do this is to pay attention to the comments section of your video, especially when you are not leaving comments on other people's content.
Some brands update their product descriptions based on suggestions from followers in the comments section.
A good example is the sunscreen company Habit.
If the majority of the comments on TikTok praise certain features of your product, you can add that bit to your website review section.
Another thing to note is that the TikTok comments section is also a place where customers make inquiries, whether it is related to your return policies or if a certain color of your product is on sale and so on.
Frequently Asked Questions
Is there a way to boost my TikTok comments?
Yes. Here are some effective strategies for growing your comments on your TikTok videos:
Add calls to action
Ensure that your caption is engaging
Pay attention to your audience
Research what is popular or trending.
Partner with brand influencers and TikTok personalities
Use User-generated content to your advantage.
How do I reply to comments on TikTok?
Here's how to reply to a TikTok comment:
Select the comment, and instantly, the username of the commenter will be tagged in your reply.
Type in your reply in the box provided.
Tap Reply.
Your reply will be structured in a thread.
Do you earn money through TikTok comments?
Yes, while there are lots of ways to monetize your content via TikTok, the creator's fund is the simplest way of doing so.
It allows you to earn whenever you craft engaging content that grows your views, comments, likes and followers.
Will comments increase TikTok video views?
Yes. While growing your engagement rates on your TikTok requires plenty of time and strategic planning.
An effective way to improve follower count and interest is to use the comment section.
Take advantage of your TikTok comments to boost your engagement, grow your brand visibility and groom a community of followers.
How can I boost my TikTok views, likes, and comments?
Ensure your videos have relevant hashtags
Keep your content short and engaging
Choose popular sound or audio effects.
Craft videos that appeal to your target audience.
Make DIY videos.
Participate in duets.
Partner with brand ambassadors and influencers.
Use your other social media channels to promote your TikTok content.
Ensure you deliver timely responses to comments.
Encourage lively exchanges or discussions in your comment section.
Create "Fill in the Blank" content.
Host contests and giveaways.
Post at times when your followers are online.
Ensure your questions are open-ended.
Add relevant hashtags.
Do comments matter on TikTok?
Yes, over 20% of TikTok users have indicated that they relate more with brands that interact with users via comment sections.
Also, monitoring your comment section is also important.
What has the most comments on a TikTok post?
Kirby (known as verifiedbean in the past) has the highest number of comments on TikTok – 4.5 million.
The popularity of the video may have stemmed from its caption, which reads, "why does this video have the world record of the most comments."
Does replying to comments on TikTok increase views?
Yes. It is an effective way to grow your engagement, which can have a positive impact on your account's popularity and views.
Thus, interact with other users via your comments section.
Does TikTok pay creators?
Yes, TikTok has designed a program known as the TikTok Creator Fund for creators to earn.
However, payments may differ based on factors such as total video view counts, engagement rates and whether users are genuinely interacting with your post.
How much do TikTok creators earn for every 1,000 views?
TikTok Creator funds pay 2 to 4 cents per thousand views.
This implies that you can earn $20 to $40 for a million views.
Do comments boost views?
The comments section is the best place to showcase to your fans and followers that you are interested in their opinion and feedback.
It can also help you improve your engagement rates, leading to more likes and views.
Yes, especially when you are out of space in the caption.
Adding hashtags to your comments can improve your content visibility.
Conclusion
In this article, I have explained the ways you can fix the "TikTok Comments Not Showing" issue.
Comments can be really important to get feedback on the performance of your content.
I hope this content has been helpful.
Also Read: