Have you spotted the blue dotted circle on Instagram DMs?
Do you want to know what it means?
If you haven't been active on the platform for a while, you could be curious about some recent new features, especially on the app.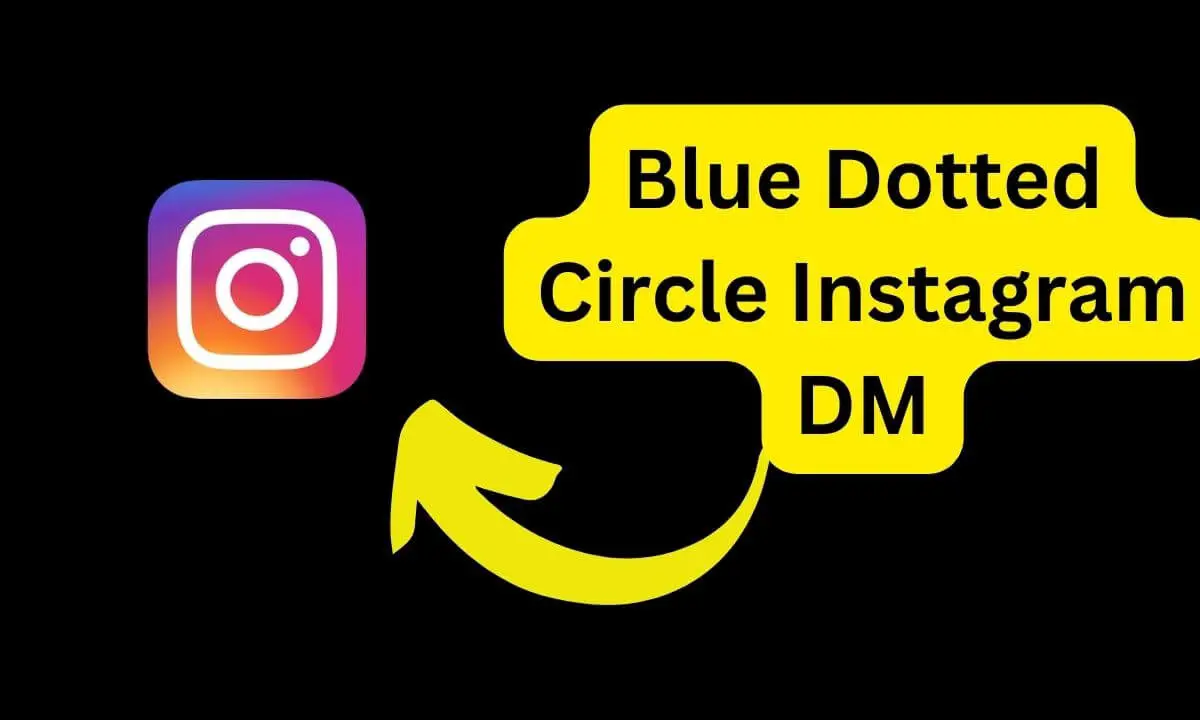 The blue dotted circle indicates the activation of a certain feature.
If you are unsure yet what it is, this article will describe what it does and how you can utilize it.
At the end of this guide, you should know what a blue dotted circle means on Instagram DM.
You should also have an idea of how the dotted circle feature can be used.
What Does the Blue Dotted Circle on Instagram DM Mean?
This is used to describe a conversation or chat session in vanish mode.
So whenever you see a blue dotted circle on an Instagram DM, note that the message will automatically be deleted once you close the conversation.
After sighting the blue dotted circle on any Instagram DM, keep in mind that accessing the message will cause it to varnish instantly once you quit the chat session.
The dotted circle Instagram DM indicates that the message sent to you is in vanish mode, and after accessing it, you won't see it again.
One of the newest Instagram features introduced to the Instagram app is the vanish mode.
The dotted circle is an element of the feature, highlighting which message on your DM is in vanish mode.
How to Use the Dotted Circle DM On Instagram?
Before anything else, you have to activate the vanish mode to enable you to send private messages that delete automatically after the recipient sees them.
This is important for the dotted circle DM on Instagram to work.
At times, you have to protect your conversation with people, which makes the dotted circle on Instagram DMs very beneficial.
Here's how to use vanish mode on Instagram.
Update Your Instagram App
On Android
Access the Google Play Store on your smartphone.
Navigate to the search bar, input "Instagram," and tap Enter.
Select "Update" to install a new update.
Launch the app once the installation process has been completed.
On iOS Device
Access the AppStore application on your iOS device.
Navigate to the search bar and input "Instagram."
Enter the app once the installation process has been finalized.
Launch the Instagram App on Your Mobile Device
Access the Instagram app and locate the Messenger icon on the home page.
Select this link to enter your Instagram Direct Message.
Find the user whose DM you intend to set to Vanish Mode.
Select the username and access the conversation.
Simply swipe in the lower section of the screen to enable the vanish mode feature for the user.
Other Popular Icons on Instagram
Writing or Pencil Icon
The Pencil icon is usually found in the upper section after accessing the Instagram Direct Messages.
This feature allows you to start a new message.
For example, if you haven't had a conversation thread with another user and wish to send a DM to them, select the icon, then tap the user with whom you wish to chat with.
Video Chat Icon
There's a video chat icon beside the new message icon.
It lets you initiate a video chat with any user you choose on the next screen.
Similarly, the video chat icon can be located in the individual chat thread.
You can utilize it to video chat with that user or group for group conversations.
Multiple Selection Icon
If you use a business account on Instagram, you will see a multiple-selection icon in place of the video chat icon.
Select it to choose multiple chats and take specific actions like mute, delete and flag.
Red Dot
If you utilize multiple Instagram accounts, you will find a red dot beside your Instagram username in your direct message.
This implies that there are unread notifications on other Instagram accounts.
Once you select the username, you can change it from one account to another directly from the chat list.
Mute
After muting someone's Instagram messages, you will find the mute symbol (shaped like a speaker) beside their username in the conversation list.
To successfully unmute a user, access the conversation thread and select the person's username.
Tap the Toggle beside the mute message.
Phone Icon
Access the Instagram conversation thread, navigate to the top right, and you will find the phone icon.
It can be used to contact the user or initiate a group call.
Similarly, you can also find the video call icon in the chat.
Microphone
You will find lots of messaging icons in the lower section of the chat.
The microphone icon beside the typing box is used to deliver audio messages.
Hold down the microphone option to begin the audio recording of your message.
Gallery
Select the gallery icon to access the pictures and videos on your mobile device that you can send to another use.
Sticker
Navigate to Instagram chat and locate the sticker icon. Choose any and tap GIF or sticker. Utilize them to enliven or spur up your chats.
It is worth noticing that the camera symbol will transform into a search icon as you type. Select it, and Instagram will display GIFs and stickers relating to the text messages shown in the box.
Quick Chat
As a business account owner, you can find the quick chat icon in the chat thread. Utilize if you want to send saved replies to other users.
Heart Symbol
It is important to engage with an Instagram message.
One way to do this is by "liking" an Instagram message through emojis.
The heart symbol is a popular emoji. It shows underneath the message.
Press and hold any message to switch to a different emoji.
Vanish Mode
If you toggle on vanish mode in the chat, its icon will be visible beside it in the conversation list.
Vanish mode is a unique feature on Instagram.
When turned on, the messages exchanged instantly vanish from the conversation thread if you exit the chat.
Blue Dotted Circle Instagram DM FAQs
What Does A Dotted Circle Mean On Instagram?
The dotted circle on Instagram implies that the conversation is still in vanish mode and that messages exchanged will disappear when you quit the chat.
Is there a way to find out if another user is ignoring your Instagram messages?
Instagram won't send you a notification whenever your messages are ignored on the platform.
Thus, there is no way to tell if a user ignores your Instagram message, even if they are active and won't send replies to your chat.
How Can You Find Out If Someone Screenshots Your Instagram DM?
No, there is no way to find out if a user has a screenshot of your Instagram chat.
However, if you turn on vanish mode and the user screenshots your message, you will find a small circle next to it.
This is a sign that the messages may have been screenshotted.
Are Instagram Messages secure?
Instagram messages and calls are secured by end-to-end encryption.
It is secured from the time you send it from your smartphone to when it is delivered to the recipient's phone.
This implies that no one can hack or spy on the content of your messages.
Can someone hack your Instagram DM?
No. Your profile can't be hacked by replying to an Instagram message.
The only way to get hacked via DM is if you click on any bad links that direct you outside the app and to a different website.
What are the obvious signs that Instagram has been hacked?
You are temporarily signed out of Instagram but can't log back in.
You got an email from Instagram about an update you didn't make.
You find an unknown device in your activity log.
What can a scammer on Instagram do with your mobile number?
Scammers can blackmail or extort you whenever they get hold of your phone number.
If they find your sensitive data, like pictures or videos you wouldn't wish to release to the public, they can use blackmail to make them public.
They will extort you if you want the file back.
How do I get paid on Instagram?
Here are ways to monetize your Instagram account:
Set up sponsored posts for businesses that wish to promote their goods and audience.
Carry out affiliate marketing and get paid to advertise brand items.
Build and market digital or physical items or promote a subscription service.
Create an Instagram shop.
What is the number of followers I need to become verified on Instagram?
There isn't a set number of followers required to be Instagram verified.
Nevertheless, the most important necessity for getting verified is getting a prominent profile.
This implies that your profile must be associated with a popular and sought-after brand, individual or business.
Here are the best social media websites that enable content creators and influencers to get paid in 2023:
YouTube
TikTok
Snapchat
Instagram
Pinterest
Twitter
LinkedIn
Conclusion
Instagram is among the most popular social platforms in the world.
In this article, I outlined the meaning of the blue dotted circle on Instagram DM and the best ways to use it.
Also Read: