Let me show you how to beautify your WhatsApp wall with the best Christmas captions.
Share superb Christmas messages with your family and loved ones.
Showcase these heartfelt Christmas statuses and convey your feeling of adoration for your sweetheart or beloved during the Yuletide season.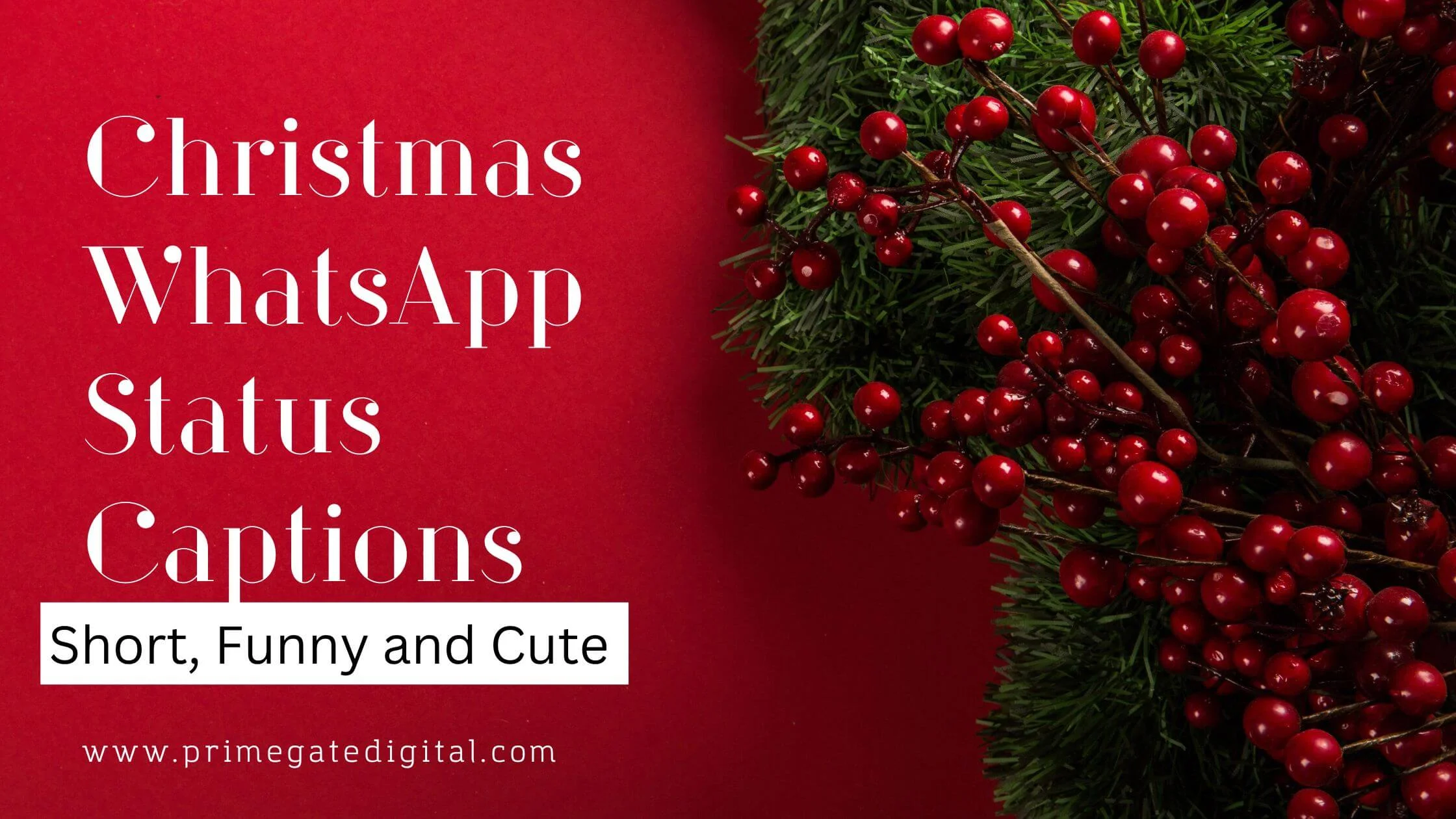 This article has the biggest collection of Christmas WhatsApp Status captions.
This is a fantastic way to commemorate this festive period by spreading goodwill to your WhatsApp friends and customers. 
You can also repurpose these Christmas WhatsApp Status captions for SMS, Instagram and whichever social media channel you wish.
Have a lovely and fulfilling Christmas celebration.
Best Christmas WhatsApp Status Captions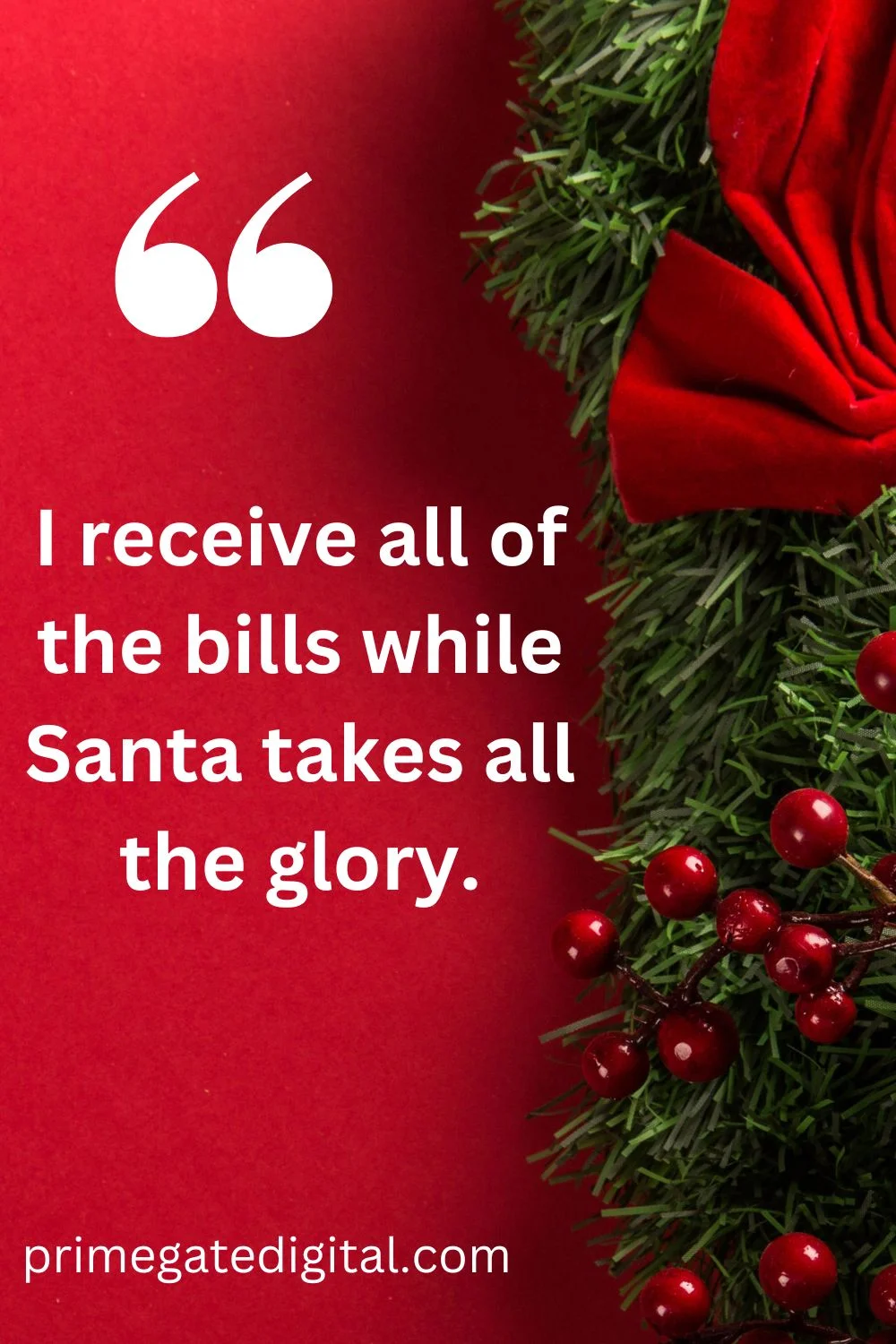 Below are the best WhatsApp Xmas captions to use.
Warmest compliments throughout this Christmas season. Merry Xmas!

May Jesus Christ bestow you with happiness and restore your strength for the decades ahead!

Truly wish you a wonderful day this Xmas from your family members!

Merry Christmas to both you and your loved ones! Have a wonderful time off!

May you enjoy this Christmas celebration with the people you cherish, savouring the twin virtues of generosity and thanksgiving.

Sending Merry Xmas wishes from my household to yours.

Blessings and a great Christmas to every one of you amazing people!

May the Christmas season glow and flourish. Happy Christmas!

Christmas is a unique moment to cherish with all your friends and family. Happy Christmas!

Let us leave the past behind and begin afresh, genuinely wishing to meet you this Christmas!

May Lord Jesus bless you and your family members on this special day. Have a joyous Christmas day.

May the Xmas energy assist you along your future path. Happy Christmas!

Warmest regards for the Christmas season to you and your family. Happy Christmas and a Wonderful New Year!

Extending warmest greetings for a joyous Christmas and a happy New Year.

Let there be joy, excitement, and delight as we celebrate the holidays. I hope you have a lovely Christmas!

Take care of yourself throughout this Christmas season. God will graciously bless you if you give with a joyful heart. Happy Holidays and a Prosperous New Year!

One of the wonderful things about Xmas time is that a gift can assist somebody in forgetting about the past.

The biggest benefit of receiving new clothing for Christmas is that I won't need to do washing for one or two more weeks.

The bells are chiming all over and Father Christmas is coming. There's tranquillity permeating the snow-covered land during this lovely Christmas season!

Happy Xmas to You! Let Christmas melodies, chocolates, and pastries soothe your heart whilst you admire the lovely snow!

Christmas is great because it is unavoidable, like a hurricane, and we all experience it together. Happy Christmas!

Dear Father Christmas, Don't pay any attention to any one of my friends on WhatsApp. I think I've been a saint here.

All I wish for Xmas is for every person in my life to be good and feel valued.

The Snow Softly Falls, Embraces the Soul, White as a Sparrow, Merry Xmas With Lots and lots of Joy!

Hello, Santa. Apart from the reader having an excellent Xmas, I have nothing in mind for Xmas.

Don't bother about the shape of your Xmas tree. They are all 30 feet in height from the sight of the kids.

The human race is an awesome, incredible community. This is repeatedly proven by what we perceive in our heart and soul during Christmas.

Delightful as the faeries, Gratifying as a star, Pleasant like you're enjoying eternal bliss!

Christmas makes the universe feel sweeter and more lovely by flicking its paintbrush over it.

Ready for the next Christmas season… cool weather, beautiful light, the fragrance of wood fires… and many gifts!

One of the most splendid clutter in the universe is the chaos spawned in the sitting room on Xmas Day.
Creative Christmas WhatsApp Status Captions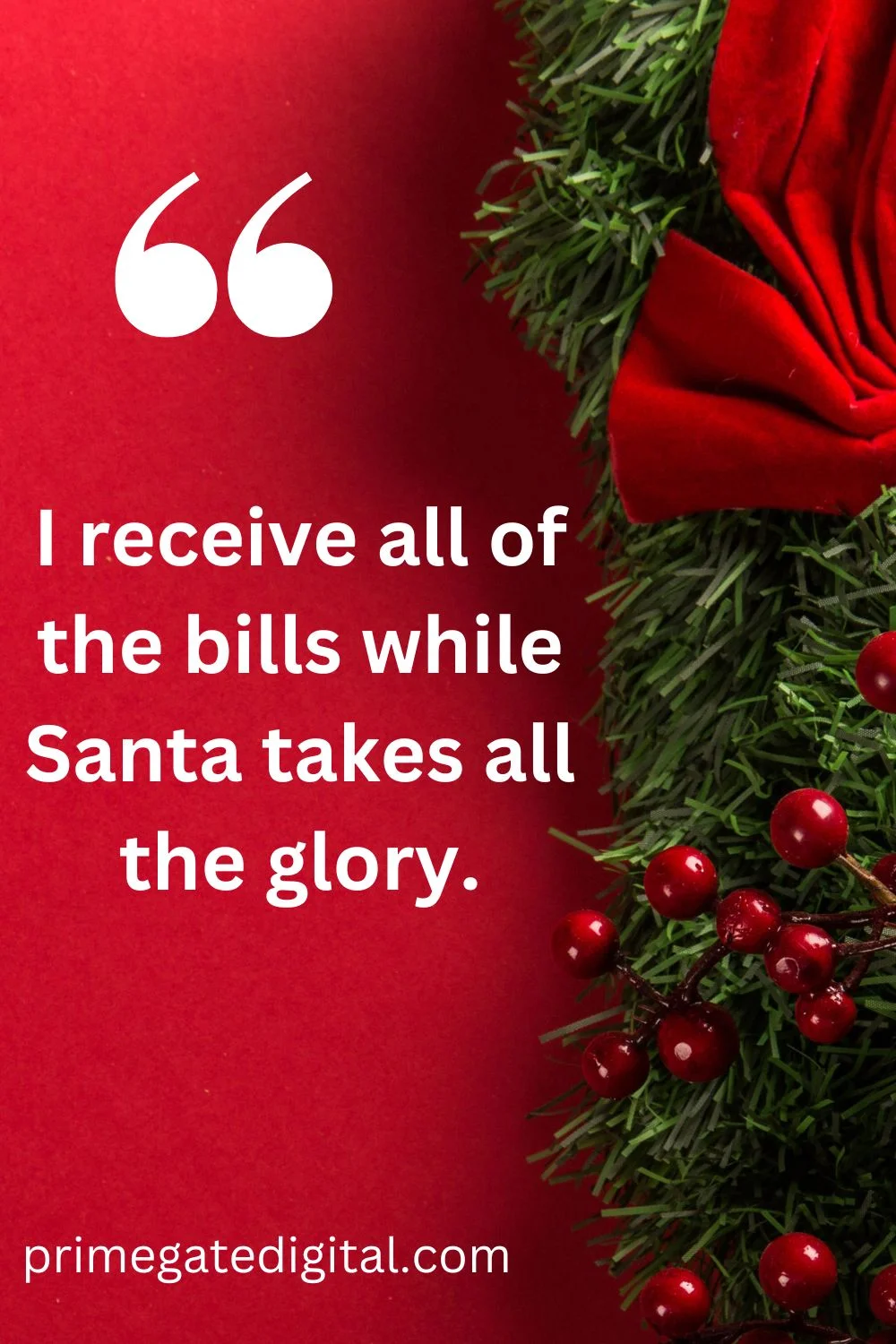 Below are the top creative WhatsApp Xmas captions to celebrate the season.
May the real Christmas spirit light up in your soul and illuminate your path.

To a blissful present and a cherished past. Merry Xmas!

We lift our hands in honor of the Xmas Peace.

Genuinely wish you a healthy life, good fortune, and joy this Xmas. Happy Christmas!

Let the warmth, happiness, and peacefulness of Christmas permeate your home. A merry Christmas to you!

I'm wishing you a happy and dazzling season overflowing with the goodness of God.

Let's all keep Xmas wonderful without a thought of gluttony.

I receive all of the bills while Santa takes all the glory.

Forever on the naughty list and enjoying every second of it.

I realize how much I will get for Xmas … Fat. I'm putting on weight.

Enjoy the beauty and delight of the Christmas season. Happy Christmas.

The reward of love. The peace-loving gift. the advent of gladness. Hope you enjoy all of these for Xmas.

Christmas is not merely a single day. It's a mentality. Happy Christmas!

Can't wait to be overflowing with Christmas drinks! I do not mean booze; I mean beverage.

Dear Father Christmas: How much will it cost for the list of all the nasty girls?

Nope, I'm no Father Christmas. You still might sit on my lap, though.

Sorry, Father Christmas doesn't really exist. Those gifts are from your mother's love, Nsa.

Lovely, but twisted. So am I now a sugar cane?

Hahaha.. lol yeah. Xmas is here and there's really nothing you or anyone else can do!

Jingle bells jingle bells all the way. Everyone dislikes half-assed jinglers.

Christmas pastries and joyful hearts, this is the way the holiday begins.

How else do you think Santa must be a man? Every year, no woman will wear the same attire.
Authentic Christmas WhatsApp Status Captions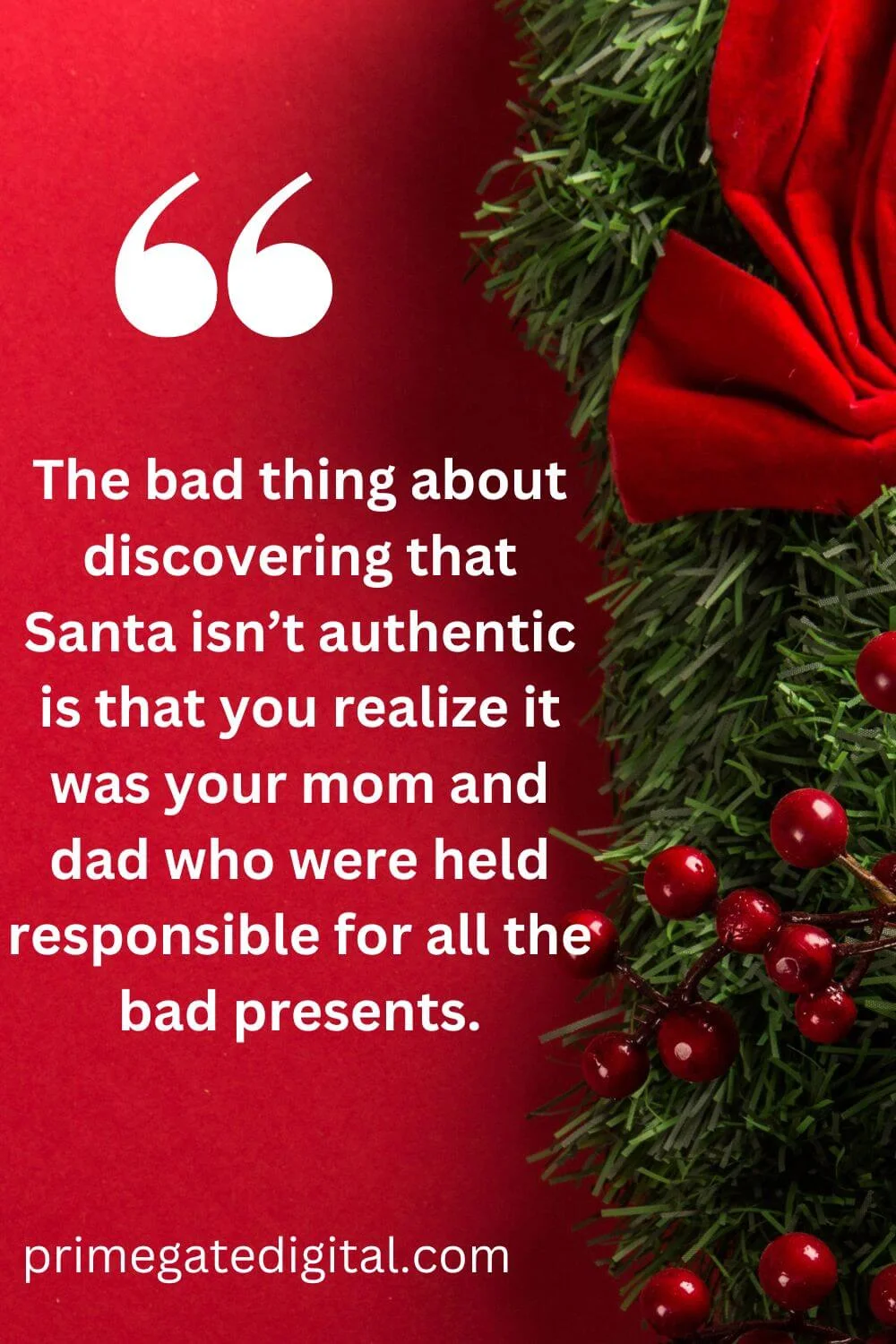 Below are the authentic WhatsApp Xmas captions to use.
Santa Claus: He is aware of your sleep habits. He notices the level of your wakefulness. It seems Santa uses WhatsApp.

I wish we could preserve a portion of the Christmas spirit in jars and eat one each month.

I guess Santa should recruit giants rather than elves so that he can have a quicker production of Christmas presents. Have a Merry Christmas!

Merry Xmas! Let us party and take great pleasure in the day that the Lord has provided for us to drink as much as we please.

May the Xmas season be packed with only pleasant moments, merriment, and excitement!

Have you already lit your Xmas tree? That is not at all. I've had just enough beer for St. Patrick's Day.

Many of us can't enjoy the holidays with our families since we live hundreds of miles away. But don't be jealous.

We are pleased to wish you and your family a Merry Xmas!

As we honor the birth of Jesus Christ, I extend to you my love and prayers for happiness and good health. Merry Xmas!

Count all your blessings one after the other, as you make your wish. Have a great Christmas holiday!

Happy Christmas. May this festive season bring you blessings that are as pretty as snowfall.

Merry Xmas and a very special Happy Holidays to everyone!

I hope you get a present of love, prosperity, and delight this Christmas Night.

Hello Santa, before I try to tell you….what do you now know?

I pray you have a lovely Christmas that is overflowing with excitement and delight. Happy Christmas!

A beautiful treasure of joy and hope, a star above, and a tranquil night. I wish you a happy Christmas!

I wish your Christmas is beautiful and magnificent! Happy Christmas and best wishes to you!

The bad thing about discovering that Santa isn't authentic is that you realize it was your mom and dad who were held responsible for all the bad presents.

May you discover love and fulfilment at Xmas and may it replenish your home and heart. Merry Xmas to you!

We may not be together in person on Xmas morning, but you will be in my thoughts and in my heart. You are, forever.

May every single day of your life be blessed with happiness. I pray for nothing except love and kindness. Happy holidays and a Merry Christmas.

I hope that the lovely magic of Christmas works in your favor and satisfies all of your desires. Happy Holidays!

Let's enjoy this wonderful new year by celebrating the brand-new, fresh year and treasuring every moment it brings. Merry Xmas.

Christmas is brimming with lovely things that marvel at us, but the greatest of all is the chance to experience and share the joy that fills lives.

May this Xmas be so spectacular that you are embraced by loved ones and never endure loneliness again!

From one location to another, from heart to heart and from home to home. Christmas' warmth and excitement bring us closer together.

Give praise to the Lord because His Son is here with us! Commemorate this day with a pure heart so that He will enter our lives. Happy Christmas!

Recently I was taken hostage by a fat man in a red outfit and put inside a bag, ALRIGHT! SPEAK UP! Who added me to their Christmas wish list?

Christmas is important. We must be reminded at least once a year that we are not here only for ourselves. We all need each other.

The perfect Christmas presents in life will never be discovered underneath a Christmas tree! Those Christmas presents are for friends, family, children, and loved ones.
Lovely Christmas Captions for WhatsApp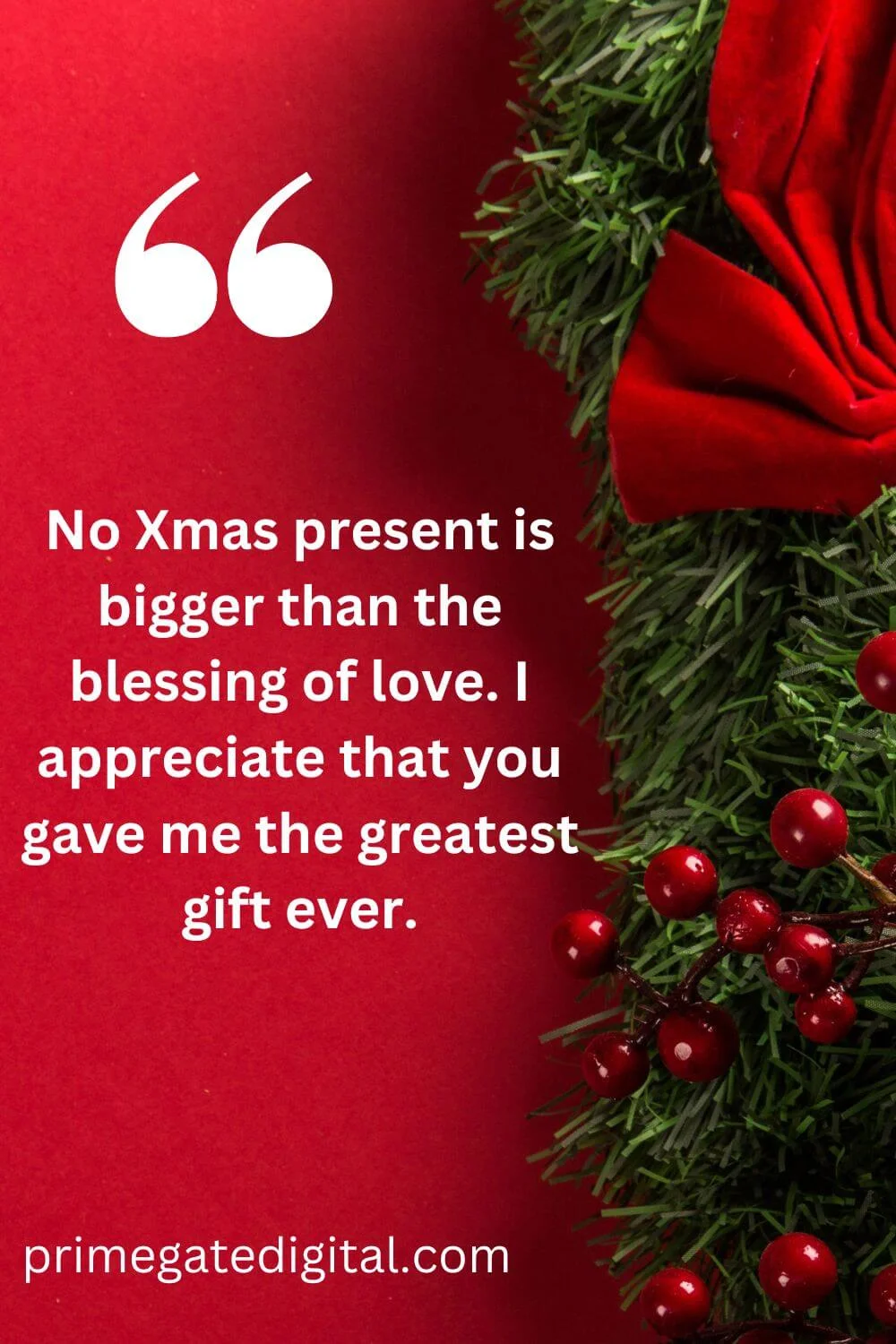 Below are lovely WhatsApp Xmas captions to use.
Presents of time and love are definitely the basic elements of a truly happy Xmas.

Christmas is the time of year when we kindle the pleasant spark of compassion in the spirit and the flame of kindness in the gathering spot.

Unless we start making Xmas an event to share our good fortune, all the winter in Alaska won't make it WHITE.

Father Christmas dons a Red Suit, he has to be a communist. And a bald head and curly hair must be a man of peace. What's inside the pipe he's smoking, clearly?

No Xmas present is bigger than the blessing of love. I appreciate that you gave me the greatest gift ever.

Whether you celebrate a contemporary or traditional Christmas, for me, everything revolves around loving others. Happy Christmas!

It's not the gifts that end up making Xmas so special, it's the presence of everyone you love, whether they're with you in person, or in spirit.
Heartfelt Christmas Captions for WhatsApp Friends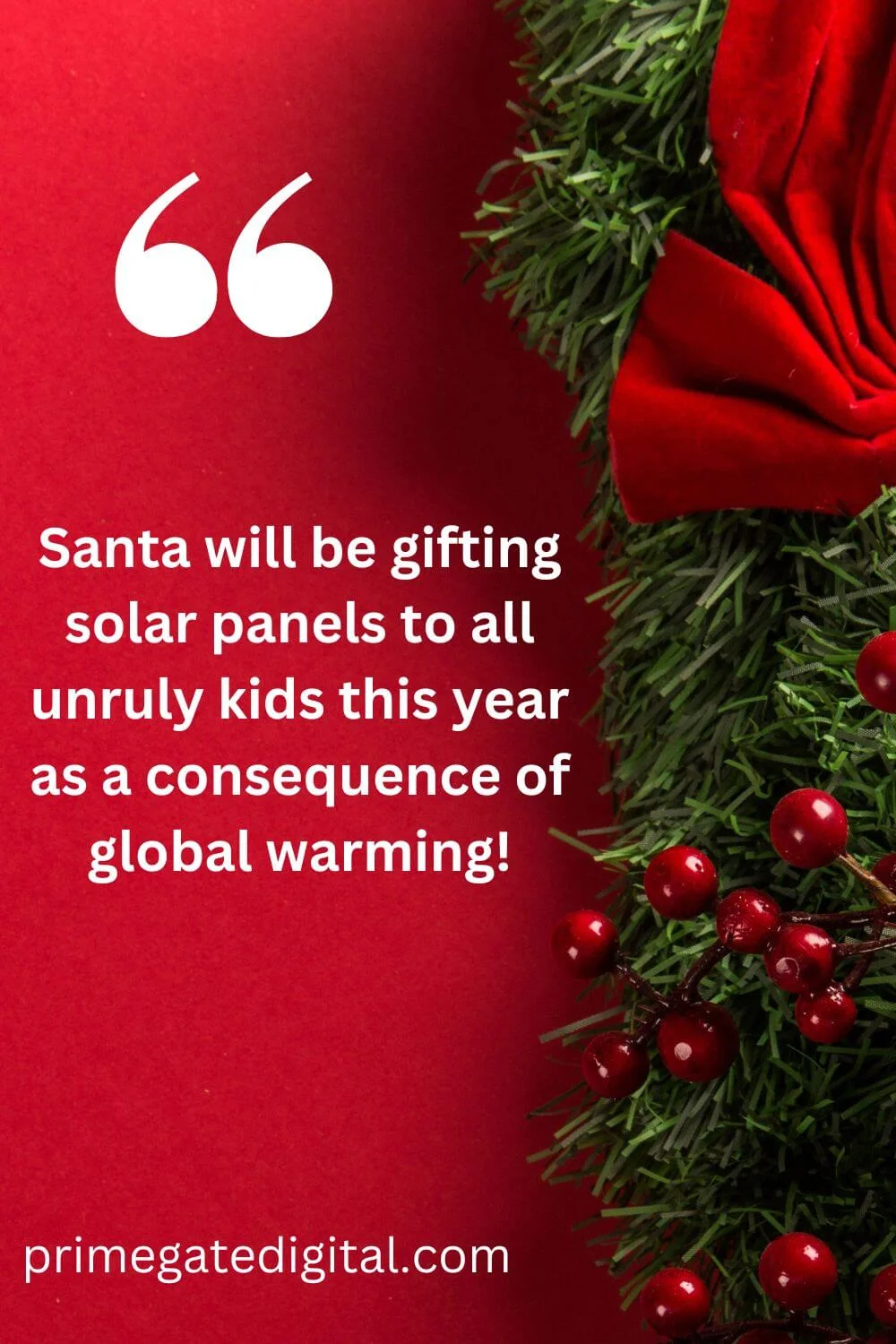 Below are the best Xmas captions for WhatsApp friends.
May this Christmas season provide you and your household with happiness and delight.

I would like to wish you the excitement and gladness of a kid on Xmas eve.

I'm offering you my warmest greetings and Christmas greetings today. Happy Christmas!

The Xmas tree is packed with gifts. However, the perfect one is the blessing of your kindness.

May God provide you and your loved ones with all awesomeness and pleasure. Happy Christmas!

If you treat your friends like family, they will surely turn into the family you cherish. Merry Xmas!

I pray you enjoy a very wonderful and fun-filled Xmas!

Santa will be gifting solar panels to all unruly kids this year as a consequence of global warming!

May this giving season serve as the beginning of a brighter life for you. Enjoy your holiday and may God bless you!

Have a great holiday and let your heart be joyful. Our difficulties will no longer be obvious from this moment onwards.

Without you around, Christmas won't seem the same, but we pray you have a great Christmas with your dear ones. You're already missed!

Cheers to Christmas! I truly wish you a wonderful Xmas and I am eager to share the New Year with you!

Merry Christmas! I pray for a year full of kindness, tranquillity, and happiness throughout this festive period.

Happy Christmas, a prosperous new year, and warm regards to you and your loved ones.

This December, I'd want to send love, joy, prosperity, and success to a friend who has always been there for me. You have never failed to make my world vibrant and entertaining!

Merry and safe Christmas and a blessed new year to all of my friends and family. Don't drive after drinking, and stay safe.

My Christmas wish is for you all, not only for myself and my family: serenity of mind, good health, and courage of spirit.
Friendly Christmas WhatsApp Status Captions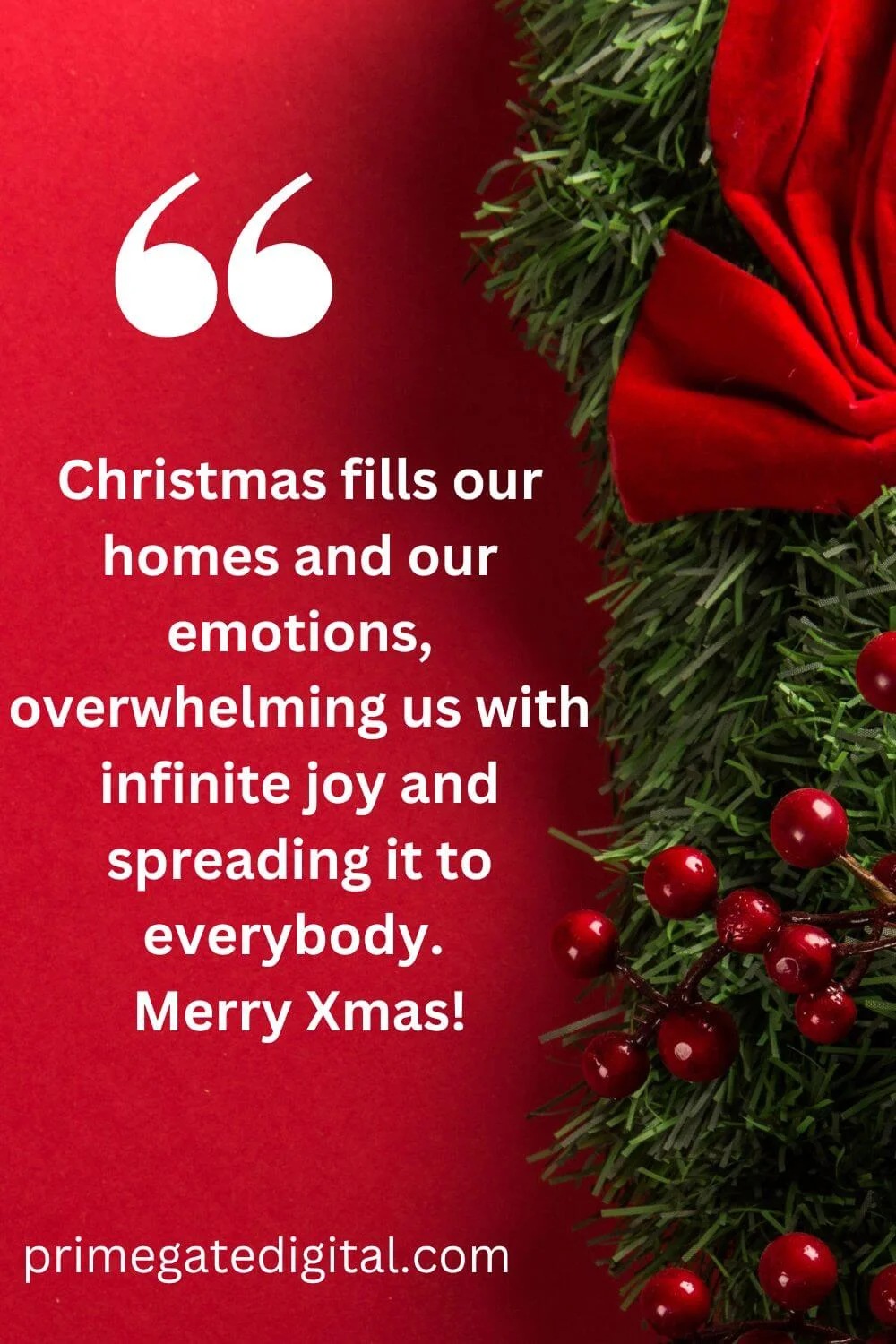 Below are friendly WhatsApp Xmas captions to use.
Happy Christmas to all of our WhatsApp friends. Let every person in the world experience joy and tranquillity this Xmas.

I really, really like how our unexpected team-up cannot be compromised. Our unique relationship only grows stronger during Christmas time. A very Merry Xmas to you, my beloved friend.

I truly wish you a happy Holiday and may the warmth of the holidays always be with you.

Words alone cannot describe the things that warm my heart to the fullest. On Christmas Day, I've specially sent you this with my love.

Let's pray and dine with our friends and family to mark this merry Christmas day. I'm hoping all my WhatsApp friends have a marvellous Christmas celebration.

May you have numerous reasons to enjoy this Christmas. Share this wonderful season with the person you trust most.

I wish you Happy Holidays, I wish you a very Merry Christmas as you are so loving and caring.

I pray that during this Christmas period, your beauty will flourish to its best. The most valuable asset I will hold onto for the entirety of my life is our bond.

Christmas fills our homes and our emotions, overwhelming us with infinite joy and spreading it to everybody. Merry Xmas
Christmas WhatsApp Status Captions FAQs
Below are the frequently asked questions on the best Christmas WhatsApp Status captions to use.
What are the Best Emojis for Christmas?
? Baby.

? Baby Angel.

? Santa Claus.

? Mrs. Claus.

?‍? Mx Claus.

? Elf.

?‍♂️ Man Elf.

?‍♀️ Woman Elf.
Does Santa have an emoji?
The Santa Claus emoji ?, also widely known as the Sinterklaas emoji or Father Christmas emoji.
The Santa Claus emoji when used on social media platforms portrays a cheerful elderly man with a lengthy beard donning a red fur cap and a white ornamental ball.
What is the Best Christmas Caption?
Warmest compliments throughout this Christmas season. Merry Xmas!
Conclusion
The Christmas season is a special time; a time we share the joy of the birth of Christ with our family and friends.
In this article, we explored over 100 perfect Christmas captions for WhatsApp, WhatsApp and other social media platforms.
To get more helpful captions for your social media, visit this website more often. 
Also Read: