Are you looking to copy and paste social media symbols or icons to spice up your post? If the answer is yes, then this article is for you.
Social media icons are one of the best forms of self-expression on your Facebook, Instagram, TikTok, Snapchat, or Twitter.
There are thousands of these social media emoji icons that can easily slip off the tip of your fingers when you most need them.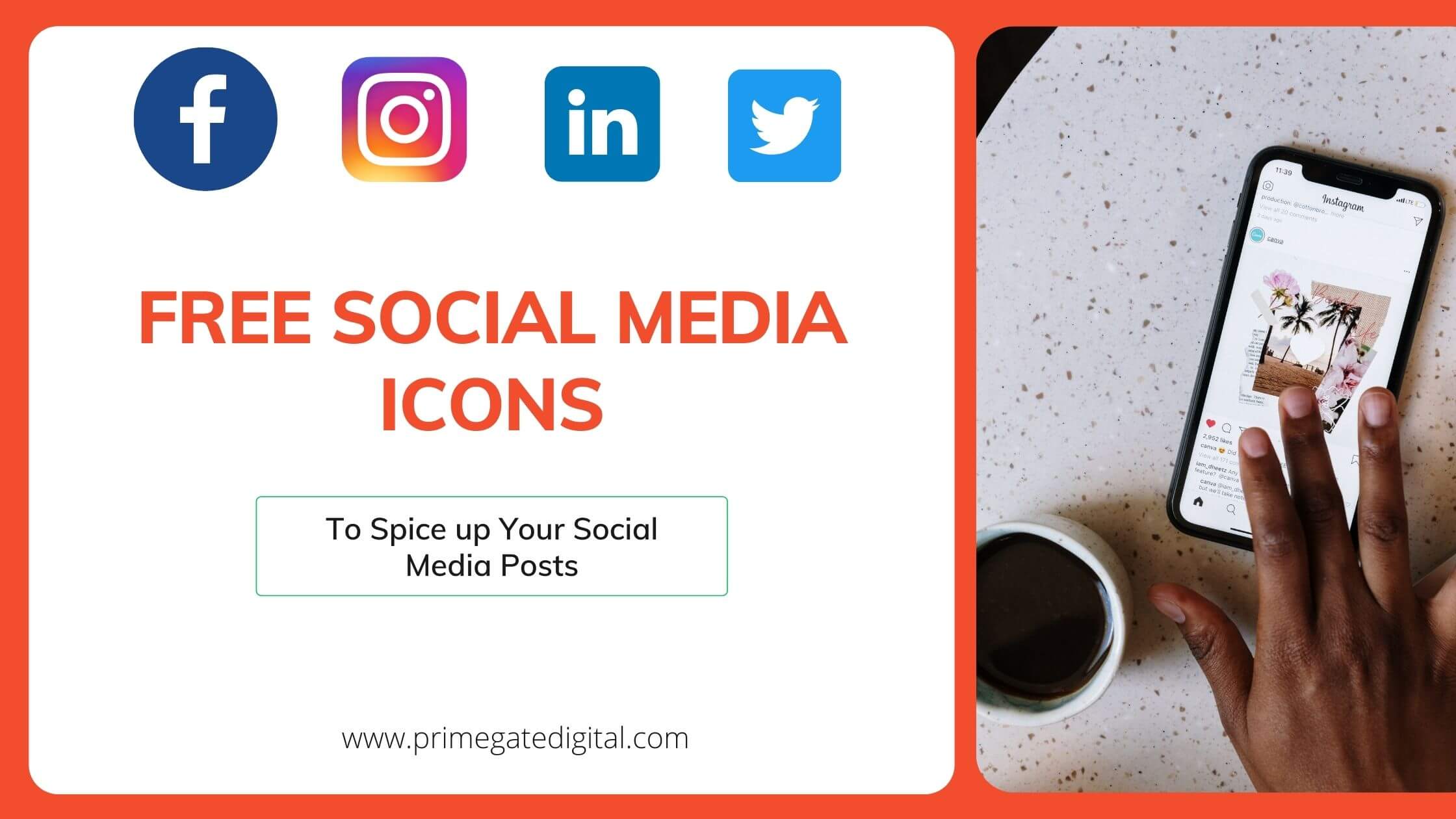 Besides, there are numerous icons and social media symbols that you can select from – and the best part of it is that they are cross-compatible with most devices.
It is a great content marketing strategy to help your social media posts stand out and drive maximum engagement.
You can copy and paste any of these social media icons to spice up the headings & body of your social media posts and emails.
Unlike social media emoji icons, these social media icons are platform restricted, i.e., with only a few exceptions, these appear the exact same on every device.
◆ Tip: Double-tap or right-click on any icon to highlight it quickly, then copy and paste on your posts or insert any word. Enjoy these social media symbols✨
◈ Recent Update: Check out how to make your content for social media bold and italicized even on a plain text platform. It works perfectly for Facebook, Instagram, LinkedIn, Twitter and More.
◈ Recommended: Check out how to generate over 2 million+ graphical icon ideas with The Noun Project… super amazing!
You might also want to check out:
Top Free Copy and Paste Social Media Icons for Posts
Below are the top free social media icons to boost your post engagement really fast.
Bullet Points Social Media Icons
❖
◈
◆
☉
Finger Pointing and hands
☝
☟
✍
✊
✋
☛
☞
☜
☚
Hearts Icons
♥
❤
♡
ღ
❦
❣
Music Icons
♪
♫
♩
♬
♭
♮
♯
°
ø
Lines & Brackets Icons
— (em dash)
━ (line)
【
】
《
》
⫷
⫸
◤
◢
│
┇
║
「
」
Asterisks Icons
✻
✽
❃
✿
❊
✱
⁕
❋
Card Suits Icon
♦
♠
♥
♣
♢
♤
♡
♧
Stars Icons
✧
✩
✶
✨
★
☆
✦
Arrows
←
↞
⇠
⇐
◄
➞
➜
➠
»
⫸
➼
➺
➤
►
➥
⇢
➳
↳
Checkmarks Icon
✓
✔
☑
Smiley Faces Icon
☺
☻
ツ
Numbers Icon
➓
➒
➑
➐
➏
➎
➍
➌
➋
➊
Crosses Icons
✙
✢
✣
✤
✥
✚
✜
Flower Icons
✽
✾
✿
❀
❁
❃
❋
Punctuation Icons
— (em dash)
━ (line)
❝
❞
®
©
™
❘
Colorful Punctuation Icons
❗
❓
❌
Danger and Safety Icons
☢
☣
☠
☮
☯
Colorful or Unique Icons
♕
∞
⚜
☘
✌
⚡
☮
☕
☄
⚓
⌚
⚛
♫
♻
Emojis using Symbols
(͡° ͜ʖ ͡°)
( ˘ ³˘)❤
(▰˘◡˘▰)
(✿◠‿◠)
♥‿♥
ʕ•ᴥ•ʔ
(>‿◠)✌
(◕‿-)
Spiritual / Philosophical Icons
✡
☸
☯
⚘
⚕
⚖
☬
∞
☥
✝
☪
Zodiac Symbols
♓ – Pisces
♒ – Aquarius
♑ – Capricorn
♐ – Sagittarius
♏ – Scorpio
♎ – Libra
♍ – Virgo
♌ – Leo
♋ – Cancer
♊ – Gemini
♉ – Taurus
♈ – Aries
Best Websites to Download Free Social Media Icons
Flaticon
Flaticon has the biggest website for downloading vector icons for free online. You will find as many as 80,000 icons on their website. The icons are available in PNG, EPS, PSD and SVG formats for your choosing.
In addition to the free icons, you will find other exciting features on the platform, such as plugins for photo editing software, font generators and other databases.
Lots of icons on the site are free for use, although you are required to credit them.
IconArchive
IconArchive exists to simplify the job of graphic designers and animators. It has over 450,000 icons that are suitable for a variety of operating systems, including Linux and Windows.
It also has a powerful search feature that allows you to find what you need with no hassles.
Another amazing feature of the website is that it assists you in storing, sharing and organizing your favorite icons without the need to set up an account.
So whether you are an enthusiast seeking a beautiful icon to personalize your PC or a pro checking for aesthetically-appealing icons to beautify your website, IconArchive has everything that will meet your needs.
1001 Free Downloads
1001 Free Downloads is popular for its numerous free vectors, PSDs, pictures, fonts, gradients and much more, available to meet your graphics needs.
It has a large catalog of beautiful graphics sourced from millions of web pages. The platform also features an intelligent search tool.
Each day, new items are regularly added to their catalog by thousands of freelancers and designers, primarily to grow the site's database.
FreePik
This website is an excellent online resource that has extensive offerings beyond icons. It boasts a large library of vector images, artwork, pictures and digital assets.
As the name implies, their graphics and icons are free. However, you will need to attribute them.
DeviantArt
DeviantArt is home to more than 150,000 icons downloadable for free. There is a flourishing community of designers that regularly adds these digital resources.
Feel free to download these icons as long as you attribute them and follow the guidelines put in place by the contributors.
You may also be required to set up an account to download part of the resources.
SoftIcons
This is another beneficial website, rich in icons and graphics resources and ideal for web developers and designers. All icons are available for free download.
Their collection has grown significantly since its establishment in 2010.
You can use the search tool to look for icons and icon sets via types and categories. The use of digital assets on the site for personal and commercial projects is subject to attribution.
IconFinder
IconFinder has over 600,000 free and premium icons and has a search tool that comes with a dynamic filter, allowing you to discover and categorize them according to license and pixel.
Although some icons are 100% free without the need for attributions, you might have to pay before downloading others.
Ensure you review the license before downloading. Premium plans for highly essential icon sets are accessible for a monthly payment of 9$.
This is among the most popular icon websites.
Iconmonstr
Iconmonstr is an ever-increasing website rich in top-quality, user-friendly, free icons, managed by Alexander Kahlkop.
This large catalog of excellent icons is accessible for free without being required to attribute for business and personal projects.
The icons are downloadable in different varieties and formats like AI, PSD, PNG and SVG. It has an easy navigable that allows you to download your desired icons without the need to set up an account.
Icomoon
Icomoon is another amazing website that features around 3750 free icons.
It comes in a variety of formats like PNG, Webfont and SVG. Another interesting feature is that it allows you to upload your unique icons to set up a webfont.
IconPng
IconPng is a platform that can meet all your graphics needs with its large database of over 55,000 free icons.
You can personalize your icon search via size, category and color. This simplifies the process of searching for the right icons.
Premiumpixels
Premiumpixels is home to numerous graphic assets, including thousands of icons downloadable for free.
It was established by Oman Clark, a London-based digital artist, who launched it to distribute his graphics designs. Today, it is a rich resource with extensive mockups, icons and PSD files.
Fontello
Fontello is a clever tool for graphics designers and digital artists. It helps to convert vector graphics into webfonts. Besides that, it has a powerful search feature that lets you discover great digital art for your website.
Iconspedia
Iconspedia is an excellent website for anyone searching for icons. It has a big database of freely downloadable icons.
VeryIcon
VeryIcon also offers free icons in varieties of formats, including PNG and ICO. It is suitable for use in all operating systems. It has a big database of more than 15,000 icons and over 500 icon sets.
Mr. Icons
This website serves as a search engine that caters exclusively to icons and features of ICO and PNG formats.
It is available for use on operating systems like Mac, Linux and Windows. If you want elegant icons to add value to your website or desktop.
Social Media Icons for Post FAQs
What are the best trending Facebook icons to download?
The different categories of transparent social media icons listed above can be used for Facebook, Instagram, WhatsApp, LinkedIn, Twitter, Pinterest and more.
They can be used as Facebook icons easily for catchy posts.
The simple answer is yes! You can use any of these social media icons for email signatures.
Yes. However, even though social media icons can be found in many varieties, shapes and colors across the internet, they have registered trademarks. They are covered by copyright laws and strict brand regulations.
What's the best site to download icons online?
Without much delay, here's a list of some of the best sites to save free icons for your graphic design needs:
Icons8. Icon8 is a popular site for cost-free icons, pictures, user experience illustrations and sound clips for your content.
Freepik
Behance
Flat icon
DeviantArt
Captain icon
Smashing magazine
Conclusion
Social media icons can be a great boost to your social media engagement. Always insert these social media symbols into your word or post them on social media.
Don't forget to bookmark this page for reference, as we keep updating it monthly.
Have fun with these free social media icons!
Also Read: