Instagram is among the biggest social websites of this era.
It lets people express themselves, make new friends, share important moments in their lives and connect with loved ones.
It revolves around communication, keeping in touch and sharing!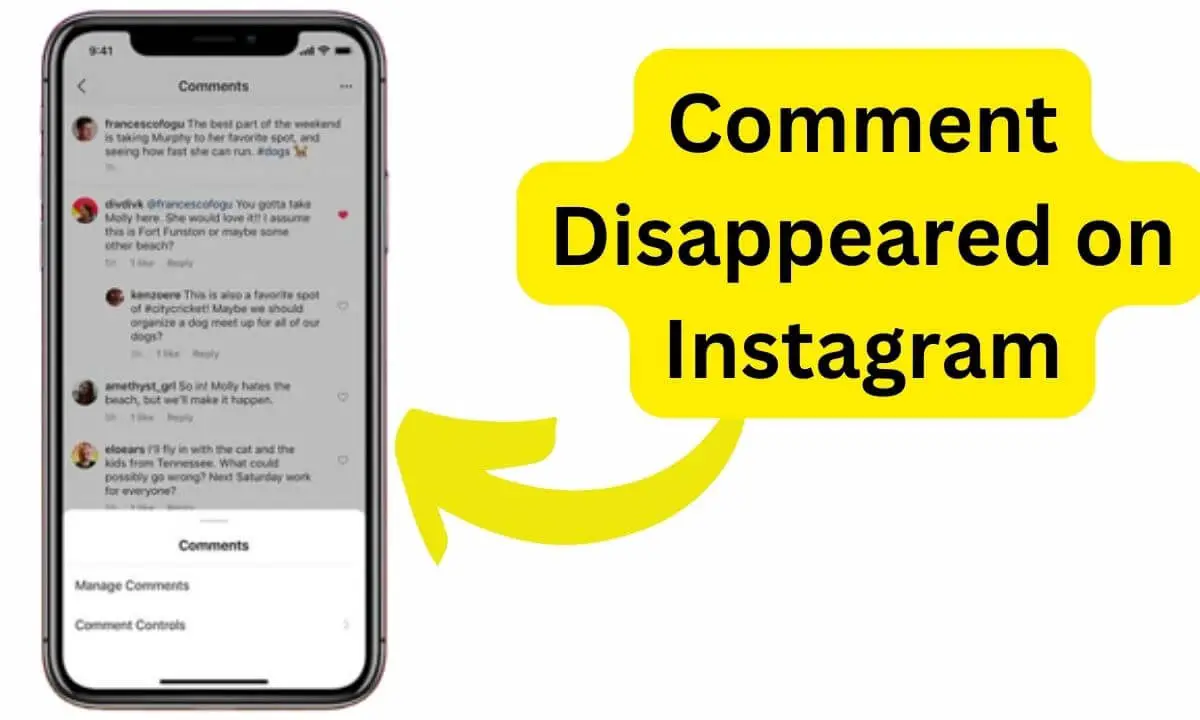 A very significant part of Instagram is the comment section.
It assists in offering feedback, showing appreciation, complimenting others on their posts, or making inquiries.
But it can be vexing when you realize that the comment disappeared on Instagram.
This implies that you can't find comments on the posts below.
In this article, I will explain the reasons for the "comment disappeared on Instagram" issue.
I will also share easy ways you can fix the problem.
If this has been your source of frustration for days or weeks because you can't use your comment section, don't get beat up, you've come to the right place.
Without further ado.
Let's get started.
8 Reasons for the "Comment Disappeared on Instagram" Issue
Disabled Comment
A possible cause of the "comment disappeared on Instagram" issue is that the owner of the profile/page may have disabled the comment section on a specific post.
It is also likely that they may have turned off the comment for all their profile/ page posts, which will limit other users from dropping comments on their photos, reels or video clips.
Thus, if you are unable to access their comment on their Instagram page or you find that the comment section has disappeared, keep in mind that the page/profile owner has turned it off to prevent people from making comments.
Your Internet Connection is Bad or Weak
If you find that comments have disappeared on Instagram, it may be that your internet connection is weak or bad.
The most common source of all Instagram-related issues is faulty internet!
It may be because your Wi-Fi or mobile data is sluggish, limiting your ability to access Instagram's full features.
This might prevent you from accessing the comment section in real time.
You can fix this by resetting the data settings on your mobile device, and if it is still sluggish, you can restart the application.
Alternatively, you can change to a Wi-Fi connection if your mobile data is slow and vice versa.
Their Servers are Offline
If you are still unable to find the comment section on Instagram, it might be that their servers are down.
If this happens, you can't do anything from your end.
The only course of action is to wait it out or make use of a different social platform while Instagram rectifies the issue later.
No Comment is Available
Another reason the comment section disappeared on Instagram is that it is unavailable.
Based on the owner of the account and the kind of content that they uploaded, it may take a while for followers to access the content.
Thus, the post may not have been commented on the moment you see it.
Inappropriate Comments Have Been Filtered Out
If you can't find comments on an Instagram post, there is a possibility that the owner of the account has deleted or filtered them.
Most of the time, Instagram users may include insults or crude words in their comments, causing account owners to delete them.
For instance, a post targeting young people may feature offensive or inappropriate words in the comments, which may prompt the page handler to immediately delete comments them.
Instagram has a Glitch or Bug
Another reason for the "Comment disappeared on Instagram" issue is that the app has a glitch or bug. At times, this can lead to malfunctions. For instance, a bug can cause the comment section to "disappear." To rectify this issue, do the following:
Navigate to the settings application on your mobile device. Choose "Apps" from the list of options.
Then, select the Instagram icon located on the Apps list.
Select "Storage."
After you have accessed the storage menu, select "Clear data" and "Clear data."
Next, the bug should be eliminated after selecting these options.
If the steps outlined above do not work, I suggest you close and restart the Instagram app after 5 to 10 minutes.
Instagram has Banned You from Commenting
At times, Instagram bans users from dropping comments on posts, particularly because they suspect your account is a bot.
If you constantly drop comments on multiple posts within a short time frame and their algorithm might mistake you for a bot and temporarily restrict your accounts from adding comments to posts.
Another reason is that your comments may have included offensive words or phrases, which has caused them to restrict your profile from making comments.
Solutions to the "Comments has Disappeared on Instagram" Issue
Since you now know the reasons behind the comment has disappeared on the Instagram issue, it's time to explore solutions to the issue.
Install the Most Recent Version of Instagram
The easiest way to rectify this issue is to update the Instagram app.
Before you begin to get frustrated about not finding the Instagram comment section, navigate to your device application store and install the most recent version of the app.
It is very likely that the reason you can't find comments on Instagram might be due to the fact that you use an outdated version of the app, which might be plagued by bugs.
After installing a new update, the issue will be rectified.
Restart the App
Another technique for solving this issue is to restart the app.
To do this, simply follow the steps below:
Navigate to the Settings app on your mobile device, and select the Apps option.
After that, select the Insta gram option located on the Apps.
Select the "Storage" icon.
After accessing the storage section, select the "clear data" option.
Now that you have selected that button, you can restart the app.
This will turn Instagram to its default mode, the first state it was the moment you installed it on your mobile device.
Delete Instagram and Re-install
If the solution above isn't working, you can remove the Instagram app from your device and re-install it.
Although it may appear as a major burden, however, I suggest you try this!
This is a fast and easy way to rectify this issue, and it may assist you in accessing your comment section as usual.
Log Out and Re-Log In
Another easy fix for this challenge is to log out and re-login.
At times, the app might perform poorly and log out of your Instagram may be a very effective solution.
To save time and preserve your account credentials, be sure to provide valid passwords.
Enhance Internet Connection
Internet connection is super essential for the functionality of a social media app.
If your connection is set to mobile data and your Instagram comment has disappeared, you can switch to your WiFi.
The reverse is the case.
Make sure your internet connection is reliable and speedy so the app doesn't slow down and malfunction.
Clear Instagram Cache
The steps below will guide you in clearing your Instagram cache:
Navigate to the Settings app.
Find Instagram below the "Apps" button.
Select the "Clear Cache" button.
After clearing the cache, the "Comment disappeared on Instagram" issue will be fixed.
Post an Instagram Comment via VPN
If nothing works, install a VPN or virtual private network.
It lets you update your location to another region, implying that you can add comments from another country.
The VPN also helps shield your IP address, leading Instagram to think you are utilizing another phone
Reset Network Settings
When you reset your network settings, it updates your VPN, WiFi, Bluetooth and mobile data settings to the default mode.
To do this, navigate to your device settings, select the Reset Network Settings button and tap Yes to confirm.
After the network Settings reset, this will fix the "Comment disappeared on Instagram" issue will be fixed.
Why Comment Disappeared on Instagram FAQs
What is the easiest way to fix the "Comment disappeared on instagram" issue?
The Instagram app may not properly process comments on iOS or Android devices if the issue still persists.
An easy way to fix this app-related problem is to quit and restart it.
This is the first step to take before anything else.
What are the solutions to comment not showing?
Here are some effective ways to fix the comment not showing issue:
Solution 1: Ensure your internet connection is good.
Solution 2: Reload the Instagram page.
Solution 3: Install the latest version of the app.
Solution 4: Turn off the Proxy.
Solution 5: Turn off the Extensions.
Solution 6: Clear the Browser Cache.
Solution 7: Restart your Browser or App Cache.
Solution 8: Utilize a VPN tool.
Conclusion
Instagram is one of the most widely used social platforms in the world.
"Comment disappeared on Instagram" is a persistent issue many users encounter.
In this article, I outlined the reasons behind the "Comment disappeared on Instagram" issue and the easiest ways to fix them.
Also Read: