Facebook post engagement is simply any action someone takes on your Facebook page or any other of your posts.
The very common examples of this are likes, comments, shares and it could also include checking into our location or even tagging you in a post.

Facebook engagement is really important because it can really help you extend your organic reach. Engagements also help you boost your Newsfeed placement, this is how the Facebook algorithm works.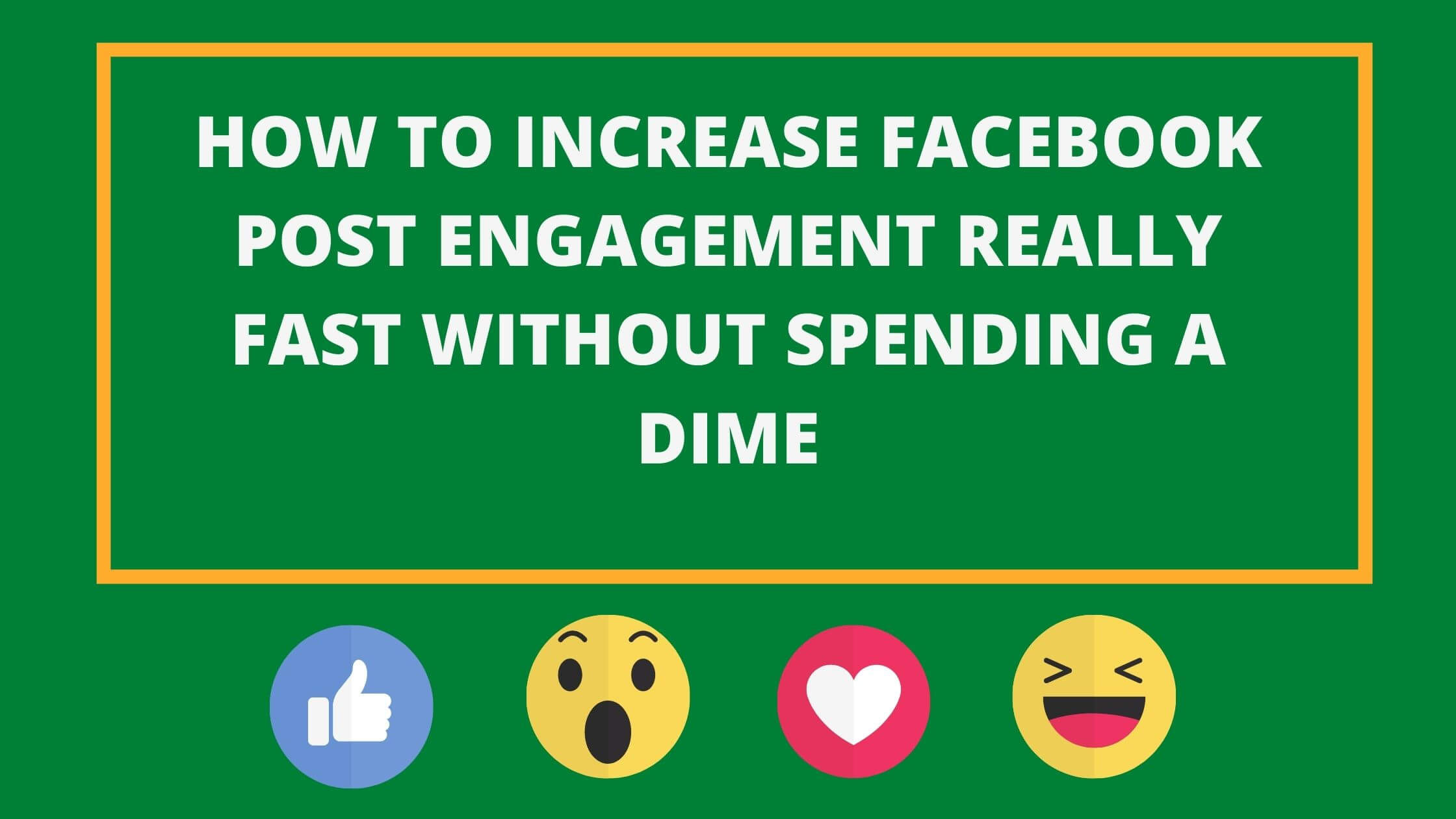 And also, what you should know about likes and comments is that it exposes your posts to your audience's network.

Engagement also makes it crystal clear that your audience is actively engaged, and an engaged audience does the magic of promoting your brand online.
You might also want to check out:
How to Increase Facebook Post Engagement Really Fast
To drive your Facebook post engagement, you really do not need to abandon your current Facebook page and start all over again.
Instead, you just have to consider better ways to set up our posts for greater engagement. We have carefully outlined ways you can quickly boost your Facebook post engagement.
1. Make Good Use of Post Times
The off-peak hours on the newsfeed are 6 am to 3 pm most times. Try posting during these hours. At these hours, there's less content being shared and yours will stand a better chance of standing out.
Post consistently and at the right times. Because Facebook works with an algorithm, your audience might likely not get to see your content the exact moment it's being posted. It might take some time.
It's really advisable to post when your fans are online.
You must be wondering how you could know when your audience is active on Facebook right? You can do this with the help of Page Insights:
On your Facebook page, just click Insights at the top of your screen

At the left column, click posts

Click when your fans are online.
Times are definitely shown in your local time zone. To be sure that your fans are in the same time zone as you are, click on people in the left column, then take a stroll down to see the countries your fans live in.
At the same time, this doesn't mean that you should wake up in the middle of the night to make Facebook posts. No! This is a good reason why you should schedule your Facebook posts. Facebook Business Suite which is free of cost has made it so easier to achieve.
Posting quality content consistently is really the most important thing. It's interesting and fulfilling for your audiences to expect good posts from you regularly.
You could test this out to know the best time to post, but Facebook really suggests you post at least twice or thrice a week.
See Also: How To Target Wealthy Individuals With Facebook Ads
2. Be More Active in Facebook Groups
Being able to create a Facebook group is such a great way to get fans engaged in your Facebook activities.
What you really need to know is that meaningful interactions in most Facebook groups can help you create bonds and loyalty that'll lead to engagements on your Facebook page.
Joining and being active in relevant groups on Facebook is a very good way to connect with fellow entrepreneurs and leaders in the industry.
3. Keep It Short
It has been shown that people scrolling on their mobile devices spend 1.7 seconds quickly consuming content.
Those people browsing on computers spend only 2.5 seconds per content. The good news here is that people can recall content after seeing it for just 0.25 seconds. Interesting right? But the truth remains that you need to act fast to get their attention.
Make your posts short and interesting. This will get the attention of your target audience really fast and quickly. Remember, social media is a game of attention and it takes attention-driven strategy to win.
See Also: 12 Biggest Facebook Ads Mistakes To Avoid
4. Respond to Fans
There is nobody that won't love to be treated with a sense of importance. There is absolutely none.
If someone takes out his or her time to drop a meaningful comment on your posts, you have to make sure you return the favour with a reply.
There is really nobody that likes being ignored and left hanging.
If you can't handle all of this by yourself, of course, it's a bit tasking and demanding. We suggest you hire social media manager to handle that aspect of the business.
Most times, a really simple comment from your end can be so appreciated.
This is a smart way to keep your Facebook target audience glued to your page.
5. Use Facebook Stories
Facebook Stories usually appear at the very top of the newsfeed and have a lifetime of 24 hours. This is the best place to get attention to your content.
The use of Facebook Stories allows you to post as often as you want, without thoughts of the newsfeed.
Isn't this amazing?
You should try to build a good connection with your followers and audience. This will make them easily want to engage in your posts.
It might also interest you to know that about 62 percent of people become even more interested in a brand after coming across its story updates.
Facebook Stories is a great place to show the behind scene of your brand if you are a brand. Get your customers involved in your processes.
See Also: The Beginner's Guide to Facebook Marketplace in Nigeria
6. Add a Call-to-Action Button
A Call-to-Action button really gives people lots of Facebook engagement options far beyond just liking, sharing and commenting too.
Your CTA button can help viewers to:
Book an appointment

Contact you

Watch a video or videos

Click a link to your website

Shop your products

Visit your Facebook group etc.
7. Make Plans to Get Verified
A Facebook verified badge goes a long way to building trust and confidence with potential customers. It makes people know who they are talking to online.
It gives your visitors the impression that you are real. And definitely, they'll feel safe engaging with your brand.
Everyone tends to be distant from those pages, and pages that look fake. Having a verified page is a good way to go.
Firstly, pay attention to the kind of content your fans are interacting with the most. And the posting time that gets you more engagements on your Facebook posts.
There is a way the Facebook newsfeed algorithm works, it ties organic reach to how much fan engagement your posts get.
This simply means that the more likes, shares and comments you get on your posts, the more fans are likely to see your future posts.
This just means that you have to get our fans clicking. And to do this, your posts have to be clickable.
See Also: Digital Marketing: 20 Things You Should Know as a Beginner
9. Analyze Your Most Popular Posts
The key to increasing Facebook post engagement is to look inward. Let's say you have a post that swept your audience off their feet, you need to sit back and take an in-depth look at it.
Instead of treating that post as irrelevant, rather take out your time to recreate the same magic again and again. This will only happen if you are analytical enough to spot the reason.

To create a viral Facebook post, understanding your fan's activity is key. To make this easier for you, take a closer look at your Google Analytics to see what's really getting the most reach.
You might be surprised at the result.
10. Use Images
Visual content goes a long way to getting the attention of your audience.
Photos make your content much better on Facebook than on any other social media platform. People engage faster with visuals than links or even text. If you really want to improve your Facebook engagement, you should think of going Visual.
At the same time, you need to be really sceptical about the kind of images you post because that makes the entire difference. You should try and create your own pictures, this is much better than pulling out stock images.
Try to show the world the personality behind your business. You should also know that images are really powerful tools to get the attention of people and to stop their scrolling and think deeply about your posts.
Brands like GoPro kill it with their photo content.
See Also: Pinterest Marketing: 10 Great Hacks For Beginners
11. Go Live
Facebook Live videos have done a great deal these past years.
Live videos actually rank higher than ordinary videos. Facebook has reported that people spend more than 3x more time carefully watching a live video as compared to other forms of video on the platform.
And people really comment more on Facebook live videos than regular videos. Hence it is a great way to increase your Facebook post engagement. 
This is the secret to doing live videos from time to time. And also, live videos make your Facebook page look real and not fake. Your audience will feel free to patronize you without thoughts of negativity in mind.
In addition, Facebook Live video is a great way to increase your organic reach on Facebook.
12. Ask for Opinions
No man is an Island. It's really obvious that people only tend to comment when they have something to say. But it's not always possible when we don't offer them a chance to speak.
Asking questions is such a good way to enable your followers to share their thoughts.
You could share blog posts or news and ask your followers about their opinions. Your content might vary depending on your audience.
If you have a lifestyle brand, you might choose to share lifestyle news because that best fits your niche.
If you are a writer, you can seek the opinion of your audience in the best book cover. It is the best way to get them involved and increase your Facebook post engagement.
See Also: The 11 Best WordPress Hosting To Consider
How to Increase Facebook Post Engagement FAQs
Why is My Engagement so Low on Facebook?
You are updating too many or too few posts – The more you post on Facebook in a day the lower your engagement rate. According to SocialBakers, if your post is fewer than 2 posts per week, you will not be able to keep your audience asking for more and you will lose engagement.
Why Don't my Facebook Posts Get Likes?
If your Facebook fans ignore your post, the less of it they see over time. This implies that, if you're not posting regularly, you're letting the engagement affinity fade. When you finally do post, your reach is low because it has been a while since you posted. You will remain there until you reignite your engagement again. 
How do I see my Post Engagement on Facebook?
Goto your posts tab and tap on post types. This will generate a list of all your posts and their average engagement for a specified duration. Scroll to your posts tab and go to the All Posts Published list.
You can sort posts by Likes, Comments, and Shares to view the total engagement by each post type.
See Also: 15 Smart Ways to Make Money on Facebook in Nigeria
Are Facebook Insights Free?
Facebook insight is a free analytics tool available to all page owners. It showcases vital metrics like page likes, comments and shares. This tool is divided into paid or organic reach.
Hence, allows you to appreciate the significance of your boosted post, post reach, metrics of video views, and all the other actions performed on your Facebook business page.

How do I Read Facebook Insights?
To access Facebook business page insights,
Visit your Facebook Page

Click insights in the top menu.

If you don't see Insights in the menu, click More to bring it up.
You'll be directed to your page overview, which you can also access again at any time by tapping overview in the left-hand menu of your business page.
What is the Difference Between Post Reach and Post Engagement on Facebook?
Facebook reach is the number of users that viewed or saw your post. On the other hand, Facebook post engagement metrics indicate actions beyond just only views.
Facebook defines engagement as actions including all clicks, not only limited to comments, likes and shares.
Note that the higher the post reaches the lower the engagement because more people have to interact with your post to have a high engagement rate.

How do I Get my Facebook Page Verified?
To get your Facebook Business Page Verified or the verified badge, you have to request Facebook page verification.
If your page meets the requirements, you can fill this form to request your Facebook-verified badge.
Conclusion
A few years ago, your Facebook post was able to reach almost all of your own Facebook followers via organic traffic. This is still true on many social channels and online assets, but not true on Facebook.
Generating organic traffic is so important because you've invested money, time and effort to get your fans in the first place.
However, you can't depend on just organic traffic to increase Facebook post engagement anymore. You need to take a deeper dive into tactics to keep your Facebook fans on your page.
The game is no longer the game as the rules of the game have changed over the past decade, but the basic goal still remains the same. You want customers to offer you their time (as well as their money).
With the increase in content posted to Facebook daily, it means that the social platform has over time become more selective to the content shown to its users.
Perhaps, this is good news for users as they are now not being shown irrelevant content.
But it's absolutely dreadful news for online marketers!
Following the above tactics, you can be sure to increase your Facebook post engagement without much stress.