Are you maximizing the best video marketing tools for your business?
If your answer is no, it's time to be up to speed with video marketing.
Video marketing is one of the best ways to market your brand online. It is an effective way to engage your customers as well as generate traffic to your site. People spend over 5.5 hours daily consuming video content online.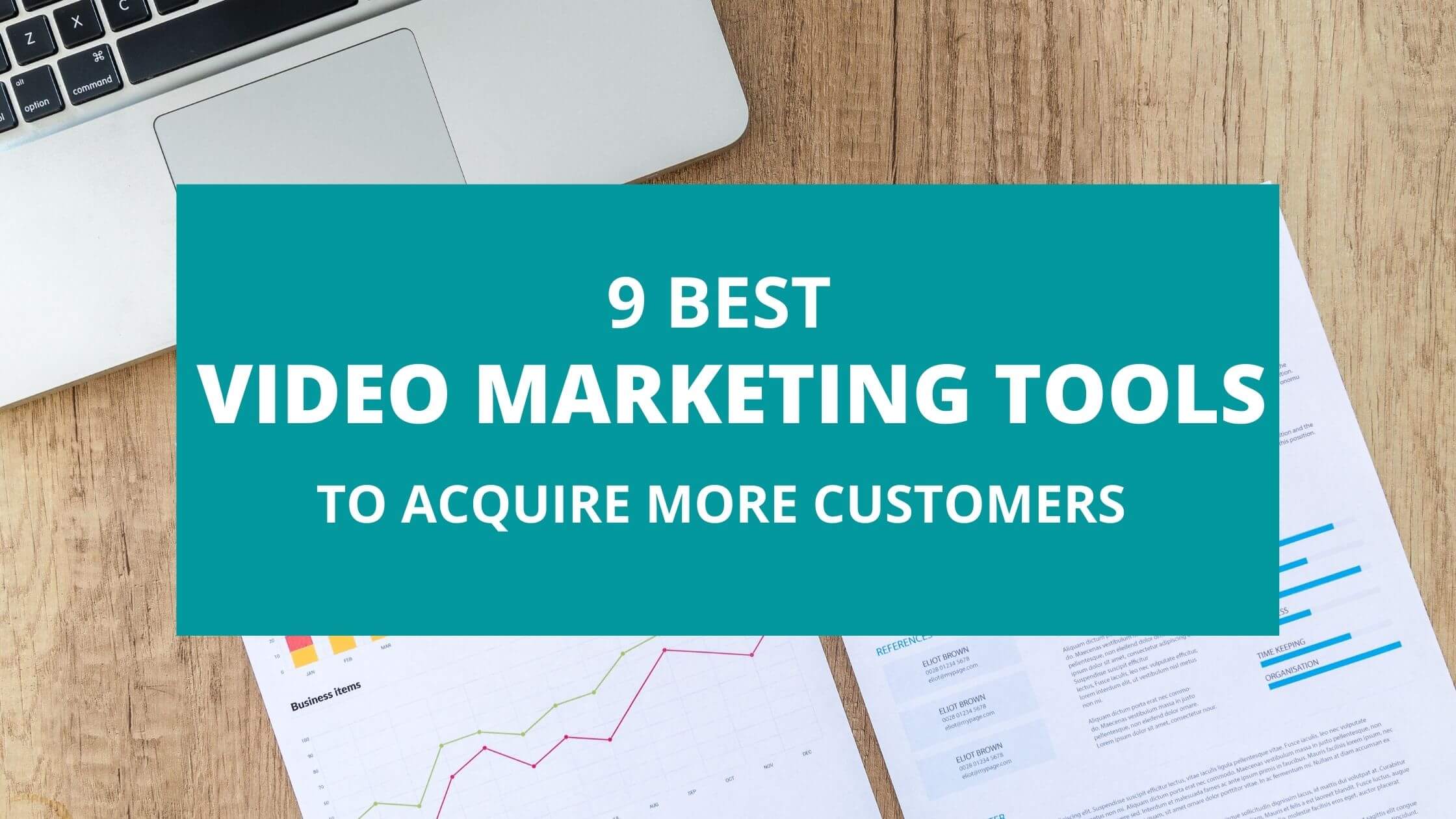 Also, social media added great value to our lives with about 4 billion people watching Facebook and YouTube videos daily.
Besides, this shows how popular video marketing has become. Studies have found that there will be over a million minutes of videos watched per seconds on the internet. That is huge.
It's clear that video marketing has come to stay.
9 Best Video Marketing Tools Ever for Online Marketers
Below are the best video marketing tools to skyrocket your online marketing today.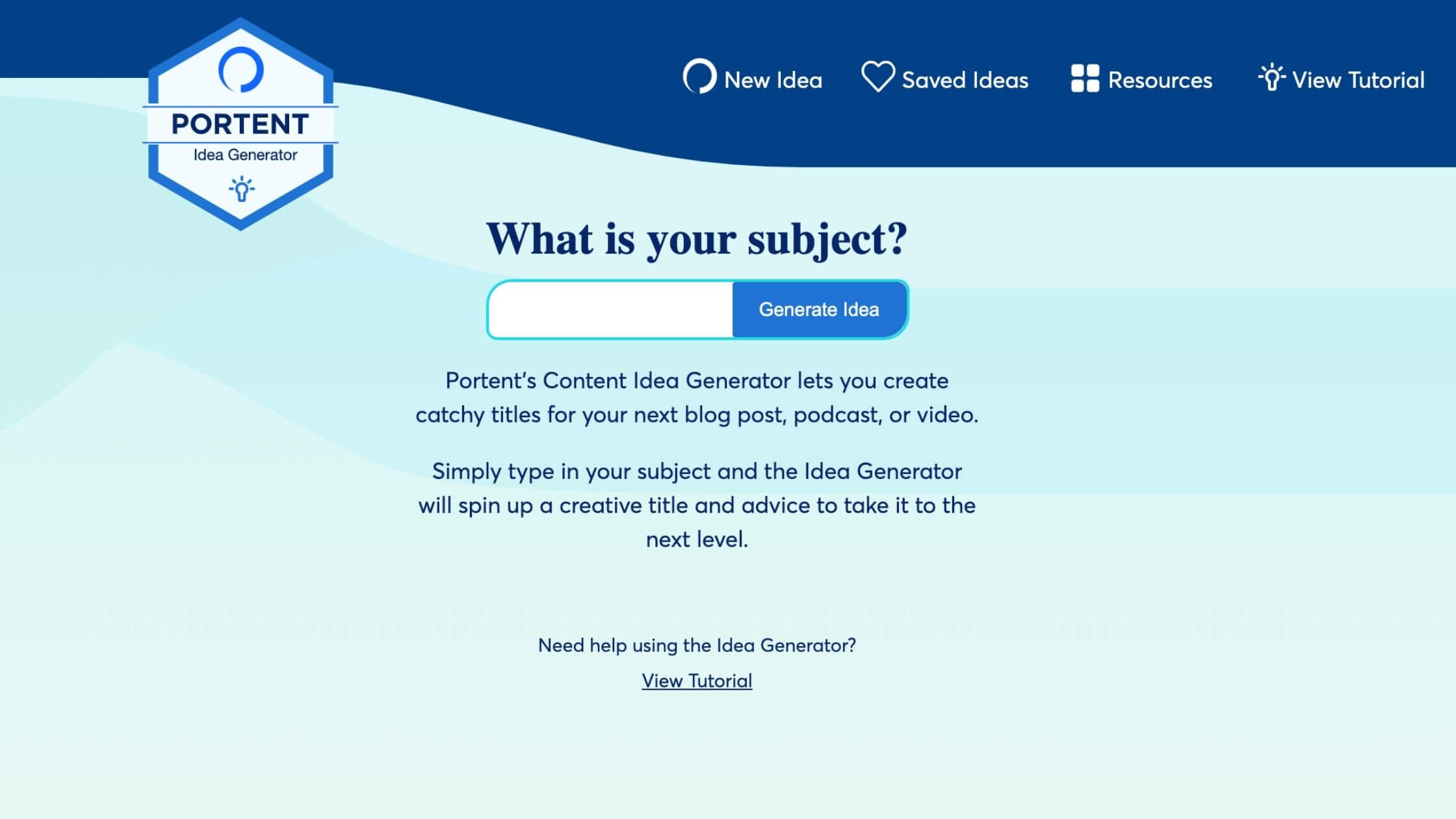 1. Portent Idea Generator
Have issues with keywords? Do you need a free extra hand? Try This Pontent Idea Generator.
Having a tool at your disposal with the inbuilt features to continue giving you titles based on your preferred subject proves to be very helpful in Video marketing.
The Pontent Idea generator is a very great tool to start using today. Also, the Portent idea generator will maintain SEO while exploring your preferred keywords. 
In addition, the Portent Idea Generator is absolutely free costing only 0$ per annum.

How to use The Portent Idea Generator Tool?
Visit the official address

here.

Create a subject. A subject could be your preferred keyword.

Click on the Generate idea button.

Click on the see another title button, if the title does not meet your desires.

You can also save the idea, and tweet the idea.
See Also: How to Increase Facebook Post Engagement Really Fast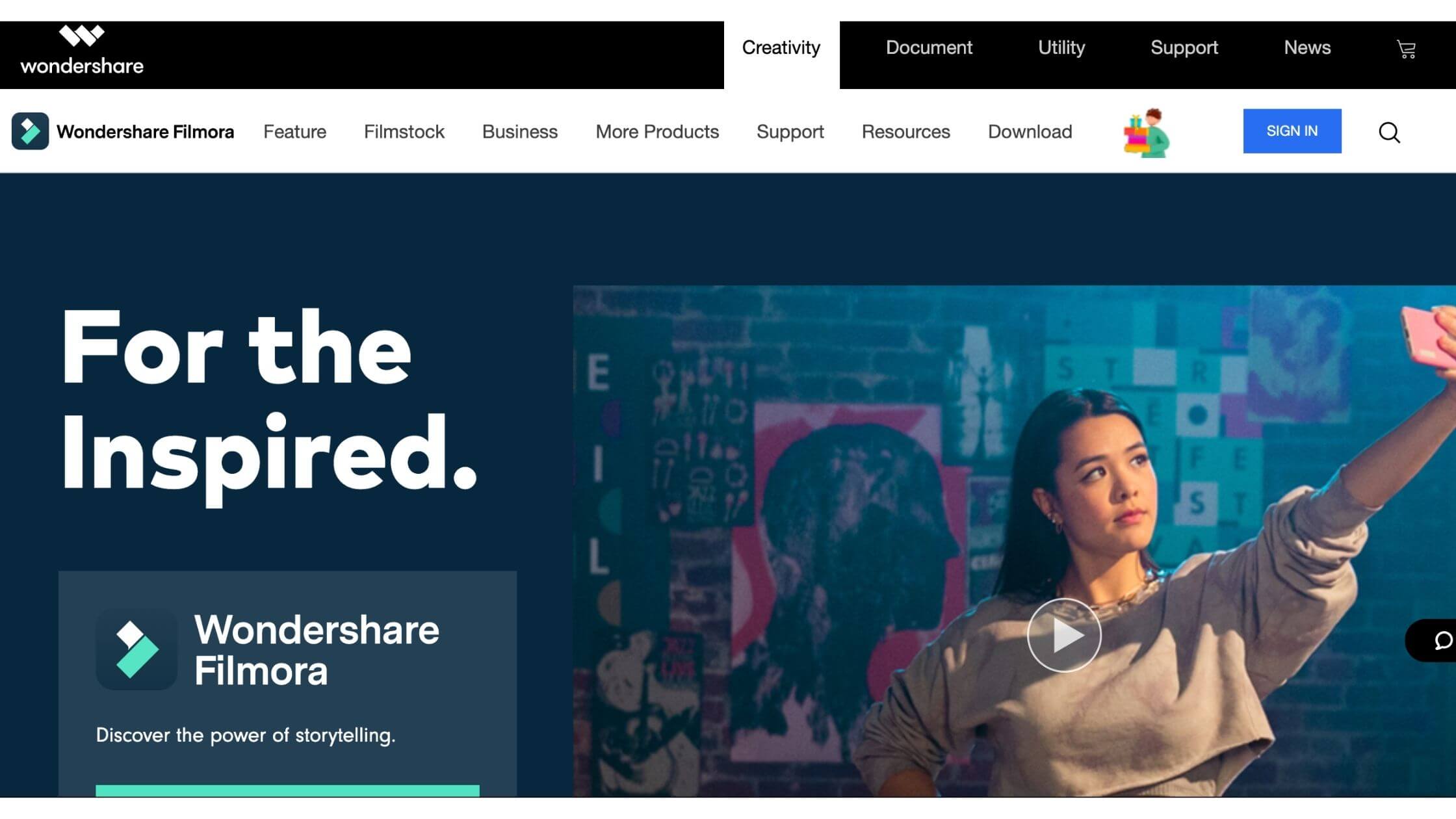 2. Filmora
One of the very best video editing tools out there today with features you cannot find in any regular video editing software. With Filmora you can edit Speed, color effects and changes, brightness, etc. 
Filmora has a very highly recommendable interface that makes video editing very interactive. With Filmora the creation of brand-boosting videos just got easier. 
Perhaps, another major benefit of the Filmora platform is, it is available on Windows and Mac. It is also available on the Android Operating system and the IOS. However, Filmora does not offer a free trial as at the publication of this writing. See pricing here.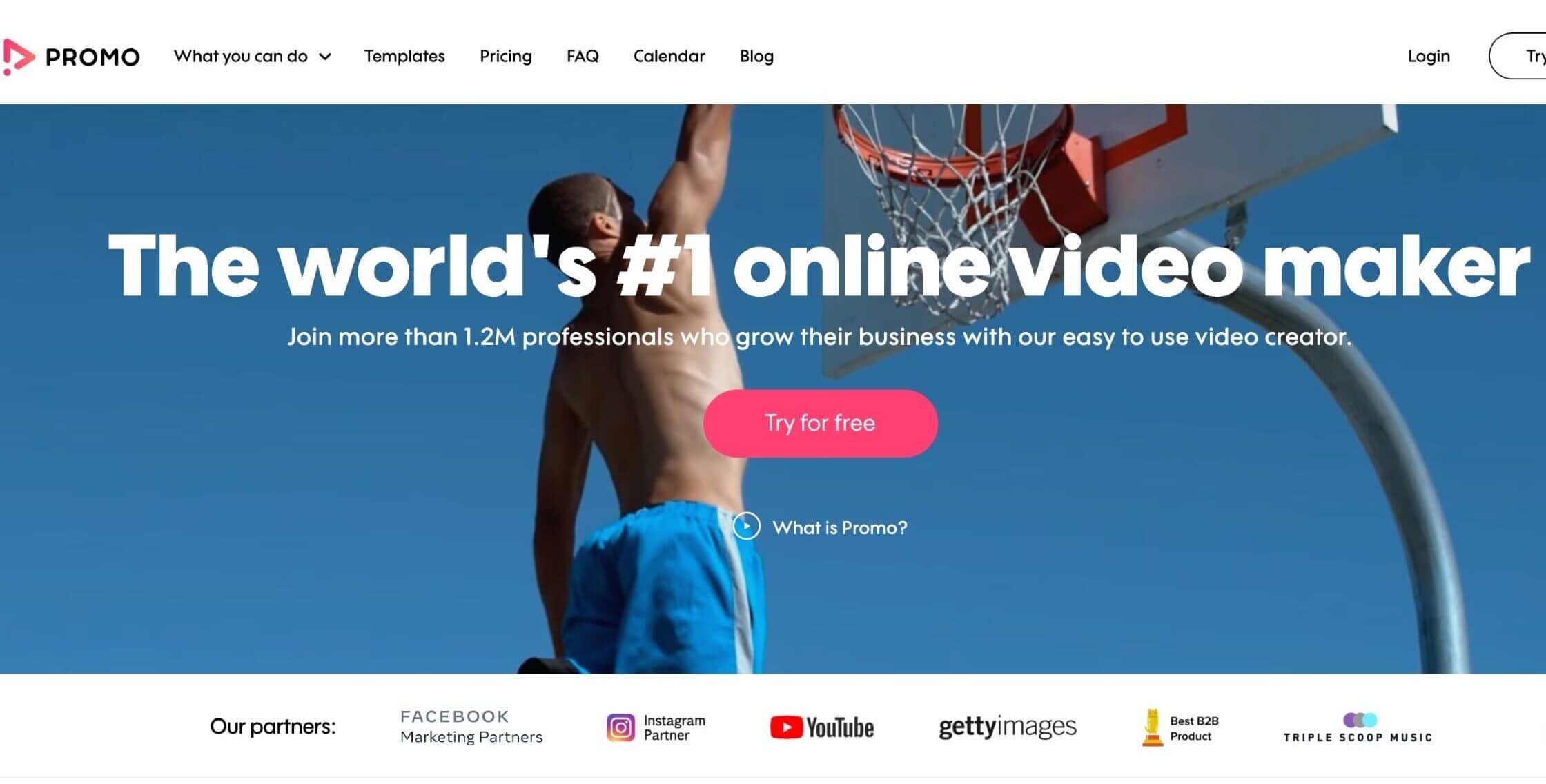 3. Promo
With Promo you can create Promo Videos, Facebook ads, Instagram ads, Youtube ads, LinkedIn ads for industries and platforms invested in the business niche, real estate niche, marketing niche, travel, E-commerce, and recruiting & HR.

What is Promo?
Promo according to the time of this publication is a marketing partner for Facebook, Youtube, and Instagram. With this online video maker, you can be sure to create and have to yourself, standard videos.
Stock Photos, clip arts that have been licensed are also available for use on the platform. 
Other tools available within Promo are: 
The Photos to video maker

Social media calender

The Image resizer

Facebook Video Covers

A free online collage maker
Not all video makers grant the ability to crop a video to fit a particular social media size. 
However, with promo, you can showcase your inbuilt creative skills by doing all these and more.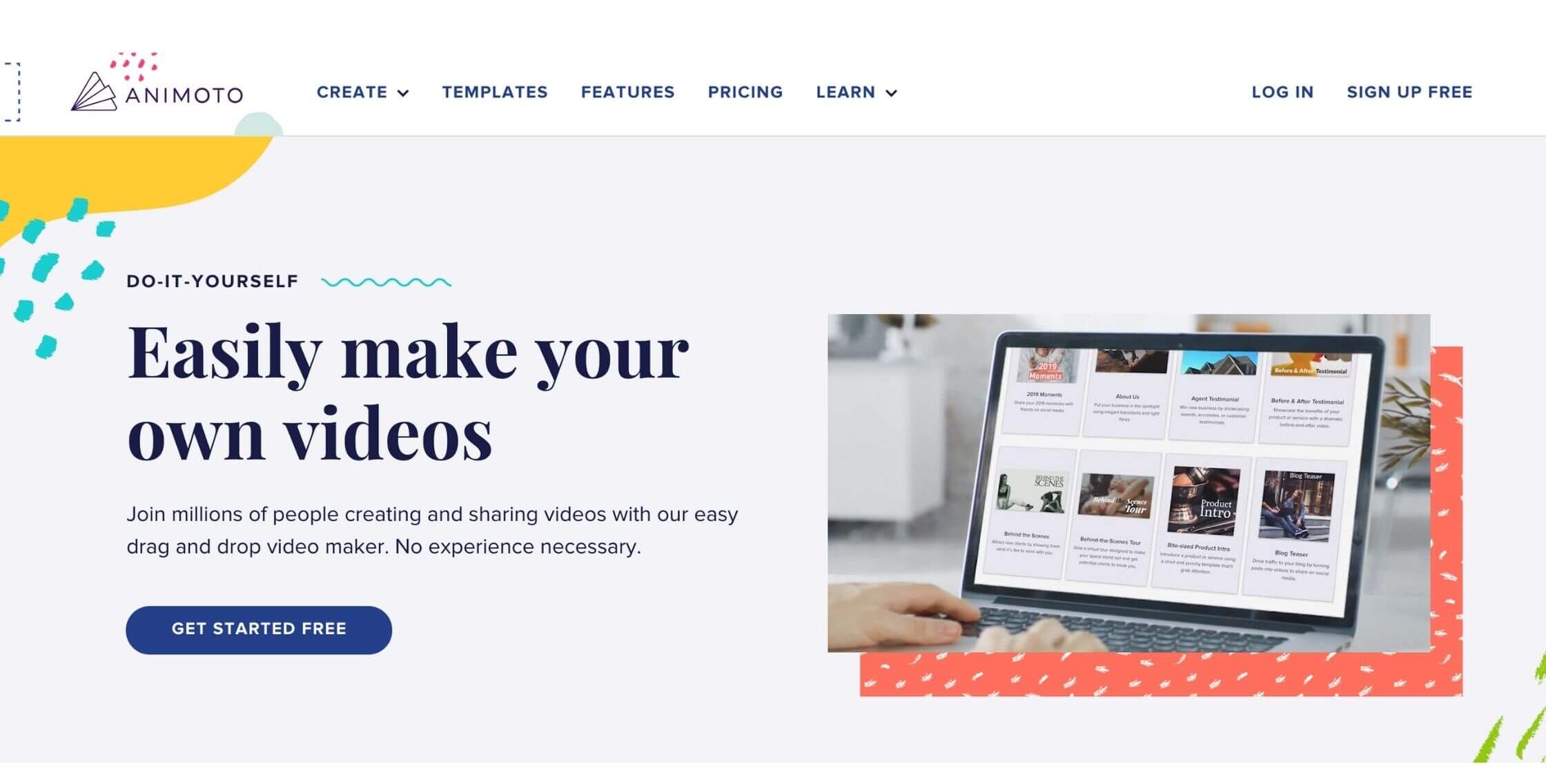 4. Animoto
Animation can be very captivating to behold. When used in advertisements, you can be sure to gain the attention of a greater half of the viewers you aggregate. 
With a drag-and-drop tool, it couldn't get any easier to build and customize animated videos for your individual or highly business-related purposes.
Animoto is a very professional tool advocated highly for the creation of concise, animated, and or photographic videos.
All users have the access to the cloud-based editor and a library of music.
Also, a major feature of the Animoto platform we cannot fail to mention is picture integration. A Getty Images stock library comes preinstalled. 
However, Animoto has a free price plan but with the condition of their watermark on your videos. To avoid this, you can opt to sign up for their very affordable price plans.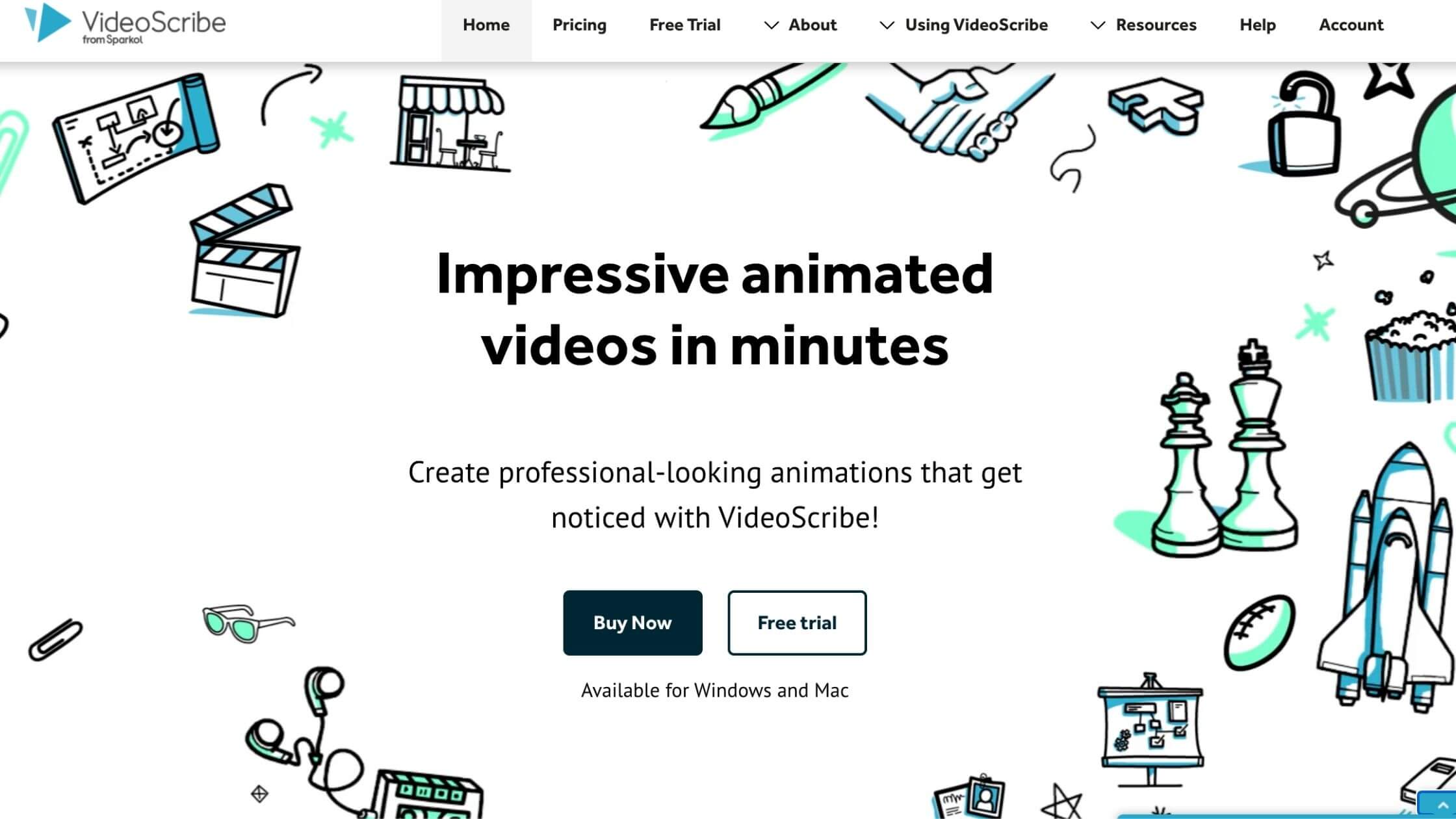 5. Video Scribe
Video Marketing as though you have a story to tell? Get your audience interested in knowing what comes next?
All these are very possible with VideoScribe. Creating simple and very effective videos that induce a profitable video marketing reach.
Also, with VideoScribe, unlike other publicly made available tools, you see a hand doing all the animation, alongside a dashing commentary section. 
VideoScribe is used to create explainer videos that help end-users and you, by explaining the use of products or the importance of services rendered.
It is highly educational, it serves the end-user a first-hand tutorial on whatever you have to offer. It is one of the very best video marketing tools to use, as an online marketer.
Video scribe is very affordable, see pricing here.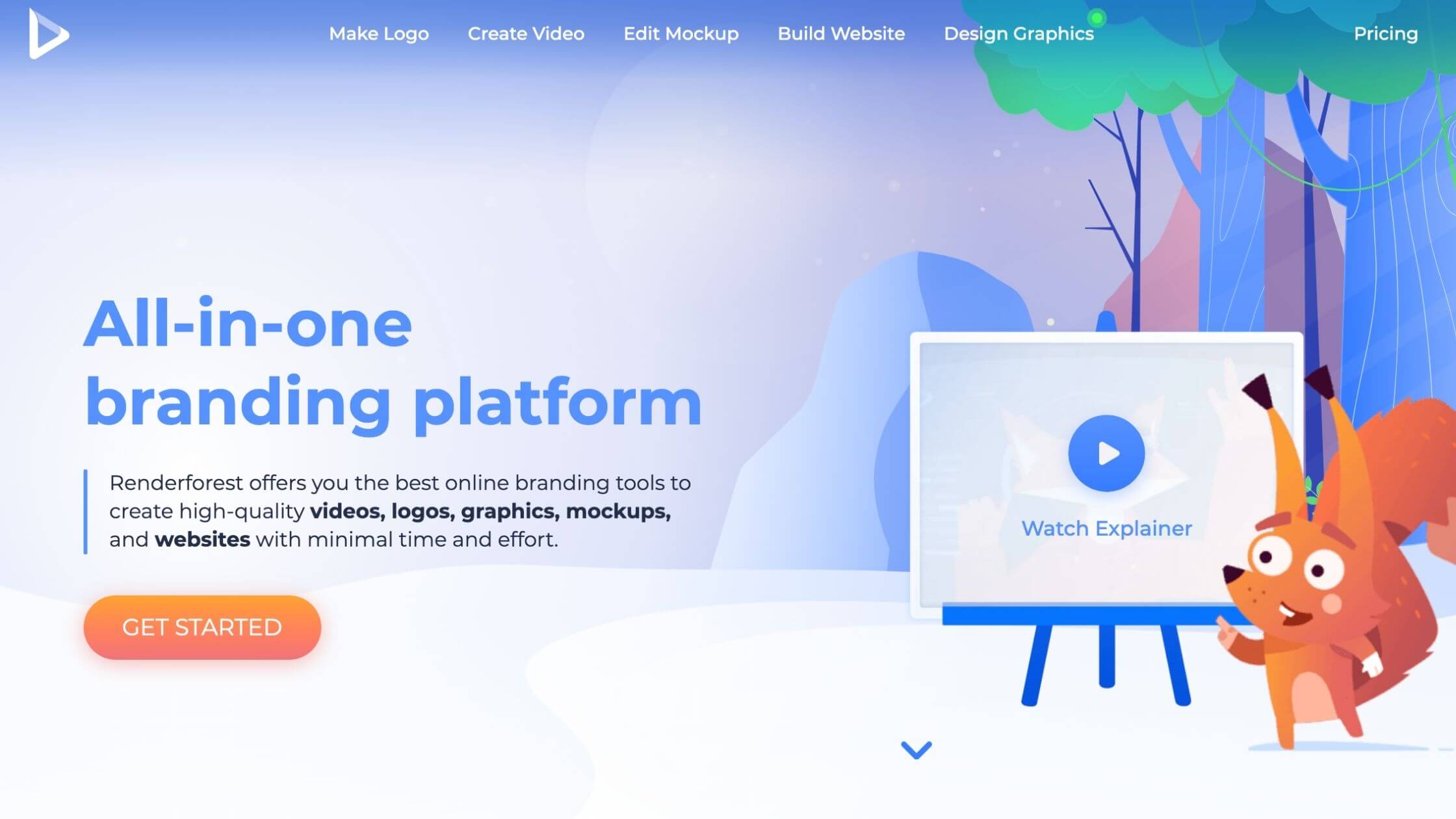 6. Render Forest
Render Forest makes it extremely easy to create branding for any organization, or business. With Render Forest, you can render high-quality videos with explanatory content in minutes.
Render Forest is another video marketing tool to utilize as an online marketer. With render forest, you do not necessarily need to be an expert at anything but following instructions.
To properly use Render Forest you must:
Choose a template from among the five publicly made available categories

Create and edit your template to suit your needs and requirements

Preview Your Video as soon as you are done with the edit

Render. 
Although render forest offers a forever 300MB storage subscription plan, we believe the rest can be considered even more profitable. See Subscription plans here.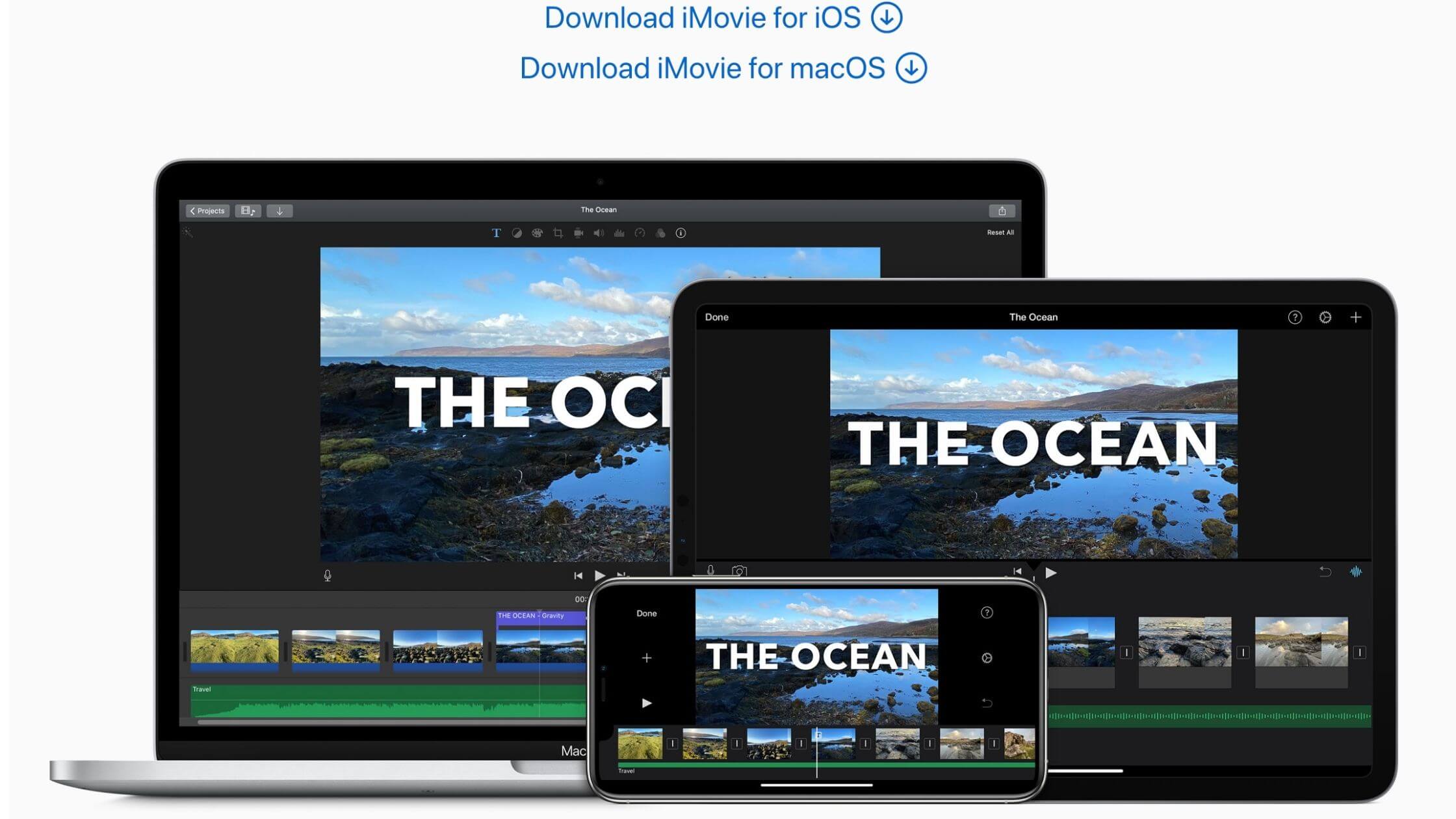 7. iMovie
Fortunately, only iOS users can enjoy this premium-worthy video marketing tool. It is a video editing software developed by Apple, and officially released in 1999. Over 21 years and counting. It is still one of the best video marketing tools ever for online marketers.
However, as earlier stated, the video marketing tool is only available to apply devices. iMovie is absolutely free! And according to the latest popular reviews, it entails peculiar tools for color grading, speed, green-screen effect and so much more.
How to use

iMovie

?
The very first thing you need to do is create an iMovie Project, after which you will have to import the clips you prefer. Editing your clips comes next. Editing every transition. Adding filters, etc.
iMovie is one of the very best options to choose from today for video marketing tools. Download here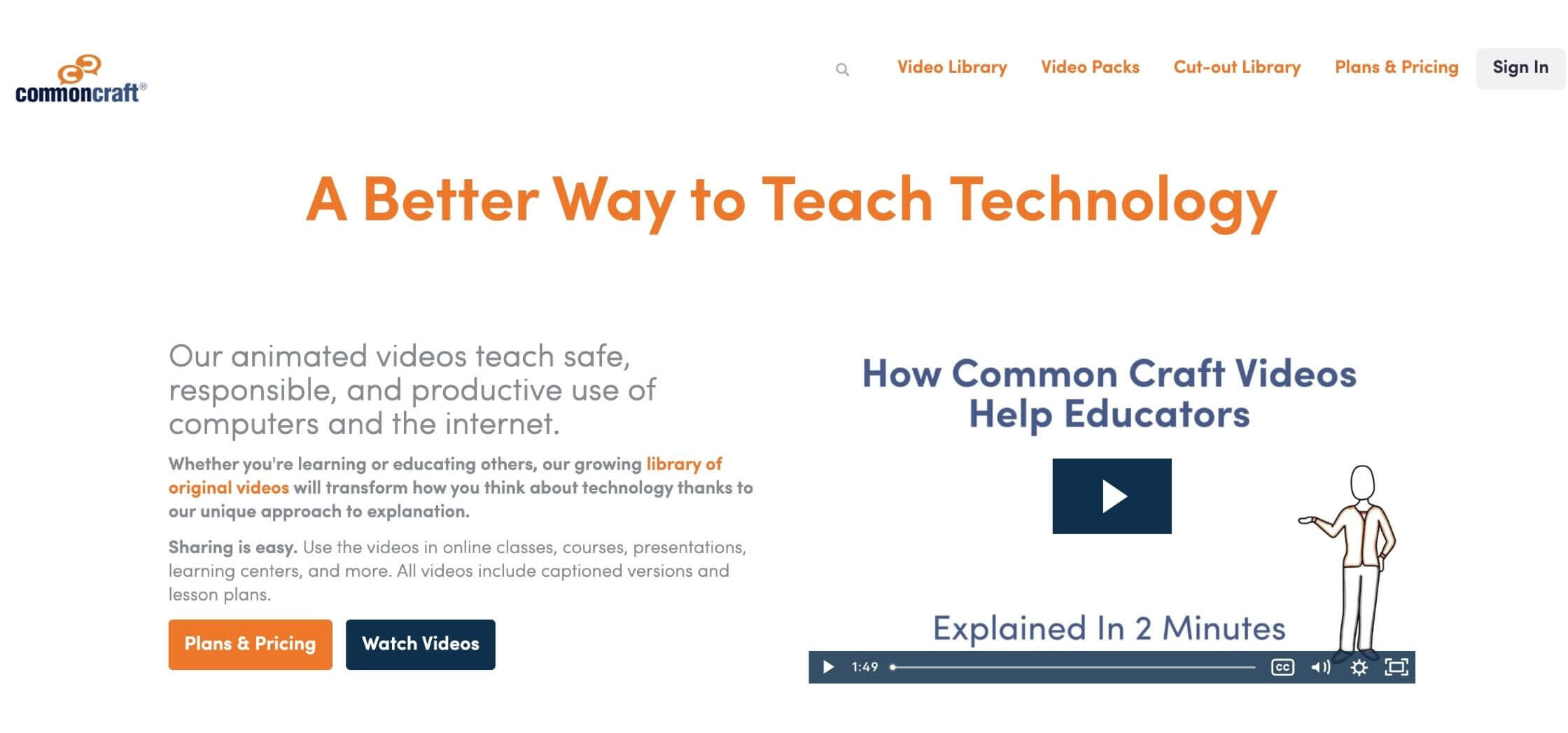 8. Common Craft
Very easy-to-use video marketing tool for online marketers. The Common Craft is very suitable for animation creation. They offer a service where you can evaluate your videos for free before making any purchases. 
Common craft made it a whole lot easier to upload and record direct videos to edit.
Also, the Common craft can be used effectively to create explainer videos. High-quality and intensity-driven quality videos could move your audience to a state of heightened emotional effects.
Common Craft also permits the addition of very beautiful music. Whether you are a student, designer, online marketer, or video editor, Common Craft is ideal for you.
To see Common Craft subscription plans now, click here.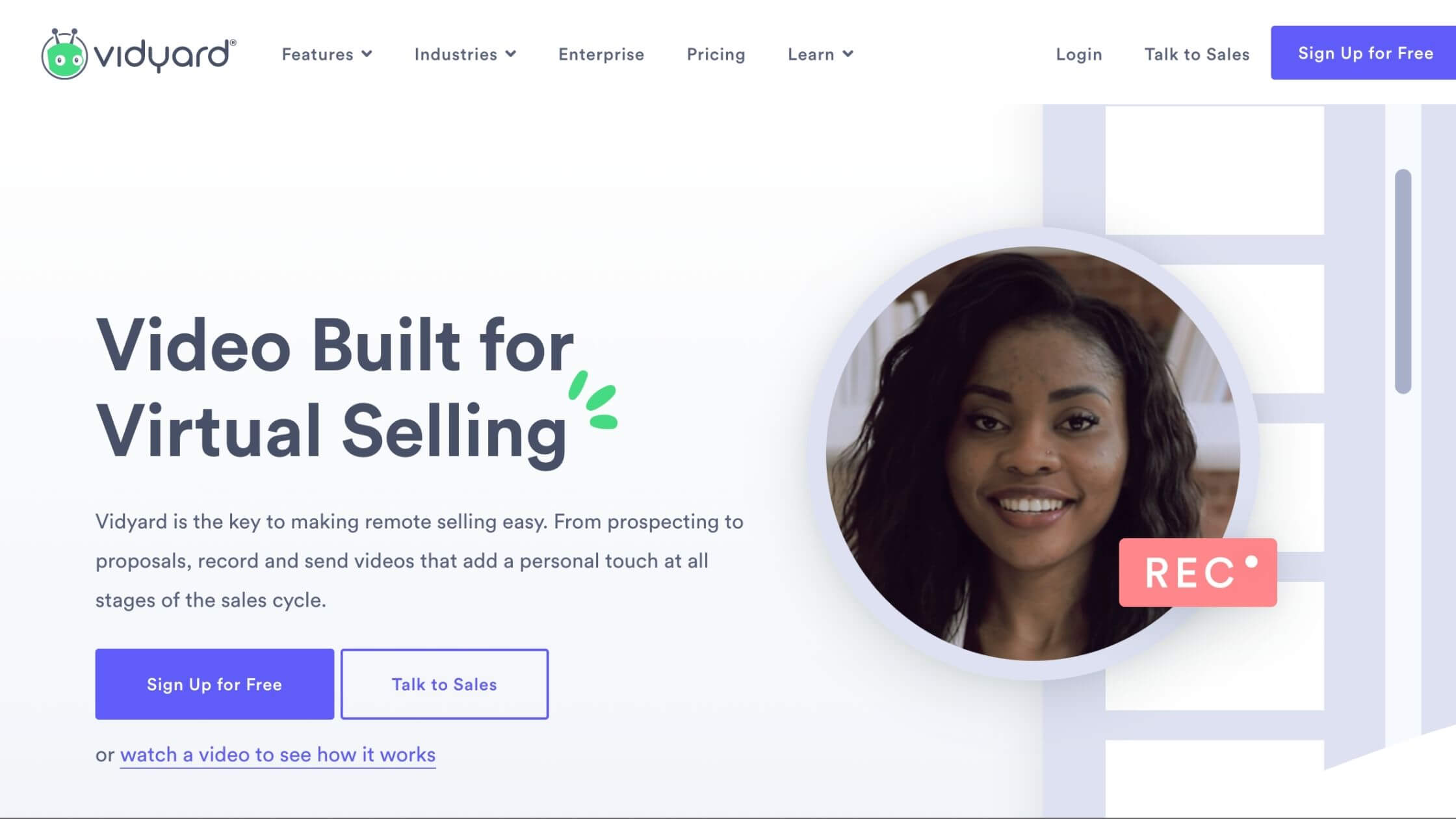 9. Vidyard
How about using a video marketing tool used by top companies such as Lenovo and Citibank?
Yes, Vidyard is one of the best video marketing tools ever for online marketers.
It is specially designed for attention-grabbing. Vidyard also provides an in-built analytics system to help monitor your video marketing performance.
Vidyard is highly recommended because they often offer services like employee training, lead generation, and corporate communications.
It also makes it a whole lot easier to share all content on social media.
In addition, Vidyard's recording is limited however to 1 hour, but you can record as many as you choose! Get in Vinyard now.
Why Every Online Marketer Needs a video Marketing Tool?
More than 52% of Facebook marketers leverage video content more than images. Video content generates more engagement.
This is because a video would prompt a user to stop scrolling and pay attention, especially if you use any of the above lists of best video marketing tools ever for online marketers.
Users have advanced to a system where they can digest picture/image content as they scroll, however, such cannot be said about video content.
With video adverts, you can be sure of an increase in conversions.
Also, videos are addictive if everything is set up correctly, giving whoever is watching an end-to-end connection with the content.
Videos for marketing could be very direct time-saving, helping to convey a lot of messages in a few clips. Therefore, Video-based adverts will be more engaging and you can expect incredible results if you have one of the above video marketing tools to work with.
Conclusion
Lastly, every online marketing strategy that would involve the addition of video content can be very rewarding.
However, poor video content creation and marketing can result to effort in futility.
To increase video marketing rewards, implement the effective use of at least two of the above-mentioned best video marketing tools for online marketers.