OwoDaily is an online platform that enables individuals to collaborate and engage in online tasks, organise and promote campaigns, earn incentives and bonuses and actively take part in digital trading.
The platform exists to assiduously better the lives of entrepreneurs, grow businesses and cater to the welfare of the Nigerian masses. 
OwoDaily aims to give everyone the freedom to earn a living from any part of the country and get paid by undertaking online jobs or participating in sales promotion as OwoDaily+ partners.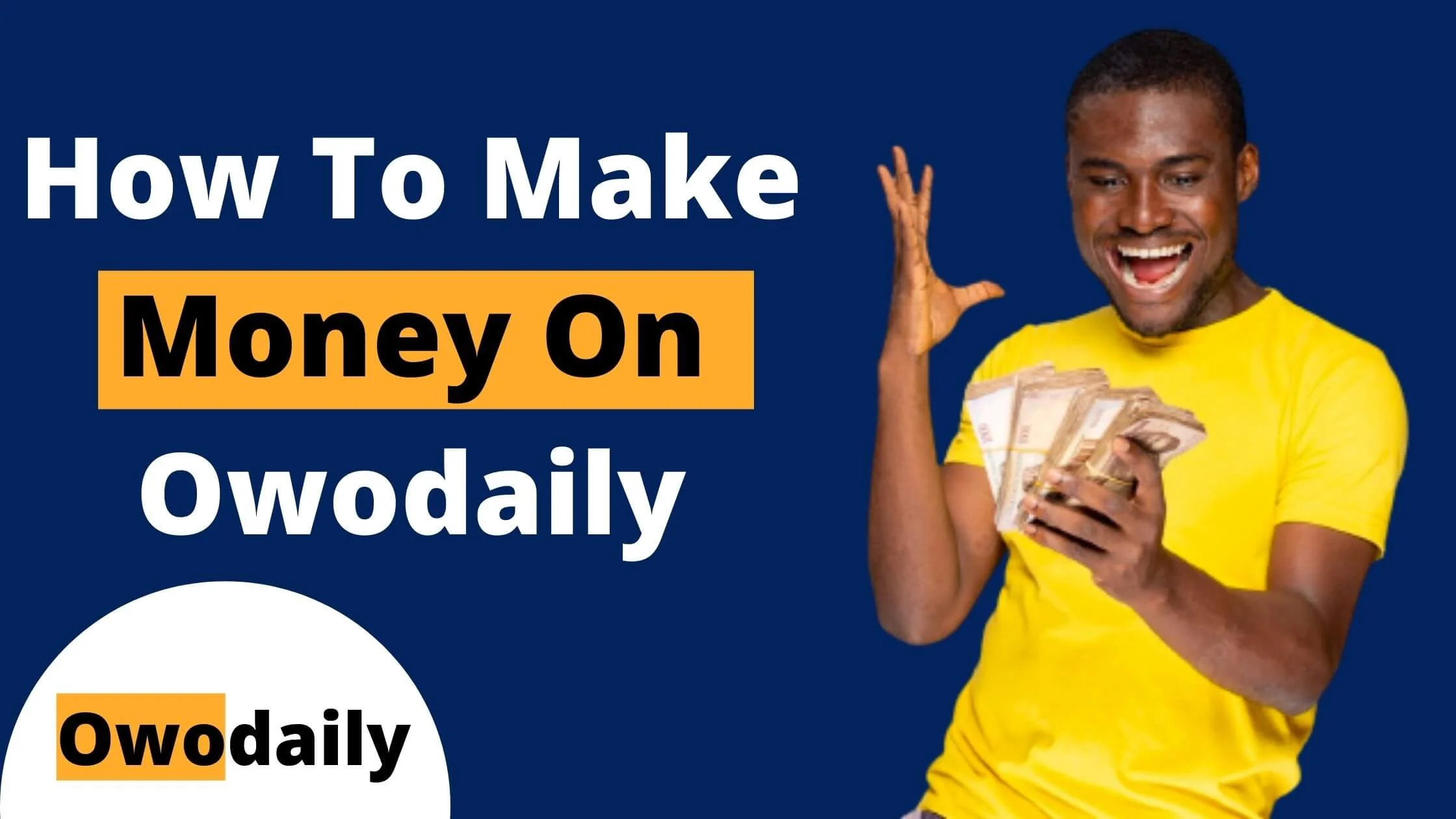 On the site, lots of Nigerians receive commissions for their services or earn rebates for sale transactions. 
OwoDaily revolves around the remote work culture as anyone can earn from the platform without leaving their home.
The site also facilitates affiliate marketing relationships between Nigerian businesses and online workers with the goal of helping the former increase their customer base and boost their awareness.
With Owodaily, you can start affiliate marketing without a website even if you're a beginner.
In this article, we will explore Owodaily reviews, ways in which you can make money on OwoDaily and how to register for Owodaily.
See Also: Top 21 Online Investment Platforms in Nigeria
What is OwoDaily?
OwoDaily's business model has been described by many analysts as a "crowdsourcing and outsourcing" platform. It is a freelancing hub that links up marketers and brands with online or remote workers or freelancing in a bid to execute tasks. 
These tasks may involve the installation of apps, social media engagement, following or commenting on Instagram or Twitter, writing reviews and a YouTube channel subscription. 
OwoDaily was launched in 2015 with a vision of enriching Nigerians through getting paid for small online gigs. To date, the site has disbursed more than 50 million Naira to its numerous members.
How To Become A Promoter On Owodaily
To register as an OwoDaily promoter, head to the signup page of the site and input your private data under the Owodaily+ section. 
You can complete your account setup by paying for your membership. This will enable you to promote your accounts on social media and YouTube channels.
Set up your business registration account. Choose the kind of promotion you are interested in and then tap 'continue'.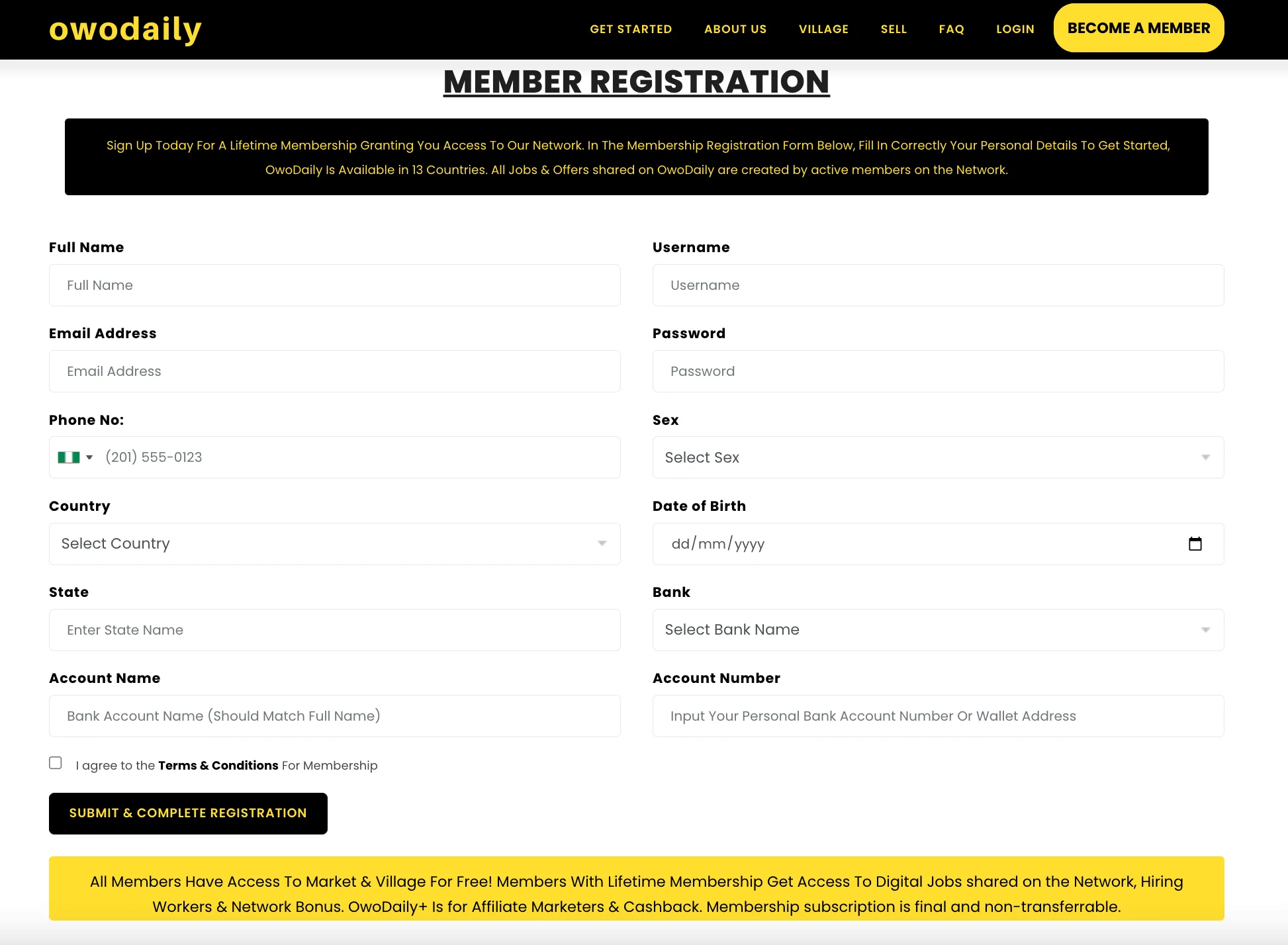 To sign up for OwoDaily, read the instructions below:
Access the OwoDaily website here.

Locate the registration section. 

Enter your name and choose the desired username. 

Fill in your correct email address. 

Choose and fill in your desired password. 

Choose your country.

Input your phone number.  

Fill in your birth date. 

Select which state of the federation you are from.

Enter your bank name.

Fill in your correct account number.

Agree to OwoDaily's terms of service by ticking the checkmark.
How to Make Money on OwoDaily
Let's find out you can make money on OwoDaily. There are five ways to earn cool cash via the platform. 
Member
After successfully setting up your membership account, you will enjoy full access to the platform and execute existing tasks without hassles. 
After registration, you will have no more problems earning money on OwoDaily. 
Business
After setting up a business account and getting the necessary approval, you can use the website to market your business or brand. 
Through this manner, you can post tasks for members of the OwoDaily community to carry out. This can help bolster your sales conversion rates and create awareness for your business. 
Linking your business to OwoDaily is a great way to add value to it. The platform has highly capable freelance marketers that can help you promote your business across multiple social media channels, improving your brand image. 
Partner
OwoDaily partners can make money by delivering and supplying gift cards to new and current users on the website.
But before you partner with OwoDaily, you will have to apply directly and gain approval. Without doing this, you can't sell your gift cards on the platform. 
How do you become an OwoDaily partner? Just send out an email message to [email protected].
Digital Marketer
Digital marketers can also earn money on the platform. Businesses at OwoDaily will pay you for your marketing expertise. 
Another way of making money as an online marketer is by outsourcing your services. Thus, you can enjoy the profit and experience better service rates. 
Also, you can market your products on the OwoDaily platform. You are more likely to make quick gains because of its large user base. So, you will be able to sell off your product faster through the efforts of OwoDaily affiliates.
Affiliate
Like other affiliate marketing sites, OwoDaily rewards its affiliates with financial incentives, especially when they refer new members to the platform. 
For instance, whenever someone joins the platform via your referral link, you will earn a 50% affiliate commission. OwoDaily Plus affiliates receive a fixed commission of 3,000 Naira. 
Note that every OwoDaily member is an affiliate and can receive a commission if they refer new members.
Tasks and Services that Can Earn You Money on OwoDaily
App/Website Review
New app and website developers who require reviews from the app store can post tasks on OwoDaily. Thus, if you need better reviews for your new app on Google or the Apple store, you can list the job on the platform. 
To earn money, users will be required to add positive reviews and comments on apps in the Play Store. 
Content Creation
Users skilled in content writing can make money on the platform as website owners and media companies post writing jobs regularly. 
Facebook Promotion 
Business owners and entrepreneurs use OwoDaily for brand promotion on Facebook. They can opt to grow their Facebook page or group through user activities on the platform. 
For instance, users can help execute tasks like Liking, Commenting, Sharing or Joining Groups. OwoDaily users will earn money depending on the type of task they perform.
See Also: How To Target Wealthy Individuals With Facebook Ads
Instagram Marketing
Just like Facebook Promotions, small businesses and entrepreneurs who want to improve their brand awareness on Instagram can register on OwoDaily and list tasks for users to publicise their pages on Instagram.
Users will earn money through simple activities like following a page or liking a post. 
Promotion on Twitter
For businesses aiming to increase their follower base or boost visibility on Twitter, OwoDaily is a fantastic tool that can help achieve that. 
Users on the platform will earn money through micro tasks like commenting and liking tweets as well as following accounts. 
Promotion on YouTube
For YouTubers who want their videos to garner views or go viral, OwoDaily can be an effective tool to achieve these goals. 
Those in need of this service can list these tasks on the platform and have users share, comment, view and watch their Youtube videos. This can help improve the chances of the video going viral.
OwoDaily users are paid for properly executed tasks. 
Music promotion
To encourage fans to stream or download their latest songs, music artists can use OwoDaily to create awareness in this regard. Users will be paid when they share songs on social media or stream a new project. 
Lead SignUp
OwoDaily is effective for lead generation and signups. Businesses engage users on the platform to sign up for their new products and brands.
How to Make Money on Owodaily FAQs
Is OwoDaily legit?
Yes. OwoDaily has secured government registration with the Corporate Affairs Commission using the company name "TeamXclusive Africa Online LTD". OwoDaily is also a trademarked name with Nigeria's Ministry of Trade.
What are the Membership Payments for OwoDaily?
Membership entitles you to the platform's online jobs and referral incentives. OwoDaily+ is mostly for people interested in earning rebates. It's also great for Affiliate Marketers. OwoDaily+ is exclusively for committed users.
Below is the list of membership payments for the platform. 
Membership Fee (Paid only once) – 3,000 Naira
OwoDaily+ (For Active Members) – 10,000 Naira 
Seller Account Registration Fees – 15,000 Naira
When Can I Make Withdrawals?
Payments on OwoDaily are sorted out on a weekly basis. Members are free to request withdrawals, and the payments are transferred to the user's bank account.
Note that you must meet the minimum payout threshold before you can request payment. 
Who Can List Jobs on OwoDaily?
Jobs are generally listed by members of the platform. Even businesses post daily tasks for users to execute. 
Is OwoDaily an Employer of Labour?
OwoDaily does not generate employment per se; it provides a channel where users can access online jobs. 
Every day, businesses and digital marketers look for users to accomplish tasks and make money on the platform. 
Is it true that jobs are posted on a daily basis?
Yes, jobs are listed on OwoDaily nearly every day.
Are there other platforms that pay daily, like OwoDaily?
Yes. A few examples are:
Dataway: Register on this platform and become a professional affiliate marketer. When you refer anyone, you earn 50% commission and 1 gigabyte worth of data, amongst other benefits. 
Videomine.org: A unique website that enables you to generate more cash by doing simple tasks such as viewing movies, visiting sites daily, and uploading internet videos, amongst others. 
24/7WAVE: A platform that empowers users to leverage the power of the internet and convert their drab social media accounts into a source of passive income.
How do I Register for Owodaily
To sign up for Owodaily, follow the steps below:
Launch your web browser.
Visit Owodaily registration page here.
Click on Become a Member.
Fill in the requested information accurately.
Make the payment depending on the package selected.
That's all! You're now an Owodaily Member.
Conclusion
As the rate of poverty and unemployment increases in Nigeria, OwoDaily is a veritable tool for income generation.
It is a simple, hitch-free way of making legitimate income.
This article successfully explores the best ways to make money on OwoDaily. 
Good luck!
Also Read: