If you haven't tried Owodaily yet, you're missing out on a great opportunity to make your own money online.
OwoDaily is a new kind of social platform that enables individuals to make money by completing simple tasks and engaging with others online.
This means that users will have more time to do things that are important to them as opposed to just filling their days with work.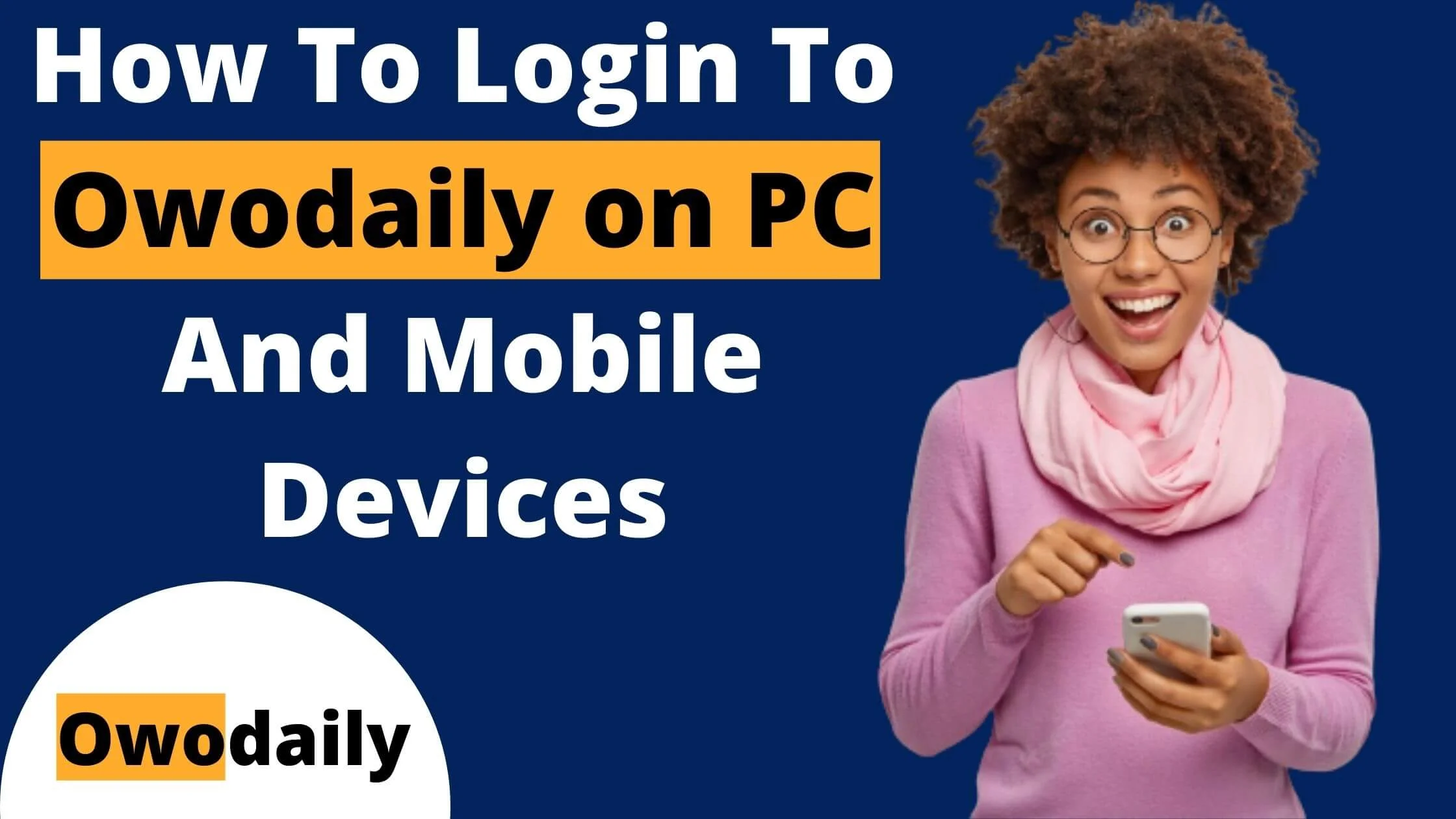 The best part about Owodaily is that it's so easy to use. You don't have to be tech-savvy to make money with Owodaily.
If you'd like to know how to log in to Owodaily, read on.
See Also: How to Make Money on Owodaily [Simplified]
Requirements to Login to Owodaily
All you need is a computer or smart phone, an internet connection and your login details (email address and password).
NB: You must be a registered member of Owodaily to be able to log in to the dashboard. If you're yet to sign up for Owodaily, you can do so here.
How to Login to Owodaily
To login to Owodaily, kindly follow the steps below:
Go to the Owodaily login page here.
At the top of the screen, tap on the orange Login button.
Next, enter your username and password.
You will be redirected to your Owodaily dashboard to complete tasks for the day and earn money.
5 Owodaily Alternatives for Nigerians
Can't log in or sign up to Owodaily?
Maybe you don't trust the platform or aren't satisfied with its payout.
In this section, we will explore the best alternatives to Owodaily that you can use to earn serious cash this year.
Picoworkers
This website is a great way for Nigerians to make money without hassles.
However, the only way to withdraw your earnings is via Paypal and cryptocurrency.
So, if you don't have a Paypal account in Nigeria, here's how to set up a verified Paypal account in Nigeria.
Picoworkers allows you to make money and receive your earnings in dollars.
Popular micro jobs available on the platforms include Dropping comments on social media websites (Facebook, Twitter & YouTube), YouTube subscriptions, installing apps and signing up on Gmail.
The platform pays from $0.03 to 4$ for a single job.
With Picoworkers, you will certainly earn over $100 in a couple of days if you are focused and diligently carry out tasks that you are assigned on the website.
Rapidworkers
The website is an alternative to OwoDaily, but it lets you earn and withdraw in US Dollars.
You will find plenty of tasks on the website, and it has a better pay rate compared to OwoDaily. You can enjoy earnings as high as $5 for some individual tasks.
Some tasks you are expected to undertake include liking and commenting on social media posts, hitting the subscribe button on YouTube pages and installing apps.
The app is home to users from almost every country in the world.
For Nigerians, RapidWorker is a good website to earn money, especially if you own a Paypal account and can carry out micro-jobs.
Sign-up is free.
Nairaworkers
Nairaworkers is a Nigerian-based website that lets you earn money in the local currency.
All you have to do is add your bank details to the website to receive your payment directly. There is no need to own a PayPal or Cryptocurrency wallet to earn money on the website.
Users are paid from N7 to N150 for each task. The tasks you will carry out are similar to the ones listed for other websites above.
They include commenting and liking on Instagram and Facebook, Retweeting on Twitter etc.
There are opportunities to earn a tremendous amount of money through this platform, especially as a Nigerian.
The only problem is that there is a limited number of daily work available.
Sign-up on the website is free.
ViralTrend
ViralTrend is another Nigerian-based website on which you can make money.
It pays in local currency. Thus, you only need to provide your bank account details to get your earnings. Users are paid around N3 to N6 for individual tasks.
Similar to the tasks performed on other platforms, ViralTrend expects users to assiduously undertake tasks on their platform.
This includes micro jobs such as liking and following on social media pages, installation of apps, account sign-ups and so on. New tasks are provided round-the-clock.
To sign up on ViralTrend, you will have to make a payment. The website offers two registration bundles for new users. The first costs 500 Naira, and the second goes for 1,500 Naira.
The latter allows you to access jobs with better pay than the former.
Furthermore, you can enjoy a 50% referral bonus if your friends sign up using your referral link.
YSense
Ysense is an excellent survey platform with more than 25 million users.
It has successfully disbursed over $30 million dollars in payments to its members. It was created in 2007.
If you ask people who earn money through surveys where to start, Ysense is a platform they will surely recommend.
It used to be known by ClixSense years ago, but it underwent a series of rebrandings.
Unlike some survey websites, it welcomes members from all countries across the world.
Ysense's activities revolve around performing tasks and earning money instantly.
They facilitate market research and similar services that depend on the capacity and choice of consumers while opening up members to lots of monetary compensation.
To make money here, you have to try out new services, stream videos, register on new websites etc.
If you are seeking a simple tool to earn cash over the internet, Ysense surveys may be all you need.
The platform offers numerous routes for you to withdraw your earnings.
PaidViewPoint
This is yet another website where you can make money while sharing your opinion.
It welcomes users from everywhere in the world. This means it is open to Nigerians. If you are a fan of paid surveys, there is high certainty that you know PaidViewpoint.
They are known for large payouts, which have been its unique selling point since its inception.
A lot of users have even sworn that they earned around 200 dollars for a single survey completed immediately after setting up an account.
While PayViewPoint is a nice way to earn money and is certainly a great way to hustle online, do not have very high expectations. Making money legitimately takes time.
On PaidViewPoint, each survey – market research and traits – allows you to earn a considerable amount of money. The latter pays around $0.25 and $1.50, while the former can get you $0.03 and $0.10.
Owodaily Login FAQs
There are frequently asked questions on how to log in to Owodaily. I have compiled and answered them below:
Why can't I log in to Owodaily?
If you're not able to log in to Owodaily, it's likely because of the security settings you have set. Make sure you have entered the correct email address and password.
Also, check your internet connection and be sure it is strong enough to access the web.
If you still can't log in, try resetting your password.
Does Owodaily Have 2FA?
As of the moment, Owodaily does not have Two-Factor Authentication set up for this platform. However, it is safe and secure to use.
How Can I Contact Owodaily Customer Support?
Perhaps you've login issues on Owodaily. You can easily contact customer service. They offer 24/7 support to their users.
To contact Owodaily customer care
Simply click on the message icon at the top of your dashboard.
Tap on Contact Support.
Choose the category of the issue that you're facing.
Enter the subject.
Type in the Message in the section provided.
Finally, click on Send Message.
That's all. The team will reach out to you shortly to fix the issues that you're experiencing with Owodaily.
Also, you can contact Owodaily on Facebook, Twitter and Instagram to report your account issues.
Is Owodaily Still Paying?
Owodaily is still her user on a daily basis. If you are a registered member of Owodaily, you will be paid for every referral and task completed.
Why has Owodaily not Paid Me Yet?
If you have completed your task and are yet to be paid, there are a couple of reasons that could have caused that.
Please ensure that tasked completed are approved. Also, make sure that you have entered the correct bank details.
How Much Does Owodaily Pay for Members Referral?
Owodaily pays a referral bonus of N3,000 for every Owodaily+ new member referral, or N1,600 for a new member and N200 when those you referred refer to new active members.
In addition, you stand a chance to earn a 3% bonus on your referral's first deposit and a 3% commission when a job is successfully completed by your referral.
Conclusion
Owodaily is a great platform for anyone that wants to make money online. With this guide on how to log in to Owodaily, you will be able to get into your dashboard easily.
Good luck!
Also Read