You can rectify the "Kik not sending messages" issue in several ways.
This includes restarting your smartphone, updating your internet connection, clearing the cache, removing and reinstalling the application, etc.
Kik is an exciting social application. However, people reported not being able to send messages.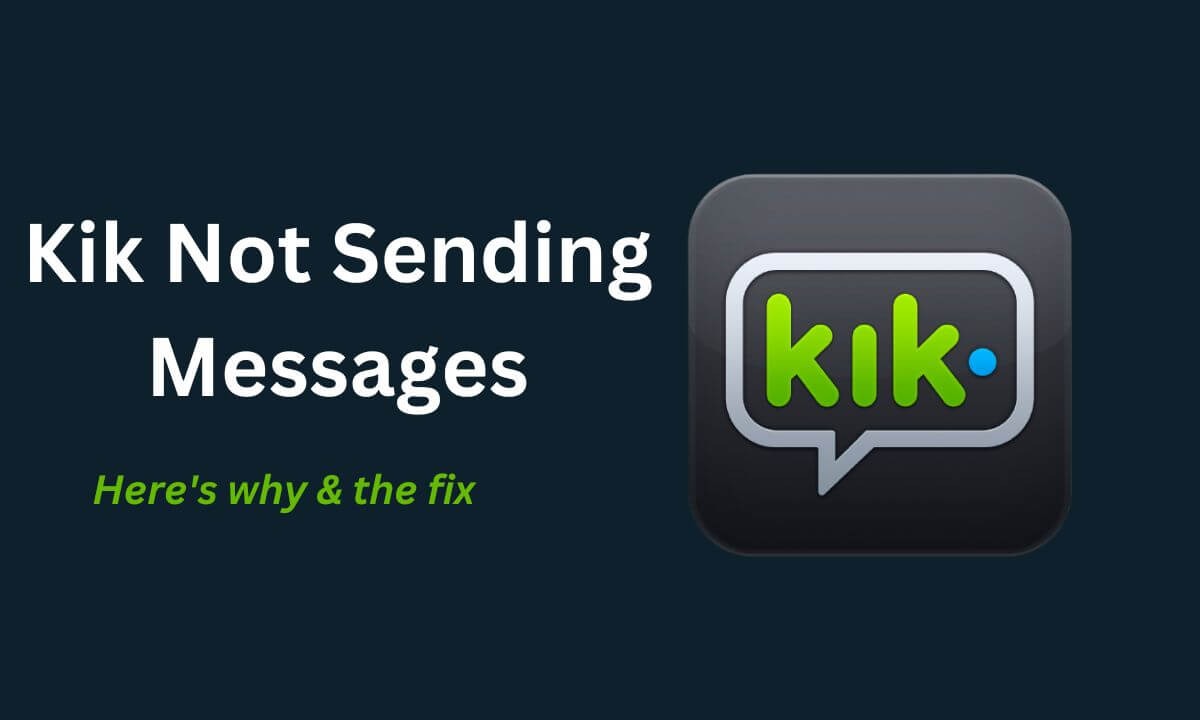 This is a widespread issue as more and more users are experiencing it, but I have a solution.
In this article, I will explain ways to solve the "Kik not sending messages" on your mobile device.
I will analyze why the issue has occurred on your smartphone and how the massaging receipts function.
What To Do When Kik Not Sending Messages?
If you notice that Kik isn't sending messages, before anything else, you have to find out if their servers are down and if other users are experiencing similar issues.
If others are experiencing issues or you have confirmed that Kik servers are down, you will need to wait until the servers are restored.
Afterward, install a new Kik app update.
However, if the problem is only restricted to you, it implies that the app has a minor bug or your phone is glitchy.
Another source of the problem may be your internet connection.
All you have to do is refresh your app or restart your device.
Another method you can use is to uninstall and reinstall the app from your respective app stores (Google Play Store or App Store).
This will fix any app-related bugs or technical issues that have caused the "Kik not sending messages" issue.
Why is Kik Not Sending Messages?
There are plenty of causes that are responsible for the "Kik Not Sending Messages" issue on your smartphone.
This may range from server-related problems to the app not working properly on your mobile device.
It can also be traced to the cache, which has limited functionality of the Kik app, or your network provider hasn't offered a great service.
However, here are the most common reasons why Kik is not sending messages:
Technical issues.
The app has a bug.
Your internet connection is poor.
The Kik server is offline in your region.
Cache overload.
How Kik's Messaging Receipts Work
As an instant messaging platform, Kik needs an internet connection for messaging to take place.
Thus, a message sent via the Kik app undergoes three stages.
With this, you can find out whether the message has been successfully delivered.
The three stages are:
S: This indicates that your message has been sent. However, it is stored on the Kik server.
D: This implies that the message is currently "delivered" to the recipient. However, it is unread or unopened.
R: It shows that the recipient has opened or read your message.
These stages are important as they show if your messages have been read or delivered.
One way to know if the Kik message has not been sent is if the sign does not change to R or D.
This implies that the Kik messages are not working, and some issues are responsible.
Here's how to fix them:
How to Fix Kik Not Sending Messages
I have comprehensively studied the most effective solutions to the "Kik Not Sending Messages" issue.
I have compiled some that will permanently put an end to the problem.
So here are the solutions to the "Kik not sending messages" issue.
Wait for the Server Downtime to be Fixed
If you have encountered the "Kik not sending messages" issue on your smartphone, it is likely that the source of the problem is not from your end.
Thus, anything you do won't permanently fix the problem.
At times it may be as a result of server downtime, restricted to a specific region.
Thus, the only practical step you can take when this happens is to wait for the Kik engineers to fix the problems and put out a new app update.
Change Your Internet Connection
Another source of the "Kik not sending messages" issue is your internet connection. For instance, a slow internet connection may cause the app to malfunction or break.
A great way to rectify the issue is to change your internet connection.
You can switch to a different internet service provider.
Then see if the issue persists.
Another alternative is to switch from mobile data to a WiFi connection.
Or even better, replace your SIM card.
If, erstwhile, you are connected to a WiFi network, it might be best to switch to your mobile data to rectify the issue quickly.
Clear Kik App Cache
One of the quickest methods you can use to rectify any app malfunction is to clear its cache.
For Android smartphone users, this can eliminate any issue with the Kik app.
However, iOS device users may find it difficult to clear the app cache on their devices.
Since this feature doesn't exist on iPhones, the practical thing to do is to offload the app.
In this section, I will show you how to clear the app cache on your mobile device:
Android Device
Access Android Settings
Select Apps & notifications
Select App info
Next, locate the Kik app.
Select Storage & Cache
Select Clear Cache.
Alternatively, you can clear the app cache via the storage settings. Here's how:
Launch the Settings app.
Select Storage.
Next, tap Other Apps or Apps
Select Kik
Select Storage & Cache
Lastly, select Clear Cache.
iOS Devices
Since the clear cache feature is not available on iOS device settings, you have to offload the app.
Here's how to do this:
Launch Settings on your iOS device.
Next, select General.
Select iPhone Storage.
Next, locate the Kik app and access it.
Select the Offload App option.
Once the Offload app process has been completed, you must reinstall the Kik app from the App Store.
All you have to do is select the app icon on your Home Screen to reinstall it.
Then check if the problem has been fixed.
The Message section should be working properly this time.
Update The Kik App
If your Kik app is outdated, now is an excellent time to fix it because it might be the cause of the "Kik Not Sending Message" issue.
The current version you are using might not be optimized to work properly with your device.
This is why you need to access the Apple App Store (for iOS devices) or Google Play Store (for Android devices) to install the latest update of the Kik App.
An app update will rectify glitches and technical issues associated with older versions, thus improving the user experience.
Uninstall and Reinstall Kik App
If Kik messages are not functioning properly even after you have updated the app, you have to uninstall the app from your smartphone and wait for 5 minutes before installing it once more.
This will rectify the Kik not sending messages issue, and you will be able to utilize the app once more to connect with your friends.
Uninstalling apps from your mobile device is still similar if you are unable to.
Select and hold the app, and from the list of options, tap "Uninstall."
You can also remove the app from your Android smartphone by dragging and dropping the app.
Or select trash to uninstall the app.
For iOS devices
Select and hold the Kik app, and a menu will appear, then select Delete App and confirm.
The app will be uninstalled from your smartphone.
After uninstalling the app from your smartphone, you have to wait for 5 minutes and then reboot your device before installing the app once more.
Kik Not Sending Messages FAQs
Why is my Kik app Sluggish?
If you are experiencing a sluggish Kik app on your smartphone, it is likely that your smartphone has limited memory capacity.
The source of the issue can also be a faulty internet connection or a bug in the app.
What Do 3 Dots On Kik Indicate?
The 3 dots signify that Kik is seeking to reconnect, that your message is yet to hit the server, and that it is trapped in the limbo of unopened Kik messages.
How do I rectify the Kik video chat not working?
To rectify Kik video chat, you can inspect your internet connection, reboot your phone, reset the app, clear the cache and data, or install a new update for the Kik app.
Conclusion
The most common source of Kik not sending messages is the server or app malfunctioning. At times, your internet provider may be at fault for this issue.
It might also be due to an app-related issue that has resulted in Kik not sending messages and may require a new update.
You may need to uninstall and reinstall the app from the respective app stores to rectify this issue.
Sometimes Kik apps malfunction randomly, and the cause may not be from your end. The server may be responsible for this.
To resolve this Kik issue, you may need to wait for the app servers to be restored or try the various fixes in this article.
Also Read: