Kik is among the most popular instant massaging platforms for mobile devices.
It is regularly used for sending messages to friends. Users can also video chat with friends and family and send pictures, GIFs, and audio files.
On Kik, you can connect with people in various ways. One is to browse and become a member of group chats.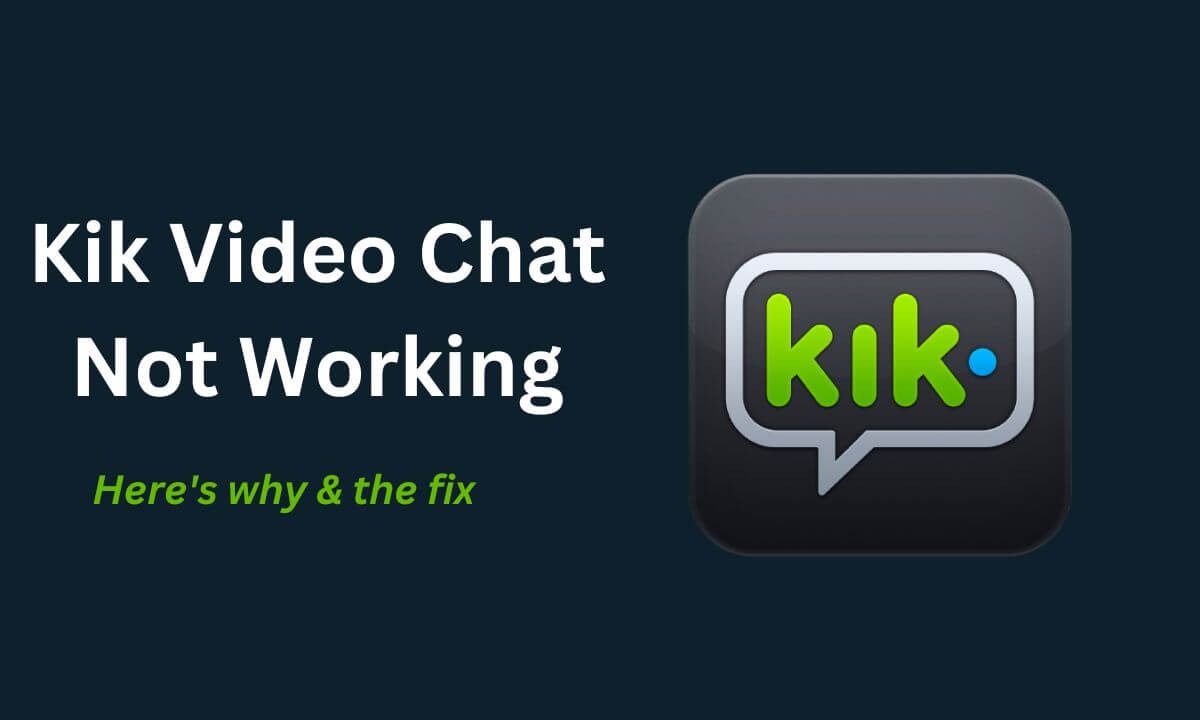 The other is through simple messaging or video messages. Kik recently introduced a new feature called video chat, which might malfunction at times.
In this article, I will show you what to do when this happens.
Why Kik Video Chat Not Working and the Fix
There are numerous causes for the "Kik Video Chat not working" issue.
This includes poor internet connection, excessive app cache and obsolete app version.
In this section, I will be explaining the reason for this and the fixes you can try to get the Kik video chat functioning properly.
Without further ado, here's why Kik video chat is not working:
Internet Connection Issues
Like other social media apps on your smartphone, you have to ensure a seamless internet connection to send messages or video chats with other users.
You can either use your WiFi network or mobile data on your smartphone.
Ensure that you inspect the strength of your internet connection on your smartphone by utilizing an entirely different app that requires internet, such as Netflix or YouTube.
If it does not work properly due to your device being offline, then your internet connection is the source of the problem.
You can fix this problem by disconnecting your phone from the internet and then reconnecting it.
If this doesn't rectify the issue completely, you can reset your wireless router and turn it on again after a few minutes to see if you can connect to the internet.
After trying these steps and the issue persists, it is likely that your internet provider is temporarily inactive in your region.
This is entirely normal and happens occasionally.
You can check for service disruptions in your vicinity with tools like Downdetector.
You will get real-time information about the status of your network connection.
If there is a disruption, the time it will take for the internet connection to be restored varies.
It might take a few hours or a few days.
Update App
Besides your internet connection, issues with the Kik app may have caused the video feature to malfunction.
This is always the case if the current version of your app is outdated.
When this happens, you have to install a new update for it to work properly.
For iOS devices
Begin by opening the Apple App Store and selecting your profile photo.
Then tap the purchase option to access a list of installed apps on your mobile device.
Locate the Kik app icon and select the "Update" option next to it.
The process of downloading a new update will begin.
For Android Device
The process of installing a new update is quite similar for Android devices.
All you have to do is access the Google Play Store and select your profile thumbnail beside the search bar.
Tap "Manage app & Devices."
Then select the update available option to access the list of apps that need an update on your phone.
Alternatively,
Navigate to the search bar. Type in "Kik app" and tap enter.
You should see the app page.
Select the "Update" button.
Restart App
If you have installed a new update and the issue persists, you may have to try restarting the app.
This should be enough to get the Kik video chat working properly.
iOS users
Navigate to the Settings app. Tap General and then select Background App Refresh.
This will enable you to access a list of apps actively running in the background even when they aren't currently open.
Next, locate the Kik app and then toggle off background activity. Ensure that the green switch is turned grey.
Once you have completed this, try to launch the Kik app once more.
For Android users:
Navigate to Settings and then tap Apps.
Next, locate the Kik app. Then tap the "Force stop" button, which is in the lower section of your phone.
Once you have completed this, launch the app.
Reinstall App
Another effective fix to rectify the "Kik Video Chat not working" issue is to reinstall the app.
This entails uninstalling the Kik app and installing it once again on your smartphone.
After this, you can continue using the app.
For iOS devices.
To start, press and hold the Kik app on your home screen.
Once you have done this, after a few seconds, you will see a menu option. '
Tap the "Remove app" option, and the app will be deleted from your phone immediately.
Once this is completed, another menu option will be displayed.
Then tap the "Delete App" option to finalize the process of uninstalling the app from your smartphone.
Next, you have to access the App Store and tap the profile photo – select purchased and then install a new update from there.
For Android users
Now, press and hold the Kik app icon and the menu option will pop up.
Tap the "Uninstall" option.
Select "OK" to confirm the uninstallation.
Once you have completed it, access the Google Play Store and locate the "Install" button to re-install the Kik app on your smartphone.
Get in Touch with Customer Support
If the issue persists despite trying out all the fixes, you can get in touch with Kik's customer support to assist in rectifying the problem.
You can start by accessing https://kikhelpcenter.zendesk.com/hc/en-us to check out helpful resources. You will see some useful information there.
Next, contact Kik's official customer support via email.
Send a message to [email protected] and explain the nature of your problem.
Kik Video Chat Not Working FAQs
How do I rectify my Kik error?
Here are nine ways to rectify Kik app malfunction on a mobile device:
Ensure your internet connection is reliable.
Restart the Kik app.
Change your internet from Wi-Fi to mobile data.
Reset your mobile device.
Toggle off airplane mode.
Clear the app cache.
Update your mobile device OS.
Install the latest version of the Kik App.
Does Kik require VPN?
Yes, if you reside in a place where KIK is banned or restricted, you may have to use a VPN to access the platform.
What kind of behavior is banned on Kik?
Kik will ban your account if you threaten, harass or verbally abuse other users.
It is against their community standards to post offensive, abusive content or incite bigotry or hatred towards any race, person or institution.
All users are encouraged to respect everyone irrespective of ethnicity, gender, sexual orientation and social status.
Do you require a SIM card to use Kik?
No. Kik is not linked to your mobile number, so you can easily access it on technologies like iPad without requiring a SIM card.
How do I install a new Kik update on an Android device?
Access the Google Play Store.
Navigate to the search bar and input "Kik Messenger."
Tap "Update" to install any new updates.
Can the police track my Kik account?
Yes, it is possible for the police to track your activities via the Kik app.
However, they will need authorization through a court order or warrant to investigate your conduct in the app.
Why is my Kik account banned?
The reason your Kik account is permanently restricted is because your account has breached its community standards.
Also, if you breach their terms of service, your account can be canceled or suspended without notice.
Does Kik require an internet connection to work?
Yes. Kik is a social application that requires an internet connection to work.
As long as your device is online, you can send and receive messages as well as place calls to other users.
The app has cross-platform support and can be accessed on iOS, Android, Windows and Blackberry devices.
Does Kik require my real phone number?
Unlike other social apps, Kik does not require a lot of contact details to keep you connected to others.
You won't be required to reveal your phone number.
Can I sign up on Kik without a mobile number?
Kik can be used for more than simply sending messages. It is the best way to contact friends, stay updated and have fun.
You are not required to provide your phone number during sign-up.
Just choose a username.
This will be your identity in the individual chats and group section.
What apps are similar to Kik?
Facebook Messenger, Telegram, Viber, WhatsApp, WeChat, Google Hangouts, Tango and Snapchat.
Conclusion
There are numerous causes of factors that may limit Kik video chat from working on your smartphone.
For instance, your internet connection may be sluggish, so it will be helpful to switch to a faster one.
Also an outdated app can also be the source of the issue.
In that case, a simple app update will get your Kik video chat working again.
Also Read: