Grammarly is a great tool for content marketers and writers to check for typographical errors and identify grammatical flaws accurately.
This online writing assistant is available on multiple platforms and can be accessed on PC software for macOS and Windows.
Furthermore, there's a Grammarly Keyboard app for mobile devices (iPhone and Android users).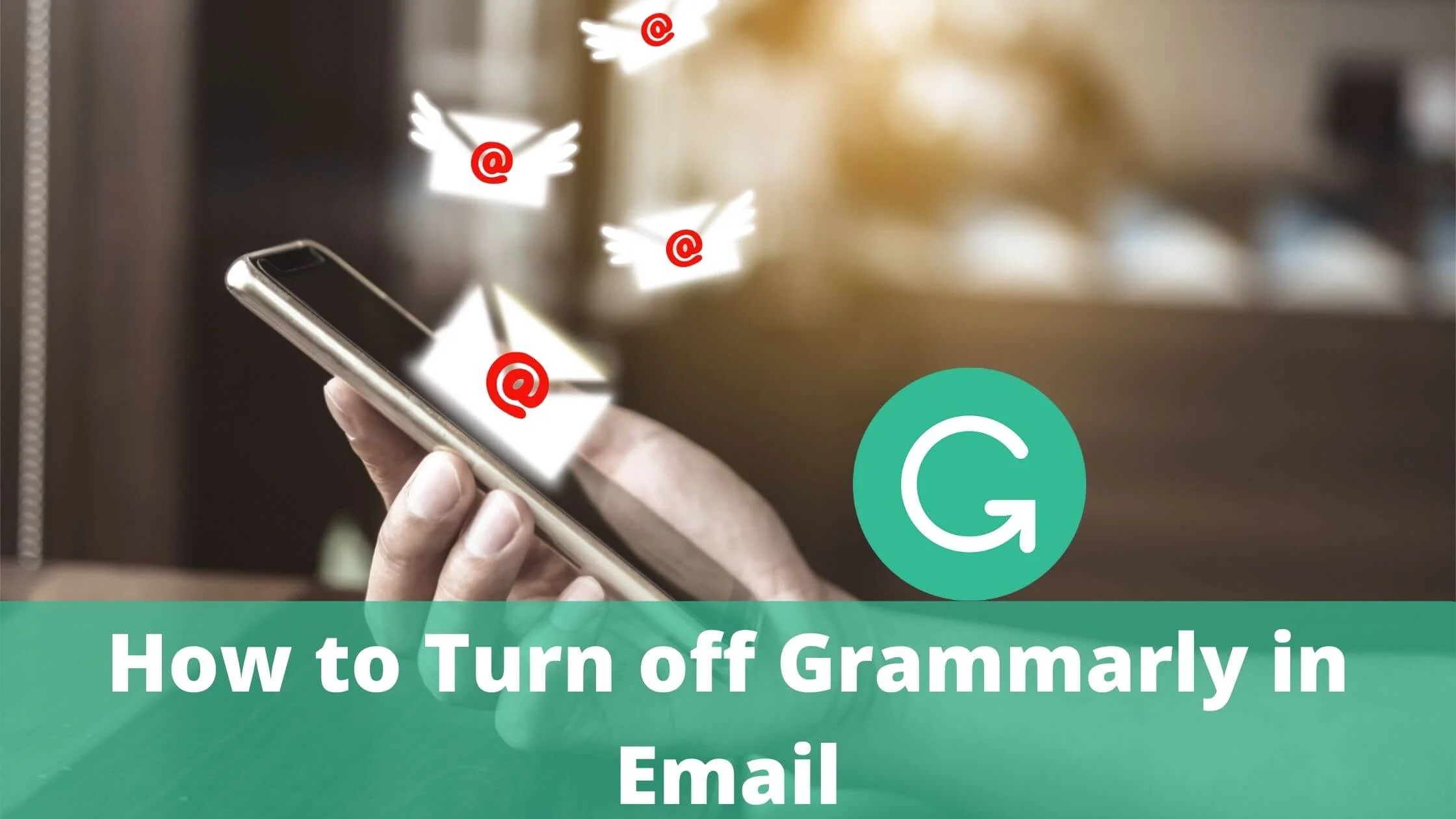 You can also install a free web browser extension for Firefox, Safari and Microsoft Edge. Google Docs and Microsoft Word users can also access the tool as an add-on on their store. 
However, a lot of times, Grammarly recommendations and feedback can complicate your content writing activities.
There are moments when you may feel it is not necessary to use it, especially when you are writing emails.
When this happens, you have to turn Grammarly off, whether on the mobile app or browser extension. 
Although it's easy to delete the Grammarly tool entirely from your mobile device, most users prefer to turn it off temporarily, especially if they wish to use it afterwards.
Once you have turned off Grammarly, you won't get any suggestions or spell checks until you reactivate it. 
Let's show you ways you can turn off Grammarly on Gmail and other platforms. 
See Also: How to Get Grammarly Premium For Free
How to Turn Off Grammarly in Gmail
Access

Gmail.com

Select the Grammarly button in the top bar of your browser. 

Toggle the green switch beside the "Check for writing suggestions on mail.google.com" to off. 

Whenever you access Gmail, Grammarly will be unavailable. 
How to Turn off Grammarly Keyboard on Phones
How to disable Grammarly Keyboard on iPhone
Whether you are using a Grammarly keyboard on your iPad or iPhone, it is very easy to disable the tool. Here's how:
Navigate to Settings.

Swipe below to check for the Grammarly App.

Select Grammarly 

Next, select "Keyboards."

Select the checkbox beside Grammarly.
When you do this, Grammarly will be deleted from keyboards on your iPhone or iPad. Alternatively, you can reactivate it whenever you like.
How to Disable Grammarly on Android
Similar to iOS devices, it's also easy to turn off Grammarly on Android. Here's how:
Head to Settings and then select Systems. 

Select Language & input and next tap Virtual keyboard.

Select Manage Keyboards. 

After tapping the Manage keyboard option, you will find a listing of keyboards on your Android device. 

Toggle off the checkbox beside Grammarly.
How to disable Grammarly in Microsoft Outlook and Word
To turn off Grammarly in Microsoft Word, you can use two simple methods. They include:
Method 1 
Select the "Close Grammarly" button accessible in the home bar of Microsoft Word in the upper left area. This will briefly turn off Grammarly for that specific document. 
Method 2
Access word. Then, open (CTRL + O a document and select the Grammarly option. Next, select "Log Out." This will limit Grammarly from reviewing your documents unless you sign into your Grammarly account once more.
Using these methods, you can likewise turn off your Outlook.
How to Turn off the Grammarly Browser Extension 
How to disable Grammarly in Google Chrome Browser
It's easy to turn off Grammarly extension on the Chrome browser. The steps below will guide you.
Launch the Chrome browser and in the upper right corner, beside the profile icon, select the three-dotted button. 

Select More Tools.

Click Extensions from the menu items. 

Another method is to input chrome:extensions in your browser URL to enter the extension page. 

Scroll down and find Grammarly for Chrome extension. Alternatively, you can use the search bar. 

Turn off Grammarly by selecting the blue button. 
After this, Grammarly will be disabled and removed from the Chrome menu bar.
Turn off Grammarly in Mozilla Firefox Browser
Launch the Firefox browser and select the menu (three horizontal icons) on the upper right.

Select Add-ons and then Extensions. Alternatively, access the extension page via about:addons. 

Select Manage your Extensions and search for the "

Grammarly for Firefox

" extension. 

Toggle off the blue switch to deactivate the extension. 

This will remove the Grammarly logo from the Firefox toolbar.
How to Turn off Grammarly extension in Safari browser
Access the Safari browser.

Select the Safari tab located in the menu bar and click Preferences. 

Select the Extensions panel. 

Toggle off the box beside "

Grammarly for Safari

" to remove the extension. 

Exit and re-open the browser.
How to Disable on Microsoft Edge
In the upper right corner, click the three-dot icon. 

Click Extensions. Alternatively, input edge: //extensions/ in the browser page. 

In the listing of installed extensions, check for Grammarly. 

Toggle the blue button to grey to turn off the extension. 

Exit your browser and open it once more. 
How to Turn off Grammarly on Google Docs
Access Google Docs. 

Select the Grammarly button from the upper right corner.

Disable the option that reads "Check for writing suggestions on docs.google.com."

This will deactivate

Grammarly for Google Docs

. 
How to Unsubscribe from Grammarly Emails on Android and iOS
Does Grammarly let you unsubscribe from their emails?
Yes. Grammarly users can limit the platform from sending emails. This will prevent your email or Gmail account from being cluttered with spam or unwanted messages. 
There's also the likelihood that you have no idea how you got subscribed to Grammarly in the first place.
It could be that it was when you signed up for the first time. The second scenario is usually common.
The good news is that email marketing platforms let users freely unsubscribe from or cancel emails. Grammarly is no exception.
Within two minutes or less, you can completely cancel your email subscription from Grammarly.
There are two methods you can use to turn off your Grammarly email subscription.
You can use either the official website or the app directly. However, the fastest method is to use the app, so if you have it installed on your smartphone, you can try it.
Method 1:
Sign in to your account and navigate your profile page.

Select the settings option.

Click on the notification section.
On this page, you can unsubscribe from any of the email subscriptions, or you can cancel them all individually by turning off each subscription. 
Method 2:
Sign into Gmail or any email account linked to the Grammarly platform.
Next, check for any of their emails, navigate to the lower section of the page, and you will see an "Unsubscribe from Email" option. Click on it. 
You will have to follow the on-screen instructions to turn off the Grammarly email subscription.
Once confirmed that you have unsubscribed, Grammarly won't send you any emails thereafter. 
Can't Turn off Grammarly Email Subscription Issues
It might turn out that you will experience issues while carrying out the last method.
In this case, you can request assistance from the customer support team at Grammarly.
They will be ready to help once you tell them that you are having challenges unsubscribing from emails from their platform or that the app has glitches that prevent you from turning off notifications.
To contact Grammarly customer support, you can click here to submit a request.
Another method is to access their app page on the App Store (for iPhone users) or Google Play Store (for Android device users) and check the "Developer contact section."
You'll find an email address you can use to get in touch with the team. 
When composing an email to their customer support, use the email subject line "Request Cancellation of Email Notifications. Ensure you add why you wish to turn off the email subscription.
How to Turn off Grammarly in Email FAQs
Can I use Grammarly in my email?
Yes. Here's how:
Create your Grammarly account. After you have signed up for a new account, ensure that you are properly logged in. 

Navigate to your browser web store and search for the Grammarly browser extension.

Download the Extension. 

While composing your email, you will get writing suggestions and spell checks.
Why does Grammarly run excessive ads?
If you are a regular Grammarly user, you are most likely to see Grammarly-related advertisements.
This type of advertising strategy is called remarketing or behavioral retargeting.
It is effective because it helps brands maintain a connection with users even after they have exited their platforms. This improves brand affinity and conversion rates.
Why doesn't Grammarly work?
If Grammarly fails to work on Microsoft Word, Excel, Google Docs and PowerPoint, we advise you re-install the browser extension and log in again.
What is the target market for Grammarly?
Grammarly is a software product, and its target market varies from scholars to business owners and content marketers. The platform is useful for any writing or editing task. 
Does Grammarly sell user data?
Absolutely not. As part of their policy, Grammarly never sells or exposes user data to third parties. 
Who owns Grammarly?
Grammarly was created by Alex Shevchenko, Dmytro Lider and Max Lytvyn to assist people in improving their writing skills.
Conclusion
As you have seen, it is easy to turn off Grammarly in email. This article has explored some easy ways to do that. Share this article with your friends using the social media button below. 
Also Read: