Are you looking for a contact on WhatsApp? In this article, we go over the most important reasons why you can't find someone on WhatsApp. 
Without further ado, let's get started!
Here are the main reasons you can't find someone on WhatsApp: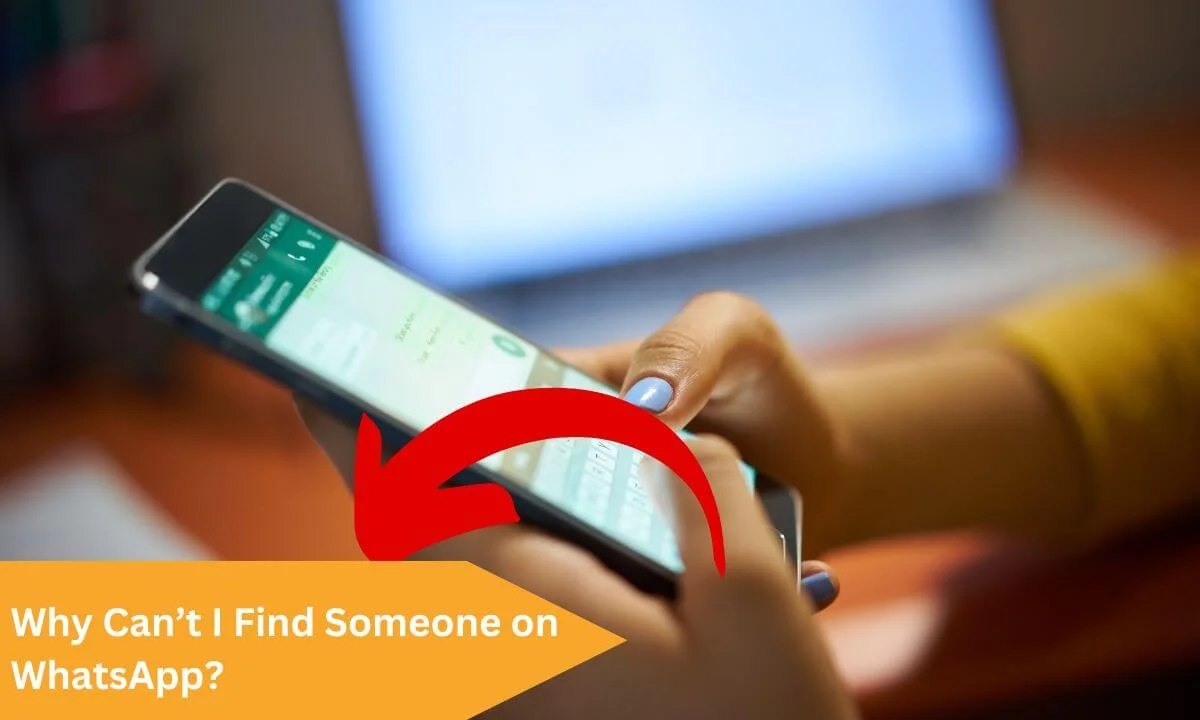 Reasons You Can't Find Someone on WhatsApp?
Here are seven key reasons why you find it difficult to see someone on your WhatsApp contact list. Let's explore them below:
WhatsApp is Offline 
The first major reason you can't find your contacts on WhatsApp is that their servers may be offline or experiencing downtime.
However, before even entertaining this likelihood in your mind, you have to ensure that:
You have the right number saved in your contact

The number you have saved is the exact one the contact used in setting up WhatsApp. 
Once you are sure of these factors, it is possible that WhatsApp servers are down.
Whenever the downtime on WhatsApp causes you challenges in finding a contact on the platform, there are two options available. 
WhatsApp servers are offline as a result of a technical glitch
This used to be rare, but not anymore. It has happened several times this year. In fact, the most recent one happened last month. It caused difficulties in sending and receiving messages. 
Apart from major glitches and downtime that garner widespread interest, some minor outages happen on a regular basis. However, they rarely get noticed because they are rectified on time and affect a tiny section of the application. 
Thus, if you cannot see a contact that is definitely on WhatsApp, there is a high likelihood that WhatsApp is experiencing some technical glitches. 
WhatsApp is buggy owing to a restart or update
A good example of this is if WhatsApp loads in the background and you access it to look for a contact. 
There are a few instances when updating or restarting an app leads to a buggy experience, making it difficult to locate some contacts for a short time. 
The underlying fact is that technical glitches on WhatsApp, regardless of whether they may be on their worldwide servers or the mobile application, might cause challenges in finding someone on WhatsApp. 
They are not on WhatsApp
Although WhatsApp has amassed over 4 billion installations, it doesn't imply that the app has 4 billion users.
It simply means that it has gotten installed more than 4 billion times. A lot of people who have installed WhatsApp have removed it from their devices. 
Even though most people still have the app, there have been a couple of mass exits, especially in 2021, when major privacy policy changes led to a massive backlash.
Elon Musk even suggested users should switch to alternatives such as Signal and Telegram. 
The fact is that you shouldn't be quick to conclude that every mobile device owner uses WhatsApp. 
Today, there are a variety of other instant messaging platforms like Viber, Telegram and so on.
Thus, there is a likelihood that the person may be utilizing any of those apps instead of WhatsApp. If possible, directly ask them to be certain. 
You do not have their phone number
This can happen in two options:
They have given you an incorrect or fake number.
Whether it's a deliberate act or has happened in error, you likely have an incorrect or wrong number for the person. 
I am sure you are cognizant that people regularly hand out fake numbers to discourage others from contacting them. 
So, in a situation where you sought their number, particularly their WhatsApp number, and can't locate the person on WhatsApp, then it is possible that you have a fake number in your contact list. 
Whether it was accidental or intentional, try to contact them if possible. This will assist in verifying the authenticity of the number. 
The phone number is available on WhatsApp
While it is very likely that you may have that number, it could be that the specific number is not enrolled on WhatsApp.
A lot of people these days own multiple phone numbers, where one is primarily for WhatsApp while the others are solely for phone calls and text messaging.
Another possibility is that they may have registered an old mobile number that is non-functional on WhatsApp while they might have handed over their new number, which is not connected to WhatsApp, to you. 
The honest thing is that when requesting someone's phone number, they will expect that you call or send them a text message and not necessarily initiate a WhatsApp chat.
Thus, if you are looking for a contact and can't locate them on the platform, dial their number and request their WhatsApp number. 
You May Have Been Blocked
Assuming that you have a contact on WhatsApp and can't locate them anymore in an instant, there is a likelihood that you have been blocked. 
However, if you have been blocked on WhatsApp, it differs significantly from other situations explained in this article. Here's a full overview of what WhatsApp blocking is.
If you are blocked on WhatsApp, here's what happens:
Their online status, status updates, last seen or profile pictures won't be accessible or revealed to you. 
While being blocked won't automatically delete the contact from your WhatsApp list, you will be barred from communicating with the person, and the profile will be blank. 
When you place a WhatsApp call to the contact, it will hang up instantly as if the person isn't on the platform. 
Although, when you are blocked, the person's contact won't be deleted from your list. It will be difficult to access information about them whenever you select their contact, which is almost similar to non-existence. 
Their Accounts Have Been Permanently Suspended
WhatsApp usually suspends accounts that flout or go against their Terms of Service.
Activities such as sharing offensive posts or content, scamming or spamming can risk outright banning or suspension. 
If an account is suspended, there's usually a "This account is not allowed to use WhatsApp" popup.
Other activities that could lead to the suspension of WhatsApp accounts include:
Installing and utilizing the WhatsApp application from unauthorized channels. The only authorized channels are App Store, Google Play Store and

whatsapp.com/download

.

Indiscriminately adding phone numbers that aren't stored in your contacts to WhatsApp groups.

Sending spam messages to unsaved numbers or contacts or group conversations. 

Distributing or sending offensive, unlawful, slanderous, harassing, abusive, racist or repugnant messages. Also, sending messages that encourage criminality and exploitation of children can lead to suspension. 
WhatsApp is strict about these violations and won't hesitate to take disciplinary action.
Thus, if you are unable to locate a contact on WhatsApp, particularly if they used to have an active presence, it is likely that their account has been suspended.
It might be necessary to get in touch with them and inquire about what has happened. If their account has been suspended, you can share this link with them to appeal the suspension.
They Deleted Their WhatsApp Account
In this case, we are not referring to uninstalling the WhatsApp app from their mobile device but directly deleting the number linked to the platform. 
Let's assume that you have been interacting with the contact prior to them deleting their WhatsApp number; A "Deleted Account" will appear in your chat window. 
If you have not chatted with them before and they deleted their account, their number will not show up on your contact list on WhatsApp. 
Let's explore how someone can delete their number on WhatsApp:
Access WhatsApp on your mobile device and select the three horizontal dots in the upper corner of the screen. 

In the dropdown menu, Navigate to the settings > Account.

Select the last option, "Delete my account," in the Account settings window.

You will recommend "Change number instead." However, if you choose to proceed with the account deletion, enter your number and country code. 

Once the process is finalized, your number won't exist on any user's WhatsApp contacts list. 
Poor Internet Connection
Another likely reason why you can't find someone on WhatsApp is that your internet is poor. 
Or, you have no internet connection, which can limit WhatsApp from synchronizing the contacts on your mobile device. This usually happens when you have recently added a new number to your WhatsApp. 
If you have a weak internet connection or are totally offline, the recently added number won't synchronize to WhatsApp. Thus, you may be unable to locate it on your contacts list on WhatsApp. 
Why Can't I Find Someone on WhatsApp FAQs
Is it true that I can look for someone on WhatsApp without their mobile number?
False. A phone number is important to search for someone on WhatsApp.
Why did my ex-boyfriend save my phone number on WhatsApp?
The reason he did that was to keep in contact with you even though you are no longer in a relationship. It may seem that he wants you to remain a friend of his. If you still want to communicate with him, the choice is yours.
Is there a way to know if someone hasn't saved your phone number on WhatsApp?
There is no direct way of finding out. However, check the person's phone or see if you can access their WhatsApp status. 
Conclusion
In this article, we explored the seven biggest reasons why you can't find someone on WhatsApp. Make sure you share this article with your friends and loved ones. This article will be useful to them. 
Also Read: