How to get Canva pro free for students is one of the most asked questions in the student forum today.
Canva is one of the most popular graphics tools available online. It's a free tool that makes creating graphics simple and easy.
The Canva team is trying to make creating graphics easier than ever before. Their new Canva Pro is now available to students.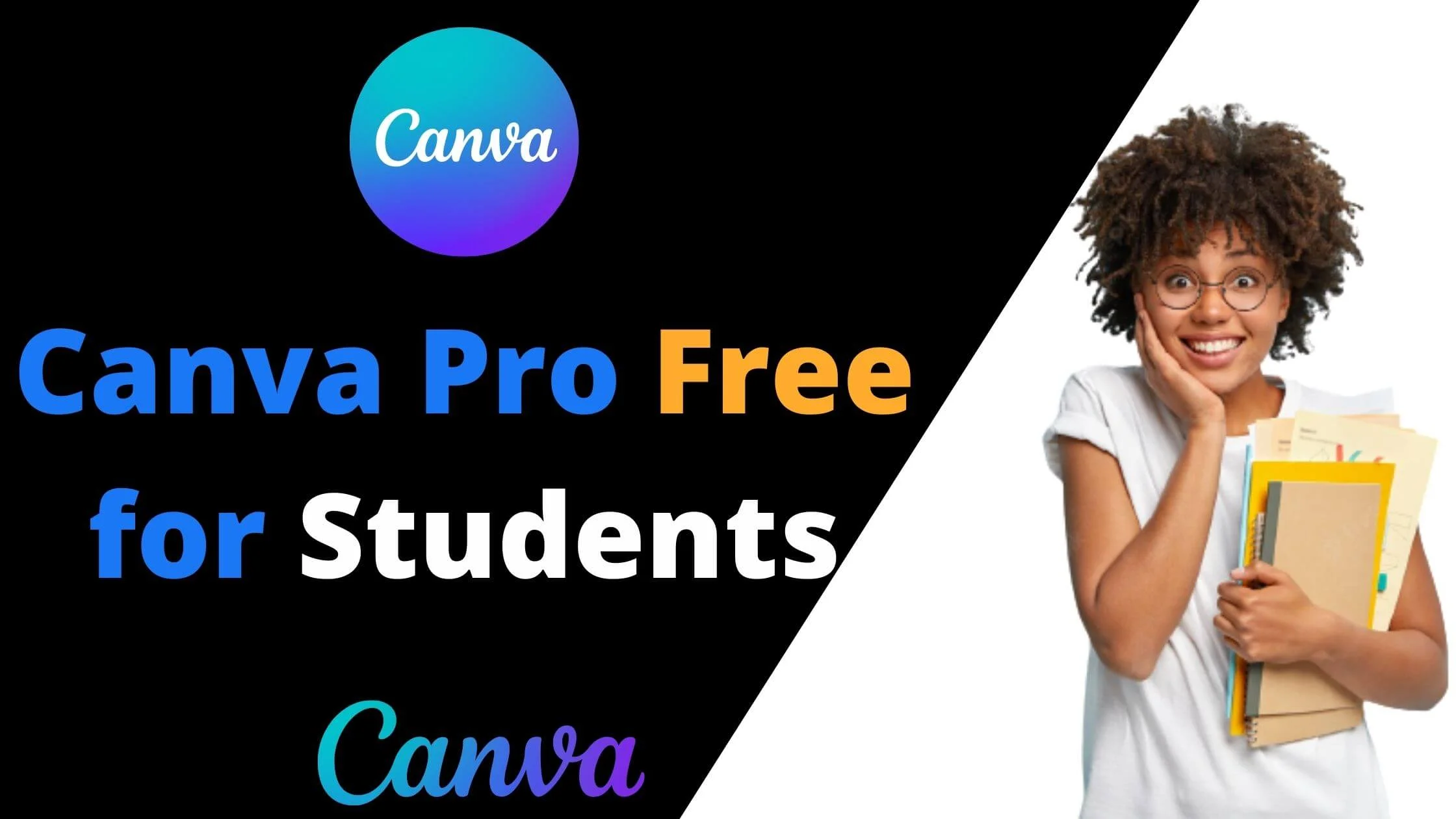 They offer students, teachers and schools a free version of Canva Pro.
If you're a student, teacher or school looking to use Canva for free, read this article to the end.
What if you're not a student? Canva offers a paid version of their app called Canva Pro, normally priced at $12.99 for up to 5 people.
So, without any further ado, let's get started.

Canva for Education (Canva Pro Free Account)
Canva for Education is a great tool for K-12 educators and their students as it's easy to use. It has powerful editing tools and is completely free.
This tool makes it easy for teachers and students to create, collaborate and visually communicate in the classroom and beyond the four walls of the classroom.
As a teacher, you can sign up here and invite your students to access Canva Pro free for a lifetime.
Perhaps you're directly from the school administration. All you have to do is contact the Canva team and make your request known to them.
Afterwards, the Canva team will grant you access to Canva pro for free through a special link, and the students will now get it for a lifetime when they signup with that invite link.
It's that simple and easy to get.
How to Get Canva Pro Free for Students
As a student, you can get a lifetime free Canva pro account. To do so, request an invite link from your teacher.
Upon signing up with the invite link, you will automatically get access to Canva Pro free for a student's account.
Therefore, one of the requirements to get a Canva pro for students is that you must be a student, and your teacher or school administrator must have access to the special invite link from Canva.
Canva Pro Free For GitHub Student Developer
GitHub has teamed up with Canva to make its tools accessible to students and instructors on GitHub.
The deal allows students to get their free Canva Pro account for 1 year by entering the code STUDENT at checkout.
Hence, as a student, you'll get a one-year Canva Pro – that's $119 of value-free of cost.
You don't need to have design skills to use Canva. It is a powerful design tool to create professional-looking images on the fly.
You don't need to be a designer to use it – in fact, you don't even need to be tech-savvy!
=> Signup for Student Developer pack
If you're not yet signed up with GitHub Student Developer Pack (GitHub SD), then you have to first register for the program.
This is a qualifier to claim a one-year free Canva pro for students.
Can I get Canva Pro Free as a Non- Student?
There's good news: You can still get Canva pro free of cost.
Here's how to get Canva Pro for free lifetime without a credit card.

Should I go for Canva Pro Version?
Yes, I recommend you go for the Canva pro version to avoid any service interruption in the future.
I have been using Canva premium for years now, and it saves valuable time.
This saving time helps me focus on three other things that let me make money. So my ROI is so high that my investment is negligible.
=> Get Canva Pro here.
What are the Features of Canva for Students?
Choose from numerous custom-ready school-friendly templates for any class level, topic or subject.
Use pictures, animations, graphics, video clips and customization options to create interactive lessons and classroom activities.
Connect with students and encourage them on the go. Share, comment and grade their work with ease.
Improve teaching quality and add convincing feedback with text or color sticker recommendations.
Seamless integration with popular classroom tools – Canvas, Moodle, D2L, Schoology, Google Classroom, Blackboard and Microsoft Teams
Who is not Eligible to Use Canva for Education?
Positions and organizations that are ineligible to use Canva for Education:
Licensed K-12 (elementary or primary) teachers who are not hired as educators.
Local librarians (e.g., community or state librarians)
Childcare or kindergarten assistants
Homeschool teachers
Higher institutions, including universities, polytechnics and colleges, as well as employees and lecturers.
University and college students
Continuing and further learning institutions
Adult learning facilities
Organizations that offer extracurricular and recreational activities outside of classes.
Education-focused startups and businesses
Parents of kids who are currently in a K-12 (either secondary or primary) school.
Non-profit agencies that do not directly offer teaching services.
Canva Pro Free for Students FAQs
How long can I access the Canva for Education platform?
You can enjoy access to the free Canva student platform as long as you are currently teaching. All users of the platform will be requested to re-authenticate their accounts every 3 years.
How do I verify my eligibility for Canva for Education?
Setting up your Canva for Education account with a valid school email domain will give you instant access.
You do not have a valid email? You can easily upload a picture or digital copy of any of this authorized paperwork, and your application will be considered within 2 days.
Authorized documents:
Valid teacher identification displaying the current status.
An image or scan of a certificate or license confirming educational qualifications
Picture or scan confirming current employment at a school or learning facility, e.g., an employment letter
Picture or scan of school ID showing position as a teacher
A picture or scan of your Google Certified Educator or Google Certified Trainer certification
Document showing your organization's status as a government-approved, officially accredited k-12 (high school, elementary, primary) learning center.
I am a student. How do I connect Canva for Education?
Any student currently in K-12 (primary or secondary) is eligible to use Canva for Education. However, students in higher institutions of learning (college and university) are not eligible to use the platform.
You can access Canva for Education if your teacher invites you. As a teacher, you can easily set this up.
Is Canva pro different from Canva for Education?
Yes, Canva for Education is tailored exclusively for learning and academic activities and is free for students and teachers to use.
On the other hand, Canva Pro is the premium version with extra features and better personalization options.
Both of them are distinctly different, although provided by Canva.
Is Canva student free for life?
Yes! Canva lets students and teachers access the platform for free.
It comes with an unlimited subscription. This subscription allows them to enjoy all Canva's functionalities. This includes millions of templates, editing tools for creating graphics and many more.
What are the disadvantages of Canva?
Underwhelming design qualities
Inferior mobile UI
Not enough export options
Zero storage for local files.
What separates Canva Pro from Canva free?
The major difference between free Canva and Canva pro is the rich features, templates and layouts accessible. Canva pro users can use up to 60 million top-quality stock pictures, illustrations and icons, while Canva free users can only access one million pictures and graphics.
Can I access Canva pro on my computer?
Canva pro is a fantastic tool for designing professional-level graphic content. The most amazing part is that you can sign up for a free account. Just access Canva.com and select "Sign up," and you can use Canva freely.
What software is superior to Canva?
Here is the list of 8 alternatives (both premium and free) to assist you in designing graphics content that looks great: Adobe Spark, PicMonkey, Easil, Crello, Snappa, Design Wizard, Visme, and Stencil. These tools are the best Canva alternatives.
Which tool is better than Canva?
Looking for a better alternative to Canva? Visme is a great option. It has numerous features, lots of graphics and templates. It can also be used for free. Opt for Placeit if you wish for the easiest tool to design professional graphics content.
Conclusion
Following this post, you should be able to get Canva pro free for students and have access to all the amazing features.
Don't forget to share this post with friends, the community and on social media.
Also Read: