Canva is among the most widely used graphic design tools online.
Its ease of use and range of appealing templates has made it a top choice for anyone who wishes to create beautiful visual content, regardless of their level of expertise. 
But a routine challenge most users face is the need to spell check on Canva. Does Canva have an auto spell check functionality?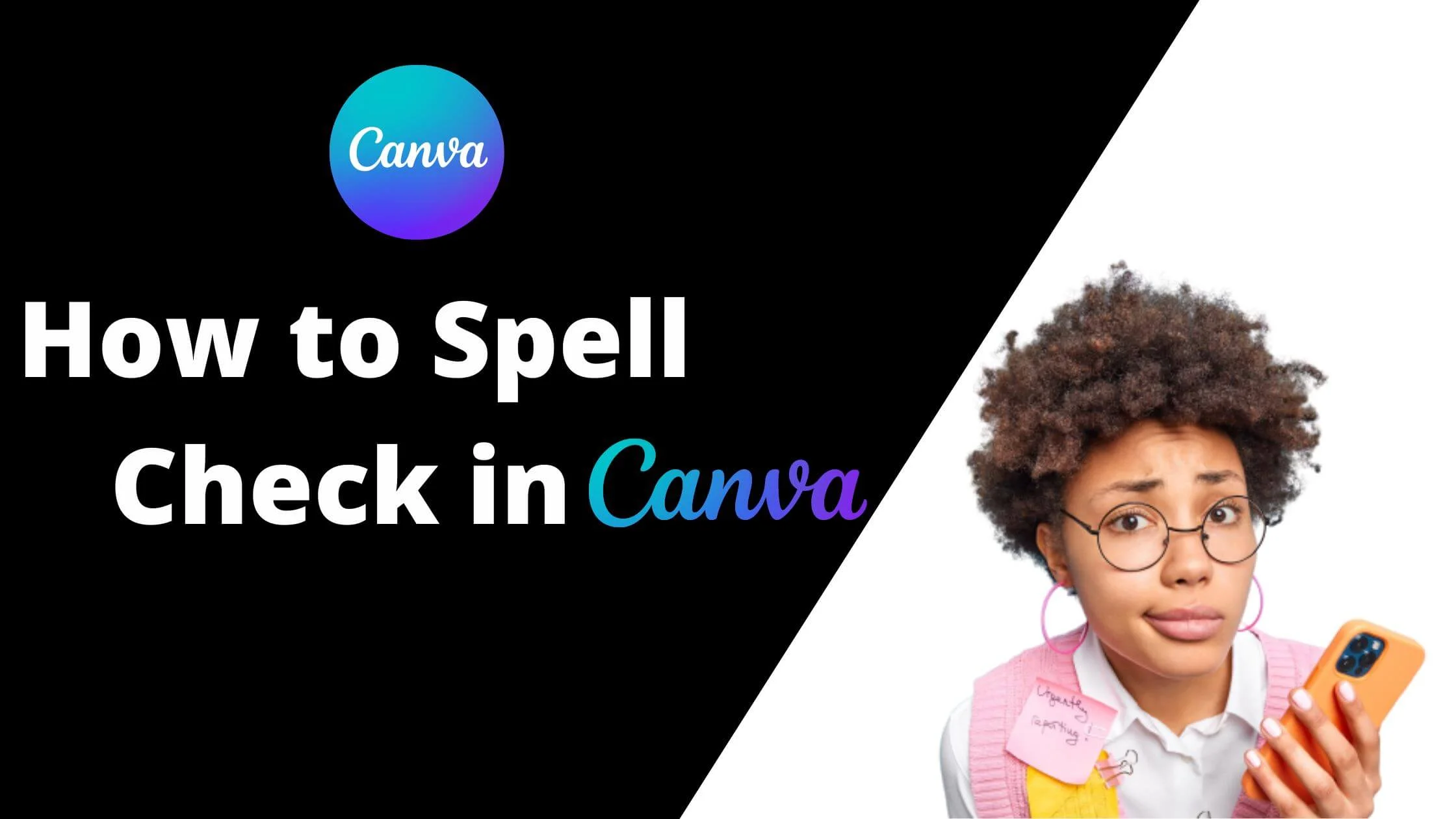 In this article, you will get the answers to these questions as well as workarounds for the lack of spell check features on Canva. 
Does Canva have a Spell Check Feature?
No, as of now, Canva has no spell check feature. But all hope is not lost.
There are still a variety of workarounds that will help you identify spelling and grammatical errors on the platform.
For instance, you can use the Grammarly extension on your browser or input your text on a word processing platform to check for errors and ensure it is grammatically correct.
How to Spell Check in Canva: Smart Methods to Use
As we have mentioned earlier, there is no spell-check functionality available on Canva for now. 
But you don't have to feel sad and disappointed. Canva is a superb tool, regardless.
Just because there is no spell-checking feature, you shouldn't dump the platform. (However, it'd be awesome if the developers could include this feature in the near future).
Let's explore some amazing strategies that can help you spell check on Canva.
1. Activate Chrome Spell Checker
Note: You don't have to quit the Canva tool or launch a new browser to access the settings menu.
Navigate to the top-right of your web page and click the hamburger icon (…)

In the menu bar that opens, choose the settings options. Next, you will be rerouted to Google's settings tab. 

Now, type in "spell" or "spell checker" in the search field located in the upper area of the settings tab.

This will open up the language option in the Google settings menu. 

Scroll down until you locate the spell check on the language option. Toggle on the check box on the right side to use this feature. 

After you have enabled the spell check option, you can click to use either the Basic or Enhanced feature. 
Feel free to set up additional languages apart from English for the spell checker to verify afterwards. 
Once you have activated the spell checker via your browser settings, navigate to your design on Canva and right-click on the specific word.
Not difficult, is it? We will explore the next simple strategy that will streamline the process of spell-checking for you.
2. Grammarly Chrome Extension
Are you familiar with Grammarly?
If your answer is no, Grammarly uses an algorithm to detect and fix typographical errors, providing recommendations for optimizing your copy and text. 
However, to use Grammarly on the Canva tool, you need to download it as an extension on your browser. Here's how:
Access your web browser, and navigate to your

web store

. 

Input "Grammarly" in the search field located at the top right page. 

A search result will be displayed to you. Check for and select "

Grammarly for Chrome

."

A new page will come up. Navigate to the "Add to Chrome" option and select it. 

The extension will then be installed on your web browser after a few seconds. After successful installation, the Grammarly icon will be added to your extension column. 

Navigate to the Canva page you are currently editing and wait for the notification from Grammarly to show up. 
When this happens, you can then choose the words you are interested in spell-checking, and Grammarly will instantly identify typographical errors in the copy of your design. 
Great, isn't it? If this method is great for you, there's no need to quit Canva to spell-check your typographical errors. 
However, if the first two methods above don't interest you, read the third below. 
3. Utilize Word Processing Software to Spell Check on Canva
When creating a design on Canva, spell check your text by moving your mouse cursor and highlighting it. 
You can use the keyboard shortcut (Ctrl + C) to copy the text. Alternatively, you can right-click and select "copy" from the menu item.
Once the text is copied, navigate to any word processing platform you use (Google Docs or Microsoft Word)
Select the new page on the word processing software and right-click to paste the text you have copied. Alternatively, you can use the keyboard shortcut "Ctrl + V."
After pasting the text, the next step is to navigate to the Tools located at the menu bar and click "Spelling and Grammar" from the drop-down menu.
If you are on the Google Doc platform, select "Spelling and Grammar Check" to rectify typos or grammatical inaccuracies.
After you have completely spell checked the text, highlight and copy it once more, navigate to Canva and paste the error-free text. 
While this method is quite long, it is great for users who choose not to download extensions on their browsers or are not technologically adept at doing it.
But, whichever method you prefer, it will be effective enough to ensure your Canva text is free of grammar flaws. 
Will Canva be Adding the Spell Check Feature Soon?
There have been calls for Canva to add Spell Check to their range of features for a long time.
The Canva team has heeded the yearnings of their users and has revealed that they are working on it.
There's a Facebook post that has since gone viral where a user expressed disappointment about Canva's lack of Spell Check.
Even though it was posted four years ago, it is still a contentious issue, and it still garners plenty of comments yearly.
But with the way Canva has reacted to the comments, it is clear that they aren't currently focusing on that feature.
It has gotten so serious that each year, users still comment and complain that the feature is unavailable on the platform. 
If the Spell Check feature were a big concern for Canva, they'd have added it before now or made a conscientious effort to respond to the user's frustration. 
Once more, this is not to berate Canva, and at the same time, I wouldn't want users to keep their hopes high.
I am conversant with the core operations or internal activities of Canva and have no clue about their long-term plans.
It's possible that Spell Check could show up on their platform the next day. No one knows for sure, of course, except their developers and management.
However, I can't accurately predict when the Spell Check will be ready on the Canva platform. Thus, at this stage, you'd have to improvise and work without it.
As we have shown you in the section above, there are simple and effective workarounds to the unavailability of spell check on Canva.
Unfortunately, I am unable to predict when Canva's spell check function will miraculously arrive.
Let's, therefore, practice surviving without it in the interim. Although it's simple to gripe about spell check, it's a very simple obstacle to go through.
How to Spell Check in Canva FAQs
Is there a grammar check feature on Canva?
Canva doesn't have a grammar checker feature yet. It also does not have a spell checker.
As we have explained above, you can utilize the Grammarly browser extension to rectify any grammatical errors in your text.
Does Canva design look unprofessional?
Canva is great for anyone who does not design savvy but wants a quick and easy way to create graphics for Facebook, YouTube, Instagram or presentations or other uses.
It also has a professional look. 
How do I spell check on Google Docs?
To do this, you have to enable the Spelling and Grammar Checker option. Navigate to the menu bar and select "Tools," and click "Spelling and Grammar."
This will enable the spell check feature on Google Docs. 
Is Canva an improvement over Photoshop?
Canva is a convenient and beginner-friendly platform with thousands of built-in templates. Photoshop is perhaps a better option for designing professionally-looking graphics and artwork.
Can I use Grammarly to spell check PDFs?
Not presently. Grammarly does not work with PDF or Latex files. 
Is Grammarly's app free to use?
Yes, all the basic features of Grammarly are free to use. This includes spotting common typographical errors and grammatical inaccuracies.
However, to access the advanced features, you'd have to shell out $29.95 every month.
Should I choose Grammarly over Word?
Grammarly provides a rich suite of comprehensive typing assistant functionalities, including an extensive grammar checker, plagiarism detector and writing suggestions.
When it comes to spell checking, it is a better option than Word. 
Can I format tables on Canva?
No. It is impossible to format tables on Canva. 
What are the top 5 spell checker tools online?
Grammarly – the best-known and most accurate grammar checker
Hemingway – an amazing tool for improving the clarity of your writing =
NounPlus – an easy-to-use and free grammar checker. 
Ginger – wonderful spell checker and vocabulary combo. 
Conclusion
It's puzzling that with all the awesome functionalities that Canvas has, it lacks a spell check. But all hope is not lost.
There are still workarounds as we have explored in the article. Ensure you share this article with friends and loved ones using the social media buttons below. 
Also Read: