Canva is a popular graphic design tool available for use online. It allows users to design social media posts, promotional banners and videos, animation, presentations and other content.
The tool is rich with user-friendly templates that simplify the process of creating beautiful designs without wasting time.
But the unique feature of Canva is its ease of access. Users can use a PC or mobile device to work on the platform without stress.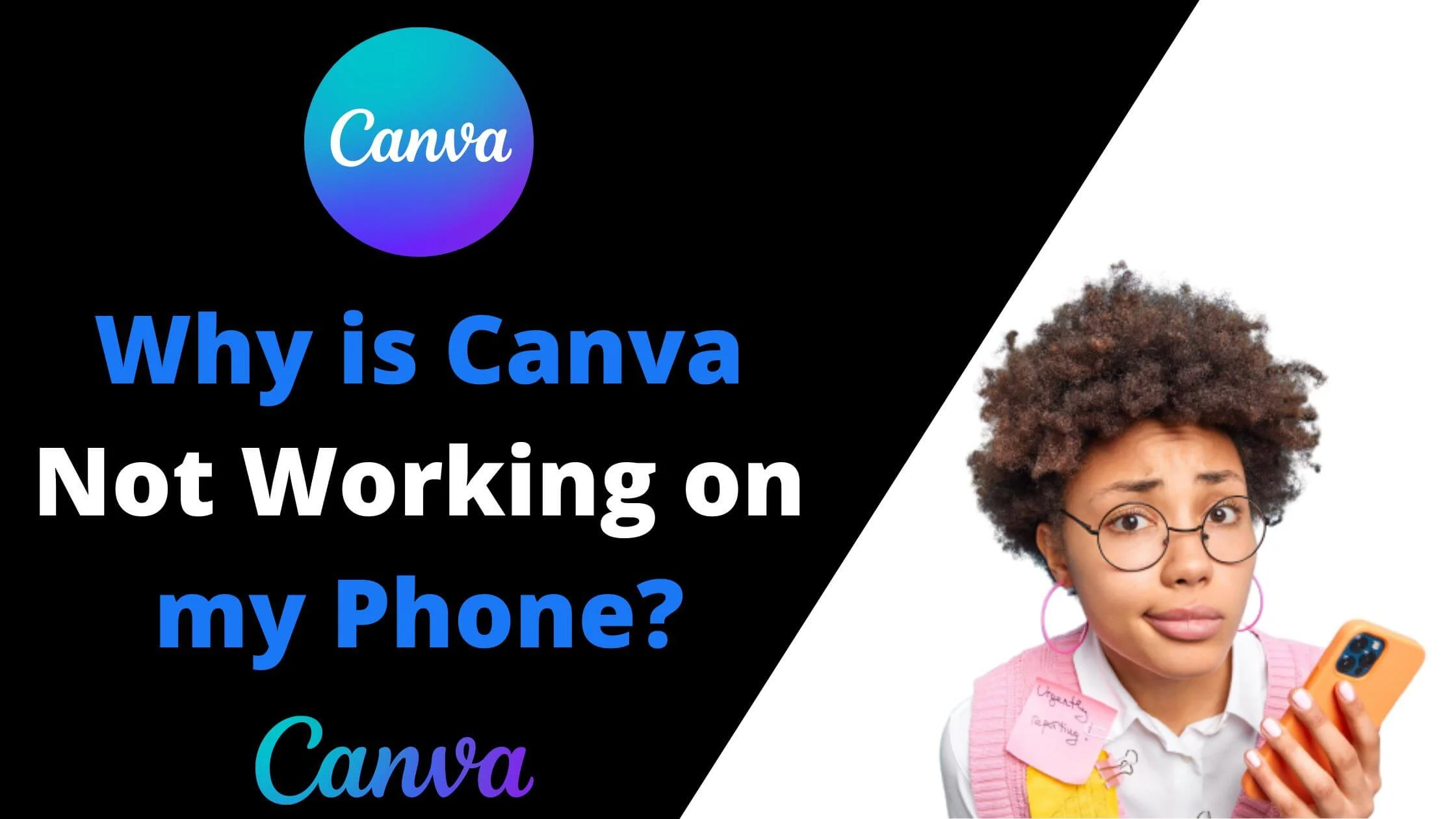 This implies that you have the option to sign up via the mobile application or through the web-based platform. 
The fact that Canva is an online tool makes it vulnerable to bugs, faults, downtimes, glitches and errors. The only way to access the platform is via an internet connection.
So when there is a problem with your internet connection, or their server has an issue or downtime, it may cause Canva to not work properly. 
If you notice that Canva is an unusual time to load or is inaccessible, the first step is to figure out what the cause is. 
It's the key to getting solutions to the issues you are facing.
=> Try Canva Premium for free.
Why is Canva Not Working on my Phone?
If Canva has failed to work properly, it could be due to 6 major reasons.
However, problems with your internet access, website bugs, and web extension issues can also be among them.
The source of the malfunction may ultimately be your mobile device, or your activities have surpassed Canva's limit.
If you are a new user of web-based tools, you may be tempted to conclude that Canva is done because your computer is malfunctioning. 
Although there is a likelihood that that may be a potential cause, the first step is to confirm that the Canva website isn't the source of the problem. 
Then again, since Canva is an online tool, at some point, its servers may face issues, causing disruption to users.
So, what's the method to check this? You can always go to Canva's status page (canvastatus.com) to find out if server downtime has occurred. 
If you need another point of view, you can utilize a 3rd party server status checker. 
Similar to the Canvas Status website, P- Supertools Server Status Checker will let you see the tool's real-time status reports and glitches that have occurred within a specific time frame. 
However, if you checked those websites and yet Canva is still not working, you'd have to attempt to log in one more time. 
To successfully re-login, you will have to log out by selecting your profile photo.

Navigate to the top right area of the Canva screen. 

Access the drop-down menu.

Then, select the "Logout" option, and it will immediately sign you out. 

Wait for a bit of time (seconds or minutes), and sign into your account once more by filling in your username and password. 

If Canva is still down, you need to check your internet connection.
Issues with Your Internet Connection
You may erroneously feel that the least of your problems is your network connection because you have purchased the fastest internet plan available.
However, even an ultra-fast internet connection is not 100% foolproof.
Now that you have eliminated the server issue from Canva as the source of the problem, you'd have to check your internet connection.
The best way to accurately diagnose this is via a speed test. 
If you don't know what a speed test is, it is a way of evaluating how fast your internet connection is. It usually focuses on the download and uploads bandwidth of your network.
Some good online tools for internet speed checks include fast.com and Speedtest by Ookla.
You can use these platforms to find out if your network is unsteady or operating sluggishly. 
At this stage, if you find that your network speed is slow, then attempt to reset your modem. It is a very simple process. 
What is required of you is to manually disconnect your router's power cord from the socket. Hold on for a few seconds, and then plug it into the wall socket.
Once you have finished, carry out another speed test to check if the problem has been rectified. If the issue persists, get in touch with your network provider for technical assistance.
Perchance, if you are connected to a virtual private network or VPN, it's best if you deactivate it for now.
Basically, a VPN shields the IP addresses of users, allowing them to conceal their real location and access the web anonymously.
While VPNs are effective in protecting your online identity and keeping you more secure, they can pose challenges to your ability to use Canva.
Thus, you have to disconnect your VPN, for now, to figure out if Canva will work as usual. If Canva works without hitches, then the source of the problem is your VPN. 
However, if Canva still refuses to work, then the issue may most likely be from your browser. 
Browser Issues
Browser issues Similar to websites, users can freely utilize browsers to access their favorite websites.
Although names like Firefox, Chrome, Edge and Safari dominate the web browser space, other browser apps like Brave, UC browser, Opera and Kiwi browser have a loyal user base. 
While it is nice that plenty of browsers exist to pick from, some of them are not particularly designed to be compatible with Canva. 
The truth is that some websites may not perform optimally in the browser you like using. 
So, if Canva can't properly work on the browser you are using, then switch to a more efficient browser (Opera, Firefox and Chrome).
If they weren't designed to work well with other websites, lots of people wouldn't use them. If the problem persists, it could be that the cookies and cache in your browser have exceeded their limit. 
For those unacquainted with computer vocabulary, a cache and its cookies are where your computer's temp data is stored.
It assists in reducing the load time of the websites you regularly visit. 
Although they can be beneficial, temporary data can pose a challenge because they are vulnerable to corruption and error.
And when data corruption occurs, it can slow your browser down and limit some of its functionalities. 
If you are certain that this is the source of the Canva down, do the following:
Input "Ctrl + H" in your to access the History tab.

Now, click the "Clear Browsing Data" option on the left corner of the window.

Mark the boxes labelled "Cached Images and Files" and "Cookies and Other Site Data."

After marking the specified box, click "All Time" in the Time Range and select the "clear data" option. 
The process of emptying the cache and data can take a bit of time based on the data size.
Once it is completed, log in to your Canva profile to find out if the tool is working properly. 
Ideally, this solution should eliminate the "Canva not working on my phone" problem; if it doesn't, refer to the next fix below.
Website Extension Compatibility Issues
There's a likelihood that your browser extension may cause Canva not to work properly. 
Browser extensions are web tools that improve the functionality of your browser and add value to your browsing experience. 
Though web extensions can be super beneficial, they may also mess with your Canva account login process. To rectify this issue, here's how to do it:
Tap the Alt + E key at the same time on your keyboard. Next, hit "S" to access your browser's "Settings" menu.

After accessing your settings window, choose "Extension."

Deactivate your browser extensions. 

Once you have carried out those steps, reload the page once again. Next, access your Canva login page to check if it will successfully load. 

If the issue persists, check if Canva is compatible with your PC or mobile device. 
Get in Touch with Canva Customer Support
However, if you can't rectify the problem through any of the methods above, it is advisable you get in touch with customer support. 
Try reaching out to the support team at Canva and describe the challenges you are facing while using their online tool.
While telling them about your problem, ensure you add critical information like your login details, your web browser and the device you utilize for a quicker rectification. 
Why is Canva not working on my phone FAQs?
Why is Canva Not Working on my iPhone?
There are many reasons why Canva is not working on your iPhone. They include:
Your iPhone is operating on the outdated Os
Unhealthy internet connection
Canva server is down
Outdated Canva App
How do I fix Canva not working?
Check if Canva servers are online.

Try logging into your account. 

Deactivate your VPN.

Change your browser. 

Reset your router or modem

Empty your browser cache and cookies

Deactivate your browser extensions. 

Contact customer support
Why does Canva regularly crash on my mobile device?
The cause of the problem may be that you are using an outdated browser or application, poor network or bugs from the app.
Why can't I access the Canva online tool?
Make sure your network access is reliable and working properly. If you can, do a reset. Also, confirm if your phone or web browser satisfies Canva's minimum technical specifications. 
Conclusion
We hope this article has assisted you in finding a solution to your Canva not working issue.
You can also try some other graphic design tools like Adobe Illustrator or PicMonkey. 
Ensure you share this article using the social media button.
Also Read: