Want to create a website for free with Canva?
As long as you have a Canva pro account, it's simple and free to create user-friendly, beautiful websites.
This article will assist you with easy strategies you can use to set up a basic website or landing page for your startup firm, gallery, exhibition, or portfolio for any purpose you wish.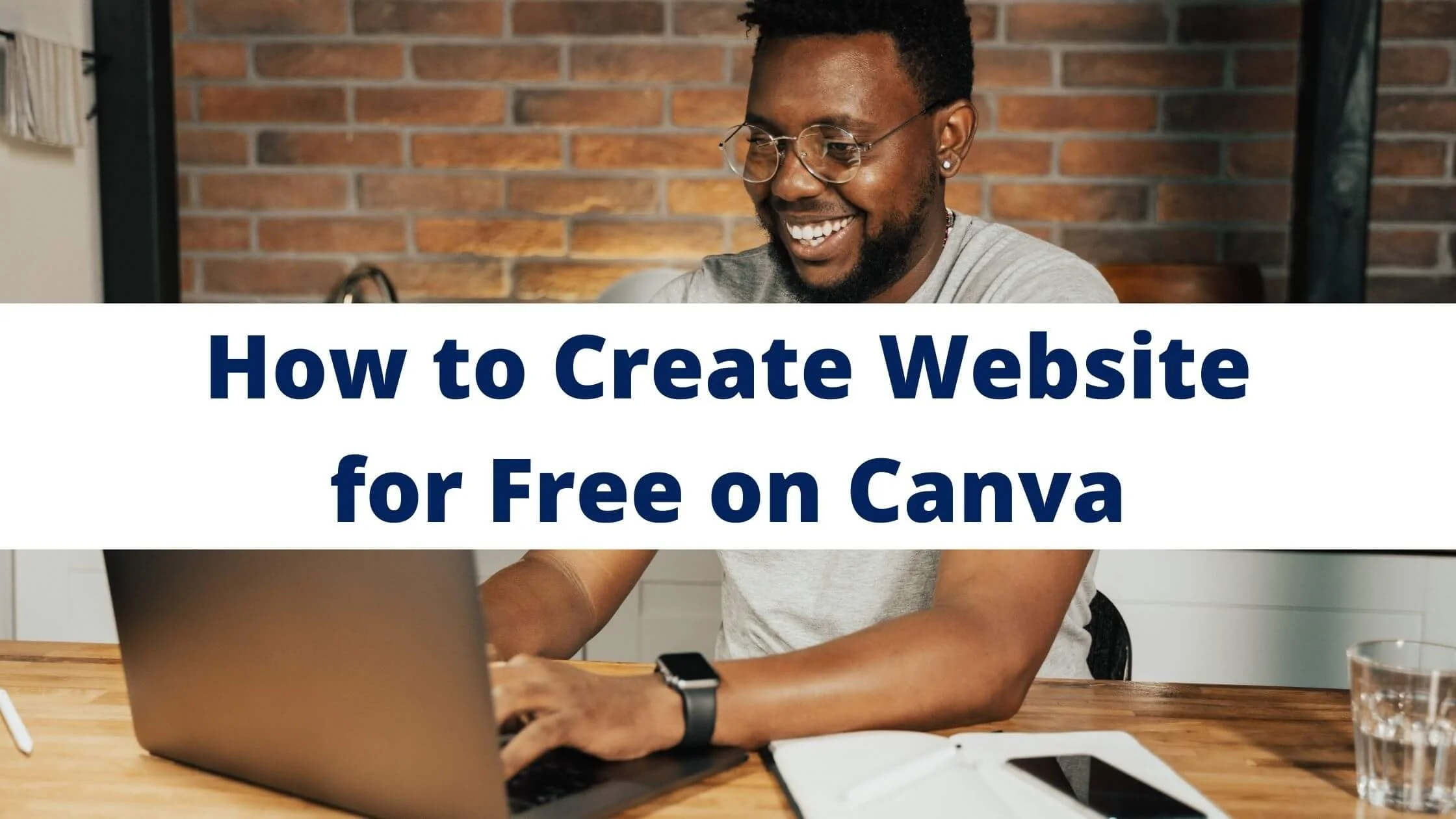 Without further ado, let's get started!
Setting up a website used to be really tough in the past. You need to have plenty of expertise, programming skills and a bit of luck for things not to go awry.
But things have gotten better, and Canva has now emerged as a tool for easy website creation and even a platform for integrating your graphic designs and visual content into websites. 

Why Do You Need a Website for Your Business?
Most people are still confused as to whether there is a need for a website for their small businesses.
Some seem to think social media is a better option than websites.
However, websites can increase your brand reputation, build trust in your business and serve as a channel for potential customers to access and reach you and gain information about your products and services.
Furthermore, Canva simplifies the process of creating, hosting and updating your website in a fast, cost-effective and beginner-friendly way. So nothing should hold you back.
A Step-by-Step Guide to Creating a Free Website on Canva
While some website templates are free, others are restricted to users on the Canva PRO plan. 
For users on a Canva free account, we recommend that you use a blank template. However, you can access the Canva library to check out your pre-designed templates. 
Step 1
To start, pick any of the templates and select the "Customize this template" option to begin designing it to meet your preferences or needs. 
Step2
At this stage, you can access your template in the Canva editor. It is now easy to personalize it with your brand logo, pictures, and graphical elements till it meets your expectations. 
On the left panel of the Canva editor, you can find essential toolkits necessary for your website design, and the upper bar enables you to tweak your elements separately. 
Whenever you want to create new pages, you can click the bottom bar. It helps you move between pages and edit them to your taste. 
You can also insert some external links to your site after you have finished your customizations. 
Step 3
For instance, if you add a "contact me" or "about us" button, you'd have to insert an external link to another page or section. 
Step 4
If you wish to create an avenue where your website users can keep in touch or interact with you, free-form creators such as jotform.com can be used to set up forms to capture customer contact information, receive purchase requests, signups, bookings, etc. 
Once you have set up a form with Jotform, it is easy to insert it as an external link to your Canva site. 
To insert a link, click on any text or link and select the "link" option on the upper toolbar and place your external link there. 
Step 5
The next step is to buy a domain name for your site. Select the "Publish as website" option in the top right area of the editor, and two options will be displayed. 
A new development is that Canva allows users to register new domains. There's nothing holding you back from getting your dream domain.
You can either buy a domain with them or proceed with a free domain. 
The free domain is free to use. You won't have to pay anything to use it. It will appear like this yourname.mycanva.site. However, it will have the appearance "yourdomain.com" if you buy a new domain. 
Make your choice and then select "continue." If you want a domain name, you will have to follow the onscreen instruction. 
Step 6
Once you have finalized that, you can now launch your website to undertake your marketing, brand engagement and sales campaigns. 
You can add a description or set up a password and select the "publish" option to make your website go live!
So that's it!
After this, feel free to share your website, as it is accessible via any device.

Features of Canva Website Builder
1. Easy-to-Use Drag and Drop Feature
With Canva, it is simple to set up your website with the easy-to-use drag-and-drop feature. No programming or coding background is needed.
100+ beautiful templates
Choose from hundreds of portfolios, templates, visual elements and designs. Designing a website has never been easy.
Numerous content in a single spot
Quickly add stunning content to your website by tweaking the page height. 
2. Publish your website with a single click
Customize with a personal URL
Domain names are available for free. However, you can choose to buy a unique domain name from canva. Alternatively, you can use your already-purchased domain name. 
Tailored to any device
Say goodbye to manual optimization. Canva websites are accessible across smartphones, tablets and PCs. 
Restrict your website access
Safeguard your website content by setting up a password protection
3. Easy & Hitch-free collaboration
Collaborate in real-time
Collaborate flexibly with your teammates; make comments, collect feedback and see comments in real-time
Access feedback before launch
Review without stress. Collect feedback from your coworkers or clients via the dashboard. 
Motivate your team
Ensure your team is in sync by letting them access your brand toolkits, designs, elements, logos, fonts, etc. 
With the Canva drag-and-drop feature, you can create a website in no time!
4. Get Loads of Templates for Free
Access numerous template concepts and styles for any purpose. They can be tailored completely to your taste and preferences. 
Unlimited pictures, elements and icons
Explore and use an unlimited collection of pictures, elements, media, clip art, logos and much more. 
Color scheme picker
Choose a color scheme from any picture and draw inspiration from it. 
Collaboration in real-time
Design with your team and share feedback on the design page in real-time.
User-friendly sharing feature
Promote and share awareness about your online pages in PNG, PDF and JPG format.
Typeface and font gallery 
Explore and utilize over 2,500 paid and free fonts. You can even add your own. 
Multi-platform support
Move from one device to a PC – work whenever suits you best. 
Graphs and tables with customization options. 
User-friendly data illustration – easy to learn.
Autosave
Canva lets you instantly save your designs so you can tweak anything you choose.
Background remover ( for CanvaPro users)
Clear photo backgrounds and watermarks; great for sales pictures, portraits and PNGs
Brand Kit (for Canva Pro users)
Easily upload your brand image, symbol and typeface.
Team invite
Send invitations to teammates and colleagues and quickly share and collaborate on projects. 
5. Easily Accessible
Update your website wherever you get flashes of inspiration. Canva has multi-platform support – PC, mobile app and desktop web. 
6. Monitor Your Traffic
Canva's analytics adds value to your web marketing strategy and gives you insight into what's going on behind the scenes.
Analyze site traffic and engagement via Canva pro. You don't have to use or connect with any 3rd-party analytics.

Who Should Use the Free Canva Website Builder?
Canva website builder is available to anyone who needs a web presence. However, its range of features would be ideal for:
Entrepreneurs and business owners
Enhance your online marketing campaign or share communications with your team. 
Content Creator 
Use Canva website builder to create a page where you can promote your portfolio or share your creative work with your fans. 
Side Hustler
Set up expertly-designed pages for your gig or occasion. 
How to Create Website for Free on Canva FAQs
Here are some of the frequently asked questions on how to build a website on Canva for free.
Is the Canva website builder available for free?
Yes. You can use Canva to create a free website. It is easy to set up a website and tailor it to your taste with a username.canva.site domain.
You don't have to pay a dime for this. However, to buy a personal domain name or connect your existing domain to the Canva platform, you will be required to subscribe to Canva pro.
Why do I need a one-page website?
A one-page website is important if you wish to center your website on nice pictures. It is ideal for portfolio collections, occasions and even an online eatery menu. 
A one-page website is also highly navigable. It boosts site engagement, allowing businesses to use it for their communications.
As far as your content is appealing, there is a certainty that your target audience will stick around. On-site pages are also mobile-compliant, user-friendly and simpler to operate. 
Are Canva websites secure?
Yes. They have built-in security. Businesses that intend to create a site to share internal communications can set up a password that protects their online pages from unauthorized access.
Conclusion
Canva is fantastic if you wish to create a visually appealing and unique one-page site. It saves you time because it is rich with pictures, logos, layouts, templates and visual elements.
This will surely keep your creative juice running and get you inspired. 
Also Read: