Facebook is one of the most popular social media platforms for business and networking purposes. The majority of fortune 500 use the platform to grow their businesses.
You might begin to wonder: why on earth would a brand want to know how to delete a Facebook business page or unpublish their Facebook page from the world's most widely used social network?
Reasons to unpublish your Facebook business page may vary. Whatever your reasons are, getting to know how to delete a Facebook business page is important.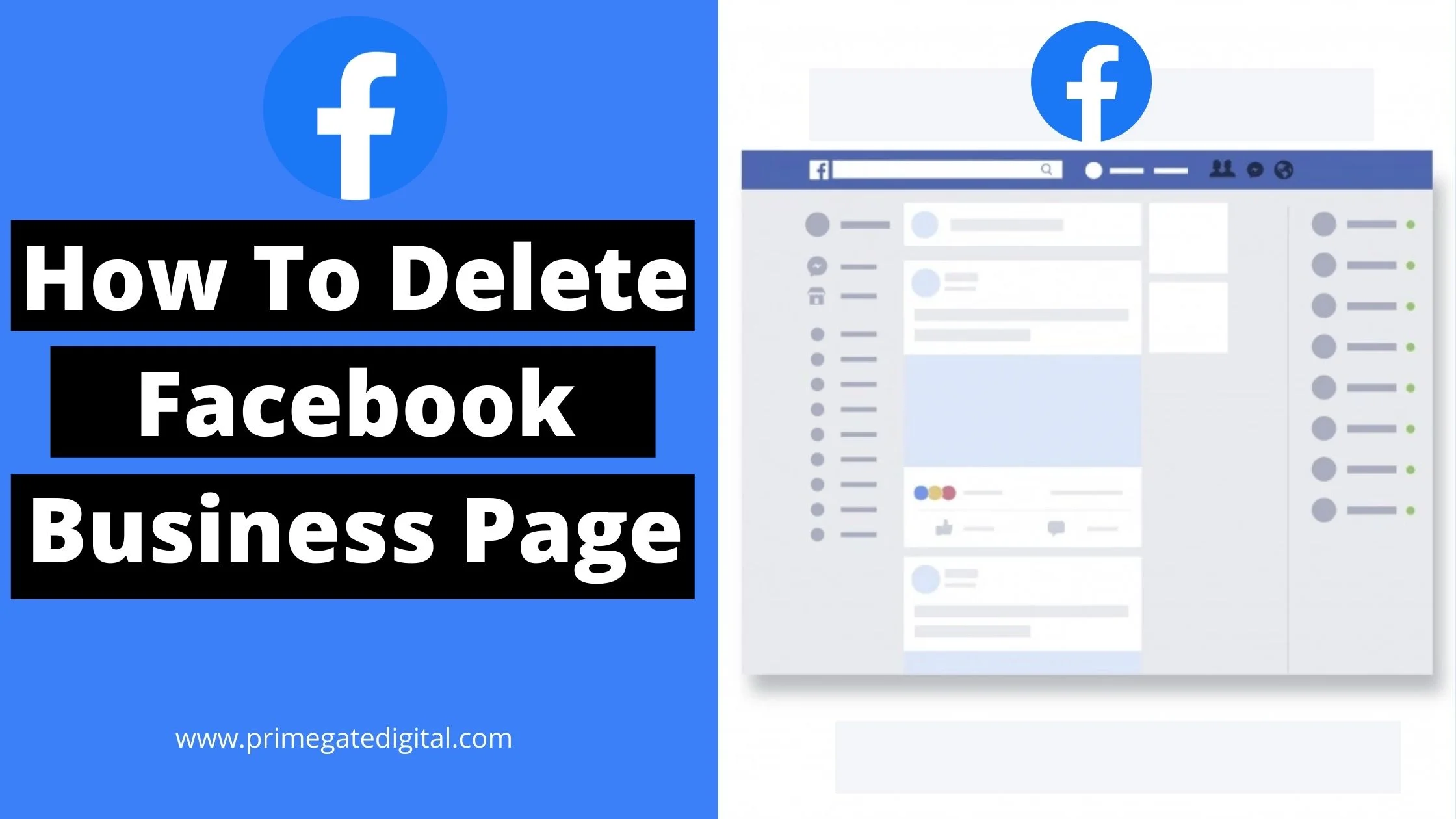 In this guide, we will work you through how to delete a business page on Facebook permanently.
See Also: How to Recover a Hacked Facebook Account
How to Delete a Facebook Business Page
The conventional way to delete a Facebook business page via the web is by signing in to your Facebook through your Facebook personal account.
Follow the steps below to delete your Facebook business page:
Login to your Facebook account
Navigate to your Facebook business page
Tap on " Settings" at the top corner of the page.
On the General tab of your settings page, scroll down
Tap on "Remove Page" from the options displayed
Then click on "Delete" to delete your Facebook page permanently. Page deletion will not happen immediately. You will have 14 days to restore the page if needed.
Note: To be able to delete a Facebook business page, you must be an admin of that page. Otherwise, you will not see the option to delete the Facebook page.
See Also: How To Change Facebook Page Name
How to Unpublish Facebook Page
Perhaps you still want to keep your Facebook business page information. You can unpublish your Facebook business page. This option will only hide your Facebook page from the public as well as your followers.
To unpublish your Facebook business page, you must be an admin. Once you unpublish your Facebook page, you have a 14-day grace period to restore it.
See Also: How To Delete Facebook Ad Accounts Permanently
How to Delete Facebook Business Page Using a Business Manager
With the Facebook Business Manager, you have access to a dashboard that allows you to manage ad accounts, pages, reporting as well as other assets.
The Facebook business manager is best suited for big digital marketing agencies that manage many ad accounts, employees and client's businesses.
Follow the steps below to delete your Facebook business page using the Facebook business manager:
Sign in to your Facebook Business Manager account
In the top right corner of your home page, click on "Business Settings."
Navigate to Account and click on "Pages," and select the Facebook page you want to remove from the Business Manager
By tapping on the page, all details about the page will be displayed, and you will see an icon to click to remove the Facebook business page from the business manager
Click on "Remove" at the top right of your screen.
Note: The business page won't be deleted permanently until after 14 days have elapsed. You may also choose to unpublish the Facebook business page if you decide to take a break from your Facebook page.
Your page followers and fans will remain there when your Facebook page is unpublished. The same applied to the reviews and recommendations.
See Also: How to Search for Someone on Facebook Using Phone Number
Why Delete Facebook Pages Permanently?
Social Media is a widely used tool for marketing and branding. However, despite its popularity, it has a lot of shortcomings.
Take note of this: If your social media strategy does not revolve around Facebook, then you have to consider a lot of factors, most especially the time and resources you have to invest in the website.
It can be challenging to track the impact of Facebook impressions accurately, so it's hard to tell how much your page affects your relationship with customers.
Negative Content
In theory, engaging with customers or fans sounds on Facebook seems natural; however, some people may utilize Facebook page as a channel to post spammy or compose hateful comments.
A user may even concoct false statements about your company on your page for other users to see.
Thus, your company has to check its Facebook page, reviewing each post separately regularly.
Even if you rectify these issues on time, you won't even know the number of people that have seen the hurtful comments on your page and will connect that event with your brand.
Subscriptions
There's no certainty that someone will continue to see your posts on their newsfeed regularly just because they hit the "Like" button.
Facebook has now given users the upper hand when it comes to influencing their social media experience, meaning that users can easily "unsubscribe" from your page as they will.
After a user "unlike" your page, your posts will instantly be removed from their newsfeed, causing them to only access your posts if they review your page.
This makes it hard to know the number of users that are seeing your posts in their news feed. Thus, you can't track impressions.
Advertisements
When paying for your Facebook ad, you can either opt for a cost per impression (CPM) or cost per click (CPC).
Although you'd have to pay at least $0.1 for CPC and $.2 for CPM, Facebook will generally suggest that you bid higher than that in the pricing process of ad setup.
If other businesses bid higher, it is very possible that their ads will be displayed. This does not favor small businesses or niche marketers.
Time Consumption
Using a Facebook page as an aspect of your social media strategy can be very time-consuming, especially if it is properly carried out.
Aside from looking out for negative comments, you should also respond immediately to any inquiries or favorable suggestions.
Since Facebook is usually available round the clock, posts may build over time.
As your business page engagement increases, it might be important to hire a social media marketer to manage your post.
This may not be practical for many businesses, making it difficult to run a Facebook page effectively.
How to Delete a Facebook Business Page FAQs
When I Delete a Facebook Business Page, What Happens?
Once your Facebook page is deleted, it will no longer be visible to the public. However, you have a 14-day period to restore the page if you decide not to delete it anymore.
Note that upon confirming that you want to permanently delete your Facebook business page, all your content, page likes, interactions, comments, and all data associated with your page will be deleted forever.
Why Can't I Delete My Facebook Business Page?
If you're not an admin to the business page, you cannot delete it.
Perhaps you have admin access and are still unable to delete your Facebook page. It could be that another admin that has access to the page has canceled the page deletion within 14 days.
See Also: How To Recover Deleted Messages From Facebook
How 

do 

I 

delete 

my 

Page 

on 

Facebook?
Here's how to delete my Facebook account permanently:
Sign into Facebook using your PC.
Select your profile photo in the upper right corner of Facebook.
Click Settings & Privacy, and next select Settings.
Select Your Facebook Information.
Select Deactivation and Deletion.
Click Delete Account, and next, Select Continue to Account Deletion.
How can I delete a Facebook page from the application?
Access the Facebook mobile app.
On the upper right corner of the screen, select the hamburger menu.
Choose "Pages" and select the page that you would like to shut down.
On the upper right, select "Settings."
Tap "General."
Navigate below until you see a section named "Remove Page."
Can I deactivate my Fb page and start over?
If you wish to delete Facebook and create a new account permanently, you must go beyond deactivating it.
Account deactivation will not delete your Facebook settings and friends — Facebook stores data on everything.
This lets you easily recover your Facebook account if you have a change of mind about deleting it.
I deleted my Facebook page. What happens next?
Your pictures, posts, videos, posts and all other things you have uploaded will be deleted forever.
You will not be able to restore the items you have uploaded.
You will be denied access to Facebook Messenger.
How do you delete a Facebook page that you can't access?
It is not possible to delete a Facebook page if you are not the admin.
Thus, if you cannot access the page you wish to delete, this implies you don't own it and, consequently, can't remove it.
Conclusion
Facebook is not the only social media network to grow your business. If you have a page that you no longer want to use, follow this guide on how to delete a Facebook business page permanently.
Also Read: