In this article, we will analyze the list of the best free website indexing tools.
Using these free tools, you can find out if Google has indexed your website or not.
You can also see your URL ranking through these tools.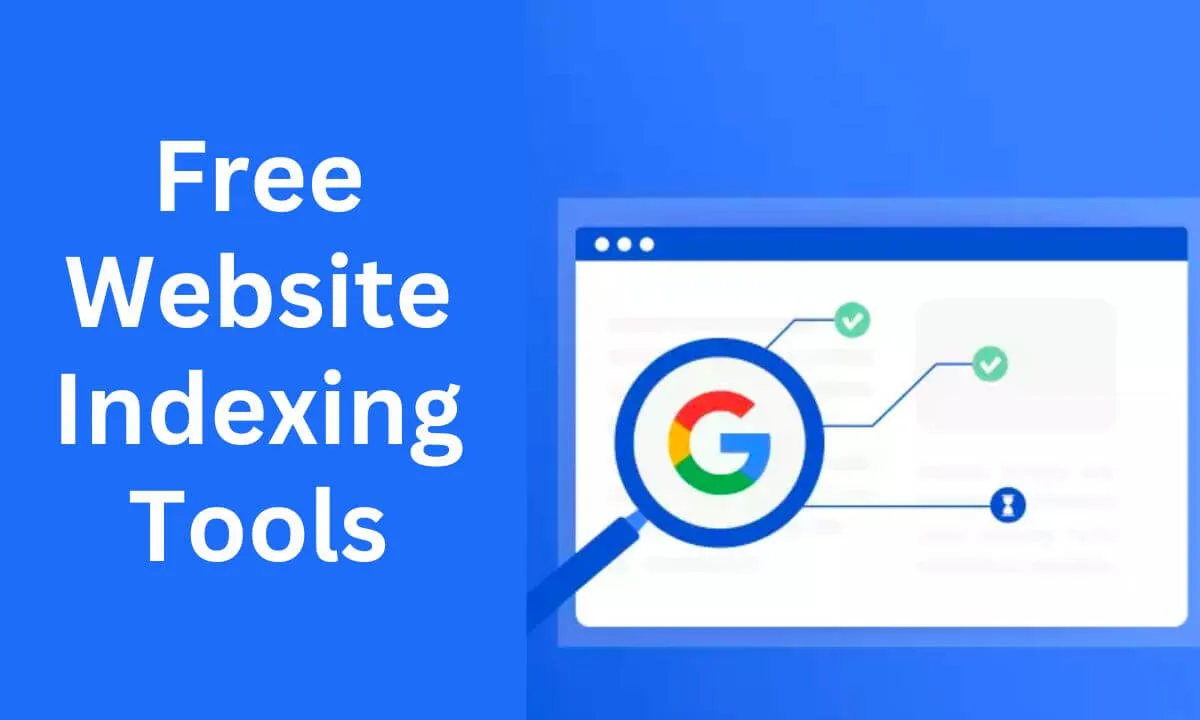 Without further ado, let's get started:
Google Search Console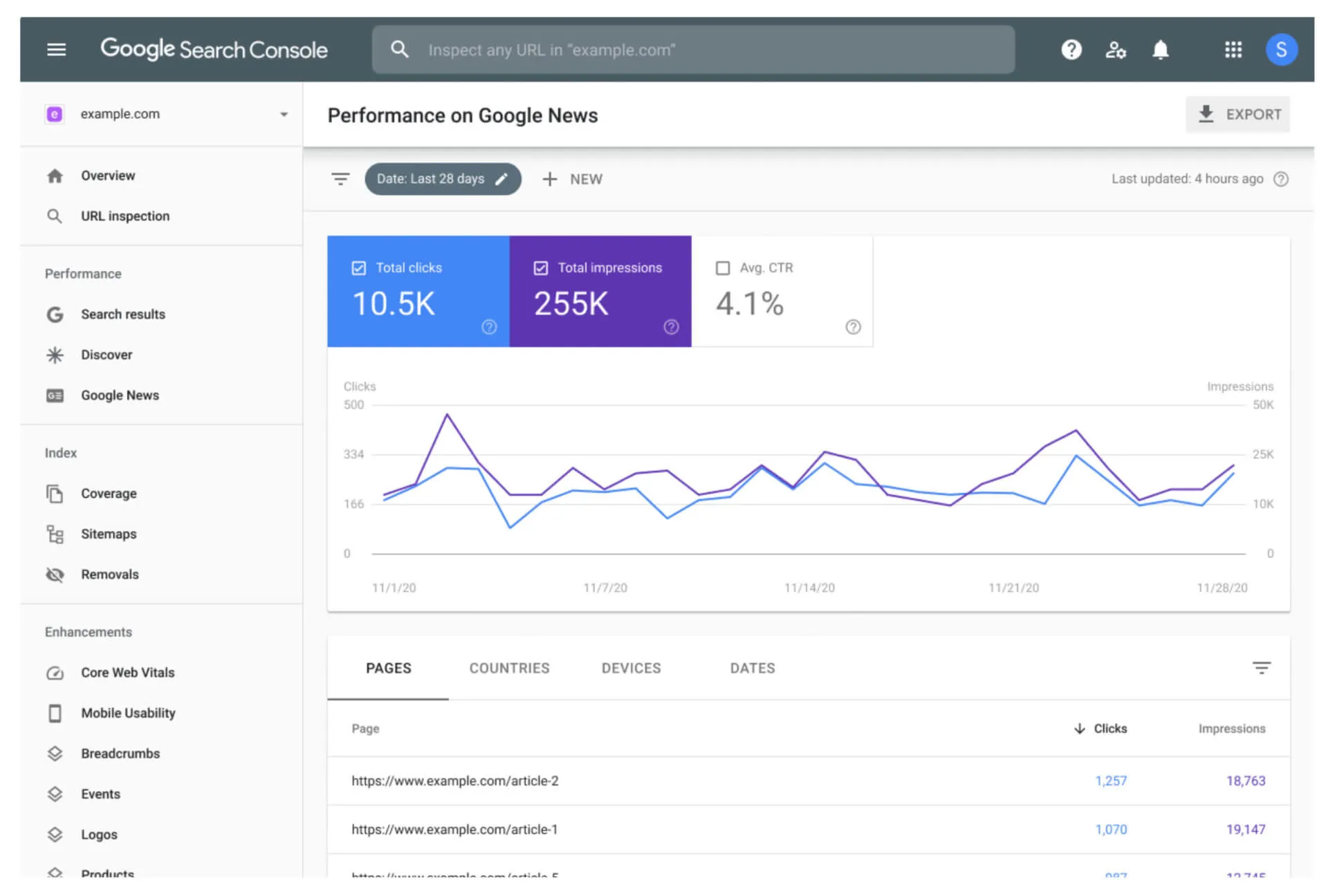 After launching your website, your primary objective is to drive traffic and sales through it.
Without indexing and achieving a good ranking, this will be very difficult.
With Google Search Console, you can monitor your indexing and crawling.
The tool is provided for Google free of charge. It is an all-in-one solution that can do wonders for your SEO strategy.
The tool allows you to leverage Google Analytics to track and investigate your website traffic.
There is actually no tool that can replace Google Search Console as it is highly important and, fortunately, simple to launch and user-friendly.
WebFX Google Indexing Checker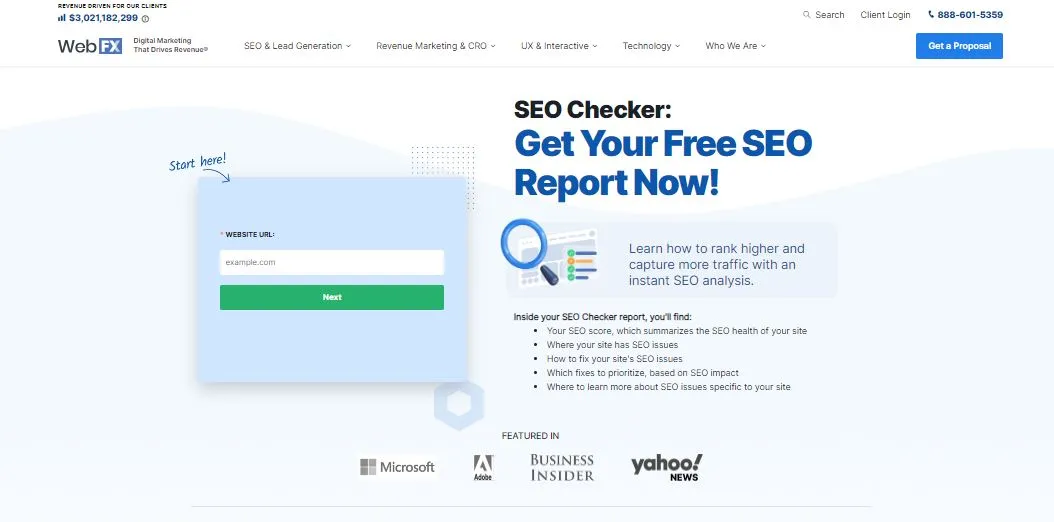 This useful free tool lets you access an in-depth SEO report – without paying a dime – with relevant suggestions.
It also evaluates your website, scoring it by 100.
As one of the best free SEO tools, the WebFX Google indexing checker will inform you if your website is indexed or not. It will also analyze all the essential SEO elements of your website, scoring it as a fail or a pass.
If your website has any issues, it will evaluate them and provide recommendations for rectifying them.
Features
Comprehensive free SEO analytic tool with indexing checker feature.
Also looks out for robots.txt files and XML sitemaps.
Showcase free practical recommendations.
Linkody Index Checker

Linkody is another user-friendly index checker that lives up to its name.
All you have to do is input your URLs into the space, and it will show you if Google has indexed them or not.
While this tool may not necessarily replace Google Search Console, it is a quick way to determine if your page has been indexed, especially if you are on your mobile device or you do not want to access your Search Console account.
Features
Extremely-simple URL index checker.
P-Supertools Index Checker
P-Supertools has a comprehensive suite of free tools important for those starting SEO.
This easy-to-use tool lets you inspect the indexing status of a maximum of five URLs.
You can also review multiple URLs.
Features
Easy practical URL indexation checker
Northcutt Index Checker
This tool is set up by a fantastic SEO agency, Northcutt.
The Northcutt index checker informs you if Google has indexed your website or web page.
While it is simple to use, large websites may likely go over their limit. But other websites won't have issues.
Features
Easy index checker for individual web pages or entire websites.
Omega Indexer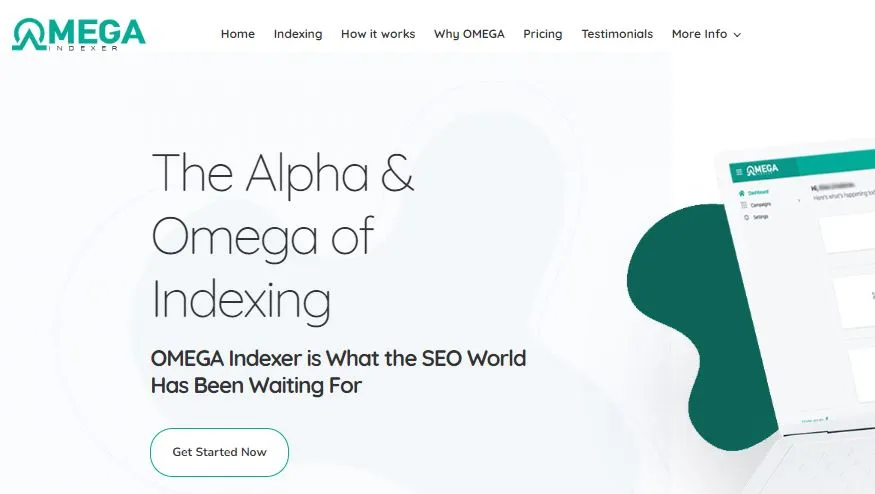 Omega Indexer is a free indexing platform that is effective for the above situation of use.
All you have to do is set up a "campaign" and add your URLs.
Next, the tool will allow Google to drip-feed them, which assists your URLs in getting monitored via Google Penguin, which can ignore or turn down requests to index low-quality URLs.
Omega indexer takes under 5 days to produce results.
Although it is not a perfect tool, reviews have indicated positive success rates with difficult-to-index links.
Features
Claims to utilize Google Search Console to 'drip feed' Google your links for indexing
Takes under 5 days to work.
Affordable and easy to play around with.
Elite Link Indexer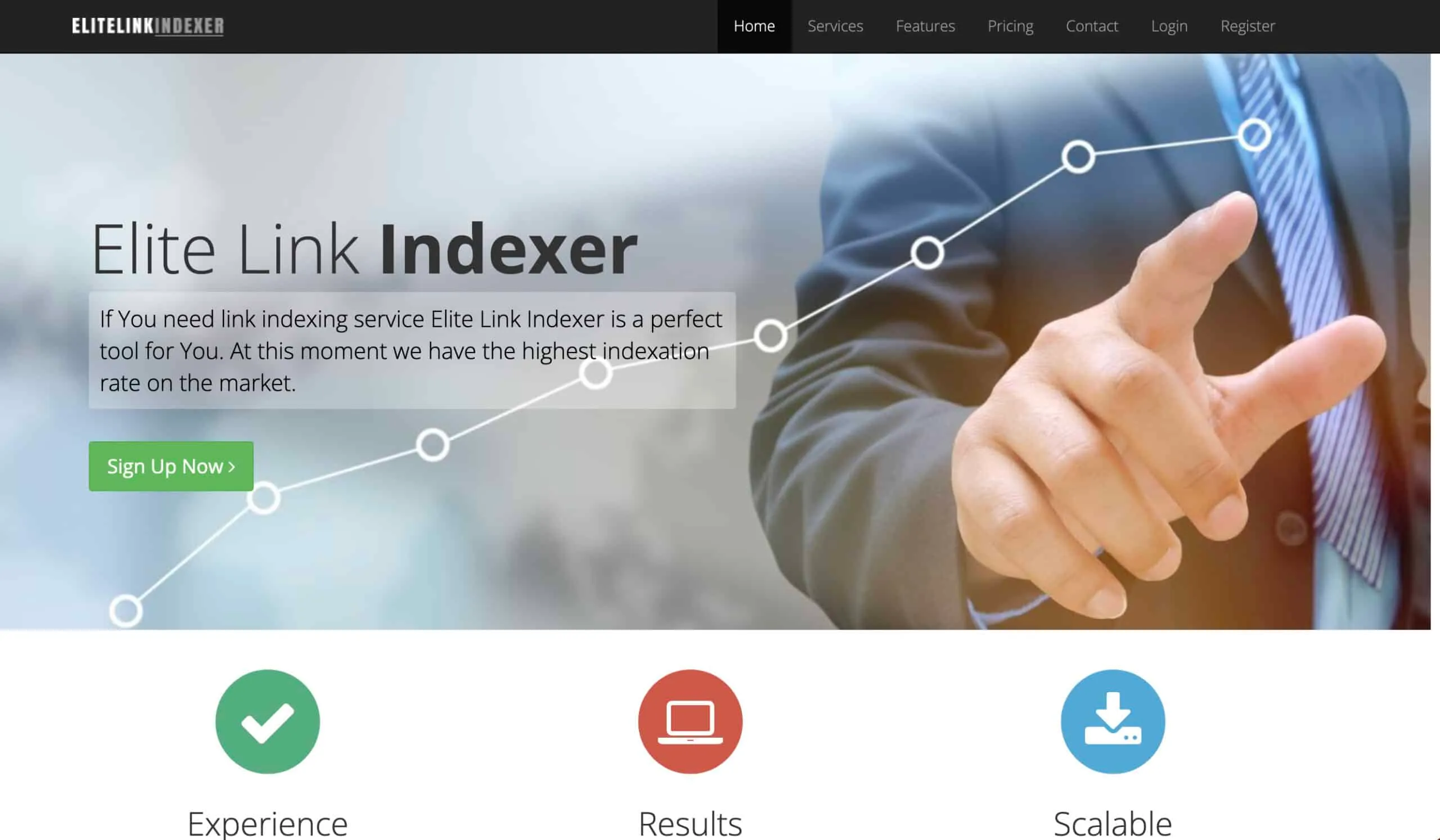 Sharing the same functionality with the Omega indexer, this tool is yet another premium tool for indexing difficult-to-index links.
It allegedly has an index success rate of roughly 64% (which is quite a winner.)
They assert that they utilize white-hat techniques to get Google to detect your URLs.
Elite Link Indexer goes for $10 every month for five thousand links, which is sufficient for the majority of users.
Features
Reported a 64% rate of success
asserts to employ white-hat techniques
Affordable
Coder's Tool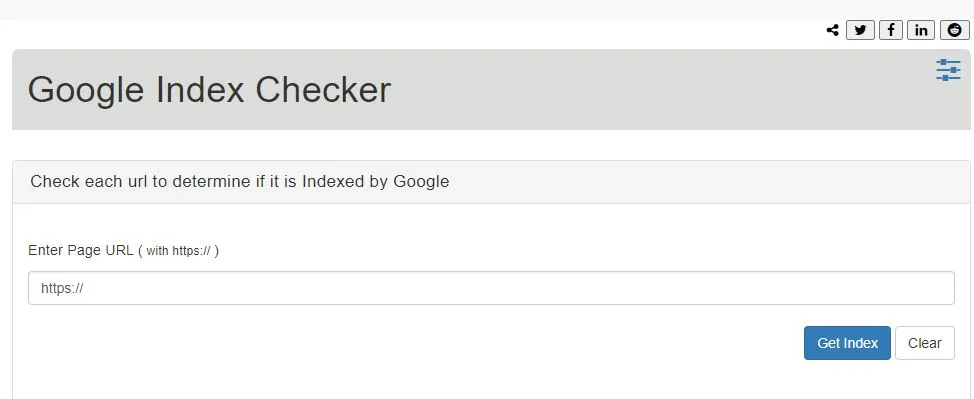 This is yet another great Google indexing tool. It is available for free and is simple to use, particularly for SEO novices and beginners.
Coder's tool also lets you have access to some free but highly essential SEO features like Test Data Tools, Website Tools, Encode Decode Tools, Text Content Tools, Link Building tools, and a lot more.
Extra features
This tool offers numerous helpful tools like Text Content Tools (effective for content spinning, generating text ideas, etc. ), Network tools (for monitoring your DNS Records, your IP Address and so on) and much more.
It also has a robust SEO tools feature for tracking keyword position, URL slug, generating keyword ideas and many more.
Index Checker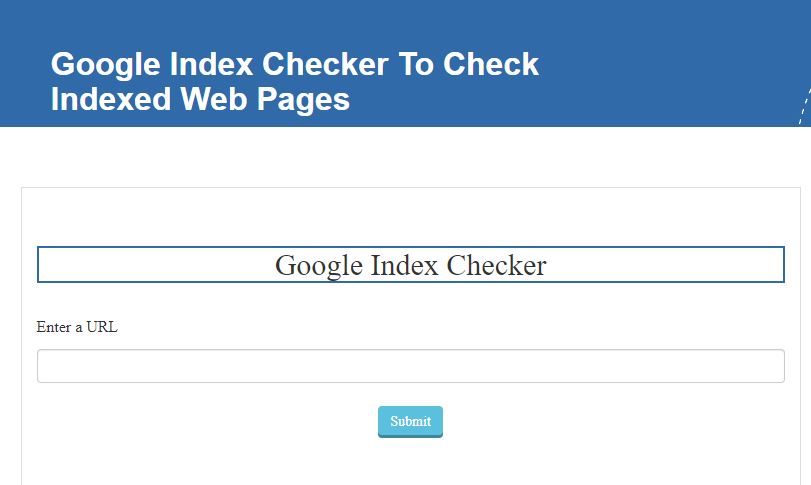 Index Checker is yet an effective, howbeit, free SEO service that has an indexing checking feature.
It can be used to find out the index status of your site links. It allows users to check the status of a maximum of 25 URLs.
All you have to do is input these URLs in the field. You can also download your index status in CSV format for offline viewing.
Coder Duck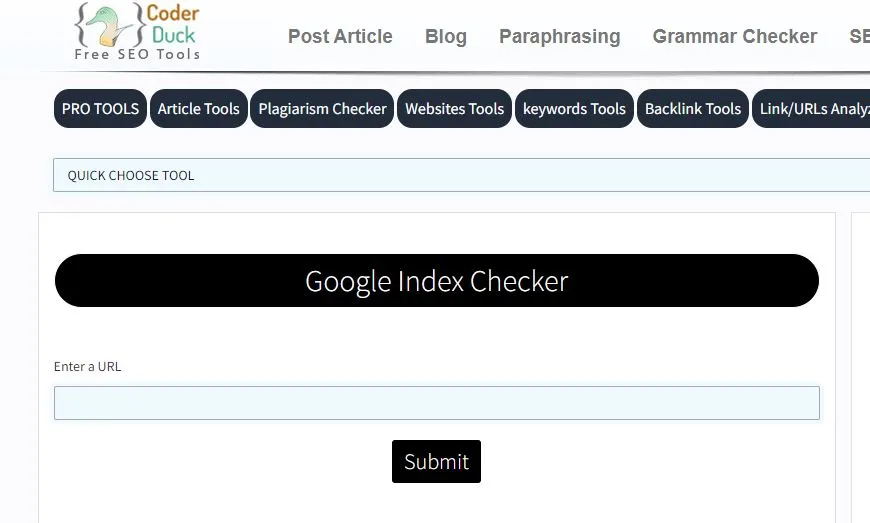 Another cost-free, user-friendly and functional index-checking tool is Coder Duck.
The tool is also home to numerous SEO tools that can be accessed for free.
You can monitor the pages that have been indexed by Google from your list of links. Besides the free Google indexing tool, will also find other super-important tools like Article Tools, Keyword Tools, Plagiarism Checkers, Backlink Tools and Website Tools.
Extra Features
As we mentioned, you will see numerous SEO tools like a duplicate content checker, link price calculator, Google malware checker, URL rewriting tool and many more.
Furthermore, you can track your page rank via Mozrank Checker and Alexa Rank Checker.
SEO Tools Center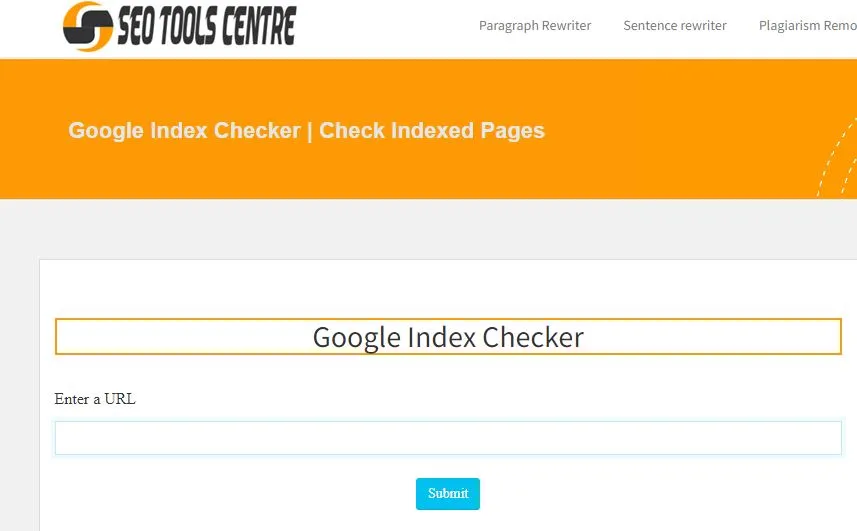 Another tool with a rich suite of SEO solutions with a reliable feature to help you monitor the index status of your page and links.
Also you can also determine how many pages Google has indexed from your website.
Among the free tools you can access include: Plagiarism tool, sentence rewriter, paraphraser, article rewriter, keyword position checker and link calculator.
Extra feature:
SEO Tools Center also has a host of other essential but free writing features such as a sentence generator, meta tag generator, spelling checker, XML sitemap generator, backlink checker and a lot more.
Rankwatch
This is a cost-free tool for checking the index status of your website.
It allows you to input around 25 links to detect if they have been indexed by Google. It also has a rich SEO resource center.
Rankwatch has thousands of customers, including well-known brands like Amazon, Sky, BookMyShow, RedBus and nakuri.com.
Extra Features:
RankWatch is currently being used by trustworthy brands like RedBus and Sky.
It has other useful features such as Backlinks Analyzer, Mobile Friendly Checker, Website Analyzer and so on.
SEO Tools
SEO Tools is another tool that makes our list of free indexing tools.
It allows users to check if Google has indexed their page through an index status URL checker.
There are some amazing features on the website, like Keyword CPC Calculator, WordPress Theme Detector, Bulk Domain Availability Checker, Keyword Position Checker, Donate Button Generator, Bulk URL Shortener, Bulk Facebook ID Finder, Grammar Checker and a lot more.
Extra features:
You can get access to a wide variety of user-friendly and cost-free SEO solutions like Google Malware Checker, Bulk Domain Age Checker, Backlink Checker, Whois Checker, Backlink Maker, URL Rewriting Tool, www Redirect Checker and many more.
Useotools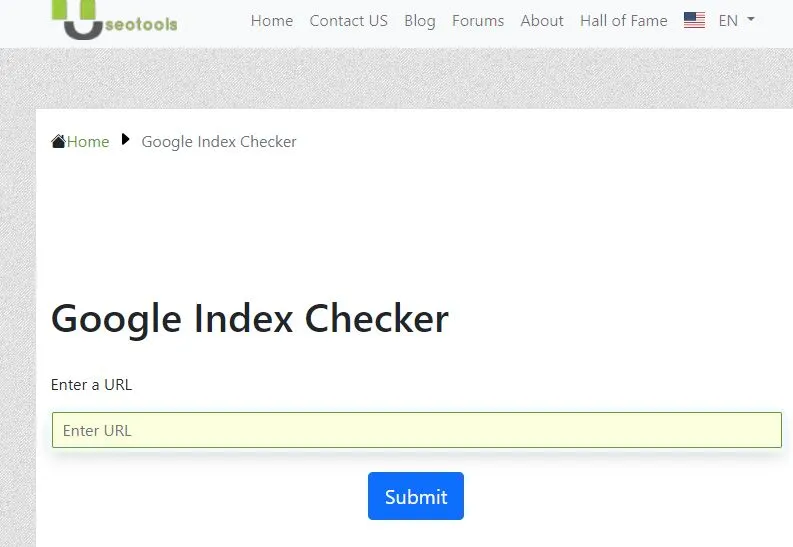 Useotools is a good online service that also offers a Google index-checking tool. This platform lets users find out about the Google index status of their URLs quickly.
Besides its Google index-checking tool, Useotools has several SEO solutions, such as Article Rewriter, Backlinks Maker, Meta Tag Generator, Keywords Position Scanner, Robots.txt Creator, XML Sitemap Generator, Backlinks Checker & Alexa Rank Checker.
Extra Features:
As I have earlier mention, you can find other free web features like Domain Age Checker, Whois Checker, Domain into IP, htaccess URL Rewriter, URL Redirect Checker, Mozrank Checker, Server Status Checker and a lot more.
SEO ToolsKit
SEO ToolsKit also has a great online service that lets you confirm your Google index status.
All you have to do is to input your specific URL in the field provided, and you will have access to your index status.
Besides a free Google indexing tool, SEO ToolKit also offers some functional tools like SEO Site Audit, Online Ping Website Tool, Page Speed Checker, Page Size Checker, XML Sitemap Generator, URL Rewriting Tool, SimulatorWebpage and Screen Resolution Simulator.
Extra Feature:
SEO ToolsKit also delivers a wide range of free tools like Webpage Screen Resolution Simulator, Suspicious Domain Checker, Website Screenshot, and Robots.txt Generator.
Free Website Indexing Tools FAQs
Is Google indexing cost-free?
Yes, Google indexes websites freely.
If your site doesn't show up in the SERPs. But do not fret if Google is yet to index your website. With a free tool like Google Search Console, you can track and inform Google that your website is ready for indexing.
What is Google Crawler called?
Googlebot is another name for Google Crawler. It crawls across the internet and indexes the content of the website and other data.
Conclusion
This article offers you free website indexing tools you can use to get indexed faster.
Indexing is super-important for your website to get visibility on Google search results pages. And with these tools, you can determine if your URLs have been indexed.