It is a known fact that Google has total control over every website's visibility on its search results pages.
If Google hasn't indexed your website, then it won't appear on your website.
And even if your site is indexed but violates Google's guidelines, it can take a hit.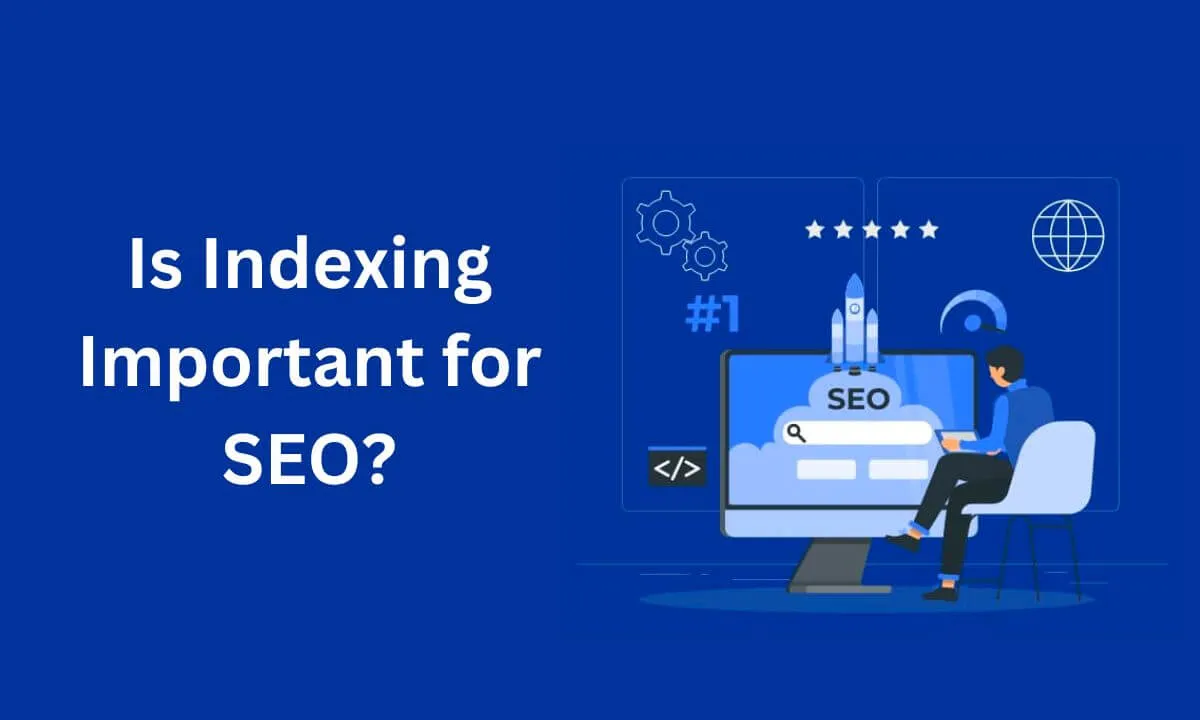 So you have to be aware of how Google indexes your website.
In this article, I will show you why indexing is important for SEO.
Why Indexing is Important for SEO
Website indexing is very important if you need quality traffic for your website.
For instance, if you are a service provider with a website that establishes a web presence for your business, optimizing your site and getting it indexed can give you an enormous boost.
Today, people place a high value on ranking on the first page of Google search result pages; over 50% of marketers and website owners have reported that SEO generates better leads than other types of marketing, which is the reason the SEO industry has experienced astronomical growth in the last decade.
There are numerous ways to drive site traffic, including engaging content, visually appealing design and even a lead magnet.
However, an important strategy for boosting your site audience is to inform search engines that it has to be indexed.
For you to be visible to online users to grow your traffic, you have to know that the internet is filled with procedures, and the information displayed follows these procedures.
Because the internet is a massive informational resource, a lot of people erroneously think their content is visible the moment they publish it.
However, that is not the way it works. Content isn't presented at the same rate. At times, older and more reputable website gets the upper hand when it comes to putting out online content.
This is why you have to pay attention to search engine guidelines when building and maintaining your website.
To improve your website traffic, you have to pay attention to search engines and how their algorithms work. This is a critical stage in people finding and accessing your content.
Indexing and crawling are the major stages in discovering and analyzing your website. This is why you have to improve your web indexability.
Googlebot is the crawler that is mainly responsible for indexing websites. It is a vast network of bots that Google uses to extract results from its database when necessary.
What are the Factors that Contribute to the Website Index?
If you want your site to get indexed quicker, there are some things you have to do:
Connect Your Website to Google Analytics & Google Search Console
Google prefers people to make use of its products.
Google Search Console & Analytics help you with insight into your site traffic and ranking. They are also important for website ranking.
Update Your Content Often
This does not revolve around just adding new content to the ones posted on your website.
You have to ensure your content is relevant and adds value to your users regularly.
This lets Google understand that your website is valuable and pertinent for keywords and search intent. Fresh and unique content is essential for SEO.
Add Sitemap
HTML and XML sitemaps play an important role in indexing your website.
The sitemap links your entire site features and pages, which enables Google crawlers to access them.
The faster your website can get crawled, the better the odds of them revisiting your site for new and fresh content.
Encourage Other Websites to Link to Yours
This is likely the most challenging aspect of SEO.
Google strictly prohibits buying links and will hit your website with penalties if you do it. But link building is important.
This is why you should connect with others who add value to your business with guest blogging or request they share your content (via a do-follow link).
This will assist Google in crawling your website in other areas online.
Why Pay Attention to Site Indexing in SEO
Although indexing is a ranking factor, it is not the only one worth considering (you have to pay more attention to your links and content).
But if some parts of your website aren't indexed, you might lose out on important traffic.
Here are some reasons you have to pay attention to your SEO index:
Without Links Your Website Won't be Ranked
One of the important elements of ranking on Google is to acquire backlinks from high domain authority websites. Although acquiring links can be difficult, you need to publish blog articles and make them link-worthy.
But if your website isn't properly indexed and isn't displayed on search results, your website won't be visible and can't get linked.
This implies that you won't be able to acquire sufficient backlinks and won't rank on search results pages.
You Won't Rank Properly for Relevant Keywords
A great way to improve your ranking is link building and content creation.
However, your website will only show up if Google indexes your pages.
Your rank-worthiness increases as your pages get indexed. It is impossible to rank without indexation.
Thus, the first stage to drive traffic to your site is ensuring your site is indexed.
Google Crawls Multiple Parts of Your Website
Google has a lot of crawlers — every one of them indexes many areas of your website.
Although these areas might relate in a way, they may not finally crawl your entire site.
This may result in some areas of your website not being indexed properly, poorly impacting your rankings.
Thus, ensure that all your key pages are crawled and indexed.
It is Impossible to Rank Without Being Indexed
I have repeatedly mentioned that indexing is a fundamental aspect of SEO.
If Google hasn't indexed and crawled your website, it will be unable to get ranked.
If you want to show up on Google results pages, ensure your pages are indexed without hassles.
Tips for Getting Indexed for Successful SEO
There are some simple tips for getting indexed and having a better rank in search results:
Create a Proper URL Structure
Google will find your page simple to crawl if it has a proper URL structure.
This involves keeping your site up-to-date, using a clear URL structure and adding internal linking.
When you have a poor link structure or lack of indexing for your pages, your ranking will be negatively impacted.
To have a high rank on Google, ensure that your pages are rightly indexed.
Use XML Sitemap
Sitemap is the key to getting Google to index your website properly.
There are many free sitemap generators online.
You can use them to prevent indexing problems on your website.
So if you want a high rank on Google, ensure you haven't ignored this important step!
Utilize 301 Redirects
If your URL structure is different or you changed your pages, it is important to utilize 301 redirects to point to your new URLs from the old ones.
By doing this, you will avoid issues with indexing problems emanating from redirect errors.
Fix Site Speed Issues
Website speed is an important ranking criterion, so ensure your page loading time is fast, particularly if your PC is slow.
This can be a hassle each time you want to install a new update.
However, you have to check that your page is crawlable so that it can easily get indexed.
Look for Broken Links on Your Website
If your website has a lot of broken links, it can lead to the non-index of your pages.
Fix all broken links on your website to have a high rank on Google search pages.
This might seem like a minor optimization — however, broken links can limit Google from indexing your pages without issues.
Internal links are essential for better navigation and can help your website rank higher on Google.
If you do not add internal links to your content, there's a likelihood that your pages won't be crawled and indexed correctly — this can negatively impact your search engine rankings and result in serious issues.
Is Indexing Important for SEO FAQs
What is the importance of Google indexing?
Indexing is a crucial responsibility of the search engine.
Without proper indexing, pages that are crawled won't exist on the Google database — and its algorithm can't display your website in search results.
What SEO errors should I avoid?
Neglecting website speed
Not paying attention to local search.
Not using the right keywords.
Not using the right meta descriptions and title tags.
Not connecting your website with analytics.
Not optimizing your website for mobile devices.
Duplicate and low-quality content.
How do backlinks improve SEO?
Backlinks add value to your SEO because it is a signal of quality, particularly if the link is from a website with high domain authority.
Therefore, quality backlinks can improve your ranking for relevant keywords.
Conclusion
It is important to index your website, and it can contribute to your SEO performance.
Without indexing, your pages won't show up on Google search result pages.
In this article, I explained the value of indexing to SEO and how you can make your website more indexable.
Check out our guide on technical SEO and how it improves your site's visibility on search results pages.