According to a report by Statista, there were 59 million freelancers in the United States in 2020.  This is an increase from 53 million freelancers in 2014.
This number has been increasing on a daily basis.
LinkedIn Marketplace has emerged as the new direct competitor to popular freelance sites like Fiverr, Upwork and Freelancer.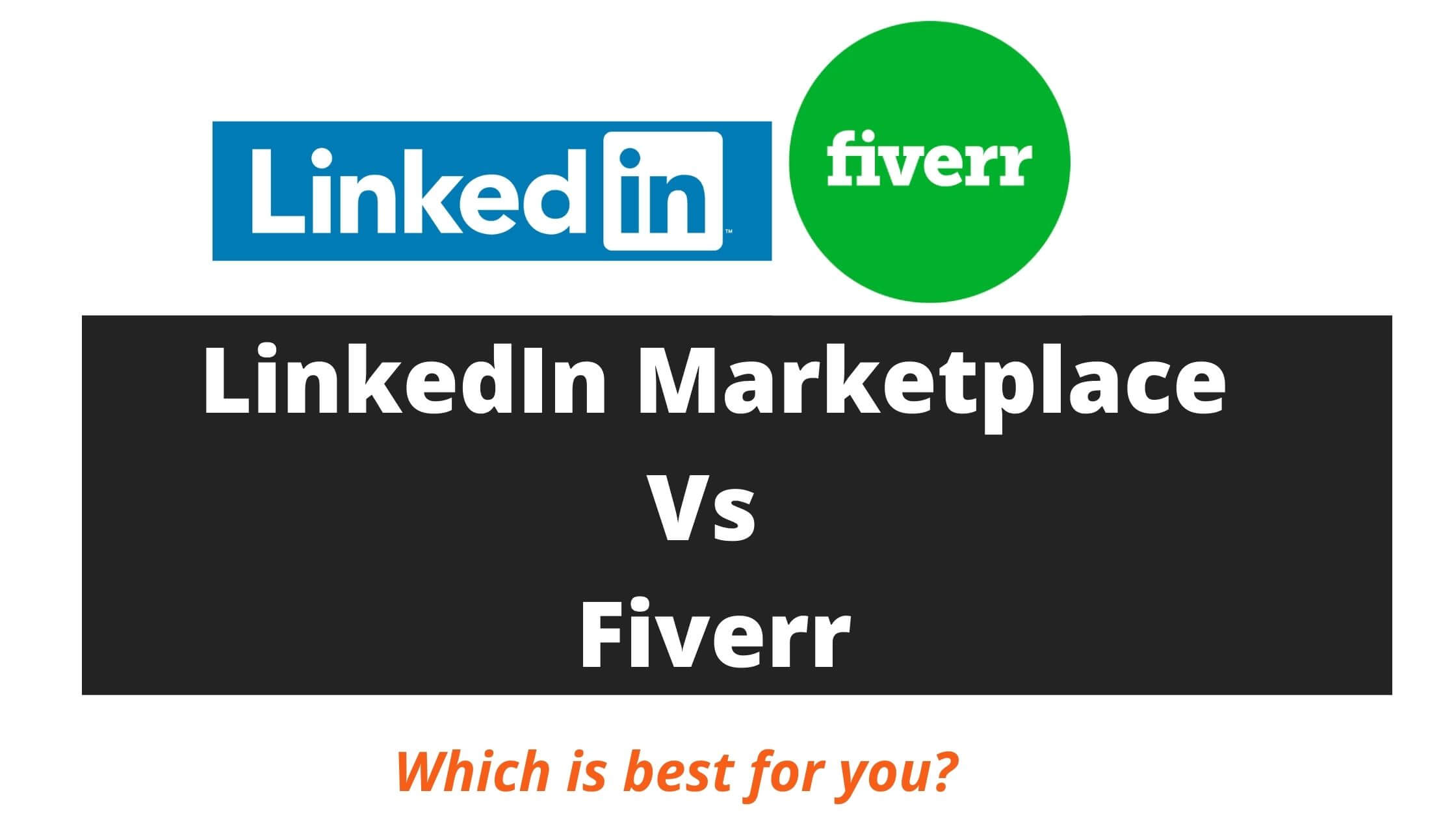 While Fiverr is known to have over 960,000 freelancers, LinkedIn has over 800 million active users globally. It's great to know that LinkedIn is able to stand the competition of already established freelance websites.
With LinkedIn Marketplace, freelancers are more than excited to welcome the platform as an alternative means to promote their services in a highly saturated job market.
In this article, we will closely look at the new LinkedIn Marketplace Vs Fiverr to determine which is best for you as a freelancer and recruiter of talent.
See how to Use the LinkedIn Marketplace as a Freelancer
LinkedIn Marketplace Vs Fiverr 
The LinkedIn Marketplace is the incumbent disruptor in the freelance marketplace. It has been launched in an era where working from home is the new normal.
While Fiverr has been in existence for more than a decade, LinkedIn which has dominated the job ecosystem has come with lots of credibilities to compete aggressively with Fiverr.
LinkedIn which has over 30 million active companies and hiring managers, the Marketplace brings close the recruiters and freelancers for both long-term and short-term contracts.
Benefits of LinkedIn Marketplace to Freelancers
Huge opportunity to connect with hiring managers
Welcomes both professional and beginner freelancers.
Offers freelancers both short-term and contract-based work
A ready market dedicated to services like writing, digital marketing, and consulting.
Easy to navigate with an amazing user interface
Offer low fees for projects completed.
Opportunity to become your own boss and work at your own pace.
A portfolio that allows you to showcase your amazing skills and projects.
The launch of the LinkedIn Marketplace has sparked interest in both freelancers and employers. Everyone wants to maximize the platform to the best of it.
LinkedIn marketplace will help freelancers attract high-paying clients and generate more revenue.
Despite the pandemic, it was recorded that at the end of 2020, total employment averaged 149.8 million, which is 8.8 million (or 5.5 percent) less than in the fourth quarter of 2019.
See Also: 15 Effective LinkedIn Marketing Strategies to Grow Your Business
What LinkedIn Marketplace has for "YOU"
You must appreciate the opportunities that LinkedIn Marketplace brings to the workforce. LinkedIn which has dominated as the most popular professional platform is capable of reducing the unemployment rate with its marketplace.
The LinkedIn Marketplace serves as a bridge between employers and talents.
With the section that allows LinkedIn Marketplace freelancers to include testimonials from clients, the high-quality standard is fundamental to becoming successful.
The credibility, integrity and reliability of the platform will be at its prime.
Below is what the LinkedIn Marketplace promises to offer you:
For Employers
Choose the best-fit freelancer for the job
Set the benchmark for remuneration
Connect with freelancers remotely
Save operational cost
Marketplace to hire professionals
For Freelancers
Choose high-paying niche
Opportunity to prospect
Get more qualified leads that turn into customers
Select jobs and payment method
Great opportunity to earn more.
3. Payment Gateway
Supports digital payment system
Wallet feature
Ability to monitor transactions
Offers privacy and security.
See Also: Top 21 Best Content Writing Tools To Create Better Content
How Freelancing Platforms have Shaped Professions?
Freelancing has helped reduce unemployment to a large rate. It has been in existence for a very long time. The internet and social platforms have contributed to the success.
Today, one can have a career as a freelancer and earn six figures from the comfort of your home. There are many freelance platforms that connect buyers to freelancers and strike a deal. Freelancers get gigs and make a living.
You can register on platforms like Upwork, Fiverr or Freelancer and start marketing your skills to ready buyers. The potential clients have the privilege to choose from a pool of freelancers that meets their requirements of skill and budget.
Perhaps some freelancers might deploy a cold email marketing strategy. However, the freelancing platform delivers the best result still. A freelancing platform saves you a lot of operational costs while you focus on the job.
The Marketplace is the beginning of a new generation considering:
the over 30 million active companies on LinkedIn
work From Home Culture Following Pandemic
the Flexibility of "Hiring Remote Employee"
Freelance platforms like Fiverr and Upwork have increased the demand and ease of hiring freelancers and attracting potential talent seekers. In 2020, Upwork generated over 373 million U.S. dollars in revenue while Fiverr made $189.5 million
Considering the over 30 million active companies on LinkedIn and over 25 million job openings, it is expected to hit a new record with the new "Marketplace"
As LinkedIn is already helping individuals find jobs, it will be easier to dominate the freelance space with the Marketplace. Also, with the transition to work from home, people are more inclined to work from home and that positions freelancing as a better option to 9-5 jobs.
This is a win-win for both employers and freelancers.
Irrespective of your location, with Microsoft's LinkedIn digital wallet, you can receive payments with ease. This supports multiple payment options, unlike other freelance marketplaces.
See Also: How to Start a Profitable Freelancing Business
LinkedIn ProFinder – What You Should Know
LinkedIn ProFinder has already been in existence. It helps freelancers and professionals find both short-term projects based on expertise.
Once you signup on LinkedIn ProFinder, the platform team will evaluate your skills and match your portfolio with the hiring manager's profile.
Other Ways to Generate "Lead"?
Use LinkedIn ProFinder to Network with Relevant Recruiter
Activate #OpenToWork Profile Picture Frame
Turn on 'Showcase Services Features' on Your LinkedIn Profile
Share Relevant and SEO optimized Relevant Content To Attract Searchers
See Also: How To Get Jobs On Upwork With No Experience
Alternatives to LinkedIn Marketplace
Beyond Fiverr, there are other competitors to LinkedIn Marketplace
1. Upwork
This Freelancing platform allows freelancers to get jobs, engage with clients, accept invitations for proposals, and much more.
2. Indeed
Popular job platform for both recruiters and job seekers. It is one of the most sophisticated job platforms.
3. Freelancer.com
This is one of the largest freelancing marketplaces with over 10 million jobs. It is free of cost to register and bid for jobs.
4. Monster.com
Just like every other platform, Monster is a popular job search engine and employment site.
5. Guru
This freelance site has over 1.5M freelancers for hire and thousands of projects. It allows freelancers to connect, collaborate and get hired easily and securely.
6. Glassdoor
Similar to Indeed, Glassdoor is a huge job site and career marketplace for job seekers and employers.
See Also: How to Build a Successful Copywriting Business as a Beginner
FAQs on LinkedIn Marketplace
Is Fiverr Better than Upwork?
Fiverr requirements to signup are less strict than Upwork. Upwork features different categories to promote professionals with years of experience and high-paying skills.
How Do I Find Jobs on LinkedIn Marketplace?
With LinkedIn Marketplace, you can find your dream job as well as get the best tips to build a solid portfolio, attract clients, cold email strategies from experienced professionals.
What are the Best LinkedIn Tools?
The top LinkedIn tools to get leads are LinkedIn Sales Navigator, Salesloft, eLinkPro, Discover.ly, Publer, LeadFeeder and Linkedin Elevate.
Conclusion
LinkedIn has gained lots of relevance in the job marketplace from all over the globe. The professional social networking site is a great platform for both employers and job seekers.
You can leverage Linkedin to learn top skills from professionals as well as network with them.
With such a reputation that LinkedIn has successfully built over the years, it is welcoming to see the marketplace see the light of the day. It promises to bring more opportunities for freelancers and connect recruiters to the right talent.
Besides Fiverr and Upwork, freelancers have got a perfect alternative to growing their portfolio and income with the LinkedIn Marketplace.
We hope that this LinkedIn Marketplace vs Fiverr helps you make the best decision and also see the reason to go for the new marketplace.
Also Read: