LinkedIn is currently the biggest networking platform for business-oriented individuals and professionals. It aims to link up with over 450 million people from 150 countries.
Apart from allowing people to connect, it has also added tremendous value to B2B businesses.
In today's world, where sales have become more important than ever, LinkedIn has proven to be beneficial in sales-related tasks and projects with the introduction of its navigation feature called LinkedIn sales navigator.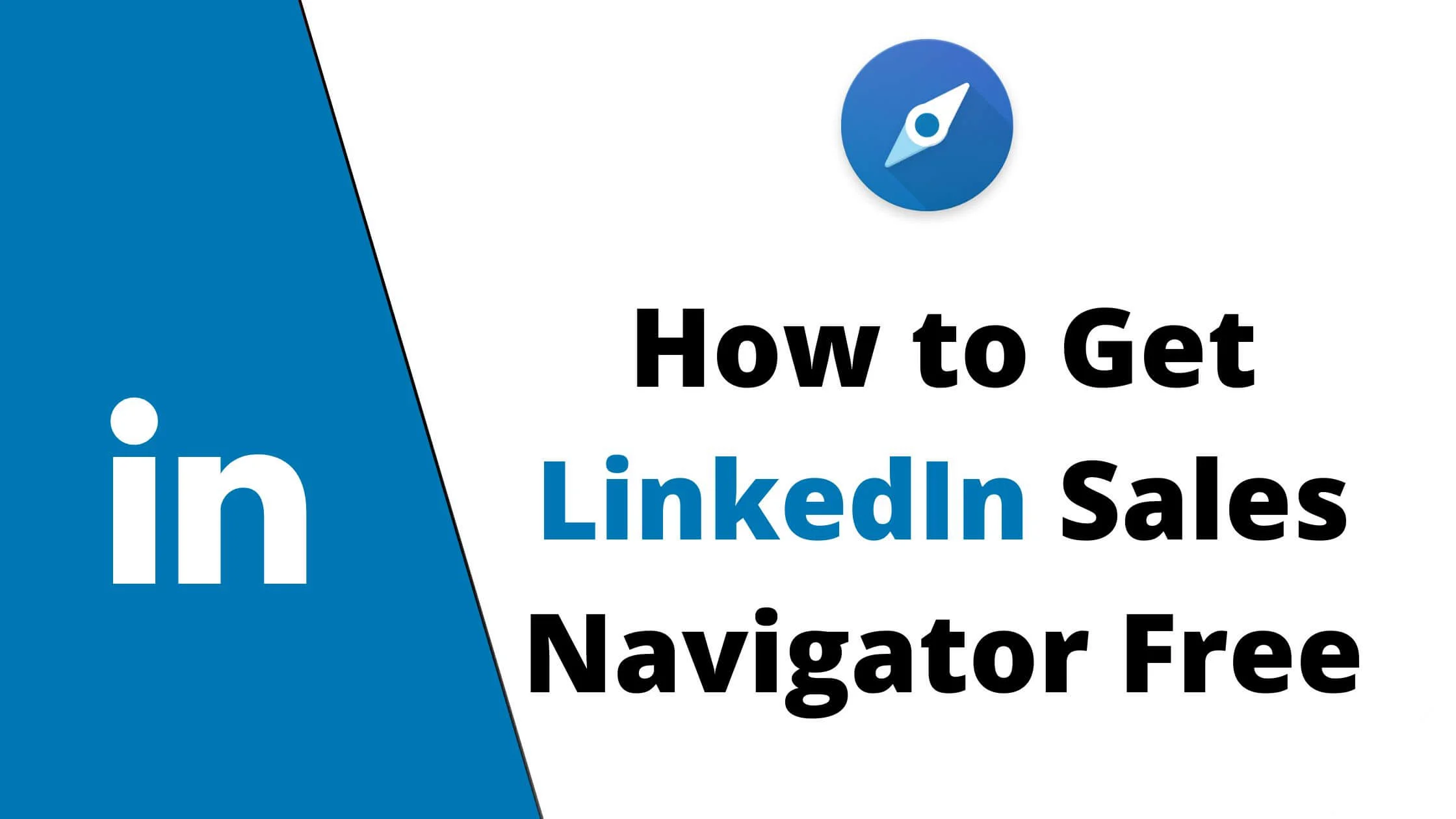 In this guide, we reveal to you everything you need to know about LinkedIn Sales Navigator, from its features to its benefits.
We will also explore the question of how to use LinkedIn sales navigator free of charge. 
Without further ado, let's start. 
See Also: How Much Does LinkedIn Learning Cost
Sales Navigator is among the LinkedIn paid features that seek to improve lead generation and easy accessibility to the target audience for businesses on the platform.
With the click of a mouse, you can identify and engage with millions of target audiences.
Sales Navigator is regarded by experts as "the ideal LinkedIn version for professionals involved in sales outreach". This is because it has a wide range of features customized solely for this function. 
Sales Navigator comes in three editions (Enterprise, Team, and Professional). However, the high cost of the tool is a deterrent for most small business owners. This is why we will offer you tips on how to get LinkedIn sales Navigator free.
As we mentioned earlier, LinkedIn Sales Navigator is a premium tool that simplifies the lead generation process, improves connections with leads, and optimizes conversion. 
It can be used by anyone on LinkedIn, whether teams or individuals. and experts have stated that it is "the ideal LinkedIn version for professionals involved in sales outreach." 
But why is it beneficial to your business?
In reality, LinkedIn Sales Navigator provides better search functionality, greater awareness of wider contact connections, and utilizes customized algorithms that allow for easy accessibility to decision-makers at prospective businesses.
This range of features will definitely add value to your sales and marketing campaigns. 
Although Sales Navigator has some features similar to Premium Business, it is geared primarily to assist teams in optimizing connections on LinkedIn, identifying new contacts, and improving sales.
Here's how Sales Navigator can transform your business' sales campaign:
Helps identify your key audience via advanced filters

Monitoring and updating suggested sales leads. 

Job Notification System

Target keyword location. 
Lastly, the tool allows you to execute limitless searches. Although LinkedIn is known as a free social networking site, there is a limit on the searches you can execute monthly.
As soon as you hit that limit, you'll have to hold on until the next month to continue searching patiently.
But with Sales Navigator, you can instantly go around this search cap and execute as many profile searches as you want in order to satisfy your sales projections. 
See Also: How to Make Money on LinkedIn
We will explore two strategies that you can use to get LinkedIn Sales Navigator free. They are:
Once you have signed up on LinkedIn Sales Navigator, the next step is to grow your lead pipeline within a short time. 
You can utilize Sales Navigator in searching for leads or prospects. Afterward, you'll upload the profiles to Waalaxy. 
It's amazing to note that there are no set restrictions when it comes to uploading prospects to your CRM via Waalaxy.
Many articles erroneously claim that exporting lots of LinkedIn prospects into Waalaxy can harm your account. This is false.
Bear in mind that the Sales Navigator search usually showcases just the initial 2,500 matches. In situations where your search results are above 2,500 matches, you will find it hard to export your entire prospects. 
It is recommended, in this instance, to divide your searches into manageable segments. 
Waalaxy lets you generate somewhere around 80-100 connection sessions daily. You can configure Waalaxy to create up to 5 sessions weekly; this will total 450 sessions on a weekly basis (9*5). 
By uploading over 20,000 leads to Waalaxy, you'll have 365 days of leads for sales optimization!
After you have tailored and uploaded your prospects for a few weeks, you are at liberty to deactivate your Sales Navigator membership.
For cancellations within the period of the free trial, you won't be required to pay the fees, and you can still access your prospects base with Waalaxy. 
Castanet is a remarkable, user-friendly, tailor-made navigator. It allows users to generate LinkedIn outreach trends using Sales Navigator searches. 
These trends are generated via users who interact with your LinkedIn posts (comments, likes or shares) or through the creation of sales campaigns for your follower base. 
Castanet is highly beneficial because it allows you to identify the best customer for your brand. It serves your business needs by generating an outreach pattern that consists of tasks you want to execute with prospective leads. 
Castanet manages everything from accessing profiles to sending a connection invite to delivering messages.
Through automation, the list is refreshed several times daily, and activities are carried out on these prospects. You can even track your progress.
However, there is a high likelihood that a lot of your prospect base will switch their status between the time you made the upload and the period you started prospecting.
In fact, as time proceeds, there is a higher likelihood that your prospects will have either embraced another opportunity or career. 
Whenever this happens, it might not hold too much value for your prospecting needs or sales campaign. 
What you can do to prevent this is to set up another LinkedIn account to enjoy the Sales Navigator free trial. Redo this procedure to gather the latest details. 
After this, you can upload your prospects to the platform via Waalaxy's spreadsheet tool, even if you use a fake account. 
See Also: How to Use the LinkedIn Marketplace as a Freelancer
With your LinkedIn account, you can sign up for Sales Navigator free trial. To be able to access this free trial, you must not be currently using any LinkedIn paid subscription and have not used any LinkedIn free trials in the last 12 months.
If you're eligible, simply follow the steps below:
Navigate to the Sales Navigator page.
Tap the

Start Your Free Trial button.

You will be required to enter your credit card information to get a 30-day free trial.
Once you have entered it, simply sign up.
Note: You won't be charged if you cancel the free trial before the 30-day period elapses.
Sales Navigator consists of a wide range of techniques and toolkits to help you focus and optimize your prospect base targeting. 
In this section, we will analyze some of the best and other reliable Sales Navigation tools for lead generation.
Advanced search
Advanced search This is a highly popular feature of LinkedIn premium, and it's essential for sales prospecting. 
You can utilize more than 15 sophisticated filters to improve your search function. There's the title, keyword, and company search filter that enables you to conduct analytical searches. 
Below are the most powerful lead generation filters: 
Keywords
Find important keywords that lie within your prospects' profile page.
Geography
This is critical for finding prospects in a particular area. (e.g., country or state of residence). 
Title
For instance, if you want to find a manager or senior developer, this is helpful. 
Business Size
Business size Are you looking for a multinational brand or a small startup? This will help you pinpoint your target market in crowded spaces. 
As soon as you have accessed your search results, you can begin interacting with them or exporting their data for email outreach campaigns.
See Also: How to Add Promotion on LinkedIn Profile
LinkedIn InMails
Users of LinkedIn Sales Navigator enjoy plenty of benefits. One of them is LinkedIn InMails. 
InMail is LinkedIn's equivalent of "DMs" or email. Considering the fact that people averagely get a lesser number of InMails daily, this is the best tool for lead nurturing. 
Don't forget to completely evaluate your prospect's profile and offer them something of value. This will optimize InMail's effectiveness.
Job Change Updates 
You can utilize Sales Navigator to search for leads who, in recent times, have switched jobs or had a career change. 
This could be a really easy conversation starter to connect with your sales prospects and build familiarity. 
LinkedIn Groups
Over the years, LinkedIn groups have acquired some notoriety. 
The amazing thing is that LinkedIn Sales Navigator allows you to begin contacting group members nonetheless. 
This is a fantastic conversation tool as many users will be excited to interact with you. 
You can even look through groups via basic keywords on LinkedIn.
See Also: Top 25 Digital Marketing Ideas for Small Business
How do I get Sales Navigator installed? You are not required to install or download any file. All you have to do is visit the website to access Sales Navigator.
You will be presented with a chance to try out the tool within 30 days. 
It is expected that at the end of the timeframe, you should have an idea of how it works. You'll be able to access the Sales Navigation panel on the upper left area of your profile page if you add it to your account. 
We oblige you to take advantage of the free trial period to see how it works. Sales Navigator is great for a variety of marketing and sales tasks. 
Most people use it for prospecting business-to-business and business-to-customer users. However, be sure to key in the right criteria so they can meet your needs. 
Sales Navigator can help optimize your lead generation and help you target prospective customers. 
Sales Navigation is a highly effective targeting tool that anyone can use to filter their prospect base. 
Let's assume you want to contact digital marketers; for instance, Sales Navigator will simplify the process for you. 
See Also: How to Know if Someone Has Read Your Message on LinkedIn
Unfortunately, you cannot use the LinkedIn free trial more than once in 12 months period. This LinkedIn free trial enables you to test if it's the best fit for your business.
If you no longer want to continue with the LinkedIn Sales subscription, you can cancel it. To do so, simply follow the steps below:
Log in to your LinkedIn account.
Tap Sales Nav.
To the upper right corner of the screen, tap on your profile picture.
Next, tap on Settings.
Click on cancel subscription.
Tap on the Cancel and lose credits button.
Proceed to tap on the Continue to cancel button.
Choose the reason for cancellation.
Tap Confirm cancellation.
That's it. Your LinkedIn Sales Navigation will be canceled.
Conclusion
No business can be successful without new customers. The best way of acquiring new customers is by putting a place a good lead generation strategy.
LinkedIn Sales Navigator will streamline the entire process of getting new customers for your business.
Also Read: