The freelance marketplace project is on the rise. Annually, over 59 million Americans take up projects from the freelance marketplace, which amounts to 36% of the workforce.
This trend is not ending any time soon.
73 percent of hiring managers have continued to rely on the services and skills of freelancers.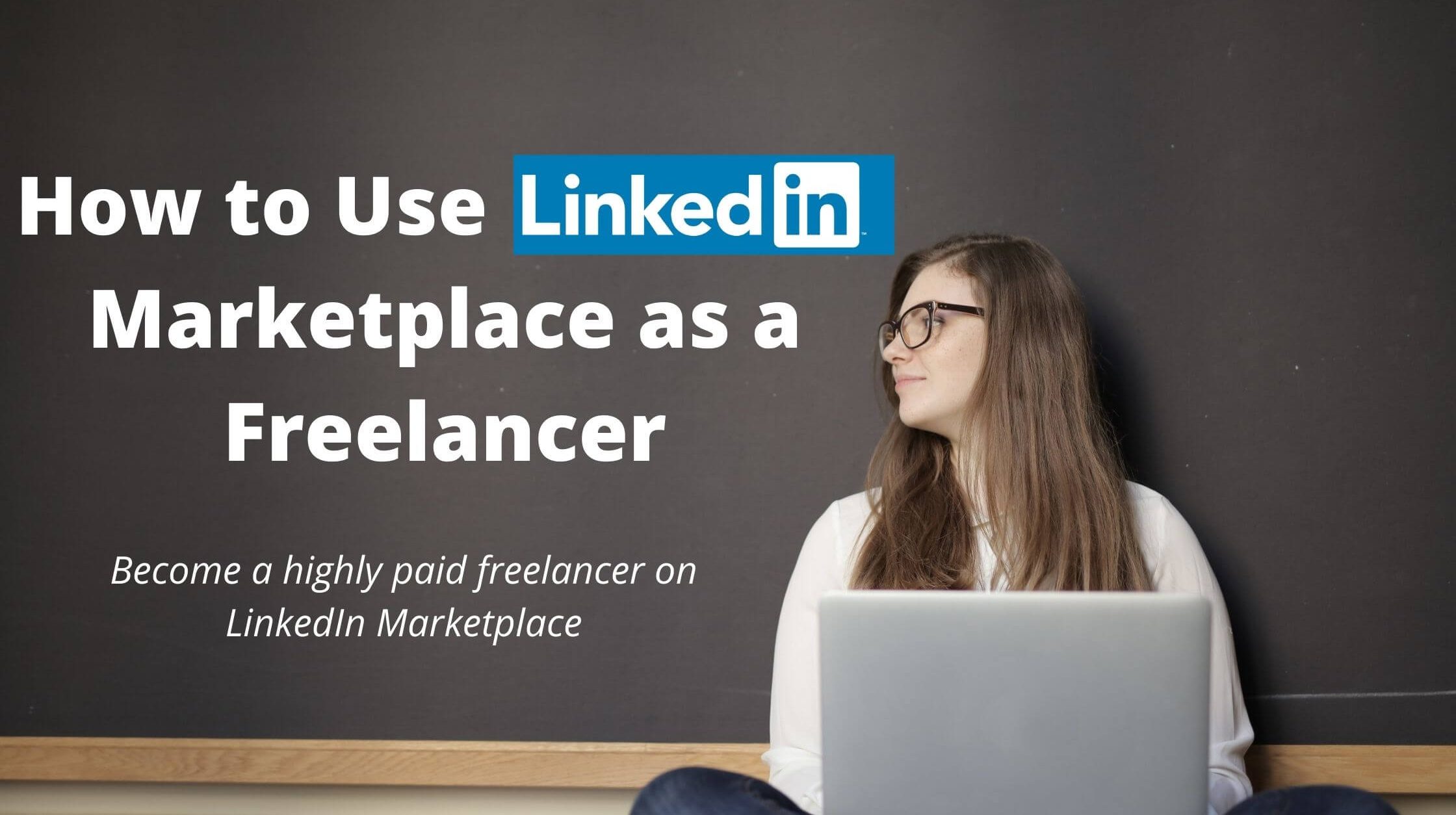 Perhaps, some of the most popular platforms that freelancers connect with potential employers are Fiverr, Upwork.
Over time the demand for freelancers has increased. This also is not different from the platforms that accommodate this growth.
In this article, you will learn how to use the LinkedIn Marketplace as a freelancer.
See Also: LinkedIn Marketplace Vs Fiverr – Which is Best for You?
What is LinkedIn Marketplace?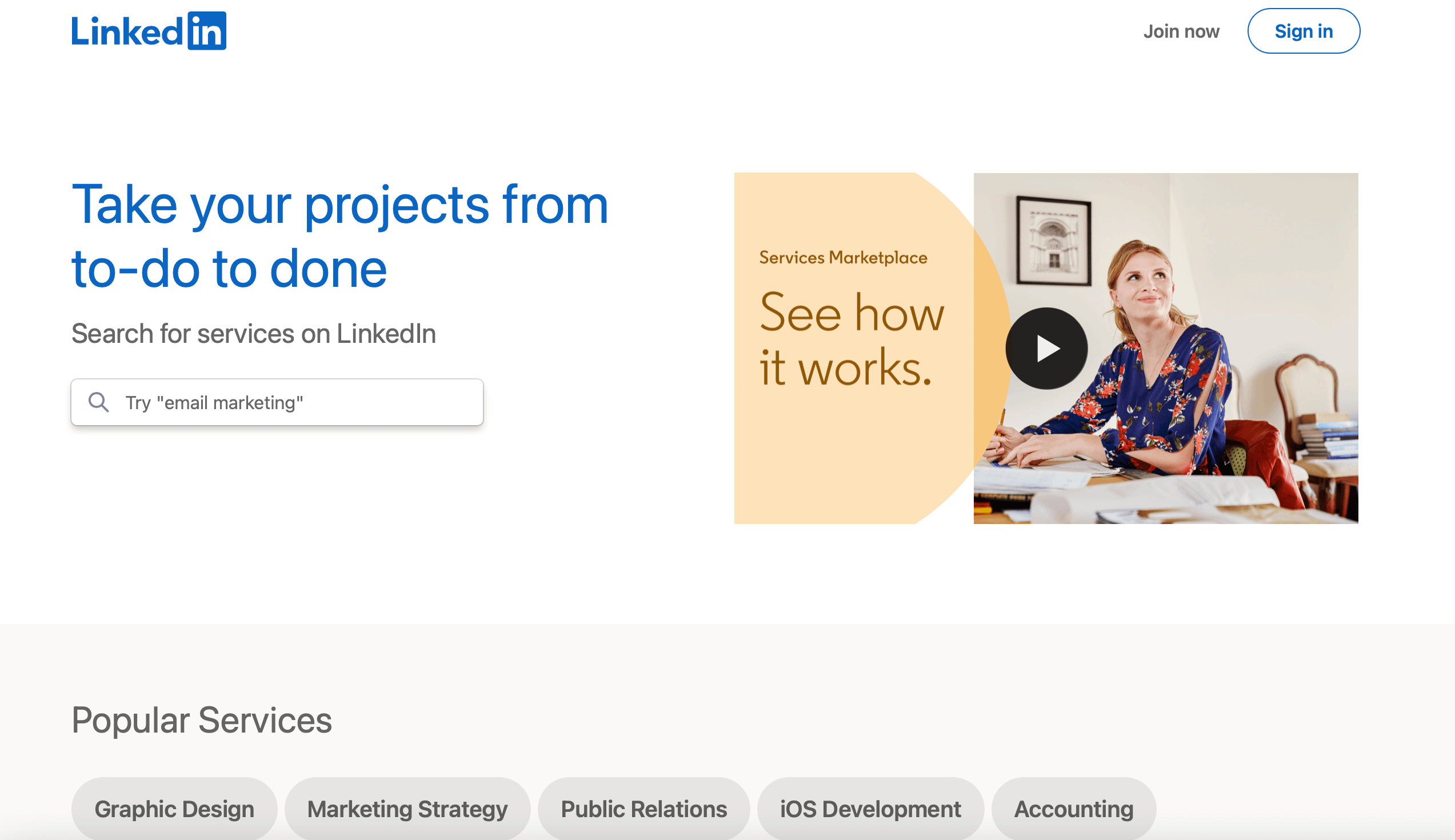 With the high demand of freelancers in the job marketplace, it is the best fit for LinkedIn, the most popular and successful professional networking website, to create a platform that allows freelancers to connect with hiring managers and companies seeking skilled employers.
While LinkedIn is no new to connecting freelancers with available gigs, LinkedIn Marketplace helps individuals get contract opportunities.
In October 2019, the LinkedIn Marketplace initiative started with a proposed launch date of September 2021.
Interestingly, LinkedIn Marketplace was officially rolled out in October 2021, a month after the alleged date.
It is no longer news that LinkedIn Marketplace is now a direct competition with other freelance sites like Fiverr and Upwork.
There is no better time to list your skill and specialization on the platform than now.
See: How To Get Jobs On Upwork With No Experience
How Does LinkedIn Marketplace Work?

The LinkedIn Marketplace is live and there are helpful tips and strategies to maximize the platform.
Besides consulting, and writing, the platform will also focus on marketing, graphics design, and much more.
With LinkedIn Marketplace, you can:
You can add up to 10 services that you provide on the platform.
Describe "About"
Select work location
Review visibility
How do you want clients to request your service?
Also, similar to Fiverr and Upwork, the platforms take a certain percentage of the job done by the freelancer.
Payment via a digital wallet offered by Microsoft will be supported.
The digital wallet
The digital wallet will thicken into LinkedIn's paid content Network.
LinkedIn Marketplace imitates the LinkedIn ProFinder.
See Also: How to Get Digital Marketing Jobs With No Experience
LinkedIn Marketplace vs LinkedIn ProFinder
The marketplace isn't LinkedIn's first entry into the freelance marketplace.
LinkedIn ProFinder enables users on the platform to search for candidates that best fit their job roles.
ProFinder allows users to promote their services to companies and notify them that they are "open for business."
Just like every other freelance website, LinkedIn Marketplace will allow companies wanting to hire freelancers to be able to compare rates, share job reviews and connect with the right talents.
There is a huge opportunity for both hiring managers and freelancers with LinkedIn Marketplace.
| | | |
| --- | --- | --- |
| | LinkedIn Marketplace | LinkedIn ProFinder |
| Accept Freelancers | Yes | Yes |
| Post Reviews | Yes | No |
| Signup Fee | No | No |
| Monthly Fee | $0 | $59.99 |
How to Use the LinkedIn Marketplace as a Freelancer

Perhaps you are seeking to grow your portfolio or a beginner freelancer that wants to attract the right contract for your skillset on LinkedIn Marketplace, we want to help you achieve your goals.
Below is how to use the LinkedIn Marketplaces as a freelancer:
1. Build a Portfolio of Work
Your portfolio says what your resume cannot say. If you have not created a highlight of your most prominent projects, now is the best to assemble those documents. Whether you're an SEO expert or a copywriter, having substantial assets can help you stand out in this competitive freelance market.
Below are three great tips to make your portfolio grab the attention of hiring managers.
Put forward your best work: Don't be tempted to put forward every project you have ever done. Put in the very best that horns your skill.
Pay attention to details: Let your portfolio include a detailed caption. This should include:

brief description of the scope
your role
positive results
client name and business niche

User experience: Just as you strive to have a standard cover letter, how does it feel to have a digital portfolio that is suitable for your potential employers. It is important to have a portfolio that is personalized to the job role you are applying for a better user experience.
These tips are perfect for a freelancer seeking to build a portfolio, for those seeking to optimize an existing portfolio, we recommend:
Reorder: You can give your portfolio a new look without adding new content. This can be done by just rearranging the order.
Reduce: Nobody wants to read a dictionary just to know you. You can reduce your portfolio by 15-25 percent for a brief, more representation of your projects. Less is always more.
Reviews: Do you have amazing feedback from your clients? Add these reviews to your portfolio pages to help your stand tall among the competition.
See Also: How to Make Money on LinkedIn – 10 Realistic Ways
2. Set Competitive Rates
Are you charging too much or too little? This can be an overwhelming question especially if you're just starting out.
We have highlighted the following steps to help you set a rate that is best for your skill and experience.
How much money do you desire to make freelancing? If you can establish the desired yearly income, that can help you set the best freelancing fee to meet your goal.
Business Expenditure: Just as every other business, freelancing attracts cost. Beyond the cost of the internet, laptops and software, taxes and health insurance should also be accounted for.
Working Hours: Also put into consideration, sick days and time off when estimating your rates.
Pride in your Work: Always remember that your work is valuable. Ensure that you don't go below the industry standard.
See Also: How to Login to Yelp with Facebook | Google Account | Apple ID
3. Optimize Your Landing Pages
Most potential employers want to see what you have got beyond your LinkedIn Marketplace. The next place they check out is your website.
Hence, to ensure that you get a high paying gig on LinkedIn Marketplace, make sure you optimize your website. This is a smart way to position yourself for success.
While there are numerous ways to optimize your landing page, copy and images, here are ways you can improve your website and impress your potential employer:
Write a headline that strikes a chord as your visitors land on your website.
Put a face to the personality by adding an image of yourself on your website.
Start a blog to showcase your expertise and authority as a thought leader in the industry.
Include client review.
Include your rates.
Use vital keywords in the copy as well as your blog post.
Carry out A/B tests on all elements of your landing pages.
Again, less is more. Eliminate complicated paths and ensure your visitors gets what they are looking for in fewer clicks.
Be consistent with your design elements.
Showcase your personal brand through your copy.
Website optimization is an ongoing process. However, jumping into the freelance market g with these website optimization tips will help you stand out and gain ground really fast.
See Also: 20 Best Freelance Websites to Find Work
4. Promote Yourself
Marketing yourself is the fastest way to get reviews from clients.
The tips below will help you acquire jobs easily, get recommendations that increase your credibility factor in the LinkedIn Marketplace.
Social Media
Share your LinkedIn Marketplace profile on every either social media platform you belong. Also, you can create how-to video content where you share valuable tips and industry insights.
Perhaps this might not directly get you a paid gig, however, this will help you to get noticed really fast by potential employers and target audience.
Ask
There is no harm in asking. If you have worked with a company that was really impressed with your deliveries, you reach out to them if they have other projects that might require your services.
Besides those you have worked for, you can also pitch your services to other companies that might be in need of your services.
Affiliate Marketing
Do you have SEO skill and have a friend that is a graphic designer. Perhaps she's freelancing for a company that needs SEO services. Perfect. Network with other freelancers and monetize the result via affiliate marketing strategy.
See Also: Affiliate Marketing for Beginners: 15 Things You Should Know
Conclusion
Whether you are an expert freelancer or just starting out, LinkedIn Marketplace provides limitless opportunities to connect with your potential client and achieve your financial goals.
As you maximize LinkedIn Marketplace, don't forget to follow all the highlight steps to stall tall among the competition. Ensure you optimize your portfolio, and website and get all relevant client reviews as much as you can.
We hope this answers all the questions you have on how to use the LinkedIn Marketplace as a freelancer.
Take your time to understand the platform and don't be afraid to test and learn.
Also Read: