Are you a writer or do you wish to go into writing?
Monetizing your writings can be a huge concern especially if you are new to the venture or you are yet to join.
Even for older persons in the field who are yet to establish their niche and own their marketing strategy, monetizing can be a problem.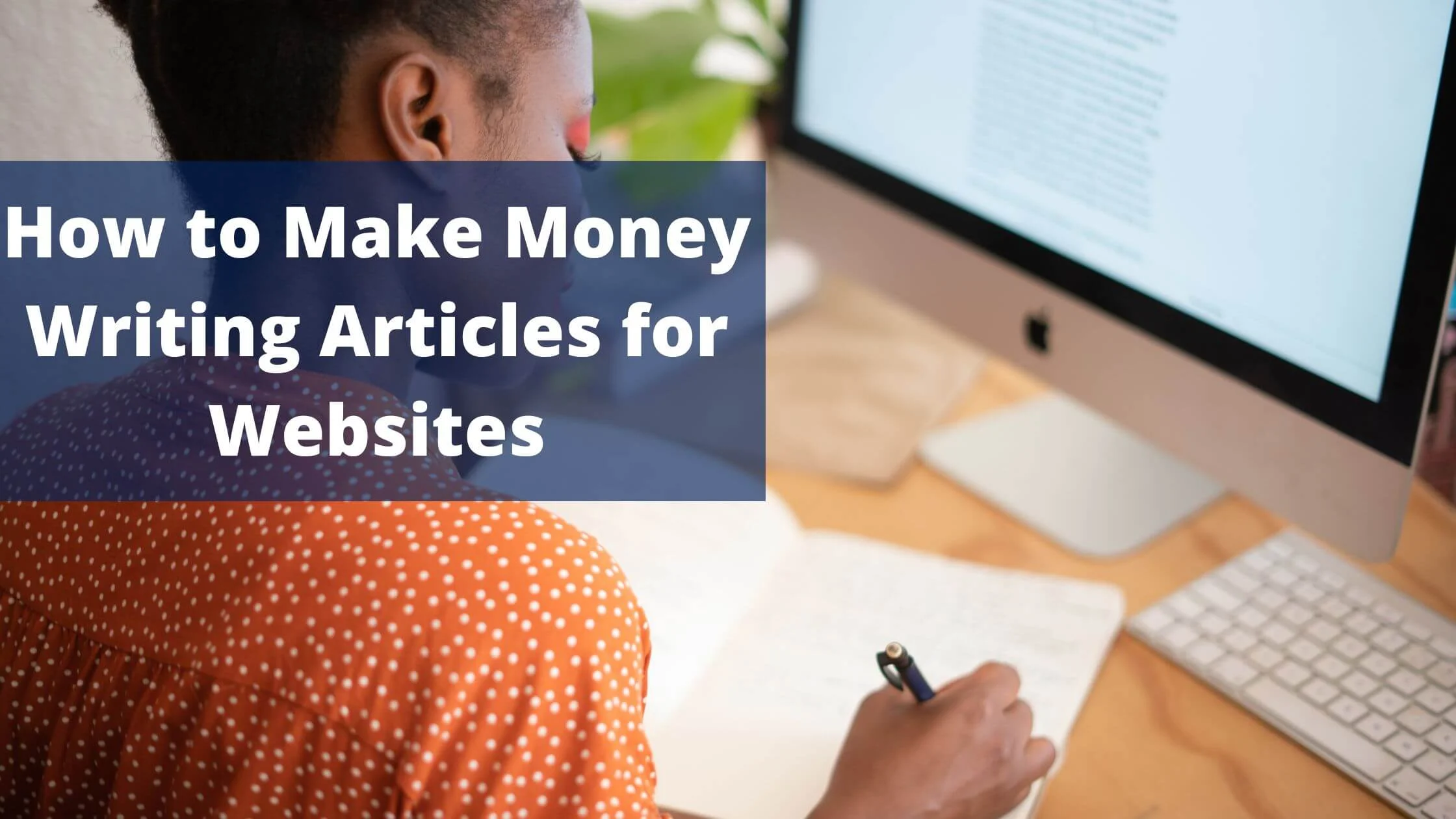 Explore ways you can make money from writing articles for websites in this article.
The first thing that should be pointed out is this; writing is a lucrative venture.
For people who believe writing can and should merely be a means of passive income, it may not be more than that to them.
Combining writing with other money-making skills is a good one. However, you can actively be a full-time writer and earn enough to pay your bills.
The big question will be "How?". Read further to find out.
Different Ways to Make Money Writing Articles for Websites
There are ways that can boost your chances of increasing the financial value gotten from writing articles for websites. These ways are explained below.
Social Media
One of the perks of social media platforms is finding people or organizations that need different services and advertising your services as well.
As a writer hoping to make money from writing, it will be of advantage to you if you showcased what you can do on your social media handle.
You can own a professional handle, then, make some of the writing services you can provide obviously. LinkedIn is a good place to own a professional account.
At the other end are people and organizations that are in need of writing services that will display ads on social media. You can search for such opportunities.
Using hashtags like #writersneeded; #writersforhire; hashtags that are descriptive of the need for writing services, can be of help.
Freelance Hubs
There are groups and platforms that you can belong to that can make it easier to get writing gigs for sites. For most of these platforms, all you have to do is sign up and join the community.
Thereafter, you can vie for available jobs. Each platform has its mode of operation. However, joining these communities is usually free.
The good part of this is that people in need of certain services come directly to freelancing hubs to seek providers.
See Also: How to Use the LinkedIn Marketplace as a Freelancer
Cold Pitching
Cold pitching is simply sending unsolicited pitches to potential clients.
You do not need to wait until you see an ad for a job before you reach out to make known to a person or organization the services you can provide.
While you may get negative responses from some persons, you may as well get positive feedback. Just check out the best medium to send in your pitch and try doing so to as many persons or groups you believe you can be of help.
Networking
Networking is very important for profit-making in almost any venture. Having a good network base is expanding your social capital.
Some of the money-making opportunities networking can bring might not ordinarily be gotten independent of the network.
You can join groups of writers, writing clubs and hubs to extend your network.
Websites Open to External Articles
There are blogs, websites etc that are open to the public for article submission. You can sign in and create amazing article(s) and submit it to this site.
If it is approved by the admin, it will be published and you will be credited.
Old Clientele
One rule of thumb is to ensure you maintain a good rapport with as many clients as possible.
With a good relationship with old clients, you can send out an ad reminding them of the services you can offer should they need one.
They can easily give you a job if there is one given the working relationship or refer you for one as most times clients in need of writing services have persons in their space who may need writing services as well.
Establishing a Website
Creating a website better positions you for making a profit. You can have a website created for sharing your services.
On the website, info such as your resumé, a professional picture of yourself, services you provide, samples of your services and links to some of your work that has been published, your contact or preferably a contact form that can be filled and submitted to your email directly should be present.
See Also: 21 Best High Paying Remote Jobs ($100k+)
Guidelines for Pitching for Writing Jobs
It is important to note certain things that will give you an advantage whenever you have to carry out a pitch. The following tips will help you as a freelancer who is pitching for a job.
Pay attention to details: Check out the brand you are sending a pitch to and look out for what they will need. Allow this to serve as a guide for you while preparing your pitch.
Go for comfortable topics: The tendency of making a great delivery is higher when you are pitching for comfortable topics. Content types and topics that you are not acquainted with may be harder to pitch for.
Aim at excellence: Have a mind-blowing pitch. You must ensure you deliver a great piece to improve your chances.
Applaud the brand: Appreciate the brand and highlight things that are outstanding about the brand. This will serve to reflect your acquaintance with the brand. This can give you an edge when making your pitch.
Highlight the benefits of being hired: Highlight the problem you are willing to solve for the brand. The idea is to sell the need for you to be hired.
Be concise: Most admins do not have the time to go through lengthy and bulky write-ups. It is best to create concise pitches.
Adhere to instructions: Sometimes, brands look out for people who can adhere to the instructions they provide especially when they are pitching for a job. While creating your pitch, keep to all the rules provided. This includes not exceeding deadlines as well.
Job Hunting Caution
There are things to be wary of when searching for writing jobs.
A client that requests for too personal info before or after giving out a job to you.
Jobs where the pay is either outrageously low or high in comparison to the work demand.
A job that you have to pay for before securing a slot.
Job posts that appear very unprofessional with jumbled words and email addresses that do not look professional. I
Tips to Accelerate Your Monetary Value in Writing
Choose or Create a Niche
Writing is broad with different forms.
Choosing one or a few forms and creating your niche will make it easier for you to channel your energy effectively into the style of writing you have chosen.
This will make it easier for you to push for excellence in your niche and be established in that path.
Expand Your Skills
Equipping yourself with other soft skills like creativity, innovation, and other hard skills that are relevant to writing will give you a better chance at creating a strong financial base via writing.
Improve your Writing Game
Learn, take up professional courses and read more about the style of writing you have chosen to become a better writer.
Investing in your writing skill will increase your value.
Imbibe Good Job Ethics
Though you might be excellent in your art, a bad work ethic will make it difficult for you to retain clients and maintain a good network.
Keeping to deadlines, maintaining good client relationships, being attentive and polite etc., all are necessary if you want to monetize your writing service.
Adopt Marketing Strategies
Study your environment and learn good marketing strategies. Then, decide how you will publicize your services.
See Also: How to Get Jobs on Upwork With No Experience
How to Make Money Writing Articles for Websites FAQs
How can I ensure that my clients need my services again?
One way to keep your client is to maintain a good client relationship. You can achieve this through good work ethics and excellent service delivery.
As a new writer, what can I do to enhance my pitch?
When you want to pitch for a job; understand the brand you are pitching to, keep your pitch concise, adhere to the instructions given and make sure you deliver a great pitch.
Going for topics that you are comfortable with will be of great help.
Conclusion
Sometimes, one of the problems writers face is imposter syndrome. This is when you feel inadequate to handle a task.
You can learn about the field of the writing of your choice, how to market your services and other things that will better equip you to solve problems with writing and make money from it, of course.
Note that while bidding for jobs, you may meet with more rejection than acceptance. This should not deter you if you wish to maximize article writing.
Also Read: