Facebook Messenger is among the most widely used instant messaging applications.
It assists people in staying in touch and interacting without hassles. It features a notification that helps remind users to connect with their family and loved ones.
However, some users may see messenger notifications but no messages.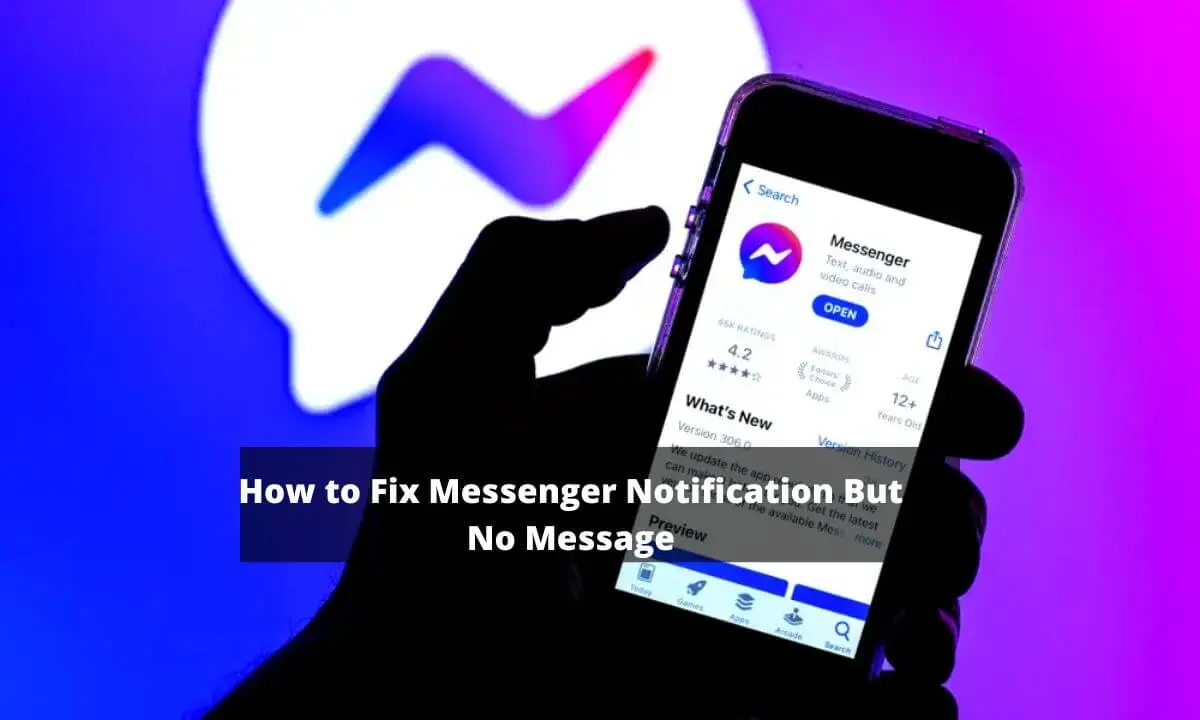 This implies that the messenger notification may come up without the presence of messages. Whether it occurs on the Messenger mobile application or web browser, this problem can be very annoying to users.
If you receive a new message, you will be notified by Messenger through an icon.
By tapping on it, you will be taken directly to the new message. However, it might upset you if you tap the messenger notification icon and can't find any unread messages on the app.
Similarly, this notification icon keeps appearing and annoying users each minute.
So where does this problem emanate from? Is there any solution? There are lots of factors that lead to the "Messenger notification but no message" issue.
The source of the problem will help identify a way to rectify it.
Below is a full explanation of the "Messenger notification but no message" issue.
Causes of "Messenger Notification But No Message" Issue
You have a few unseen messages
Notifications for the Messenger app are turned off.
There's a problem with your smartphone or its storage that creates an issue in configuring notification feeds.
Your version of the Messenger app is outdated, or you are yet to install the latest version from the Google Play Store or App Store.
App-related glitches and bugs are responsible for this issue.
To rectify this problem, there is no one-size-fits-all solution available. You have to attempt several fixes until your problem is ultimately solved.
The solution is dependent on whatever is responsible for the issue. I will now list the solutions below:
Solutions to Messenger Notification But No Message
Look for Unseen Messages
On a few occasions, the source of the issue may be caused by unseen messages.
Thus, it is crucial to start by looking for any unread messages. On your desktop PC, access your web browser and visit the Facebook site.
For smartphone users, change to "desktop site" via your browser.
Sign in by inputting your correct login credentials.
Select the Messenger icon to access your messages.
Look for unread messages.
Select and access all your unread messages or select the "mark as read" option.
Launch the Messenger app, and you won't find any unread message badges.
However, if you still encounter the issue, ensure your messages are marked as read.
Select the "Mark as read" option
Launch your and access Facebook. Ensure you are signed into your account (Change to desktop site if you are a smartphone user).
Select the Messenger icon.
Select the "Mark All as Read" button.
This should possibly rectify the issue, as all your messages are marked as read.
However, if the problem still persists, the next fix is to go to the Archived Message list.
Archived Messages
Archived Messages are the ones Facebook instantly archives and can't be found in your primary inbox. They might be responsible for the "Messenger Notification But No Message" issue that you are experiencing.
Access the settings menu in Messenger.
Select the "Archived Threads" button.
Look for unread messages on the listing.
Access the message or hit the "mark as read" option.
Similar to archived messages, we may receive messages from users who aren't our Facebook friends. Facebook categorizes these sets of messages in a different area called "Message Requests."
Message Requests
Unread messages in the message request can also cause the "Messenger Notification But No Message" issue.
Access the Messenger app.
Select the options menu and tap "Message Request."
Look for unseen messages in both the "Spam" and "You May Know" categories.
Access the conversation in the Message requests or hit the "Mark as Read" option.
If you are still experiencing the problem, check out another solution that can rectify the issue
Messaging Yourself
Launch the Messenger app and send a message to someone.
Wait for the reply. Alternatively, you can text yourself via another user's friend.
Next, there is an unread message for you. Tap and access it.
This technique is highly effective for lots of users.
However, if you still encounter the "Messenger Notification But No Message" issue, check the next fix below.
Messenger App Notifications
Try turning off the app notifications to rectify the problem.
Launch the Facebook Messenger app.
Navigate to the upper left corner and select the options menu. (Select the gear icon beside your profile picture if you are using newer versions of the app)
Tap Notification & Sounds.
Next, choose the "customize notifications" option.
Toggle off or disable the "Allow Notifications" option.
This might assist you in rectifying the issue. However, if the issue still persists, ensure you check out the next fix below.
Clear Badge Option
This method is solely for smartphone users.
iOS devices
Launch Settings on your smartphone.
Select Notifications.
Search for the Messenger app and disable the badge app icon.
Android devices
Press and hold the Messenger app icon.
Tap Clear Badge.
This is among the fastest and simplest methods of rectifying this issue.
Even if you have tried all these solutions, the issue may still persist. This is generally due to app-related glitches or bugs.
More recent versions of the app may have rectified these issues.
Update the Messenger App
Updates are a quick way for developers to add new functionality to a mobile application.
This is why updating an app to its most recent version may rectify your problem.
You can update the Messenger app from the App Store or Play Store.
Launch the Messenger app and sign out from your account.
Sign in again and see if you still encounter the "Messenger Notification but no Message" issue.
After updating the Messenger app to its most recent version, reinstalling the app may fix the problem.
Reinstall the Messenger App
If the problem persists despite trying the above fixes, reinstalling the app might do the trick.
It is among the most helpful solutions for fixing this issue.
Tap and press the Messenger app icon for a few seconds.
Tap Uninstall.
Launch the App Store or Play Store and reinstall it.
Reinstalling the app will surely fix the issue because it will refresh the total app data and clear its setup.
Thus, any issues with the app or settings will be quickly rectified.
Frequently Asked Questions
What does phantom notification mean?
This happens when you have sensations of getting notifications that are not there in the first place.
These sensations can be hearing the sound of a ringtone, experiencing vibration or other signs of an incoming text.
I have a notification that can't seem to go away. Why?
You probably have an app that showcases constant notifications like antivirus tools, password management platforms, fitness monitoring apps, VPN tools etc.
How do I rectify notification issues?
If your device is experiencing notification issues, do the following:
Reboot your device.
Check your app's notification settings.
Toggle off battery optimization options.
Toggle off the power savers.
Update the app to the latest version.
Disable Do Not Disturb Mode.
Check your device's background data settings.
What is the easiest way to fix Messenger Notifications But No Messages?
Reinstall/ update your Facebook Messenger app to the latest version.
This is the simplest way to get the most recent fixes that will allow new content to appear in your inbox.
Alternatively, update your operating system. An outmoded OS can lead to connection issues and glitches in many apps.
What are the signs that I am in Facebook jail?
Here are some signs that show that you are in Facebook jail:
Inability to post on your timeline, in groups or on pages.
Inability to engage with posts and pictures through like and comment.
You can't log in to your account successfully.
You can neither post on your page nor your profile.
What happens when I am restricted from someone's profile?
When you are restricted from someone's profile, you can't comment or chat with that person.
It will feel like you are confined to a privacy barrier where you can't interact or engage with them as usual.
Why is Facebook displaying messenger notifications?
This is because notifications for your profile or page are activated.
When this happens, Messenger notifies you when someone sends you a message.
Is there a secret message feature on Messenger?
Yes, to access it, do this:
Launch the Messenger mobile application.
Navigate to the top right corner and select Edit.
Tap "Secret."
Conclusion
Facebook usually sends notifications to users whenever there are unseen or new messages.
At times, users complain about the "Messenger Notification But No Messages" issue.
This may arise from numerous factors, such as app-related bugs and glitches, failure to update the app, archived messages and disabled notifications.
But with the solutions I have offered, I hope it has been permanently fixed.
Also Read: