Today, almost all social media channels have both audio and video call features. Still, both do not outrival texting. The majority of people prefer text over calls, especially introverts and those that are shy.
You get to see more testing among teenagers who always want to chat with other old-time friends. With text, nobody can monitor how long you have been conversing with your friend.
Have you wanted to reference an old chat to see files, photos or valuable information but can't because it is deep down in your Facebook Messenger chat? At this point, you will get to know how difficult scrolling through your Messenger chat can be.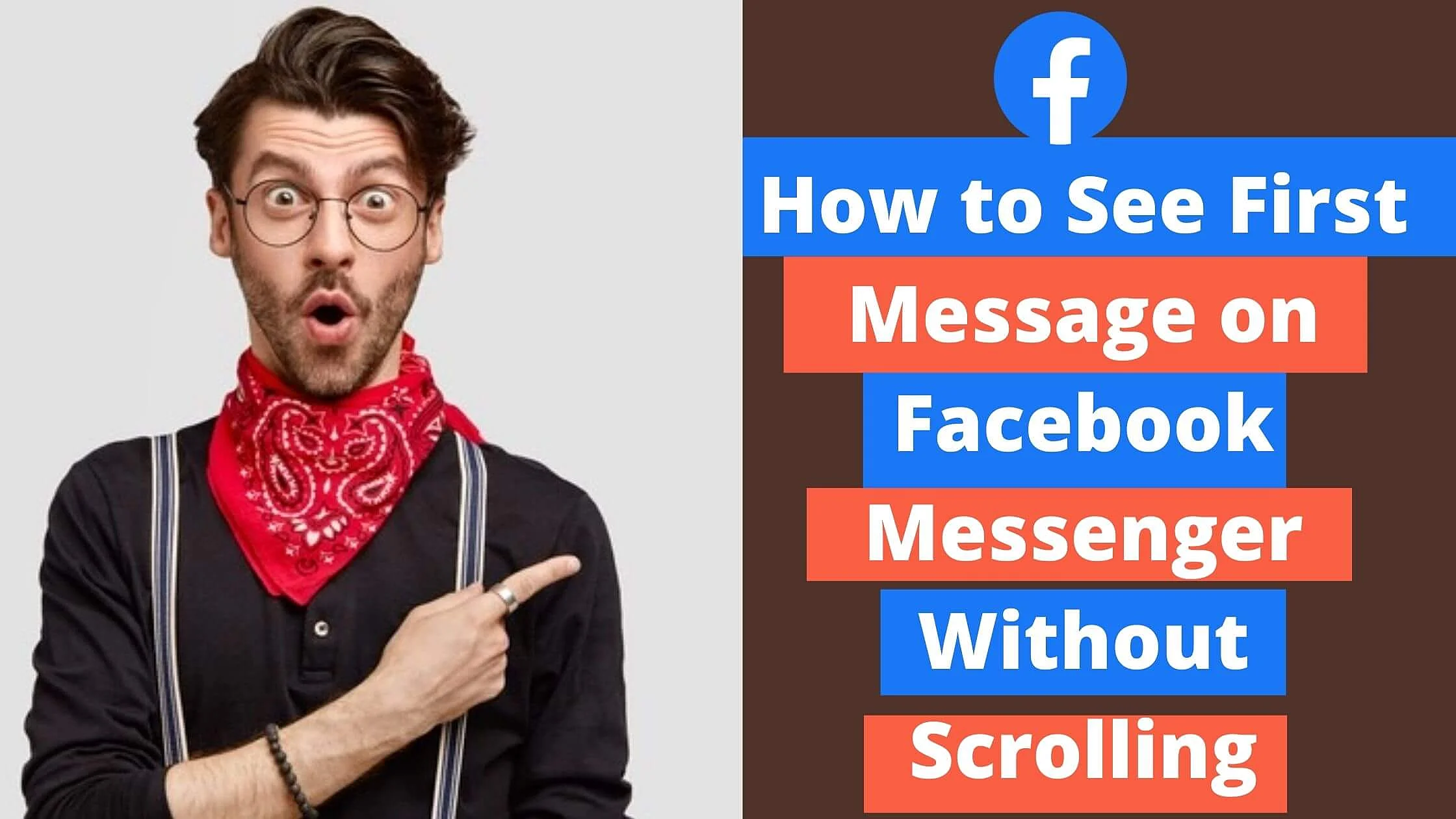 Do you want to retrieve your old Facebook post without scrolling down? Well, you're not alone. We understand how frustrating and time-consuming this can be.
In this guide, you will learn how to see your first message on Facebook Messenger without scrolling.
Without further delay, here's how you can get back your old message on Facebook Messenger.
How to See First Messages on Facebook Messenger Without Scrolling
Below are the different ways how to view the first message on Facebook Messenger without scrolling.
1. Use Keywords for Search
Are you familiar with keyword concepts? This is basically the term you enter into a search engine to get your queries answered.
You can also use keywords to find the first message on Facebook Messenger without scrolling.
You can enter the keyword phrase of your conversation with your friend in the Messenger search bar. To be able to successfully use this method, you must have an idea of chat conversation you had.
Here's how to use Keywords to search for old messages on Facebook Messenger:
Launch your browser and open your Messenger chat
In the search section, enter the keyword
Click on "Enter"
If your keywords match any of your old conversations, they will be displayed for you to see.
2. Access Older Messages via Facebook Messenger App
If you have a Facebook Messenger app, here is an easy way to see your old Facebook chat:
Launch your Facebook Messenger app on your mobile device and navigate to the home tab by clicking on the "Home icon."
On the home screen, you will see lists of users you have chatted with, sorted by the time of the chat. You will see the name of the person that you want to read the older Messenger chat
You will be automatically taken to the chat page you had with the person. Then you can scroll down to the particular chat you want to read.
See Also: How To See Someone's Hidden Friend List On Facebook
3. Access Older Messages via Browser
Follow the steps below to read older Messenger chats via your browser.
Visit Facebook site www.facebook.com (Official Facebook Website) in your browser
Login to your Facebook account
Proceed to click on the message icon just beside the notification bell. When you tap on it, you will see a list of your most recent chats that you have had with a "See all in Messenger" option right at the bottom of the page
Tap on it, and a Messenger window will pop up in your browser
On the left side of your Messenger page, you will see "Chats" with a search section below it. Perhaps the chat is with someone you have not chatted with. It is best to input their Facebook profile name in the search bar to locate it. The chat will be displayed on your screen
Finally, scroll up to Messenger chat to view older chats.
4. Download your data from Facebook
The easiest way to access a backup version of all your Facebook conversations, including the first messages you sent with your friends via Messenger, is to download your data from Facebook.
This is done entirely on the Facebook platform, which implies you can finalize the process without the risk of hijacking malicious data on your smartphone.
If you choose this option on the app, Facebook will expect that you need to save all your Facebook data.
Before you choose the data download option, you have to know that it is a time-consuming process.
However, Facebook lets you update your pre-download settings to allow messages to be downloaded.
Here's how to download your Facebook data, particularly your messages:
Access your web browser and sign into your Facebook account.
Tap the arrow button on the upper corner of the screen and tap "Settings and Privacy." Next, select "Settings."
Tap "Your Facebook information" from the left option on the left panel.
Tap "Download your information."
Choose the date range from when you need the data.
Uncheck the boxes apart from "Messages." Next, tap "Request a download."
Allow the download process to be finalized – this may take some time. So do not expect an instant download.
After downloading the data, you can explore it and search for the first message on Facebook Messenger without scrolling.
5. Install a 3rd party app
For Android users, there's another method they can use to access their first conversation on Messenger.
It is an app on the Google Play Store called "Easy scroll." It quickly scrolls through apps and web pages for you. The best part is that it is free to use.
Using it on Facebook Messenger will automatically let you access the first message of your chat session.
Reasons Why You Can't See the First Message on Facebook Messenger?
Have you ever wondered why you can't see the first message on Facebook Messenger without scrolling?
Facebook Messenger hides the first message of a conversation, but it is a deliberate decision.
Facebook uses this first message to analyze and learn how people use chat services and use that data to improve the user experience.
Other reasons include:
Problems with internet connection
A major reason why you can't see the first message on Facebook Messenger without scrolling is that there is a problem with your internet connection.
If your internet is slow or unreliable, you may find it hard to access messages on Messenger.
Facebook Messenger has a server outage
Another reason for this issue is that Facebook Messenger has a server outage.
If there is server downtime, it is usually a cause of the inability to see Facebook Messenger messages.
Thus, when this happens, you must patiently wait for the server issue to rectify or finalize the server maintenance process.
App glitch or bug
Bugs and glitches can limit Messenger's ability to show messages. Thus, this may be the reason behind the issue. Then reinstall or restart the app to rectify the issue.
Bloated cache data
Bloated cache data may corrupt your app, limiting the messages from showing up. Thus, we suggest that you regularly clear your app's cache data to prevent this unpleasant situation from happening.
Background running apps
If you run too many background apps, it may take up too much of your storage space. Thus, limiting Messengers from showcasing messages.
Background apps may also meddle with the Messenger app, which may even cause the can't "See the First Message on Facebook Messenger" issue.
A good way to fix this is to quit all unnecessary background activities.
Random or unknown person messages
Facebook has a feature that limits messages from people who are not on your friend list and random users from landing directly in your inbox.
This will assist in safeguarding your account and protecting your privacy. Thus, access the "message requests" tab to find this specific message type.
Inadvertently or deliberately archiving chat messages
The next reason for the "Can't See the First Message on Facebook Messenger" issue is due to archived messages.
If you archived the conversation mistakenly or on purpose, you will be unable to access the message in your inbox. When this happens, ensure you go through your archived messages tab.
Your Messenger app is outdated
Those using outdated versions of the Messenger app may likely experience all sorts of malfunctions. This may likely be the cause of this issue.
Thus, we advise you to update your app to the latest version to rectify this problem.
Beta version of the Messenger app
There's a likelihood that you won't see the first message on Facebook Messenger if you use the beta version of the Messenger app.
Beta apps are ridden with glitches and bugs, which may restrict messages from showing up. Thus, we suggest you leave the app's beta program to rectify the problem.
Conclusion
We all know how annoying it is when we are trying to see an old friend's message on our Facebook messenger, but we keep scrolling and scrolling and scrolling.
Well, thanks to this amazing trick, you will be able to see the first message on Facebook messenger without even scrolling.
Also Read: