Instagram is a social networking service owned by a company called Metaverse that allows users to upload or share photos organized by hashtags, and can be edited with filters publicly or by approval via mobile.
Users are allowed to upload their favorite stuff on this platform and enjoy the fun that comes with having public or approved followers view your photos and videos.
However, there are possibilities of losing your photos and videos even when they are uploaded.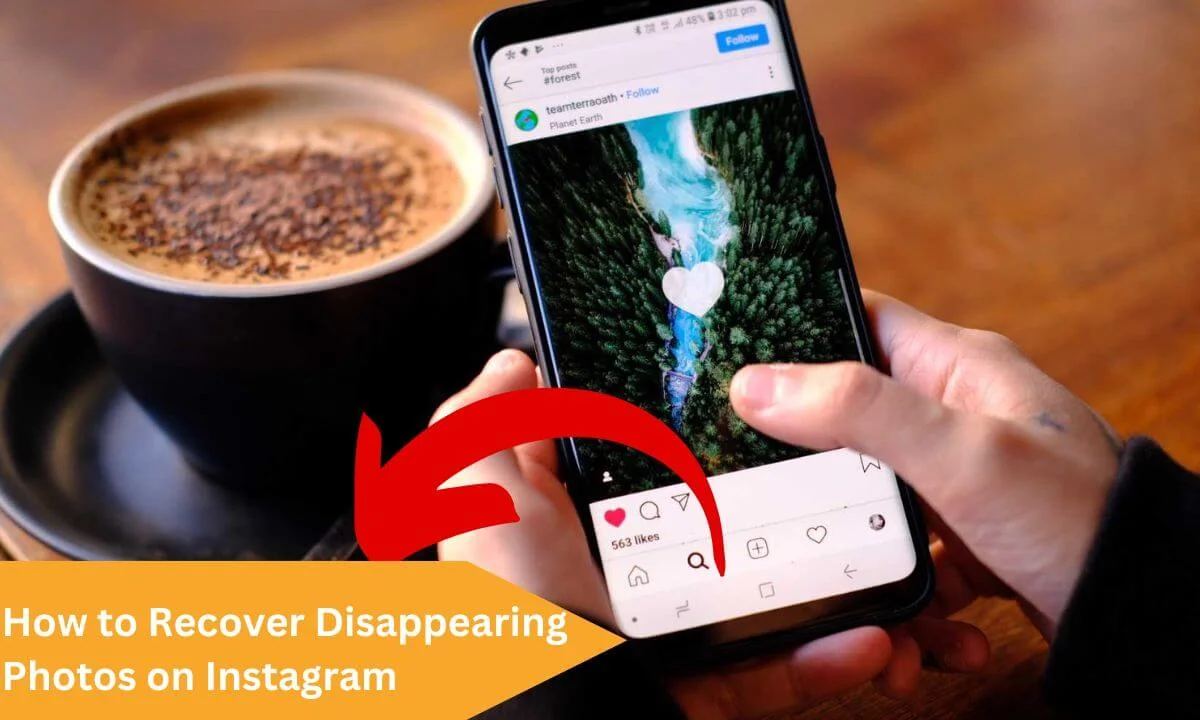 The question then is, can you recover your lost photos and videos on Instagram?
Different solutions to the incidence of lost and disappearing photos include:
Solution 1: Check Gallery
Solution 2: Use Your Internet Archive
Solution 3: Using Monitoring Apps
Solution 4: Using Google Account to Recover Photos
Solution 5: Use Recoverit Data Recovery
Solution 6: Use Photo Recycling Bin
In this article, these solutions will be discussed in detail.
What Are Disappearing Photos on Instagram?
To improve its service to its users, Instagram introduced a technology that enables you to send a photo or video and it disappears immediately after the person it is being sent to views it.
It's similar to chrome's "incognito mode".
To send a video or photo that the receiver can only view once and then it disappears, you have to take the picture or video with Instagram's "Direct camera " and click on one view button.
This automatically sets your photo or video to disappear after the viewer views it once.
Disappearing photos can be sent to groups or individuals on Instagram and it can be set to last as long as 24 hours or even longer.
Also, disappearing photos and videos can be a result of you accidentally deleting your media files or even a bug on Instagram which can be caused by glitches in the system.
This isn't common though but likely to happen.
Not to worry, these photos and videos can still and easily be recovered following the solutions given.
You can edit filters, and save photos and videos on your device.
These photos and videos can then be uploaded later at your preferred or convenient time from the corresponding folder.
This amazing advantage of Instagram makes it very much possible to recover disappearing photos and videos on Instagram
Why Do Photos Disappear on Instagram?
There are several cases in which disappearing photos and videos are caused by a developed feature known as "Vanishing mode".
Just like the name implies, the setting of this feature brings about the disappearance of intended photos and videos. When you turn on disappearing mode, you can comfortably slide into DMs on Instagram."
Vanishing modes were first introduced on Facebook but its high demand and viral wave brought it down to Instagram.
A lot of people especially teenagers who do sex chat love this feature mainly because you can send self-destructive messages, photos, and videos to other users on Instagram without having to worry about them being leaked as it disappears immediately after the other view them once.
Also, you get notified if the person screenshots the text, photo, or video. That way, you are very much certain about your privacy. All these are the reason for this feature's increase in popularity.
However, your photos and videos may disappear when the app itself deletes them or you mistakenly archive them.
Does Vanish Mode Assures 100% Safety of Your Privacy?
Vanish modes don't secure your privacy 100% reasons being that, although the viewer can't save or share your disappearing messages, photos, or videos as it disappears after the viewer views it once, they can still be screenshotted before it disappears.
Yes, you get notified but it doesn't change the fact that someone already has your text, photo, or video and that can be made public.
To turn on " Vanish mode";
Click on your Instagram app. Make sure it is updated.
Click on messages, and enter the chat box.
At the top, search and tap on the person's name to whom you want to send disappearing messages or media.
Turn on the Vanishing mode.
Compose your messages.
All your seen chats with the person will disappear once you close the chat.
Notes:
It only works if the other person's app is also updated. To know if you've successfully turned on Vanishing mode, your screen goes black and has a note on top.
The messages, Photos, and videos are still saved in Vanish mode media even after being deleted from the chat for up to 1 hour.
This feature is restricted to some countries. For those living in the UK and the USA, you can very much make use of "Vanishing mode" after you've updated your Instagram app.
How to Recover Disappearing Photos and Videos on Instagram
Check the Phone Gallery
This is the first and easiest step especially if you intentionally or accidentally deleted the photos and videos yourself.
Instagram allows for photos and videos sent to you via DMs or group chats to be automatically saved in the photo gallery on your phone device for easy recovery when deleted or lost.
All you have to do is to go to your phone photo gallery, download folder, and any other place you do save your photos and videos and you will have them recovered.
For Android users, do the following to recover Instagram lost or deleted photos and videos;
Go to your phone gallery or files.
Tap on the Instagram folder. You will find the lost or deleted Instagram photos or videos and get them recovered.
For iPhone or iPad users;
Enter the photo app from the home screen.
Click on the Albums then go to recently deleted photos and have you deleted or lost Instagram photos and videos recovered by tapping on recover.
Use Internet Archives
There is a probability of recovering some copies of your lost photos by making use of an internet archive to check the previous version of your site.
To recover deleted Instagram photos using this method, follow these steps;
Click on this link https://web.archive.org/ to get to the page.
Put down your Instagram account address in the dialogue box.
Tap on the date of the photo you want to view.
Right-click and save the photos you want to recover on your computer.
Using Monitoring Apps
This especially applies to those using Vanishing mode.
As a parent or guardian, you may want to keep your ward who is a teenager safe by knowing whom they send or receive disappearing messages, photos, and videos to avoid getting themselves in trouble or facing dangerous events by installing a parental control app, like "mspy".
With this app, you can also see all their social media conversations, deleted messages, and whom they are chatting with.
These teenagers definitely would have known what Vanishing mode is which is the more you wouldn't want to let them explore such things without proper monitoring from you and no better way to do that than installing the " mspy" app.
Using Google Account to Recover Lost Photos
It's not new that many Android users make use of Google account to save their photos and videos to secure them for future purposes and the possibility of losing them in the phone gallery.
So, it's also a considerable option to recover lost Instagram photos
To recover your lost photos and videos using this solution, do this;
Go to google photos using your account.
Go through the recycling bin if it has any of the Instagram photos and videos you're searching for and get them saved back.
Use Recoverit Data Recovery Tool
One of the best ways if not the best way to recover Instagram lost photos is to use Recoverit data recovery software.
It is available online and is a very easy tool for recovering multimedia files from different storage devices. Photo formats like GIF, JPG, BMP, and PSD can easily be recovered using Recoverit data recovery.
To go about this, do the following;
Install Recoverit data recovery on your mac computers or windows.
Make use of Recoverit data recovery to scan the location to find your lost or deleted Instagram photos.
When the scanning completes, Recoverit data recovery allows you to preview the recovered photos, if satisfied, you can then save the photos in the location or app of your choice.
So, if your Instagram photos get lost or deleted from your phone gallery, computer, flash drive, hard disk, or any other storage device, Recoverit data recovery is the very best tool to recover such losses no matter how large or small such files are.
It is worth noting that saving the recovered lost or deleted photos in the very same location in which they got lost or deleted is not a great idea. It's advisable you rather save them in a more secure and safer location.
Use Photo Recycling Bin
Deleted photos aren't totally deleted but moved to the recycling bin for a few days before they are eventually lost totally in the device.
If you happen to desire to retrieve your Instagram deleted or lost photos or videos within the graced date, you can recover them by just going to your recycling bin.
Click on the photos or videos you want to recover and have them back on your device.
Recover Disappearing Photos on Instagram FAQs
How do I view disappearing photos on Instagram more than once?
Disappearing photos cannot be reviewed. You only have the luxury of seeing disappearing photos on Instagram once after which it disappears.
What happens to disappearing photos on Instagram?
When a disappearing photo is sent and viewed, it ceases to be available to the recipient except if the sender enabled a replay of the photo.
Can disappearing photos be saved?
After a disappearing photo is opened, it is no longer accessible, hence it cannot be saved by the receiver.
How long can Instagram disappearing photos last?
Disappearing photos sent to a user can only last until it is opened. After it has been opened, it disappears.
Can I unsend a disappearing photo on Instagram?
You can simply delete a disappearing photo you sent if the recipient is yet to receive the photo.
In a situation whereby the photo has been received, you just have to wait for the photo to disappear. There is nothing you can do.
Conclusion
You don't need to get yourself so worked up or worried if you happen to have important disappearing messages and photos which you want to recover.
There are monitoring apps you can make use of to recover your photos, you can check your photo gallery as well. Google accounts are also a good means for photo retrieval.
Other options we can explore include data recovery apps, internet archives, recycle bins, etc. All you need in detail to recover disappearing photos on Instagram with ease have been provided in this article.
Also Read: