It is a distressing thing to go over to the Facebook platform and try getting logged in to your account but cannot do so because there is either a system malfunctioning or a detail entry problem.
With the problem being a result of the system having issues, waiting for a while and coming back to retry or doing a few adjustments may help you solve the problem.
But, when your lack of access to your account is because you are not entering the correct details to your account and you are not sure what the right details are anymore, then, you may have a bigger problem that will take a few procedures to sort out.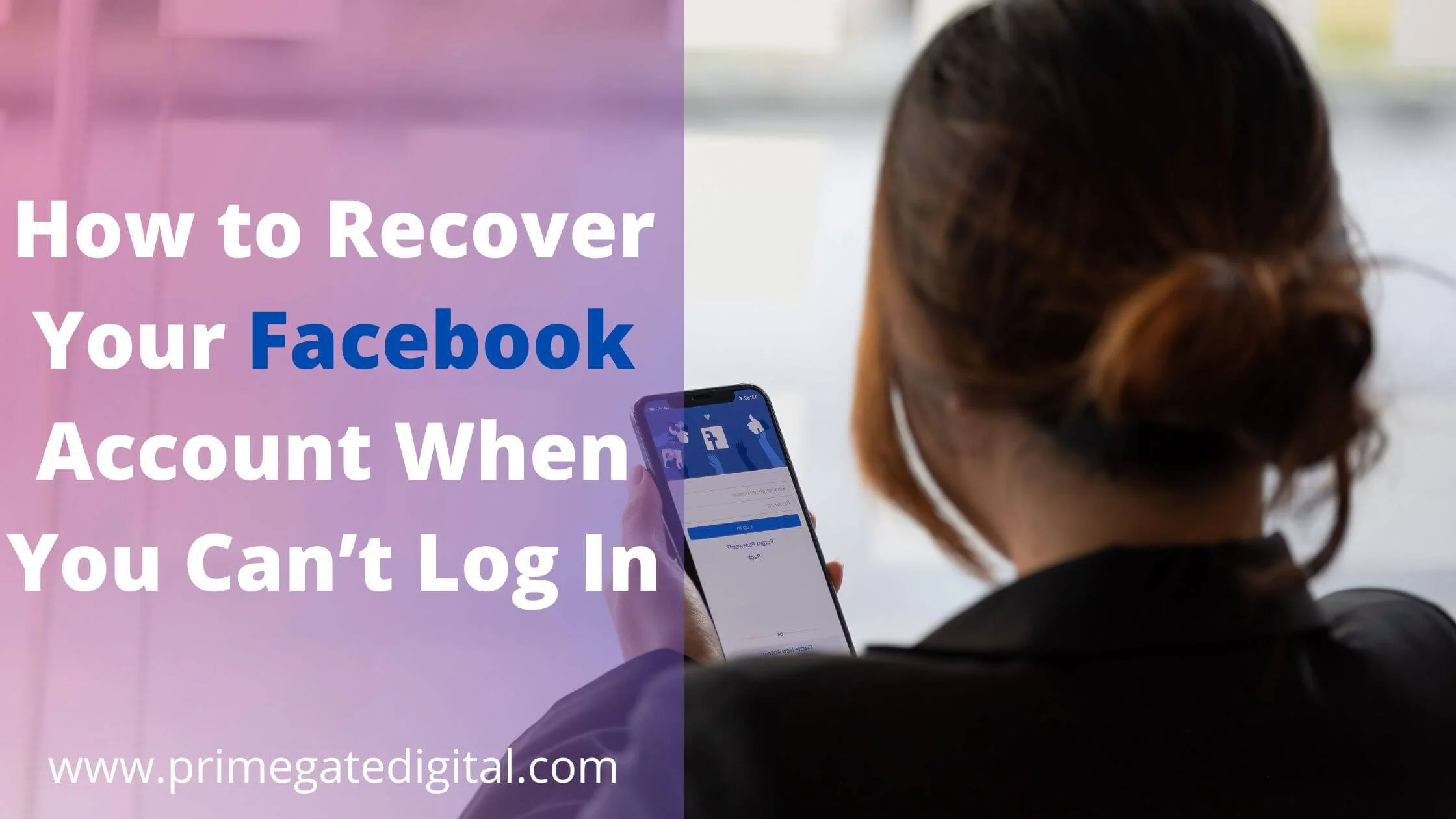 Do not panic! You can still recover your Facebook account even if you are finding it impossible to log in.
Here, you will find out how that is possible.
How to Recover Your Facebook Account When You Can't Log In
If you have been logged out of your Facebook account and cannot get access to it, there are two ways recommended that you make use of it to recover your account.
Recovering Your FB Account Using the "Find Your Account Page"
Facebook has the " Find your account page" feature that helps you recover your account if for any reason you have lost access to the account.
Yes, that's very thoughtful of the operators of Facebook, right?
You can follow the steps below to make use of this feature to recover your account.
The first thing to do before you commence this procedure is to ensure that you are using a personal computer or mobile device that you have previously used to log into your Facebook account. When you have this in place, you can proceed to the next step.
Go to Facebook.com/login/identity to access the "Find Your Account Page" feature.
You will get a series of instructions on what to do to make use of the feature.
On the page you will be led to, you can commence the search for your account which you will like to recover. You can use your details such as your username or your contact details such as your email address or phone number to search for your account.
When you find your account, do well to follow the prompting provided to reset the password to your account to prevent a recurrence of the situation.
Recovering Your Account Using the Account of Someone Else Who is Trusted
If the option of making use of the " Find Your Account Page" features is not suitable for you, you can make use of the Facebook account of a friend or family member that can be trusted to recover your Facebook account.
Here is a guide on how to do this;
First, you have to be logged in to the Facebook account of the person you wish to use to recover yours and this person has to be your friend on Facebook.
Once you are in, you can search for your Facebook account.
Open the profile of your account and press the More icon (•••) underneath your profile picture.
From the options that will be made available, select the "Find Support" or "Report Profile" option.
You will get another batch of options to choose from, select the "Something else" option.
Then, press the "Next" button.
On the succeeding page, select "Recover this account".
You will be provided with instructions on how to complete the process of recovering your account using this method.
See Also: How to Recover a Hacked Facebook Account Really Fast
How to Secure Your Account for the Future
After going through the whole stress of recovering your account, it is only wise and expected that you make sure something of that nature does not repeat itself.
If the major problem was the choice of the password you made, then, it is high time it was changed.
You can reset your password following the steps below.
There are two ways to reset your Facebook account password dependent on the updated status of your Facebook app.
Reset Facebook Password Using a Classic Mobile App
If you are using the classical mobile app, follow the steps below to reset your password;
Go to the menu icon on your Facebook page and launch the account menu.
Open Settings and Privacy.
Navigate to Settings under the Settings and Privacy section and open the Settings tab.
Choose the " Password and Security" feature.
Then, you can access the "Change Password" option.
Enter the password you are currently using, then, enter the new one you intend to use from now henceforth.
You will be required to verify the new password by inserting it again.
Save your changes and that's all.
Reset Facebook Password Using an Updated Mobile App
If you have updated your mobile app, then, there is a slight variation in the way to go about resetting the password to your account.
The steps below will serve to guide you;
Open the menu option on your account.
Navigate to Settings.
Select the "Security and Login" function.
Access the "Change Password" feature.
Enter the current password, then, add the new password to be used.
Enter the details of the new password again to confirm the password.
Select the "Save changes" function to save the new password.
Forgot Facebook Password?
If the reason you could not access your account in the first place is that you lost your password, then, the above steps will not be your first point of call.
Instead, do the following to be able to have your password changed.
Manage Forgotten Password After Logging into Your Account
If you are already logged in to the account, under the "Change Password" feature, select "Forgot Password" and follow the instructions that will be provided for you.
Manage Forgotten Password Without Logging into Your Account
If you could not log in because you forgot your password, simply, press the "Forgot Password?" button and put in your details like your email address, phone number etc.
Then, initiate the search button and follow the instructions you will be given to guide you.
Note: You will require a completely new email address and mobile phone number to be used in resetting your new password due to security reasons.
See Also: How to Contact Facebook Support Live Chat
Recover Your Facebook Account When You Can't Log In FAQs
How do I recover an old Facebook account I can't log in to?
You can recover your account by going to the "Find Your Account Page" and providing the necessary information to have your account recovered.
You can make use of a friend's account page to request for your account to be recovered.
Can I reset my Facebook password without email or phone number?
You can make use of an alternative phone number or email address to log in if you had this set up in your account before this incident happened.
The details you entered may be incorrect. Therefore, confirm the accuracy of your phone number and email address before trying to log in.
If your email is having issues, go to your email sign-in page and register a complaint to your email service provider. You can do this, by selecting the "Forgot password" or "Trouble signing in" options on your email log-in page.
How do I know if my Facebook account has been disabled?
When you try to log in to your account, you will get a notification from Facebook that your account has been disabled if that is the case.
Anything other than this, then, a disabled account might not be the reason you are experiencing difficulty logging into your account.
Conclusion
Being disconnected from your Facebook account may seem like a big deal. However, it is not. There is no reason to panic or be stressed out.
Just make use of the Find Your Account Page on Facebook to recover your account. Or, make use of a friend's account on Facebook to request the recovery of your account.
Be sure to make it harder to be in a situation like this subsequently by resetting your password if your password was a reason why you were logged out of your Facebook account initially.
Also Read: