If you have finally found a match on Tinder after the rigmarole and twists, and now your Tinder messages are not loading, you can't access the messages from your match.
In this article, I will explain why Tinder messages are not loading. If your match sends you a message notification and you select it but can't see it because the message has refused to load.
This can cause a lot of annoyance after all the hassles you have experienced after utilizing the app.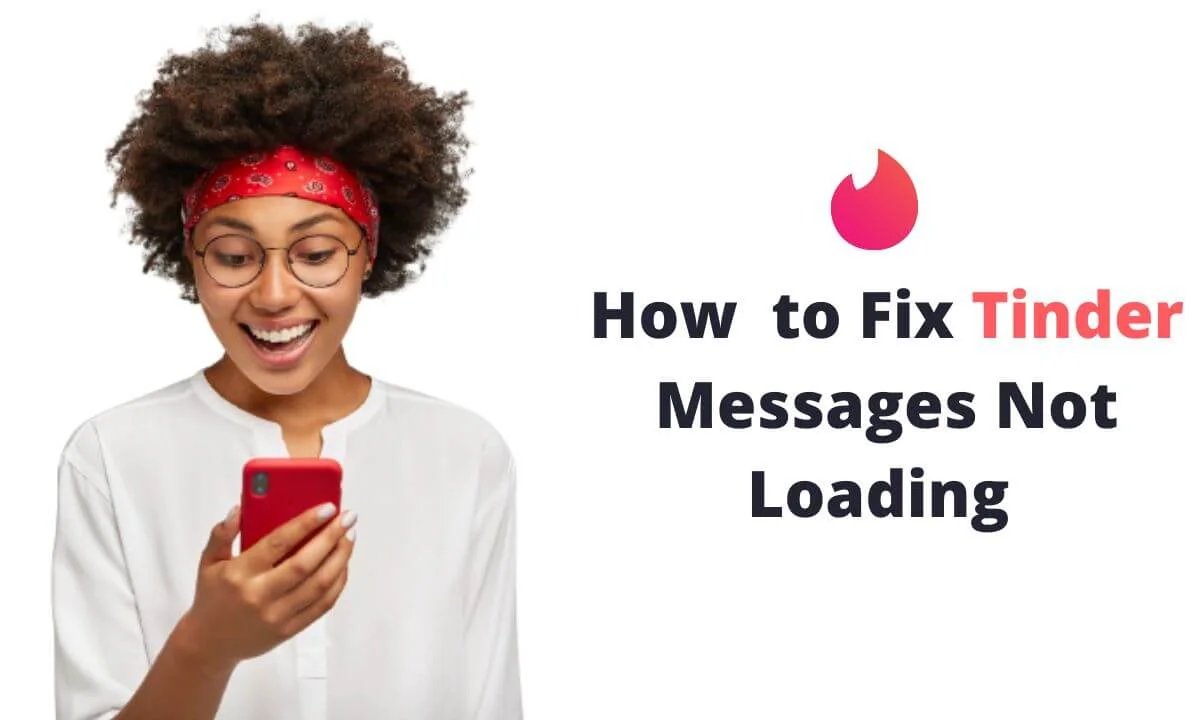 One of the sources of the "Tinder message not loading" issue is likely because of the mobile app.
It could be a software-related issue. However, the problem might stem from your device or even your internet connection.
The app may also encounter server problems. If you are currently facing this problem, here are some fixes:
Why Tinder Messages Not Loading
If your Tinder match sends you a message and you tap on the chat to access its content, but it is not loading, there are lots of reasons for this.
Some of the reasons range from Tinder server issues to glitches to problems with your internet connection.
Other reasons may include being blocked by your matches.
Even though you liked her photo the previous day, it can happen that she got cold feet and hit the "block button."
If you haven't been blocked, it is possible that your account has been unmatched or shadow-banned.
Let's go into greater detail about why Tinder messages are not loading
Tinder Server is Offline
If you encounter this type of issue, there is a possibility that Tinder servers are offline.
Although this doesn't happen all the time, Tinder servers usually go offline when it's time for maintenance or during a glitch.
Visit Down Detector to check if Tinder servers are offline, and if this is the case, you can't do anything other than wait.
Poor Internet Connection
If messages are not loading on your Tinder app, you will have to find out if your internet connection is the source of the problem.
When the internet connection isn't strong, the app will encounter problems when trying to load.
The Sender of the Message has Deleted Their Account
Although this isn't common, it is a possibility.
It is likely that the sender has deleted their account after their message to you has been delivered.
If your internet connection is okay and the servers are functioning effectively, then you have to consider the possibility of this happening.
Their account could have been deactivated.
Your Account Has Been Blocked or Unmatched
After matching with someone on Tinder and you are communicating and getting to know each other, they send you a message to you, and once you tap it, it is not loading.
This scenario may mean that your account has been blocked or unmatched, preventing you from accessing the message.
Although this isn't common, it is a possibility that they are uninterested in you and don't want you as a match.
How to Fix Tinder Messages Not Loading
If you have encountered this issue and can't load your messages on the Tinder platform, here are some fixes you should try:
Check Your Internet Connection
Before doing anything else, you first have to check your internet connection to see if that's the reason your Tinder message won't load,
Don't forget that the Tinder app requires an internet connection to receive and send data.
Navigate to other apps on your mobile app to find out if they are working smoothly and find out if it has issues and can't load properly.
To check that your network is working properly, utilize your web browser to connect to other websites.
Find out your internet speed by visiting fast.com
Reset Your Mobile Data and Check if the Connection is Back
Switch to WiFi and check if the internet will work faster, or change to cellular data if you previously used WiFi.
Check Tinder Servers
If Tinder servers are offline and messages have refused to load, you can't do anything else since the source of the issue is not from your end.
It is likely that maintenance is ongoing or their servers are glitchy.
However, if you have confirmed that their servers are working without issues, then try our next fix.
Re-login to Your Account
If Tinder messages can't load, there is a likelihood that the app is the source of the problem.
One of the most common causes is a bug or glitch; thus, the next fix is logging out and quitting the app.
After logging out of the app, wait patiently for some time before re-logging.
This will let things reset a little.
To log out of the platform, select the profile button on the upper left area of your screen; navigate to Settings and slide to the last option.
Select "Logout" to exit your account from the platform.
Reboot Your Device
If the previous fix of logging in and out of your Tinder account does not solve the "Message not loading" problem, it might possibly be that your device is malfunctioning in a way.
To rectify this, we suggest that you reboot your device to refresh the operating system.
Then switch off your device and patiently wait before rebooting it.
This will eliminate any minor glitch the app has encountered.
Update Tinder App
If your Tinder app is acting up and won't allow new messages to load, the next fix is to carry out an update.
Navigate to the Apple App Store or Google Play Store to install the latest version of the app.
Uninstall and Re-Install
If you have carried out an app update and the problem still persists, the next fix is to uninstall the Tinder app from your smartphone.
Hold on for a short while, and then re-install the app again on your device.
This may rectify the "Tinder message not load" issue on your phone.
The easiest way to uninstall the app on an Android device is to press and hold the icon until a list of menu options pops up.
Tap "Uninstall."
If you are using an iOS device, navigate to the app settings and select Delete App.
Next, access your respective app store to reinstall the Tinder app.
Report the Problem to Tinder
If you have tried all the fixes and the problem still persists, we suggest getting in touch with the Tinder support team and letting them know about the issue.
Since thousands of users have encountered this issue, we hope they will quickly respond to your inquiries and resolve them on time.
To reach out to Tinder Support, navigate to Tinder's help center and tell them about the challenges you have encountered on your account.
Frequently Ask Questions
My Tinder is not refreshing. Why?
It may be a result of slow internet. Ensure your online connection is stable.
You can also install the most recent version of Tinder, which will improve your experience on the app and restore its functionality.
If the issue continues to persist, you can report it to the developers.
How long does the Shadowban last?
If you have been shadow banned on Tinder, your account will be restricted for two weeks.
What does Tinder's 3-month rule mean?
This means that Tinder presently saves your user data for 3 months after deactivating your account, which implies that you can easily retrieve your account with your old data intact if you access your account after deleting it.
Will deactivating Tinder account delete messages?
Yes. Whenever you deactivate your account, you irreversibly lose matches, matches, and all your data connected to it.
How can I get Tinder to load faster?
When creating connections on Tinder, initiating a conversation the right way is key.
After matching some, you can start a conversation in a nice and pleasant way.
For instance, try "Hello, how are you?" or a cheesy pickup line depending on your strategy.
Does Tinder notify you when somebody screenshots?
The simple answer is "No".
Tinder won't send you notifications whenever someone screenshots your profile.
This implies that you are free to take screenshots without bothering any user or fear that the other party will know about your screenshots.
This also signifies that other users can screenshot your profile without your knowledge.
Is Tinder free to use?
With over a billion matches and counting, Tinder is the most popular free dating platform and the perfect app to connect with other people.
What do guys check on Tinder?
Here's what guys you check for whenever they access a woman's profile on dating platforms such as Bumble, Tinder, POF, Baddoo etc
Ensure your profile is authentic and creative
Add great pictures
Ensure your profile details are complete
Be precise and thorough
Ensure your pictures are expressive and tell a story
Desist from using Snapchat filter
Don't fake your personality
Is Bumble better than Tinder?
Bumble is a bit more sophisticated than Tinder.
Tinder is the best option if you want a quick casual experience.
Tinder offers limited profile and fast photo access. allowing you to swipe faster than on Bumble.
Tinder aims for an extremely casual experience.
Conclusion
Tinder is the most popular dating app in the world.
Often times, users complain about "Tinder messages not loading.". In this article, I explained how to fix it.
Also Read: